Patient Reviews
Many patients have taken a dental holiday in India. Here's what they say about the services:
Simply the best dental practice in India. I had a very extensive treatment done there, and I couldn't be more satisfied.
Masiel Campos
Australia
I had a broken tooth fixed in 2 days with a crown. Very professional, friendly, and quick dental service in Mumbai.
Gert Smit
USA
Great service, the staff is available and kind. Fast and efficient. I will not hesitate to go there again if needed.
Fabien Pierrel
Best place for dentistry in Chandigarh city! Thank you for the great experience and quality work you have done on my teeth.
Erica Kaur
USA
Cost of Dental Work in India
Getting dental work in India has more benefits than you think.
You can save up to 75% on dental procedures in India. Along with affordable dentistry, the country also offers a spectacular vacation! [1]
Read the table below to understand the dentistry price difference:
Dental Work Cost in India Vs. AUS/US (USD)
Procedure
Australia
US
India
All on 4 Implants*
$25,000
$24,000
$4,250
All on 6 Implants*
$31,000
$28,000
$5,150
PFM Crowns
$1,600
$1,100
$110
Zirconia Crowns
$2,200
$2,000
$185
Root Canal Treatment
$800
$1,000
$210
Porcelain Veneers#
$700
$800
$212
Surgical Tooth Extraction
$120
$75
$43
*per arch, # per tooth
*Dental prices may vary as they are case-dependent
Payment Methods in India
Cash
Credit/Debit Cards
Cheque
Paypal
Bank Transfer
Buy Now Pay Later
Clinic Logistics
Book an appointment for dental care in India with these easy steps:
Select a clinic based on ratings, reviews, services, and location.
Fill out a free request form or schedule a call for a consultation.
A case manager will be assigned to help you plan a seamless dental trip.
You must check your clinic's timings before planning a dental trip to India.
For instance, Dent Ally and Smiline Dental Hospital are closed on Saturdays & Sundays. They remain open on weekdays from 9 AM to 8 PM.
So, you can go sightseeing on weekends to make the most of your time.
Since most of our other clinics remain open on Saturdays & Sundays, you can also start treatment on weekends. 
The dentists in India have various national and international accreditations.
Find a list of these affiliations below:
DCI- Dental Council of India
IDA- Indian Dental Association
WFO- World Federation of Orthodontists
AAO- American Association of Orthodontists
AOMSI- Association of Oral & Maxillofacial Surgeons of India

SMART

Certified

IAOMT

Dentists
Indian Society of Periodontology
Indian Society of Oral Implantologists
Oral Implantology from Nobel Biocare
British Academy of Cosmetic Dentistry
American Academy of Implant Dentistry
American Academy of Cosmetic Dentistry
International Congress of Oral Implantologists (US)
Brands, Technology & Equipments Used
Our dental clinics in India ensure the highest quality of treatment by using state-of-the-art technology:
CAD/CAM
Cutting-edge technology that combines computer-aided design with computer-aided manufacturing for precise dental restorations.
Cone Beam CT
A 3D dental imaging technology that provides detailed views of the mouth and neck for accurate diagnoses and treatment planning.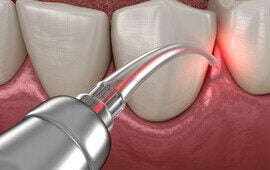 Laser Dentistry
A minimally-invasive and highly effective method for performing various dental procedures using laser energy.
3D Scanner
A high-tech tool that utilizes advanced imaging technology to create detailed, accurate digital models of a patient's oral anatomy.
India is fast growing as a popular dental tourism destination for various reasons.
The country has an excess of skilled dentists and modern technology to provide quality healthcare. [2]
The top-notch dental work is backed by using well-known global brands for dental restorations.
For instance, our clinics use the following:
Technology:
CEREC
CBCT – OPG
3shape scanner
Implants brands:
Zimmer
Straumann
Noble Biocare
Aligners brands:
Invisalign
Novoalign
ClearCorrect
Other commonly used implants brands include: Osteem, Bredent, ADIN & Cowelmedi
Top Clinic Locations
Our clinics are located in bustling metropolitan and industrial cities throughout India.
This will ensure that you have access to all necessary facilities with ease.
Ahmedabad
A historic city in India, known for its rich cultural heritage, traditional architecture, and important religious sites.
New Delhi
The capital city of India, known for its rich history, diverse culture, delicious cuisine, and political significance.
Mumbai
A bustling metropolis and the financial capital of India, famous for its nightlife, iconic landmarks, and thriving entertainment industry.
Hyderabad
A vibrant city in India, known for its rich history, delicious cuisine, and famous landmarks such as the Charminar.
Bangalore
A thriving tech hub in India, known for its cosmopolitan culture, pleasant climate, and green spaces.
Jaipur
The capital city of Rajasthan, known for its royal cultural heritage, majestic palaces, and vibrant street markets.
Chandigarh
A modern city in India, known for its urban planning and architecture, as well as its beautiful gardens and parks.
Rajkot
It is an industrial city in Gujarat known for its ancient temples, lively markets, and historical sites.
Suburbs Locations
These iconic residential suburb areas will enrich your dental holiday in India:
Ellisbridge, Ahmedabad
This Ahmedabad suburb is known for its shopping areas, street food, and temples like ISKCON and Swaminarayan.
Bandra, Mumbai
A Mumbai suburb with trendy cafes, street shopping, and Bollywood stars! Bandra is a melting pot of cultures as it offers a unique blend of traditional and modern charm.
Gurugram, Delhi
It is a suburb of Delhi known for its rapid urbanization and development. It is a hub of multinational corporations, shopping malls, and luxury hotels.
Hitech City, Hyderabad
This bustling IT hub in Hyderabad has towering skyscrapers, innovative tech companies, and a modern lifestyle.
Amer, Jaipur
This Jaipur suburb is surrounded by picturesque Aravalli hills and is home to many charming villages and historical monuments.
Whitefield, Bangalore
It is a hub for multinational corporations and boasts a large expatriate community in Bangalore. It offers upscale shopping, dining, and entertainment options.
Mohali, Chandigarh
It is a rapidly growing suburb near Chandigarh known for its modern infrastructure, spacious residential areas, and well-developed commercial spaces.
Recommended Hotels
You can enjoy a comfortable stay in India at discounted prices at any one of these hotels:
Hyatt Regency
---
17/A, Ashram Rd, Usmanpura, Ahmedabad, Gujarat 380014
4.6 miles from B Square Dental
Taj Mahal Tower
---
PJ Ramchandani Marg, Apollo Bandar, Colaba, Mumbai, Maharashtra 400001
1.3 miles from Opus Dental Specialties
Hotel Park Residency
---
Aashirwad Building, D-1, Block D, Green Park, New Delhi, Delhi 110016, India
Lime Boutique Suites
---
4-50/47, Gachibowli - Miyapur Rd, adj. to SLN Terminus, Jayabheri Enclave, Gachibowli, Hyderabad, Telangana 500032
Glades Hotel
---
SCO 3 And 4 Mohali, Phase 1, Sector 55, Sahibzada Ajit Singh Nagar, Chandigarh 160055
0.87 miles from Max Dental Care
The Leela Palace
---
23, HAL Old Airport Rd, HAL 2nd Stage, Kodihalli, Bengaluru, Karnataka 560008, India
2.1 miles from Dental Solutions
Hotel The Rivera
---
6, near Chetna dining Hall & Restaurant Brahmin Boarding, Rajputpara - 6, Rajputpara, Rajkot, Gujarat 360001
0.6 miles from City Dental Hospital
Jaipur Marriot Hotel
---
Ashram Marg, Near, Jawahar Circle, Jaipur, Rajasthan 302015, India
2.2 miles from Ekdantam Dental Clinic
Before & After: Dental Work in India
Before & After: All-on-4 Implants in India
Before & After: Porcelain Veneers in India
Frequently Asked Questions
Yes, absolutely. Our dentists in India are bilingual and can communicate seamlessly in English.
At some of our clinics, on-the-spot interpretation services are also available for effective communication.
Yes, you must apply for an e-visa at least 120 days or 4 months in advance before arriving in India. [3]
For foreign nationals seeking medical treatment, India provides an e-Medical visa facility. [4]
An e-Medical visa is valid for a period of 60 days. Plus, you get triple-entry during the validity period of this visa.
You must also read about the entry requirements of India below:
Travelers are expected to show that they have enough resources to cover their expenses while in India.
You must always carry a printed version of your granted e-Visa India.
E-Medical visa applicants must possess a valid return or onward ticket.
It's a requirement for everyone, including minors, to have their own passport.
Source: India e-Visa [5]
An Indian SIM card and phone for medical tourists are not mandatory.
However, it is advisable to have one for convenience and ease of communication.
Having an Indian SIM card can help you stay connected with family and friends back home. You will also be able to make local calls, send texts, and access the internet.
In India, some of the most popular and easily accessible SIM cards for tourists include Airtel, Vodafone, Jio, BSNL, and Idea.
These prepaid SIM cards can be purchased at the airport or a local store.
You will need to provide a passport and visa copy for identification purposes.
It is recommended to have travel health insurance while visiting India.
Travel health insurance can provide coverage for unexpected medical expenses, like:
Accidents
Treatment
Hospitalization
Evacuation, in case of an emergency.
India has many highly qualified and reputable dentists.
However, researching and finding a dental clinic that meets your needs is important.
Here are some tips to help you choose a reliable and safe dentist in India:
Ensure that the clinic adheres to strict infection control measures.
Verify the dentist's credentials, like education, experience, and affiliation.
Read online reviews from previous patients to verify the dentist's quality of service.
By following these tips, you can ensure that you receive quality dental care in India.
When searching for a dental clinic in India, you must look for warning signs indicating a subpar dental facility.
Here are some red flags to watch out for:
Negative online reviews or low ratings
Unprofessional behavior by dentist or staff
Poor hygiene standards or a lack of proper sanitation protocols
Lack of transparency about treatment options, fees, and payment plans
By being aware of these warning signs, you can avoid subpar dental clinics in India.