Patient Reviews
Still doubtful? No problem! Read what patients have to say about their dental work experience in Albania!
Everything was exceptional! I had 1 zirconia crown for 30% of the price I would usually pay in the states!
One of the best clinics in Tirana where you can find qualified staff and quality services. I highly recommend them!
Best experience ever in a dental clinic. I got a few teeth extracted and implanted with zirconia.
The best dental service, I had a surgical change, and I have excellent results.
Cost of Dental Work in Albania
Albania offers dentistry 70% cheaper than the UK. No wonder it has become a popular choice among European citizens.
Have a look at the table below for a better understanding of the cost of dental work in Albania:
Dental Work Cost in Albania vs the UK
Procedure
UK
Albania
Savings
Titanium Implant
€3,500
€699
81%
All-on-4 Implants*
€16,450
€5,706
66%
All-on-6 Implants*
€18,490
€7,454
60%
E-Max Veneer#
€1,150
€350
70%
Zirconia Crown
€1,340
€285
79%
PFM Crown
€890
€160
83%
Extraction
€410
€175
58%
Root Canal Treatment
€950
€144
85%
*per arch, #per tooth
*Prices are subject to change.
Payment Methods in Albania
Cash
Credit/Debit Cards
Buy Now Pay Later
Clinic Logistics
Are you struggling to get a consultation at home? Travel abroad & find out how to book an appointment in Albania clinics:
Read about our network of clinics & handpick one that suits your needs.
Request a free quote form to book an appointment or schedule a call.
You will come in contact with a case manager who will assist you to book a free online consultation.
If you want a sorted dental vacation, do not miss out on checking the clinic's timings.
Our clinic is open 6 days a week from Monday to Friday, 8:30 AM to 6 PM.
Moreover, the dentists run the practice on Saturdays till 2 PM, so you can plan accordingly.
Our dentists in Albania have the following affiliations/accreditations:
Vocational training at Windsor Dental Practice
Member of the EACMFS (European Association of Cranio Maxillo Facial Surgery)
Certificate of active participation in "24th Congress of Balkan Stomatological Society"
Brands, Technology & Equipments Used
CAD/CAM
CAD/CAM designs and creates dental restorations using specialized software and machines. It's efficient and produces natural-looking and long-lasting results.
Laser Dentistry
Laser technology makes dental procedures less invasive, more precise, and reduces pain. It also promotes faster healing and reduces the need for anesthesia.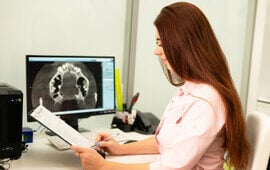 3D Scans
3D scans use advanced technology to create detailed digital images of the patient's teeth, jaw, and gums, allowing for precise treatment planning.
Dental care in Albania is as good as in the US and the UK, with significantly lower prices. However, low cost doesn't mean compromising quality.
Affordable dental treatment results from the nation's low cost of livingcompared to other European nations. [3]
The following factors vouch for high-quality dentistry in Albania:
The clinic uses high-quality brands like Sweden Martina & Implant Swiss.
The clinic employs cutting-edge technology for an overall smooth experience.
The clinic follows appropriate sterilization methods to elevate safety standards.
Our partner clinic has an in-house dental lab, saving patients a lot of time.
Top Clinic Locations
Have a look at all the stunning locations of Albania where our partners have clinics:
Tirana
Tirana, the capital of Albania, is also the largest city in the country. [1] It features several exquisite churches, verdant parks, and a pleasant Mediterranean atmosphere.
Suburb Locations
Wondering what to explore in Albania? Check out these beautiful places.
Kruje, Tirana
The hometown of Albania's national hero, Kruje, is a popular town in the country.
📍18 miles from our partner clinic in Tirana.
Durres, Tirana
Durres is the closest coastal town near Tirana. Here you can explore the ancient Roman Amphitheatre.
📍23 miles from our partner clinic in Tirana.
Elbasan, Tirana
The museums in Elbasan showcase the rich culture of Albania. The trip takes 45 minutes by bus or car.
📍24 miles from Daku Dental Clinic.
Berat, Tirana
Berat is a must-visit town in Albania. This ancient city is also a UNESCO World Heritage Site. [2]
📍60 miles from our partner clinic in Tirana.
Recommended Hotels
There are various hotels within a short distance from our clinic. Check out these comfortable stays:
Hotel Stela Center
---
Rruga e Dibrës Abdulla Keta, Tirana 1001, Albania
0.4 mile from Daku Dental Clinic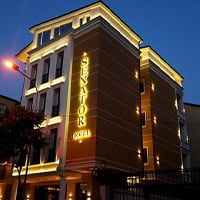 Hotel Senator
---
Rruga Fortuzi 47, Tiranë 1001, Albania
0.4 mile from Daku Dental Clinic
Albanopolis Hotel
---
Rruga Mine Peza, Tiranë, Albania
1 mile from Daku Dental Clinic
Select City Center Hotel
---
Rruga 4 Dëshmorët, Tirana, Albania
0.7 mile from Daku Dental Clinic
Hotel Boutique Villa Fernando
---
8RQH+PQG, Rruga Bardhyl, Tirana, Albania
0.7 mile from Daku Dental Clinic
Before & After: Dental Work in Albania
Before & After: Zirconium Crowns in Albania
Before & After: Dental Implants in Albania
FAQs
Yes, dentists in Albania speak fluent English. Thus, eradicating all communication barriers.
US & UK citizens can enter the Republic of Albania without a visa. However, your passport should be valid for at least 3 months from the date of arrival.
Also, US and UK nationals are allowed up to a year and 90 days' stay, respectively. For a longer stay, you need to apply for a residency permit.
Source: Travel.State.Gov [3]
It's not necessary to purchase an Albanian phone.
If your smartphone uses GSM technology, it will function in Albania (most phones support GSMA nowadays). [4]
You'll require a sim card in Albania to access the internet. Sim cards are available for purchase at the airport and in all approved stores.
Major network operators in Albania are: [5]
Eagle
Telekom
Vodafone
Plus Communication
Travel health insurance isn't mandatory to enter Albania. However, we strongly advise you to acquire one to secure your visit. [6]
Yes, the clinic offers a guarantee on dental work depending on the nature of each procedure.
Albania is a great destination if you want to get dental work outside the UK. 
However, the first thing you must do is conduct thorough research on dental clinics in Albania.
Here are some tips to help you find guaranteed and safe dentists in Albania:
Read patient reviews online to learn about their experiences with the dentist.
Inquire about the fees and available payment plans to ensure they fit your budget.
Verify the dentist's credentials— education, experience, and expertise— to ensure they are qualified.
Look at pictures of the dental clinic to get a sense of its facilities and determine if it meets your standards.
To find a good dental clinic in Albania, research is important.
While researching, keep an eye out for these warning signs:
No guarantee of treatments
Lack of patient service or discomfort during the visit
Failure to adhere to strict infection control measures
Negative online reviews or low ratings from previous patients