Patient Reviews
Though we make it easier for you by sharing a list of top clinics & dentists, you can read about the patient's experience.
Check here the Thailand dental clinic reviews for self-reliance.
Everyone was very friendly, & professional. The staff explained everything clearly.
Sharon Tan
Australia
Great service! English-speaking dentists explain everything in detail. Polite & friendly staff.
Susan Chabanier
Australia
The dentists have great knowledge & expertise. Services offered are affordable. Highly recommended.
Barnaux le Roux
Great dental clinic. Amazing & supportive staff. A+ services. Overall highly recommended.
Wararak Tumma
Thailand
Cost of Dental Work in Thailand
Low-cost dental treatment in Thailand attracts tourists from Australia & Newzealand.
While at-home prices might drain all your savings, dental work in Thailand saves you up to 86%.
Isn't it worth traveling abroad for a dental holiday?
Dental Work Cost in Thailand Vs. Australia (USD)
Procedure
Thailand
Australia
Savings
All on 4 Implants*
$9,400
$13,650
31%
All on 6 Implants*
$9,150
$22,550
59%
PFM crowns
$257
$1529
83%
Zirconia Crowns
$486
$1,795
72%
Root Canal Treatment
$229
$1,700
86%
Porcelain Veneers#
$286
$700
59%
Surgical Tooth Extraction
$70
$250
72%
*per arch, # per tooth
Payment Methods in Thailand
Cash
Credit/Debit Cards
Buy Now Pay Later
Get low cost treatment in Thailand
Book now
Clinic Logistics
The first step to dental tourism is to reach reputed & verified clinics. Check how to book an appointment with us!
First, handpick your clinic as per the procedure you need.
Then, you can request a free price quote or schedule a call to plan a consultation.
Thereafter, a case manager will reach out to you, thus aligning your dental needs with the dentist.
Most clinics in Thailand are open from 9 AM – 6 PM from Monday to Friday. But, some dentists may offer extended hours as well.
For example, BIDC, Bangkok Smile Dental, BFC Dental clinic & Sea Smile Dental work on Saturday & Sunday too.
So, it is important that you check with the individual clinic to confirm their working hours. It will help you plan a proper travel itinerary.
The dentists in Thailand are experienced, and clinics are affiliated with the following:
ISO-quality-certified clinics
JCI  - Joint Commission International
Thai Dental Council to practice dentistry within Thailand
The International Section of the USA's Joint Commission organization
Brands, Technology & Equipments Used
The clinics in Thailand use new-age equipment & materials to ensure the best dental work. For instance, they have:
Dental lasers
3-D Cone beam X-rays
CEREC-chairside digital crowns & more
CBCT
This 3D cone beam imaging gives the dentist a better overall view of your entire mouth & related structures.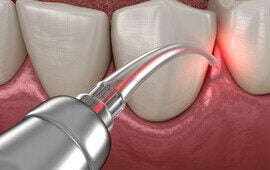 Dental Laser
With this modern technology & high power, clinicians can treat a variety of dental problems like removing soft tissue lesions & more.
CEREC Machine
You can skip multiple dental visits now. Thanks to CEREC machine that fabricates crowns & other restorations in one day.
Microscope
Endodontists use a dental microscope to improve the long-term success of a root canal treatment by effective cleaning.
Our network of clinics in Thailand uses top-notch quality dental materials such as:
Nobel Biocare
3M ESPE products
Straumann implants
Top Clinic Locations
The best dental clinics in Thailand are located in the capital city of Bangkok. Additionally, our network of clinics also provides services in Phuket & Chiang Mai.
Bangkok
Famous for street life,  Buddhist temples, and cultural landmarks, Bangkok is a the most populous city.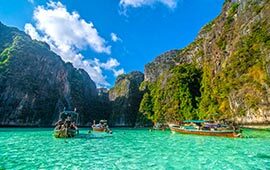 Phuket
Phuket is known for its exotic beaches, colorful night markets, tempting seafood, white marble Big Buddha, and vibrant nightlife.
Chiang Mai
You can visit beautiful ancient temples, natural attractions & striking mountainous landscapes in Chiang Mai city.
Suburbs Locations
The small Thai towns are as vibrant as the capital. Explore with us some of the popular suburban locations here.
Banglamphu, Bangkok
The area in Bangkok is full of leafy lanes, antique shophouses, nightclubs, buzzing wet markets & golden temples.
Bangrak, Bangkok
It stands next to the Chao Praya or "River of Kings". [1] Bangrak is one of the most historic & ancient neighborhoods in Bangkok.
Chinatown, Bangkok
In this town, you get a tempting selection of dishes. The hustle & bustle of Chinatown & colors makes it truly amazing.
Ekamai, Bangkok
With all kinds of local amenities, you can also expect an excellent number of restaurants of different cuisines.
Recommended Hotels
Our clinics in Thailand recommend a few hotels in proximity. They offer opulent services at discounted prices.
The Emerald Hotel
---
99/1 Ratchadaphisek Rd, Din Daeng, Bangkok 10400, Thailand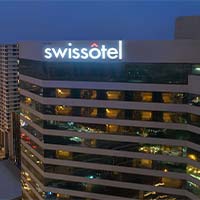 Swissotel Hotel
---
204 Ratchadaphisek Rd, Huai Khwang, Bangkok 10320, Thailand
Mini R Hotel
---
161 Ratchadaphisek Rd, Din Daeng, Bangkok 10400, Thailand
Hotel Indigo
---
81 Wireless Rd, Lumphini, Pathum Wan, Bangkok 10330, Thailand
Courtyard
---
155, 1 Soi Mahadlekluang 1, Lumphini, Khet Pathum Wan, Bangkok 10330, Thailand
Hotel Muse
---
55, 555 Lang Suan Road Khwaeng Lumphini, Khet Pathum Wan, Bangkok 10330, Thailand
Before & After: Dental Work in Thailand
Before & After: Dental Bridges in Thailand
Before & After: All-on-4 Implants in Thailand
FAQs
Yes, dentists in Thailand speak English to communicate well with international patients.
Though the official language is Thai, most of the staff knows English.
So it's easy for both parties to understand each other & express themselves.
Australian passport holders do not need to request a visa to enter Thailand. They can stay for a period of not > 30 days on each visit.
Note:  Australians can visit Thailand without a visa through the land border twice per calendar year only.
Similarly, U.S. tourists entering Thailand for less than 30 days do not require a visa.
Note: Make sure that your passport is valid for at least six months beyond your arrival date in Thailand.
Source: canberra.thaiembassy.org [2]
Usually, Australian mobile phones operate in Thailand by connecting with local GSM networks.
You can get a prepaid Australian sim card that has an International Roaming feature.
Later, you can turn on the roaming feature while traveling to Thailand.
However, you can purchase a tourist SIM card in Thailand to avoid overpriced international calls.
Thailand may not require insurance as a requirement of entry on tourist visas.
However, it is crucial for all foreign visitors entering the country to have travel insurance.
Additionally, the travel insurance policy should include at least $10,000 in medical coverage (including that for Covid-19 related treatments).
Are you struggling to reach the best dentist in Thailand? Here are some steps you can take:
Read some reviews or watch video testimonials from past clients.
Know the dentist's credentials - education, licensure, experience, etc.
See if the dentist hones skills in performing major dental procedures.
Find out if the dentist is offering quality care at a reasonable price.
Here are some red flags to watch out for when searching for a dental clinic in Thailand:
🚩 #1: Poor sterilization standards
🚩 #2: Lack of accreditation by reputable organizations like - Thai Dental Council, the JCI
🚩 #3: No transparency about the prices & treatment plans
🚩 #4: Not asking for old dental records & medical/dental history