Shying away from the 'grey effect' of metal crowns? Zirconia crowns in India may hold a solution that is both aesthetically pleasing and light on your wallet.
Want to know more? Keep reading this article to find out how to improve your smile esthetics in the most colorful country in the world. [1]
Watch on YouTube: "3 TYPES OF DENTAL CROWNS – Which one to Choose"
Expert Advice – What Type of Dental Crown Should You Choose?
Zirconia is the material of choice in modern dental restorations. [2] According to ADA, 98% of dentists use zirconia for posterior crowns & 61% for anterior. [3]
For those wondering how much to pay for a zirconium crown in India, the following section may give you a fair idea.
Cost of Zirconia Crowns in India
The average cost of a zirconia crown in India is $126 – $450.
This price doesn't include any additional procedures you might need, like a root canal, gum lift, or a core buildup.
If you are in the US or UK, you will probably pay around $1,500 – $2,000 for a single zirconia crown. While in Australia, expect to pay 10% above US prices.
Indeed, zirconia crowns are more expensive than other types of dental crowns. [3] But zirconia tooth cap cost in India is less than one-tenth of the western countries.
For more clarity, check out the Zirconia crowns price across countries & cities in India.
---
Cost of Zirconia Crown Treatment in India Vs. US Vs. UK Vs. Australia
Country
Cost (USD)
India
$126
US
$2,000
UK
$1,500
Australia
$2,200
Save: $1,300 – $2,000
*Prices are subject to change.
---
All-ceramic zirconia crown will cost at least $126 in Ahmedabad, close to $250 in Chandigarh and Jaipur, and approximately $450 in Bangalore.
Zirconia Crown Price Across Indian Cities
| City | Cost (USD) |
| --- | --- |
| Ahmadabad | $126 |
| Rajkot | $140 |
| Hyderabad | $165 |
| Jaipur | $260 |
| New Delhi | $150 |
| Mumbai | $200 |
| Bengaluru | $450 |
| Chandigarh | $250 |
*Prices are subject to change.
---
The cost of zirconium crowns in India is almost a fire sale. Even the cost of cosmetic dentistry in India is relatively lower than in the West. [4]
So, if you need multiple crowns, it might be economical to travel to India.
Warranty on Zirconia Ceramic Crowns in India
Most of our partner clinics offer a minimum 10-year free replacement warranty for zirconia dental crowns.
Now that you know the cost and the warranty on zirconia crowns let's see why India is a popular place for dental crowns.
Why Get Zirconium Crowns in India?
When you choose India for your dental crowns, you will see the real value for your money.
Besides cost-effectiveness, let's look at the other reasons to get zirconia ceramic crowns in India:
 Indian hospitals have state-of-the-art infrastructure and qualified dental professionals to offer world-class treatment. [5]
 Language is a major comfort factor for dental tourists in India. The country has a large population of English-speaking medical staff. [6]
 The waiting time for dental treatment in India is almost nil as there are plenty of dentists & dental clinics. [7]
 With numerous tourist attractions, it is possible to have pleasant holidays.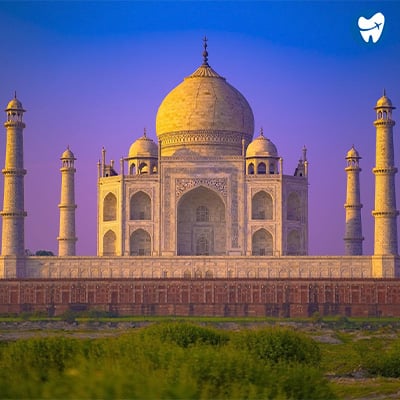 Taj Mahal, India
Let's look at the state-of-the-art dental clinics and qualified dentists involved in your dental crown procedure in India.
Best Dental Clinics for Zirconium Crowns in India
When it comes to the best dental clinics in India for dental crowns, our recommendations would be:
Best Zirconia Tooth Crown Doctors in India
---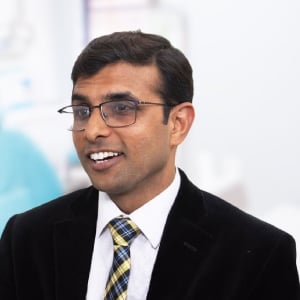 Dr. Jaimin Patel
15 Years of Experience
BDS, MDS
Expertise
Implants, Gum Surgery, Cleaning
Education
Government dental college and hospital, Ahmedabad
Certified from digital dentistry institute
Fellow of International Congress of Oral Implantologists
Dr. Shashi Bhushan
8 Years of Experience
BDS, MDS
Expertise
Implants, All on 4/6/8, Crowns & Bridges, Dentures
Education
University of Bhopal, Madhya Pradesh
Internationally trained implant specialist
Safe Mercury Amalgam Removal Technique (SMART) certifed
Certified from digital dentistry institute
Dr. Gaurav Malik
20 Years of Experience
MDS, BDS
Expertise
Periodontics & Implantology
Education
Rajiv Gandhi University of Health Sciences
Member of Australian Dental Council
Certified from digital dentistry institute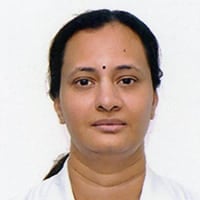 Dr. Nalluri Sunitha
25 Years of Experience
BDS
Expertise
General Dentist
Education
Kuvempu University
Fellow of International Congress of Oral Implantologists
Certified from digital dentistry institute
Dr. Ishita Pawars
5 Years of Experience
BDS
Expertise
Cleaning, Filling, RCT, Extractions
Education
Daswani Dental College & Research Centre, Rajasthan, India
Expertise in Root Canal Treatment (RCT)
Performs teeth whitening, dental fillings, Scaling and polishing
Dr. Nehal Patel
11 Years of Experience
BDS
Expertise
Full Mouth Rehab, Veneers
"Facial Aesthetics" certificate from Indian Dental association (IDA)
"ABC of FMR" certificate from IDA
"Practice Management & Digital Dental Photography" certificate from IDA
Member of Indian Dental Association
Avail FREE consultation from the top dentists!
Book now!
Teeth Caps in India – Reviews
Got root canal and crown done. It was completely painless. Had the best experience.
The doctor suggested zirconia crowns. The crowns were fixed very neatly, and we are completely satisfied.
Treatment went very well and painless and only in 2 sittings for root canal and crown placement.
What Is Zirconia Crown & Its Benefits
Did you know? Zirconium is the most biocompatible dental material next to gold & zirconia ceramic is 10 times stronger than natural teeth enamel. [8]
A zirconia crown is a type of dental crown made from zirconium dioxide (powdered zirconium).
This metal-free crown can cover a tooth or a dental implant.
It protects a broken, weak, or misshapen tooth and can be used as an anchor for a partial denture and dental bridge.
Zirconium crowns
Zirconia ceramics are known for their exceptional strength, biocompatibility, and wear resistance. These are even referred to as "Ceramic Steel." [9]
Top 5 Benefits of Zirconia Crowns
 High strength – High durable and the material of choice for crowns on back teeth
 Superior aesthetics – The translucent zirconia best matches the natural tooth color
 Biocompatible – Do not cause allergies in patients with a history of metal allergies
 More tooth preservation – Need less tooth preparation to fit a zirconia crown
 Highly customizable – These crowns can be layered with porcelain or bonded to the tooth based on specific needs.
Source: Healthline, [10] Colgate [11]
Procedure for Zirconia Crowns in India
The procedure for getting a Zirconia teeth cap in India is similar to that for other crowns. It involves two steps:
---
Examining and Preparing the Tooth
Your dentist will examine your tooth by taking X-rays of the tooth and the bone around it.*
Your tooth will be prepared by removing a layer of its outer surface. The zirconia crown will be the same thickness as the removed layer.
To create a crown, a mold of your tooth will be taken and sent to the lab
While you wait for the permanent crown, you will get a temporary crown to cover and protect the prepared tooth.
*Note: If there's any tooth decay, injury to the tooth's pulp, or risk of infection, you may need a root canal before the zirconia crown procedure.
---
Placement of the Permanent Crown
The temporary crown is removed. The colour and fit of the permanent crown are checked
If everything is acceptable, your dentist will permanently cement the new crown.
---
Crown preparation
Single Sitting Zirconia Dental Crowns in India
Dentists in India can make zirconia crowns in their offices and cement the crown into your mouth in a single visit.
This crown treatment is also called single sitting or same-day CEREC crowns.
Watch on YouTube: "Same-Day CEREC dental crowns in Chandigarh"
Same day zirconia teeth caps in India
The CEREC (Chairside Economical Restoration of Esthetic Ceramics) process uses CAD/CAM (Computer-Aided Design/Computer-Aided Manufacturing) technology to speed up this process.
A dental milling machine is used to make the crown from a block of zirconia. This process eliminates the need for two visits.
However, not all dental clinics in India have this technology in-house.
Remember: After your zirconium crown treatment in India, it's essential to follow your dentist's post-operative instructions and practice good oral hygiene habits.
It will help you protect your natural teeth as well as your new crown for many years.
Conclusion
To sum it up, Zirconia crowns in India can be your once-in-a-lifetime chance to a fun-filled holiday, offering you a much-needed break from routine.
And not to mention, the joy would definitely reflect in your newfound infectious smile.
FAQs
The average cost of dental crowns in India ranges from $70 to $140, which is 5600 INR to 11,200 INR.
The exact cost depends on the material of the crown chosen, the complexity of the case, and the dental clinic's location.
The cost of a single zirconia crown in India ranges from $126 to $450.
Zirconia ceramic crowns can cost as low as $126 in Ahmedabad and approximately $450 in Bangalore.
Zirconia is not only the strongest ceramic material but also combines metal's strength with ceramic's tooth-like appearance.
Compared to metal-containing crowns such as porcelain fused to metal and a full metal crown, zirconia is much more aesthetic, biocompatible, and lasts longer. [12]
Therefore, it is the best material for dental crowns.
With the same-day dental crowns in India, you can get your zirconia teeth caps in 2 to 4 hours. [13]
Many dentists in India make crowns in their offices rather than sending teeth impressions to a lab. Using the CAD/CAM technologies, the crown fabrication hardly takes 1 to 2 hours. [14]
If you opt for the 2-visit procedure, a dental lab will make the crown from your tooth impressions. The process usually takes two weeks or more. [15]
Explore the country's rich past & thriving present!
Visit India!