Patient Reviews
By reading authentic patient reviews, you can gain insight into their dental experiences. It will increase your confidence and foster a sense of trust in your dentist.
I was very pleased with the professionalism of the team. The prices are fair and they go out of their way to fit your schedule.
Saby de Bies, US
Smile Makeover in Barranquilla
I was very impressed with the professionalism, cleanliness, and prices I found at Denticenter. Highly recommend them!
Kevin S, US
Dental Implants in Barranquilla
Almost 20 years of care, and I have never had any problems. Dr. Carlos Acevedo and all his staff are incredible people.
Ivan Arango, Canada
Dental Work in Barranquilla
I have achieved my dream of having perfect teeth, and "smiling again." Impressed with the state-of-the-art technology.
Miriam Trivino, Canada
Full Mouth Rehab in Barranquilla
Cost of Dental Work in Barranquilla
Looking to cut down on dental costs by as much as 80%?
Consider traveling to a Colombian city, Barranquilla, for quality work at a low cost.
Check out the price list for treatments, including implants, veneers, and crowns & find out the potential savings.
Cost of Dental Treatment in Barranquilla Vs the US
Procedure
Barranquilla
US
Savings
All on 4 Implants*
$6,000
$24,000
75%
All on 6 Implants*
$9,000
$28,000
67%
PFM crowns
$400
$1,100
63%
Zirconia Crowns
$570
$2,000
71%
Root Canal Treatment
$123
$1,100
88%
Surgical Tooth Extraction
$123
$650
81%
Porcelain Veneers#
$460
$2,500
81%
*including fixed acrylic bridge per arch, #per unit
*Prices are subject to change with case requirements.
Payment Methods in Barranquilla
Cash
Credit/Debit Cards
Buy Now Pay Later
Clinic Logistics
Do you want to find the top dentist in Barranquilla who can correct imperfections in your teeth?
We can assist you in locating and scheduling an appointment at a dental facility here.
To get started, you should do some research on the clinics and choose one.
Next, you can either request a free quote or schedule a call with a case manager.
You will get assistance in planning a seamless trip to Barranquilla.
Please make sure to check the clinic's operating hours.
Our partner practices are open from Monday to Friday, 8 AM to 6 PM (or 7 PM).
Also, some of the providers are active on Saturdays from 8 AM to 12 PM (or 1 PM).
Our partner dentists are members of the Colombian Dental Association.
Some of the dental professionals are associated with Barranquilla Health Tourism Cluster Dental Federation.
A few of them hold memberships with the following:
Javerian Odontologists Federation
ALD - Academy of Laser Dentistry
Javerian Odontologists Federation
Brands, Technology & Equipments Used
The cards below exhibit information about the basic & advanced dental technology employed for the benefit of the patients.
Intraoral Scanner
It captures digital impressions of a patient's teeth and gums. This technology eliminates the need for traditional impression materials, making the process faster and more comfortable.
NSK Implant Motor
It's a specialized device to ensure accuracy during dental implant procedures. It provides high-precision control for drilling, tapping, and other critical methods required during the surgery.
Autoclave
It uses high-pressure steam to kill bacteria, viruses, and other harmful pathogens. Thus, it sterilizes dental instruments ensuring that treatments are safe and hygienic for patients.
Dental Microscope
It provides a detailed and magnified view of the teeth and related structures inside your mouth. A microscope allows dentists to see even the smallest details, ensuring greater accuracy.
The clinic prioritizes patient benefits and therefore utilizes top-rated dental brands such as:
Biohorizon (American), Straumann (Swiss) for implants
Other implant brands include: Adin, MIS, Neodent
Cerabone for bone grafts
VITA dental ceramics for porcelain crowns
Suburb Locations
Barranquilla is a diverse city on the northern coast of Colombia. It is home to many distinct neighborhoods & colonies.
Here are some of the top suburbs in Barranquilla: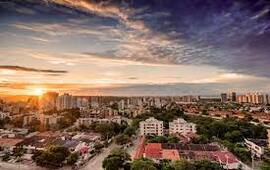 Alto Prado
Alto Prado is one of the most affluent neighborhoods with many luxurious apartments. Here, you can try the city's best restaurants, cafes, and bars. It has beautiful parks and green spaces.
Villa Country
It's a gated community peculiar for its large, modern homes and excellent security. Villa Country has several international schools, making it a popular choice for families with children.
El Golf
As the name suggests, it is located near the city's golf course. El Golf has several exclusive clubs, spacious green areas, and restaurants, making it a popular destination for socializing.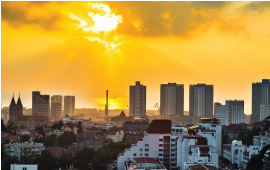 Riomar
Riomar is a well-established community in Barranquilla, popular for its beautiful architecture and tree-lined streets. It is located near the beach, so you can enjoy the coastal lifestyle.
Recommended Hotels
What could be more advantageous than discovering a cozy accommodation in close proximity to dental facilities?
Take a look at some favorable suggestions listed below.
Mosaic Studios
---
Cra. 56 #96 -20, Barranquilla, Atlántico, Colombia
0.6 miles from Carlos Acevedo Odontología
Hotel Puerta de Oro
---
Cra. 48 #70 136, Barranquilla, Atlántico, Colombia
0.9 mile from Dr. Firas Waked
Hotel Dorado Plaza
---
Cra. 50 #82-148, Barranquilla, Atlántico, Colombia
0.03 miles from Denticenter
Vestigium
---
Carrera 52c Calle 90 #59, Barranquilla, Atlántico, Colombia
0.8 miles from Denticenter
Before & After: Dental Work in Barranquilla
Before & After: Dental Veneers in Barranquilla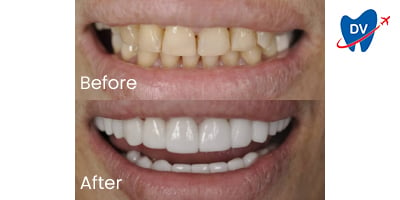 Before & After: Teeth Whitening in Barranquilla
FAQs
Fortunately, yes! The dentists speak and understand English quite well.
Spanish is the official language everyone speaks at the clinic. A few dentists speak Arabic as well.
You can get to Barranquilla by various means, but the best is to fly to the Ernesto Cortissoz International Airport (BAQ).
Avianca and American Airlines offer direct flights of 2 hr 45 min from Miami, MIA, to the BAQ airport.
The airport is located within 13 miles of the clinics, so you can take a cab or a shuttle to reach your destination.
Note: You can also utilize ground transportation services provided by the clinics.
Overall, travel insurance is not required to visit Barranquilla, but it is highly recommended to protect your finances during a mishap.
So, we suggest you purchase travel insurance & read the policy carefully to know what is covered.
Though the city is safe, travel insurance is important as it covers a wide range of situations, including:
Luggage loss or broken bag
If you want to stay connected while on the go around the city, having a local SIM card in your unlocked phone can be very helpful.
You can purchase a SIM card at local stores or kiosks.
Then, you can top up your account with prepaid credit to make calls, send text messages, and access the internet.
It will assist you in navigating the city & stay in touch with your family at all times.
Choosing a trustworthy dentist in Barranquilla is an important decision for your oral health. Here are some tips to follow: 💁
Look for qualified dentists with the necessary licenses in Barranquilla.
Read online reviews for a balanced understanding of reputation.
Seek referrals from acquaintances who had dental work in Barranquilla.
Schedule a consultation to discuss your dental needs and determine if the dentist is a good fit.
Some indications to keep an eye out for a dental clinic in Barranquilla are:
Poor reviews or no reviews from previous patients.
Unsatisfactory hygiene and cleanliness standards of the clinic.
Lack of proper credentials and certifications of the dental clinic/staff.
No clear explanation or transparency about dental procedures and costs.