Dental Veneers in Los Algodones, Mexico, are a popular choice among Americans. Getting veneers from Los Algodones across the US-Mexico border is an attractive choice due to its affordability, high quality, and convenience.
Land's End, Baja California
This article will cover everything you need to know about getting Algodones dental veneers, including the cost of this procedure and the best dental clinics to get them done.
Why Choose Dental Veneers in Los Algodones?
There are numerous reasons people get dental veneers and lumineers in Algodones, Mexico, like-
Affordability
Cosmetic dental work in Mexico is cheap.
Save up to 90% of the cost you would pay in the US.
This is because the cost of living in Los Algodones, Mexico, is lower than in the US. [1]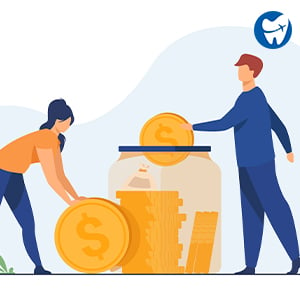 Quality
Your treatment will be conducted at highly recommended dental practices in the Mexican border city.
They receive thousands of dental tourists from the US and Canada every year.
It's also well-connected to the US and Canada by air and road.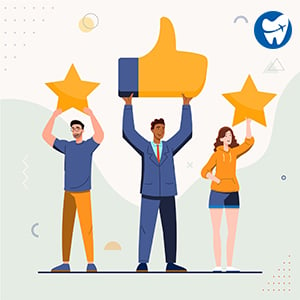 Popularity
Mexico is one of the most popular destination for medical purposes for Americans. [2]
The sheer number of tourists getting dental work in Los Algodones proves that it is an attractive option, if you're looking for,
✅a high-quality and
✅affordable treatment.
Fun fact – Los Algodones is popularly known as the 'Molar City!' [3]
How Much Do Dental Veneers Cost in Los Algodones, Mexico?
The cost of dental veneers in Los Algodones, Mexico, is around 80-90% cheaper than in the US.
The cost of porcelain veneers in Los Algodones is $350 (per unit), while the price of the same in the US is around $2500.
Meanwhile, composite veneers in Los Algodones cost about $150 (per unit), but the same will cost around $1500 in the US, which is a steep difference.
Cost of Veneers in Los Algodones vs. the US
Procedure
Los Algodones
USA
Composite Veneers*
$130
$1500
Porcelain/Ceramic Veneers*
$350
$2500
Zirconium Veneers*
$450
$2500
*Cost of a single unit of veneers
As with any treatment, the exact cost of your entire procedure will depend on the clinic you opt for and the number of teeth you need to fix.
Top Clinics in Los Algodones
Looking for the best veneers in Los Algodones? Check out our recommended clinics.
DentaVacation is currently partnered up with two of the top clinics in Los Algodones, Mexico, that provide high-quality dental treatment, including dental veneers.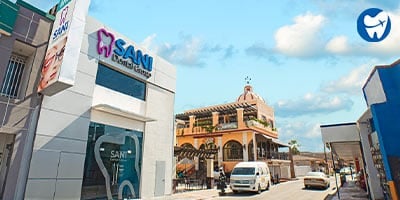 Calle Álamo 287, Vicente Guerrero, 21970 Vicente Guerrero.
Mon - Fri (8:30 am - 5:00 pm) Sat (9 am - 3 pm)
About the clinic
Sani Dental Group was established in 1985 and has a proven track record of providing top-tier dental services and treatment to locals and tourists alike.
Having been in operation for over 30 years, this dental clinic has received various accreditations and awards.
Clinic Highlights
The staff is bilingual
Consultations are entirely free of charge
Dental treatments have a 2-5 year warranty period
Payment via credit card, debit card, checks, or cash (including USD)
It has ties with two of the best hotels located nearby, Hacienda Los Algodones and Hotel Cielito Lindo
C. Tercera 160, Vicente Guerrero, 21970 Vicente Guerrero, BC
Mon - Fri 9 AM to 4 PM, Sat 9 AM - 2 PM
About the clinic
Dental Solutions is associated with the ADA. This clinic offers personalized consultations and treatments to both local and international patients.
On top of that, Dental Solutions provides a wide range of treatment services, so you can conveniently get other procedures done.
Clinic Highlights
The staff is fluent in English and Spanish
Offer free consultations with their dental experts
Payment can be made via credit cards, debit cards, checks, and cash
Appointments are flexible and are scheduled according to your preferences
Rigorous sterilization conducted for equipment, facilities, and treatment rooms
Best Dentists in Los Algodones
Locating the best dentists in Los Algodones, Mexico, may be challenging.
But don't worry! We've handpicked two of the best dentists in this Mexican town based on their experience, reputation, and specialization.
---
Jose Carlos Morales Rojas
5 Years of Experience
DDS
Expertise
RCT, Fillings
Education
Rwth Aachen University
Completed CPR resuscitation course
Certified on Complicated Extractions from Universidad Cuauhtémoc
Dr. Xochipilli Bojorquez
8 Years of Experience
DDS
Expertise
Implants, All on 4/6/8, Full Mouth Rehab
Education
Autonomous University of Baja California
Dr. Xochipilli Bojorquez
8 Years of Experience
DDS
Expertise
Implants, All on 4/6/8, Full Mouth Rehab
Education
Autonomous University of Baja California
Diploma in Implant Dentistry from Harvard School of Dental Medicine, USA
Diploma in Oral Implantology, Mexicali, Baja California, Mexico, Dec 5, 2009.
Get treatment from certified dentists at top clinics!
Call now
What are Dental Veneers?
Dental veneers are outer coverings shaped like the front surface of a tooth.
These are alternatively known as dental laminates.
These are used to encase teeth that are-
cracked,
chipped, or
have lost their natural sheen.
Dental veneers are custom-made for each patient. They are designed to be bonded to the front of the tooth to alter its color, shape, length, or appearance.
Source: NCBI [4]
Watch on YouTube: "Complete Guide to Dental Veneers"
All You Need To Know About Dental Veneers
Types of Dental Veneers
Veneers come in several colours and materials but the most common materials used are porcelain and composite veneers.
Check the table to find out the difference between them.
Porcelain Veneers vs. Composite Veneers
| Porcelain Veneers | Composite Veneers |
| --- | --- |
| Longer lifespan | Shorter lifespan |
| Less prone to stain | Susceptible to stain |
| Invasive treatment | Minimally invasive |
| Made in lab | Handmade |
Source: Colgate [5]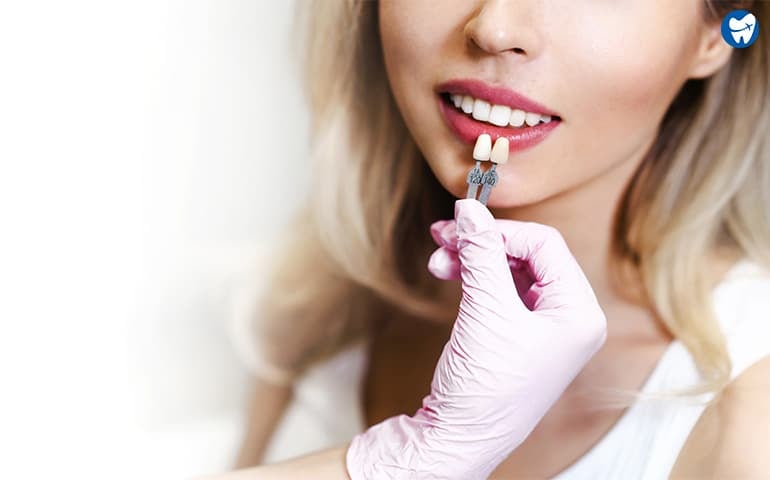 Shades of Dental Veneers
You can also consider lumineers.
These are a brand of veneers that typically require less preparation and dental work compared to your traditional veneers but do not last as long.
Instead of porcelain or composite material, lumineers are made of ultra-thin laminate. Hence, they are:
thinner and
more translucent than traditional veneers.
Source: IOSR Journals [6]
Procedure
It would typically take two to three visits to your dentist in Los Algodones to get dental veneers done.
Watch on YouTube: "Dental Veneers Procedure Abroad "
Getting dental veneers in Los Algodones involves the following steps:
✅ Your dentist or prosthodontist examines your teeth.
✅ Your tooth is reshaped, and part of the enamel is trimmed off.
✅ The dentist makes an impression of your tooth and sends it off to the lab.
✅ The lab customizes your veneers before it is cemented onto the tooth.
✅ A follow-up may be recommended after a couple of weeks.
Source: Research Gate [7]
 Veneers vs. Dental Crowns
Dental crowns are another popular cosmetic procedure that can be done in Los Algodones.
While dental veneers cover only the front portion of the tooth, the dental crown is a tooth cap that covers the entire tooth.
Dental crowns are usually reserved for teeth that are excessively worn or cracked, while veneers are typically recommended for intact teeth that only require cosmetic restoration. [8]
Are you a good candidate for dental veneers?
Your dentist in Los Algodones will let you know if dental veneers are suitable and safe for you.
Eligible candidates for dental veneers will typically meet the following criteria-
✅ Good oral hygiene,
✅ Enough enamel on teeth for bonding
✅ Do not have a teeth-grinding problem (bruxism).
Source: Research Gate [9]
You should consider getting lumineers or porcelain veneers in Algodones – Mexico, if your answer to the following questions is a 'yes'-
⭐ Am I uninsured or underinsured?
⭐ Am I looking for substantial cost savings?
⭐ Is it convenient to travel for dental veneers in Mexico?
⭐ Am I in good health to travel across the border for my dental work?
Dental Tourism in Los Algodones, Mexico
Los Algodones is a dental holiday destination popular among US citizens as it is safe and located in a convenient spot, right on the US-Mexico border.
Los Algodones, located in the state of Baja California, Mexico, sees tourists mainly to visit its inexpensive shopping plazas, restaurants, and pharmacies.
You can cross the border either on foot or via car, though it is advised to park your vehicle on the US side before crossing over.
Watch on YouTube: "The Most Beautiful Drone Footage of the Baja Divide"
Video Courtesy: Ryan Van Duzer
If you're thinking about traveling to Los Algodones for dental treatment, you will need a valid passport. A tourist visa is required if you plan to stay in Mexico for more than 180 days. [10]
Dental Veneers in Los Algodones Testimonials
Watch on YouTube: "Patient review- Erick Engebretson from California"
Patient Review of Dental Work in Los Algodones
Sani Dental is the best! All of their staff are friendly, courteous, and professional. It is high-quality dentistry that is affordable
At Dental Solutions, Dr. Xochipilli Bojorquez did the initial consultation, and everything she promised was more than delivered!
Conclusion
Everyone dreams of wearing a brighter smile and dental veneers in Los Algodones can help you achieve that!
Los Algodones is an attractive solution if you are looking for-
⭐affordable, and,
⭐high-quality treatment.
Choosing a reliable dental clinic can be daunting. But we're here to help.
We'll be more than happy to clarify any doubts you have and connect you with some of the best dental service providers in Los Algodones. Feel free to get in touch with us!
FAQs
You can expect to save around 80% in US prices when getting dental veneers in Los Algodones.
A single unit of porcelain dental veneers in the US costs $2500 whereas the same cost only $350 in Los Algodones.
The per unit price of Zirconium veneers is up to $2500 in the US. On the other hand,  zirconium veneers in Los Algodones cost around $350 only.
Dental veneers in Los Algodones are generally a safe procedure due to their low risk of complications.
However, you will have to pick a good dentist and dental clinic in Los Algodones to ensure minimal risk of complications.
Our dental clinics in Los Algodones are the best in the town and are staffed by some of the most experienced dentists.
Furthermore, the materials used in these clinics are of the highest quality.
With proper care and maintenance, porcelain veneers from Los Algodones typically last 10 to 15 years.
Meanwhile, composite veneers do not last as long as porcelain veneers and must be replaced sooner since they last only 4-8 years.
Dental veneer treatment in Los Algodones would usually take two or three trips to your dentist.
These trips may be spread weeks apart as the veneers are typically customized in an outside laboratory.
However, dental veneer treatments can be completed in less than a week in our partner clinics, as these dental clinics have in-office labs.
For instance, Dental Solutions can make porcelain veneers in just 72 hours.
Looking for high-quality and affordability? We've got you!
Learn more!