Are you thinking of getting dental care overseas? Why not choose the molar city itself? Dental work in Los Algodones, Mexico, is preferred by many Americans and Canadians looking to mix treatment with a vacation.
Watch on YouTube: "Dental Work in Mexico: Patient from Hawai Reviews Mexico"
Patient Testimonial
While affordable costs drive many tourists into the city, quality concerns need addressing.
Like any other dental tourism location, Algodones has both low and high dental work quality.
But how should you be able to tell which dentist to trust? This is where we come in!
You will find facts to consider in the short guide below while choosing to get dental treatment in Los Algodones.
What is the Cost of Dental Work in Los Algodones, Mexico?
The dental bills in the US and Canada are 4-5 times more than in Mexico. So, the patient can save around 70-80% on dental care.
For example, if you visit a local dentist in America for All-on-4 implants, then you are likely to spend $24000
However, you can cut the price of dental work in Los Algodones by 85% with an estimated savings of around $15100.
Isn't that worthwhile?
See the cost table below to compare prices with the USA or Canada.
Dental Work Avg. Cost Comparison (USD)
| Dental Work | USA | Canada | Los Algodones | Estimated Savings |
| --- | --- | --- | --- | --- |
| Single Titanium Implant | $5,000 | $4,600 | $750 | $4,250 |
| All-on-4 Implants | $24,000 | $22,000 | $8,900 | $15,100 |
| All-on-6 Implants | $28,000 | $26,000 | $11,100 | $16,900 |
| Bone Graft (per unit) | $800 | $600 | $400 | $400 |
| Sinus Lift | $6,000 | $5,200 | $700 | $5,300 |
| PFM Crowns | $1,100 | $1,020 | $180 | $920 |
| Zirconia Crowns | $2,000 | $1,840 | $450 | $1,550 |
| Porcelain/zirconia veneers (per unit) | $2,500 | $2,300 | $350 | $2,150 |
| Permanant partial dentures (per arch) | $2,000 | $1,840 | $480 | $1,520 |
| Partial full denture (per arch) | $2,100 | $1,930 | $350 | $1,750 |
| Root Canal Treatment | $1,500 | $1,300 | $220 | $1,280 |
We have tabulated the average cost comparison of different dental procedures in 3 different geographical regions for a clear picture.
 Please note that the prices may vary depending upon the case complexity.
Why Choose Los Algodones for Dental Work?
There are several reasons why choosing a dental clinic in Los Algodones is beneficial.
---
Low price | Fast service
No mandatory insurance malpractice incurs less expense to doctors. It means low cost of dental care in Mexico.
Apart from savings of up to 80%, the treatment is speedy with plenty of dental labs in town.
It takes one or two days to fabricate a crown, a bridge, or even dentures.
---
Popular and Safe
The popularity among dental tourists has given it the name "Molar city". It has more per capita dentist than any other place on earth.
Since dental tourism contributes significantly to the town's economy, the locals strive to create a safe and friendly environment for visitors.
Watch on YouTube: "Sterilization Process in Dental Clinics "
Sterilization at Clinic
---
Auto Insurance Facility
In 2019, Mexico came up with a new policy that USA and Canada vehicles should have vehicle liability insurance from a Mexican insurer.
In January 2020, a new type of auto insurance was introduced specifically for medical tourists.
The plan provides auto liability and full coverage insurance.
Includes "medical evacuation" if there is an emergency on the road.
Includes legal and roadside help, with a "live case monitoring contact center" always available.
Watch on YouTube: "Why choose dental work in Los Algodones"
5 Facts About Los Algodones
---
Best Dental Clinics in Los Algodones, Mexico
Dentists strive to give a better smile to the patient and improve the functioning of teeth too. There are several criteria based on which you should select your dental clinic:
What are the dental clinic's accreditations?
What different kinds of dental treatment do they offer?
For how long have they been seeing international patients?
What do the Previous patients have to say about their service?
Do they have a bilingual/ English-speaking staff?
Based on these the best fit answers to these questions, we recommend Sani Dental Clinic and Dental Solutions in Los Algodones for you: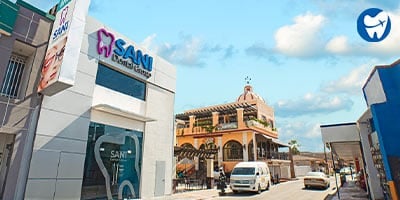 Calle Álamo 287, Vicente Guerrero, 21970 Vicente Guerrero.
Mon - Fri (8:30 am - 5:00 pm) Sat (9 am - 3 pm)
Highlights:
35 years of Experience
State-of-the-art technology
Sterilized clinic environment
Bilingual and Co-operative staff
Various Payment Options
Accept Dental Insurance
Treatments backed with 2-5 year warranty
5 min drive from Andrade border crossing
Free Consultation
Free Parking Space
Free Shuttle service from Airport/Border to Clinic
C. Tercera 160, Vicente Guerrero, 21970 Vicente Guerrero, BC
Mon - Fri 9 AM to 4 PM, Sat 9 AM - 2 PM
Highlights:
More than 85% success rate
No consultation fees
Professionally trained staff
Equipped with 9 dental chairs
4% discount on cash payments
A special price of  30$ per extraction for All-on4 cases
Ease of communication in English and Spanish
Strict sterilization and disinfection
2-year warranty on certain treatments
Special arrangement with hotels in vicinity
Parking facility available nearby
Top Dentists in Los Algodones, Mexico
---
Dr. Xochipilli Bojorquez
8 Years of Experience
DDS
Expertise
Implants, All on 4/6/8, Full Mouth Rehab
Education
Autonomous University of Baja California
Performed over 1200 all-on-4 implants
Attended several courses taught by Nobel Biocare and Megagen in Spain and Korea
Practiced the All-on-4 technique in the Nobel BioCare Global Symposium in New York and at the Harvard School of Dental Medicine
Attended a course at the Malo Clinic in Portugal with the developers of the All-on-4 treatment
Dr. Enrique Arturo Jimenez Alvarez
37 Years of Experience
DDS
Expertise
Implants, All on 4/6/8, Oral Surgery
Education
Universidad Nacional Autónoma de Guadalajara
He has completed a diploma in Implantology
He has also completed Masters in laser dentistry and implant dentistry
Patient Reviews
Listen to the previous patients talk about their dental journey in Los Algodones, Mexico:
Watch on YouTube: "Zygomatic Implants in Los Algodones "
California's Patient Feedback
The Clinic is a member of the American Dental Association (ADA).
It is the only dental clinic with the prestigious "International Patient Services Certification" by the MTA in Los Algodones.
How to Reach Los Algodones?
---
Entry into Mexico can be made at the border at Andrade, California, directly adjacent to Los Algodones; the border is open every day between 6 am and 10 pm.
The Andrade Port of Entry is the lowest volume border checkpoint along the US–Mexico border.
Reaching Los Algodones
It is usually very fast to reach Los Algodones, but there can be delays to re-enter the US.
Check here for the latest border crossing times.
---
The nearest airport is in Yuma, no more than 15 minutes from most dentists in the Yuma-Mexico border area.
Our partner clinic provides free shuttle services after you cross the border to Mexico.
| From | To | Travel time |
| --- | --- | --- |
| Dallas (DFW) | Yuma (YUM) | 2 hr 55 min (nonstop) |
| Phoenix (PHX) | Yuma (YUM) | 55 min ( nonstop) |
| Los Angeles (LAX) | Yuma (YUM) | 3 hr 6 min (1 stop) |
| Calgary (YYC) | Yuma (YUM) | 7 hr 53 min ( 1 stop) |
| Toronto (YYZ) | Yuma (YUM) | 8 hr 8 min ( 1 stop) |
---
Travel Tips
Always carry your passport while going to Los Algodones
December to March is the best time to visit Los Algodones, as the climate is warm and dry.
Take dental appointments well in advance during the peak season.
Beware of street pickers luring you into cheaper dental clinics. Always research well to choose your clinic.
If you buy goods in Mexico, you need to declare the goods and pay the taxes while going back home.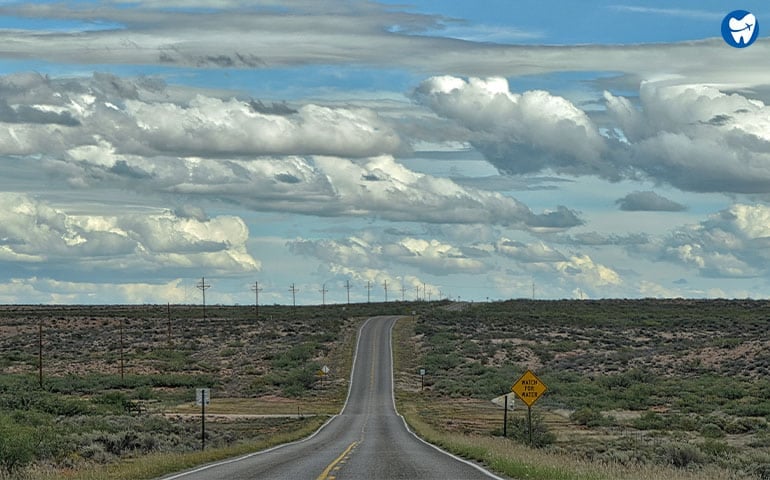 Los Algodones
You need not worry about buying Mexican pesos because you can do all your transactions in US dollars.
Visiting Los Algodones in a group is a good idea, instead of going alone for the treatment.
You may find some street vendors at the border crossing. They can be insistent, but will not hurt any tourist.
Limit your alcohol intake, follow the law, and be a considerate traveler.
You are prohibited from bringing certain stuff such as fire weapons, explosives, narcotics, recreational drugs, bullets, and also vegetables into the Mexican territory. This is considered to be a crime and punishable by law.
Conclusion
Dentavaction facilitates dental trips to Mexico.
While the cheap treatment lures patients into getting treatment overseas, we see that patients are connected with the best of dental teams.
We offer not only affordable but also high-quality and safe dental treatment abroad. Contact us for a free quote!
FAQs About Dental Treatments in Los Algodones
A porcelain crown in Algodones costs just $300, one-fourth of the US cost.
You can get zirconia crowns for $450 and porcelain fused metal crowns for $180 in Algodones, which are at least a thousand dollars less than in the US.
The average cost of a single-tooth porcelain veneer in Los Algodones is $350, whereas it can be more than $2,000 per tooth in the US.
Los Algodones dentist charges around $790 for one titanium dental implant. The same implant will cost over $4,500 in the US/Canada.
Similarly, the cost of full mouth reconstruction procedures like all-on4/6/8 in Los Algodones is $15,000-$17,000 less than in the US.
Depending on the material you choose, a single arch permanent denture can cost up to $1,500 in the US – about $350 in Los Algodones, Mexico.
The cost for a temporary acrylic denture in Molar City is around $250, and in the US, it can be as much as $2,000.
The list of dental treatments that you can get here in Los Algodones is pretty extensive – right from simply cleaning of your teeth to dental implants, root canal treatments, and cosmetic dental procedures.
More than 3000 people cross the border every day to get dental work done.
Yes. Our partner clinic may not directly work with your insurance provider, but they will complete all the necessary paperwork that you need for reimbursement of your expense.
FAQs About Dental Tourism in Los Algodones
Los Algodones is a small town in Baja California, Mexica at the US- Mexico border. Yuma, Arizona is the closest to it on the US side, barely 14 km.
If you are visiting by land or sea, you will not be asked to show your passport. However, you need it while going back to your country. It is, therefore, recommended to carry your passport with you.
If you are visiting by air, you will have to fill up the FMM form, which is a visitor's permit at the airport. The Immigration office at the airport will check your documents and stamp your passport along with the FMM form.
You are advised to keep your Visitor Permit safe during your trip to avoid any issues on your way back home.
According to the US Department of State, in major cities and resort areas of Mexico, the tourism industry is generally well-regulated. [1]
You will find best practices and safety inspections being regularly enforced. Any dangerous areas or activities are identified with proper signage. In Los Algodones, you will find more tourists than locals.
You need not take public transport because everything is at a walkable distance.
However, as with any new tourist destination, it is best to be careful and vigilant.
For a hassle-free dental trip, you must carry:
Passport
Any valid picture ID
Dental insurance policy (if any)
Credit cards, ATM card, and cash in USD
Relevant medical and dental reports, such as Radiographs, Lab reports, etc.
The borderline opens at 6:00 AM and closes at 10:00 PM. So you have to schedule your travel accordingly.
Not very far! By road, it is only 14.4 km. So you reach in just a few minutes' time.
Sani Dental Group has free parking exclusively for their patients, just next to the clinic and just two blocks away from the border.
Absolutely! Many Americans and Canadians come here for the same purpose – of having a great time and improving the smile and function of teeth.
The reason Los Algodones is known as "Molar City" is because it has been catering to the needs of dental patients for the past several decades. You can go shopping with great bargains on clothing and jewelry. The streets are full of Mexican restaurants. Friendly tourists and locals will make you feel at home.
Los Algodones has two best hotels, Hacienda and Cielito Lindo close to Sani Dental Clinic. If you do not desire to stay in Los Algodones then you can stay overnight on the US side – Yuma, Arizona is the best option.
No, language is not a problem in Los Algodones. Dentists here speak good English because the town is close to the border, and dentists here have been catering to American patients for decades.