Dental crowns can be unaffordable in the United States and Canada. Additionally, a lack of insurance leads to delayed treatment and increased expenses. The good news is that the cost of dental crowns in Mexico is much lower.
You can get high-quality crowns south of the border without cutting corners.
Watch on YouTube: "Robert"
Patient Testimonial – Dental Crowns and Bridges in Mexico
Mexico is the ideal place for Americans and Canadians to get affordable dental crowns and bridges.
This post talks about the quality of dental crowns in Mexico, the procedure for getting them, and the best clinics.
Cost of Dental Crowns and Bridges in Mexico
First off, you need to know how much dental crowns and bridges in Mexico cost. The price mainly depends upon the material used.
Here's a breakdown:
Porcelain-fused-to-metal crowns in the US cost $1,100 on average. In Canada, the same crown costs around $1,020.

In Mexico,PFM crowns cost as little as $180, giving you a saving of 80 – 83%.

All-porcelain/ceramic dental crowns in the US cost $1,800 on average. In comparison, the same crown in Canada will cost $1,650 on average.

In Mexico, you can expect to pay $350, saving 78 – 80%.

Zirconia crowns in the US cost around $2000, whereas, in Canada, the same dental crown costs $1800 on average.

In Mexico, you can pay just $450 for a Zirconia crown, giving you a saving of 75 – 77%.
Check out the following table for a comparison of the prices:
Dental Crown Cost Comparison – USA vs. Canada vs. Mexico
| | | | |
| --- | --- | --- | --- |
| Type of Dental Crown | USA | Canada | Mexico |
| Porcelain-fused-to-metal | $1,100 | $1,020 | $180 |
| All-porcelain/ceramic crown | $1,800 | $1,650 | $350 |
| Zirconia crown | $2,000 | $1,800 | $450 |
| Porcelain-fused to gold | $3,000 | $2,500 | $600 |
Dental Bridge Cost Comparison – USA vs. Canada vs. Mexico
Types of Bridge
USA
Canada
Mexico
Porcelain fused to metal bridge*
$6,000
$5,500
$1,350
Implant-supported bridge**
$15,000
$13,500
$2,950
Full porcelain bridge*
$6,000
$5,500
$1,170

*3 Crown Bridge **2 Implants and 3 Crown Bridge
*Prices are subject to change without prior notification.
Did you know? A dental crown can also be created in a single visit if your dentist has Cerec or a CAD-CAM unit! [1]
Dental Crowns in Mexico? What are they
A dental crown or "cap" is a prosthesis placed directly over a misshapen, cracked, or broken tooth.
Once in place, the crown protects the tooth, restores bite functionality, and enhances the tooth's aesthetics.
It is a permanent solution as a crown can only be inserted or removed by a dentist.
There are many uses of a dental crown. It protects a weak tooth from cracking, acts as a cover for a tooth with a root canal treatment, and is also a tooth replacement option!
Dental Crown Types
Watch on YouTube: "Get Affordable Dental Crowns in Playa Del Carmen"
Dental Crowns – Types & benefits
The price of dental crowns and bridges in Mexico varies mainly depending on the material type. They include:
Porcelain-Fused-to-Metal Crown
This kind of dental crown has a metal base with an outer layer of porcelain, making it stronger and more durable than regular porcelain dental crowns.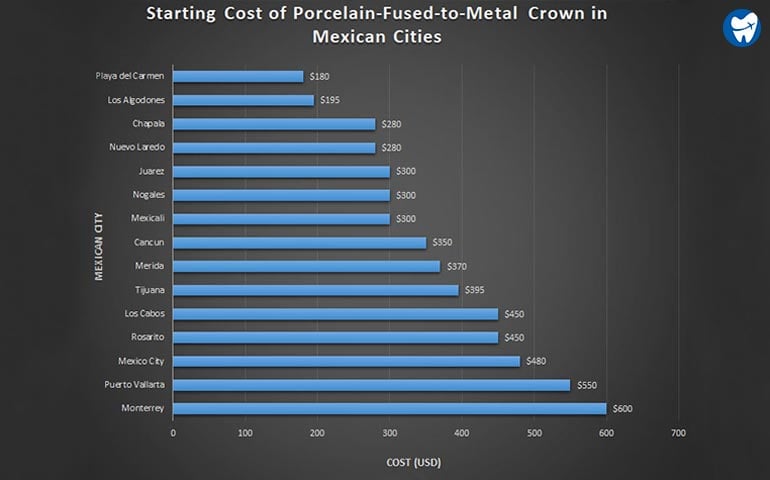 Starting Cost of PFM Crown in Mexican Cities
Did you know? The long-term survival of porcelain fused to metal crowns is 99.3% after seven years? [2]
All Porcelain Crown
Built by firing and stacking, [3] all-porcelain crowns give the most natural look.
They are translucent and have maximum aesthetic appeal. [4]
Ceramic Crown
Ceramic dental crowns are commonly used to restore front teeth and are a good choice if you have metal allergies. [5]
Metal Alloy Crowns
They are made of a combination of metals and hence possess the maximum strength.
However, they lack aesthetic properties. Thus, they are used in the back teeth. Metal crowns require only a minimal amount of tooth trimming.
They are broadly divided into:
Base metal alloy crowns – cobalt, chromium, etc
Noble metal alloy crowns – gold crowns
Partial and Temporary Crowns
When the tooth is heavily decayed and a simple filling is insufficient, a partial crown known as an inlay or onlay is used.
It covers part of the tooth when a full crown is not needed.
Partial Crowns | Inlays & Onlays
A dentist will fit a temporary crown while a patient is awaiting their permanent restoration. This process protects the tooth during the interim period.
CEREC Crowns
CEREC or same-day (chairside) crowns are designed and milled in the dental office, using 3D Cad/Cam technology while you wait.
They provide a convenient and cost-effective way of getting quality crowns in Mexico.
Same-Day (CEREC) vs. Traditional Dental Crowns
| | | |
| --- | --- | --- |
| Criteria | CEREC | Traditional |
| Materials | Porcelain or ceramic only | All types, including metal |
| Dental visits | One | Two |
| Temporary crown | Not required | Required |
| Same-day treatment | Possible | Not possible |
CEREC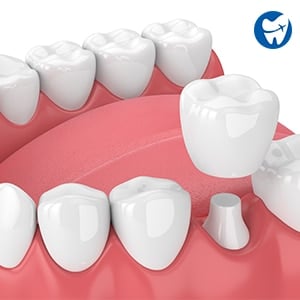 Traditional Crowns
Why Are Dental Crowns Needed?
Dental crowns are protective and have the following functions:
They are used to top dental implants and replace missing teeth.
They provide stable support to a dental bridge.
They support a tooth that has been excessively damaged.
Dental crowns are also used to mask discolored or broken teeth.
Functions of dental crowns
Did you know? If the crown requires additional support, the dentist can build up the tooth's core, enabling the dental crown to fit properly!
Getting Low-Cost Dental Crowns in Mexico – The Procedure
---
1. Examination
2. Tooth reshaping
3. Impression with digital scanning
4. Creation of 3D computerized mock-up
5. Permanent crown milled and fitted the same day.
---
1. Examination
2. Tooth reshaping
3. Impression with paste or putty
4. Impression sent to lab & a temporary crown is placed
5. Visit 2 – the temporary crown is replaced with the permanent crown.
---
Popular Destinations for Cheap Dental Crowns in Mexico
As is apparent from the table at the start of the article, Mexico provides affordable dental bridges/crowns at a fraction of the prices quoted in Canada and the United States.
So, it's essential to find out where the best dental clinics are situated.
---
Cancun
Cancun is a renowned tourist destination in the state of Quintana Roo, popular with spring-breakers.
Aside from beautiful beaches and pulsating nightlife, Cancun is also home to several state-of-the-art dental clinics.
Here you can get a cheap dental crown in Mexico for around 60% less than you can in the US.
---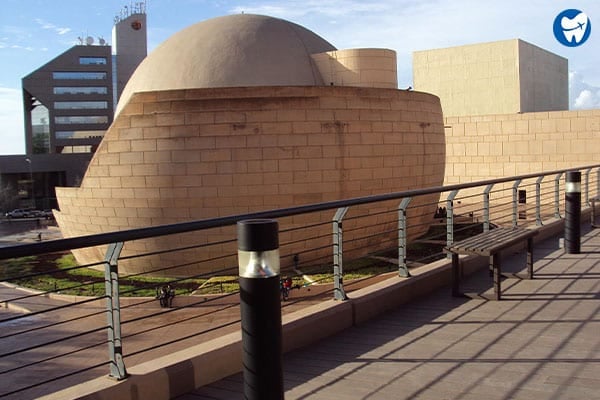 Tijuana
Tijuana is a border town just about 17 miles from San Diego, California, and is the busiest land border crossing globally. [6]
Along with Los Algodones, it's also one of the best destinations to find a cheap dental clinic for crowns in Mexico.
Tijuana provides excellent options for dental tourism. You can get a quality porcelain crown starting from $595, a 67% saving compared to US prices.
Rosarito is a picturesque resort city in Baja, California, about half an hour drive from Tijuana.
The quaint place is home to a modern dental clinic run by a highly skilled dental surgeon.
Here you can expect to pay between 60 and 70% less.
---
Los Algodones
Los Algodones is the undisputed "molar capital."
Home to hundreds of dental offices, Los Algodones, is conveniently located seven miles west of Yuma, Arizona.
It is the ideal place to get affordable dental crowns and bridges in Mexico.
You can expect to save almost 80% on US prices here.
---
Nuevo Laredo
Situated on the Mexican side of the Rio Grande, Nuevo Laredo is home to our partnered dental clinic.
Here you can get a variety of cheap dental treatments without compromising on quality.
It includes affordable crowns in Mexico available at 70% less than you would pay back over the border in the US.
---
Ciudad Juarez
Just 9 miles from El Paso, Texas, Juarez is the second-most populated US border city. [7]
Here it's not hard to find a cheap dental clinic for crowns that Mexican visitors will appreciate without compromising quality.
A PFM crown, for example, can be yours for 70% less than the equivalent crown north of the border.
---
Puerto Vallarta
Puerto Vallarta also has several dental experts with specialized skill sets.
Getting dental crowns in PVR, as the city is often called, will allow you to rest and rejuvenate in a tropical setting.
Costs are typically around 70% less than in the US.
---
Playa Del Carmen
Popular amongst Americans and Canadians as a tourist destination, Playa Del Carmen has Mexico's best beaches. [8]
It is also home to some top dental clinics to save up to 70% on dental caps.
---
San Jose del Cabo
Otherwise known as 'Cabo,' San Jose is situated on the southernmost tip of the Baja Peninsula.
Here stateside, visitors can indulge in a spot of luxury, enjoy a sunny climate and get 65 – 70% off on dental crowns.
---
Mexico City
Save up to 75% off dental treatment when you visit Mexico City.
As Mexico's capital, it houses some of the best dental clinics and most-respected dentists in the country.
Surrounded by snow-covered volcanoes, it is a popular Mexican medical tourism destination.
---
Mexicali
Situated close to the border town of Calexico, California, Mexicali provides the perfect opportunity to get low-cost dental crowns in Mexico with up to 60% savings.
It is easy to reach the city by road from Calexico, California. There are two ports of entry on this border.
---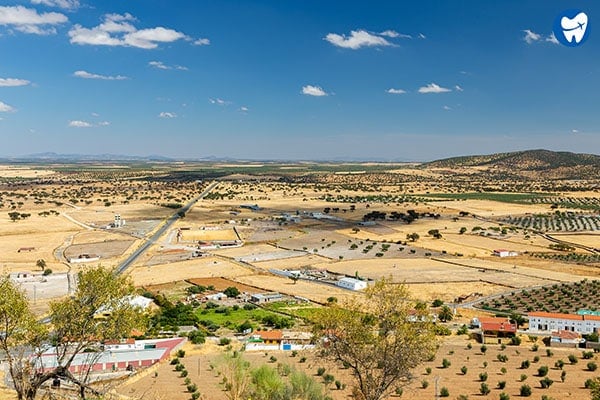 Nogales
Just across Arizona's Santa Cruz County border, those willing to make the short journey can save between 60 – 70% on dental work.
This border town is a cheap shopping destination, and you can fill your bags with some colorful Mexican handicrafts.
---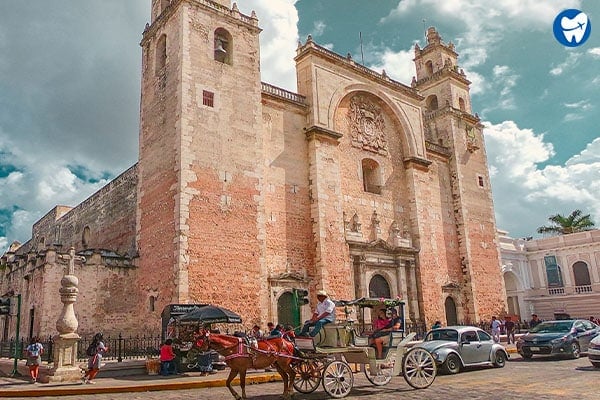 Merida
This town is fast emerging as a favorite for quality, affordable dental work.
Here visitors can save between 70 – 90% on the same treatments back in the US.
The city is modern and cosmopolitan. Premium hotels, resorts, & art galleries are found within your budget.
---
Monterrey
Monterrey is thought to be one of the most Americanized cities, [9] given the number of businesses based here, but that doesn't mean you pay American dental prices.
Here costs can be up to 85% less for dental crowns without compromising the quality of dental work.
---
Chapala
Located on the north shore of Mexico's largest Freshwater lake, [10] Chapala not only offers excellent dentistry with up to 70% savings, but it also provides the ideal place to recuperate and unwind.
With its beautiful landscapes, Chapala attracts many medical tourists, mainly for the holiday & low-cost combo.
---
How Long Do Dental Crowns from Mexico Last?
Dental crowns in Mexico have the same lifespan that you would get in any other country.
For a detailed survival rate, refer to the table below:
| | |
| --- | --- |
| Crown Material | Average Survival Rate after 10 years |
| Porcelain-fused-to-metal (PFM) | 90% |
| Gold | 96% |
| All-ceramic | 75% |
| Zirconia | 88% over 5 years |
Source: NA Fernandes et al.The longevity of restorations -A literature review. SADJ October 2015, Vol 70 No 9 Page no. 410 – 413
Key factors that affect the lifespan of a dental crown include:
Bad oral habits
Habits like tooth grinding
The health of tooth underneath
Poor eating habits
The skill of the dentist
Dental crown material
How to Take Care of Your Dental Crown
Aftercare for Temporary Dental Crowns
Avoid chewing for a few hours
Avoid sticky & crunchy foods
Brush as usual but floss with care
Use a desensitizing toothpaste
Meet dentist if the crown falls off
Aftercare for Permanent Dental Crowns
Avoid sticky or hard foods
Practice food oral hygiene habits
Visit a dentist if pain while biting
Call dentist, if the crown falls out
Floss around the crown with care
Conclusion
As you can see, it is possible to get low-cost dental crowns in Mexico within 1-2 visits without sacrificing quality.
If you are considering getting dental crowns in Mexico or want more information, fill in the contact form, and we will be in touch.
FAQs About Cheap Dental Crowns in Mexico
Prices vary depending upon the material used, the location, and the clinic itself. The starting price of a PFM crown is around $180.
The equivalent crown in the US would be about $1,100. Refer to the table below for detailed analysis:
| | |
| --- | --- |
| Crown Type | Cost (USD) |
| Porcelain-Fused-To-Metal (PFM) | $180 |
| Porcelain/Ceramic | $350 |
| Porcelain-fused-to Gold | $600 |
| Zirconia | $450 |
Absolutely. For example, in places like Los Algodones, you can get a dental crown for around 80% less than an equivalent crown back in the US.
See below for further cost savings across other Mexican towns and cities.
A dental crown in Tijuana will cost, on average, between $395 and $595, depending upon the material used.
depending upon the material used.
| | |
| --- | --- |
| Crown Type | Cost (USD) |
| PFM crown | $395 |
| Porcelain crown | $595 |
| Zirconia crown | $595 |
Bridges in Mexico are affordable, with average prices between $1,170 for a full porcelain 3-unit bridge and up to $2,950 for two implants supported 3-unit bridge.
Yes, like-for-like dental crowns are anywhere between 60% and 85% cheaper than back in the US.
Porcelain/ceramic crowns cost on average $350 south of the border. Whereas, in the US, the equivalent crown would be $1,800.
It can take two visits over 2-3 weeks for traditional crowns, the same as in the US.
Time includes consultations, scans, impressions, and final fitting.
Alternatively, if you opt for CEREC same-day crowns, the dentist will complete the whole process in one visit from start to finish.