Dental Crowns in Merida, Mexico – A Reason to Smile!
Merida is the American Capital of Culture. [1] Moreover, it stands strong as the Dental Capital for Americans and Canadians. [2] Come, pamper yourself in the 'White City' and seek affordable dental crowns in Merida.
Dental Crowns Procedure
Merida is a colonial town, the capital city of Yucatan, Mexico.
It showcases a fusion of world-class beaches, important natural reserves, colonial architecture, culinary arts, and gastronomic traditions. [3]
Mexico enjoys its status as a leading destination for dental tourism. [4] And so does Merida!
It is equipped with state-of-the-art dental clinics, ensuring a high level of dental hygiene standards aligned with the OSHA regulations. [5]
What is the Cost of Dental Crowns in Merida, Mexico
Merida dental crown prices are lower when compared to the US and Canada.
Whether you consider the cost of getting dental implants in Merida or dental crowns, bridges, and dentures, you can make considerable savings back home.
More than 25% of dental tourists across the globe come to Mexico. [6]
The important pulling factor for tourists is the cost savings for the same level of dental care and quality in their home countries.
You can even check the price list for the cost of other dental procedures in Merida.
The table below showcases the cost of dental crowns in Merida compared to dental crowns prices in the US and Canada.
Dental Crown Cost Comparison (USD)
Dental Crowns
Merida
U.S.A.
Canada
Porcelain Crowns
$370
$1,800
$1,655
Ceramic Crown
$500
$1,500
$1,380
Zirconia Crown
$500
$2,000
$1,840
The cost of crowns in Merida, Mexico, falls between $370 to $500.
The price in the US ranges between $1800 and $2000 for the same quality of crown material. Across the US border in Merida, Americans can save around 80% on dental crowns.
Talking about Canada, the cost of crowns falls between $1300 and $2300.
Traveling to Merida, Canadians can save 78% on dental crowns back home.
Why Visit Merida, Mexico for Dental Crowns
If you struggle with expensive dental crowns, implants, and other dental procedures in your home country, Merida is a place to visit.
Many reasons draw the attention of worldwide dental tourists to pick Merida. Some of the known reasons include:
Affordable dental procedures
Internationally trained & educated dentists [7]
English-speaking dentists and staff
A complete range of dental procedures
Advanced technologies and modern equipment
High level of dental hygiene standards [8]
Proximity to US and Canada
Rich cultural legacy & beautiful locales
Warm and friendly character of local people
Dental Tourism in Merida (Video Courtesy: True Mexico)
Why is Dental Crown Cheaper in Merida?
There is no doubt that Merida offers low-cost dental care.
But the thought of getting affordable dental care often becomes a concern for dental tourists.
Need not worry! Some prominent factors are contributing to the affordable dental work in Merida, Mexico. Some of these are:
Low cost of living, [9] inexpensive labor, and low real-estate prices add to the lower cost of getting dental crowns done in Merida.
Mexican Government subsidizes the education of all dentists. [10] Hence, no dentist is pressured by any overhead charges or education loans.
Best Dental Clinic for Dental Crowns in Merida, Mexico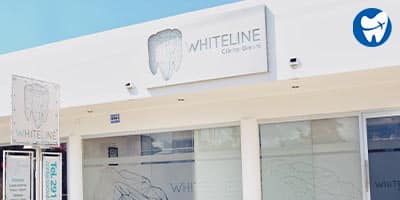 Local B y C, Calle 17 69, México, 97125 Mérida, Yuc., Mexico
Mon - Fri 9.30 AM to 8.30 PM
Whiteline Dental Clinic in Merida, Yucatan, is one of the best dental clinics in Mexico.
The clinic opened its door for dentistry in the year 2010. Since then, it has been offering world-class dental care to both national and international patients.
Highlights of Whiteline Dental Clinic Merida
Equipped with advanced dental technologies and dental materials
A complete range of dental services with a high level of quality and safety
Flexible and easy payment modes, including Credit Card, Amex, Cash, and Bank Transfer
A clean, comfortable, warm, and hygienic environment
Best Dentists for Dental Crowns in Merida, Mexico
If you are looking to have quality dental care in Merida, Dr. Guillermo Trujillo Losa is a name to reckon with.
He is the principal dentist at the Whiteline Dental Clinic in Merida, Yucatan, Mexico.
---
Dr. Guillermo Trujillo Losa
10 Years of Experience
BDS
Expertise
Aligners, braces
Member of Yucatecan Dental Association
Mexican Association of Orthodontics
Selecting Dental Crowns in Merida, Mexico
Selecting the type of crown and be tricky. When you start researching the internet, multiple options may confuse you!
This is why it's best to discuss your requirements with the dentist and make a mutual decision.
However, research beforehand will only make it better for you to understand the choice. The factors that will affect this decision are:
Do the terms like Porcelain-fused to Metal, Zirconia, or all-metal crowns puzzle you?
Learn what they mean, the placement procedure, pros & cons, and more on low-cost dental crowns abroad.
Dental Tourism in Merida, Mexico
If you seek affordable dental crowns at a destination where you can have a rejuvenating dental vacation, Merida comes to the rescue.
It offers breathtaking landscapes, world-class beaches, beautiful locales, and a cultural legacy.
Merida Museum
Biospheres
Some of the popular tourists' attractions in Merida are:
Mayan World Museum: The museum showcases the ancient culture of the world. It also attracts visitors with an audio-visual show on Mayan cultural legacy.
The Celestun Beaches and Biosphere: The biosphere has a bright and colorful collection of flamingos. Situated around 90 km from Merida, it is a fascinating getaway.
Gran Museo del Mundo Maya: The museum displays a wide and engaging collection of artifacts from the rich Mayan culture.
Popular Art Museum and Contemporary Art Museum: It is locally known as MACAY. It is the contemporary art museum of the town that exhibits the work of Mexican artists.
Parque Zoológico del Centenario: It is a small safari park you can visit with your kids for free. You can visit anytime to look at all kinds of animals, including the endangered white tigers.
Is Merida Safe for Tourists
Mérida is number 21 in the World's Safest Cities Ranking 2019. [11]
Considering safety in Mexico, it is safe for tourists. In terms of safety, it ranks 1st in Mexico, [12] 2nd in North America [13] , and 21st in the world.
You seldom hear about crimes like robbery, burglary, pickpocketing, and kidnappings.
Adding to this, the warm hospitality and inviting personality of the people of Merida adds to the safety parameter. [14]
Everyone is kind and patient; this is what makes you feel welcomed and comfortable in Merida.
How to Reach Merida
Merida has good air and land connectivity with various towns and cities across the world.
This provides easy access to Americans and Canadians to seek dental care.
Arrive at Merida through the modern road infrastructure or at the Manuel Crescencio Rejón International Airport (MID).
Conclusion
Merida offers excellent dental care at cost-effective prices in a scenic gateway.
If this is what inspires and attracts you, then connect with us and get the latest deals and discounts on dental crowns in Merida.
Dental Crowns in Merida FAQs
The lifespan of a dental crown is about 5 to 15 years. [15] However, it purely depends on the wear & tear, oral hygiene practice, and other associated personal habits like biting nails and grinding teeth.
The cost of dental crowns in Merida, Mexico, ranges from $370 to $500 depending on the material of the crown.
Porcelain Crown: $370
Zirconia Crown: $500
Ceramic Crown: $500
The dental clinic in Merida recommends some nearby hotels like Fiesta Americana, El Conquistador, and Hyatt. All the hotels are situated at a driving distance of 7 minutes.
The majority of Merida dentists have been trained and educated in the US and UK. [16] Hence, they are fluent in English and capable of handling international patients with ease and convenience.
Yes, Merida is a safe destination for dental tourists across the globe. The city has many skilled, experienced, and internationally trained dentists. [17]
Moreover, the dental clinics here follow OHSA regulations to ensure a high level of dental hygiene standards. [18]