Dental Tourism in Croatia: A Reason To Smile
Dental care plays a vital role in one's physical and emotional health. [1] However, financial constraints often prevent people from getting timely care.
The sky-high dental cost in Western countries drives patients to consider treatment outside their country.
For Europeans, dental tourism in Croatia can be a lucrative option.
Read on to know how Croatia's dental travel can save you money without compromising quality.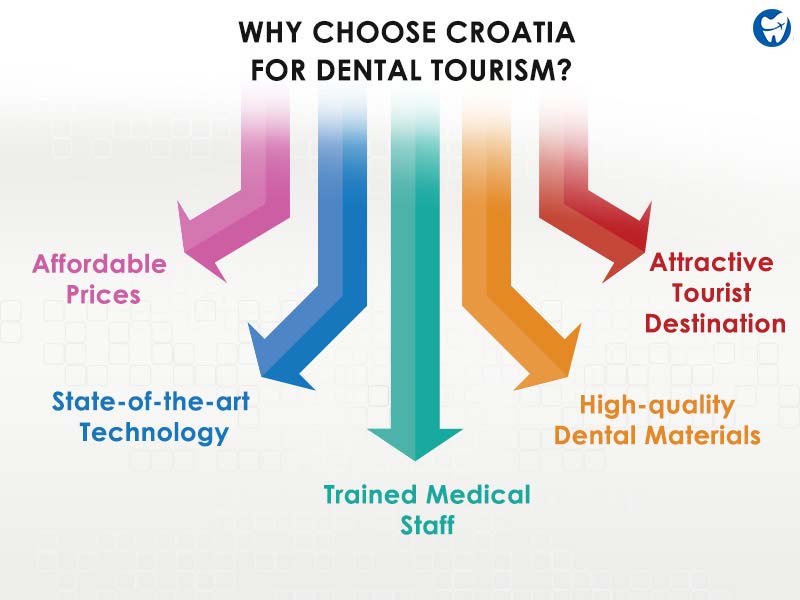 Source: Dental tourism – An Opportunity for Croatian Tourism; JAL Classification: M31, I10, Z32
Croatia, the land of 1000 islands, is located between the Balkans and Central Europe.
This affordable European destination is reputed for its incredibly rich legacy, gorgeous landscapes, endless coastline, and pristine beaches. [2]
Croatia is one of the top medical tourism destinations. It has won the "medical tourism destination award" at the world's largest tourism trade fair (ITB)-2020. [3]
What does Dental Treatment in Croatia Cost?
Croatia has a cheaper price for comparable dental works in Western countries. Croatia dentist prices are up to 70% cheaper than those in the UK.
Expensive full mouth procedures like all-on-4 in Croatia would cost you $6,400 per arch while the same procedures cost $24,000 in the US/Canada or $16,000 in the UK.
Similarly, cosmetic procedures, such as porcelain veneers, cost $250 in Croatia which is a fraction of the cost in the UK/US.
Above all, medical professionals in Croatia have an excellent reputation for delivering quality dental services comparable to any Western country. [4]
The table below compares the approximate prices of some dental works in Croatia and other advanced countries.
Dental Work Cost Comparison (USD)
| | | | |
| --- | --- | --- | --- |
| Dental Work | USA/Canada | UK | Croatia |
| Single dental implant with abutment | $5,000 | $3,000 | $1,050 |
| All-on-4 Implants per arch | $24,000 | $16,000 | $6,400 |
| All-on-6 Implants per arch | $28,000 | $18,000 | $7,750 |
| All-on-8 Implants per arch | $35,000 | $20,000 | $9,300 |
| Porcelain fused to Metal Crowns (PFM) | $1,200 | $1,000 | $250 |
| Porcelain E-Max Crown (per unit) | $2,000 | $1,500 | $780 |
| Zirconium Crowns (per unit) | $2,000 | $1,500 | $375 |
| Full Denture per arch | $2,000 | $1,300 | $650 |
| Root Canal (per molar tooth) | $1,500 | $920 | $120 |
| Porcelain Veneer (per unit) | $2,150 | $1,100 | $250 |
| Zirconium/Ceramic Veneer (per unit) | $2,000 | $1,000 | $375 |
| Smile design (8 veneers + bleaching) | $18,200 | $4,160 | $3,500 |
| Tooth extraction (simple) | $300 | $280 | $50 |
| Extraction (surgical) | $650 | $400 | $185 |
| Regular Teeth Cleaning | $550 | $400 | $65 |
| Teeth Whitening (in office) | $1,000 | $620 | $250 |
| Composite Filling | $250 | $225 | $40 |
| Invisalign per Jaw | $7,000 | $4,150 | $1,400 |
| Fixed Clear Braces | $6,000 | $4,200 | $2,800 |
*Prices may vary with the complexity of a case
You can find low-cost and high-quality dental work in European destinations like Hungary, Romania, Bulgaria, and Poland.
Cheap Dental Implants in Croatia
Croatian dental clinics offer a wide range of dental services. However, there is more emphasis on dental implants due to global price differences.
The Croatian clinics provide two types of dental implants – Premium and Low-cost. [5]
The good news is that even the premium dental implants in Croatia stand out at a significantly lower price than those in Western European clinics.
Expect to pay around
$1,050
 for a single 
dental implant in Croatia
 with excellent packages for all-on-four and all-on-six treatments as well.
Croatia Dentist Prices Vs. Other European Countries
Patients from all over Europe come to Croatia for high-quality dental services and affordable prices. Most travelers choose the country because it is close by.
So, how cheap are dental implants in Croatia compared to other European countries, like the UK, Italy, Germany, Ireland, Spain, or France?
To find out the answer check out the cost comparison graph below.
Dental Implant Cost Comparison – Croatia vs. Other European Countries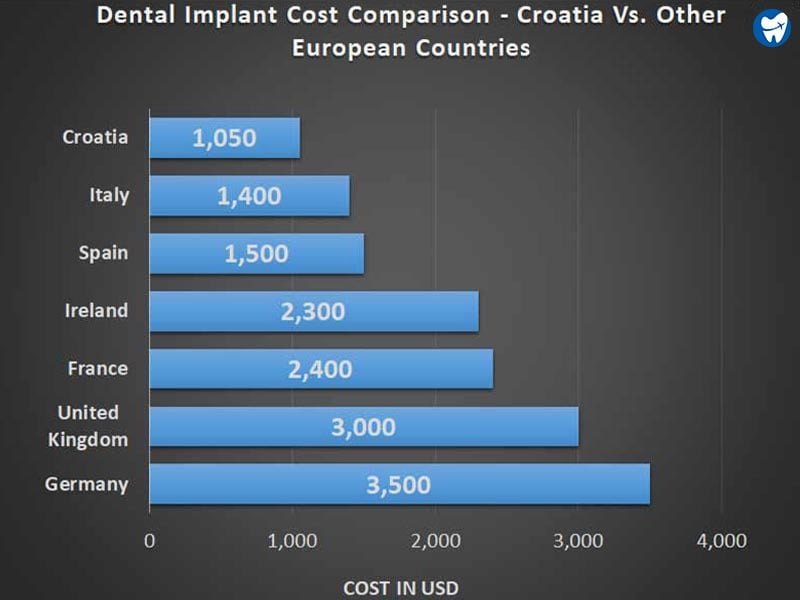 Graph Source: Web data/ different native clinics
As seen in the graph, the Croatian dental implants prices are almost 70% less than those in the UK/ Germany, half the cost of those in France/Ireland, and 30% cheaper than those in Spain/Italy.
Getting Your Teeth Done in Croatia – Determinants of Dental Tourism
Croatia leads Europe in dentistry and is highly regarded for cutting-edge medical research. [6]
In addition to the sun and the sea, Croatia has a developed dental tourism segment.
Touristic potential and growing demand for dental treatments from developed countries have made Croatia a top dental tourism destination.
A recent study reveals the three main determinants of dental tourism: Access to patient information, patient satisfaction, and loyalty. [7] The findings are:
Inadequate and unsupported information access affects patients' satisfaction.
Easy access to information impacts the choice of dental tourism treatment.
Cost savings, effective communication, and individual care determine dental service satisfaction.
Patient satisfaction and quality of care influence patient loyalty to doctors and hospitals in dental tourism.
* Results were compiled from the studies carried out in Malaysia, Turkey, India, Romania, Korea, Saudi Arabia, Indonesia, Switzerland, Croatia, and Albanian.
Popular Dental Treatments in Croatia
Here are some of the commonly performed dental work in Croatia.
---
Periodontics in Croatia
---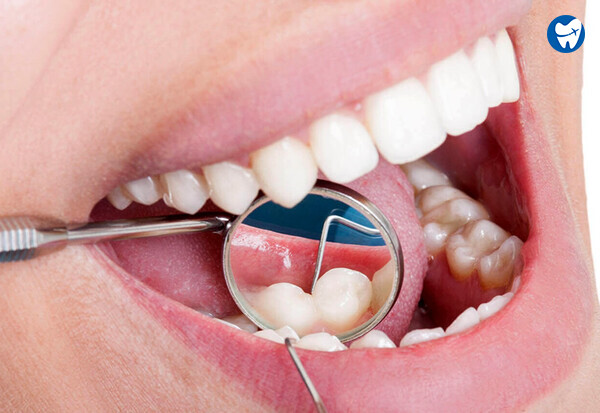 Dental Filling in Croatia
---
Teeth Whitening in Croatia
---
Teeth Cleaning in Croatia
---
Teeth Extractions in Croatia
---
Kids Dentistry in Croatia
---
Oral Surgery in Croatia
---
Travel Requirements to Croatia
---
As a member of the EU, the visa requirements of Croatia are under the rest of the union.
Except for citizens of EU countries, all visitors to Croatia need a passport with at least three months validity from the planned date of return.
EU citizens may use their national cards instead of a passport.
Note: Croatia is a part of the European Union (EU) but not the Schengen zone.
So, if you plan to travel to a Schengen country on your way to Croatia, ensure you have at least six months of validity for your passport.
Visa Requirements
For stays under 90 days, visitors from the EU countries, U.K., Canada, the US, Australia, and New Zealand, do not need a visa to enter Croatia.
Check the Croatian Ministry of Foreign Affairs website to know the countries that need a Croatian visa.
You can apply for a Croatian visa online at crovisa.mvep.hr. However, you will have to print the application form and submit it to an Embassy/Consulate or visa center.
---
| | | |
| --- | --- | --- |
| Country | Address | Phone & Email |
| Ireland | Miramarska 23/III, 10 000 Zagreb | Tel: (+ 385) 1 62 78 920Email: [email protected] |
| Italy | Medulićeva 22, 10000 Zagreb | Tel.: (+ 385) 1 4846386E-mail: [email protected] |
| Germany | Ulica grada Vukovara 64, 10000 Zagreb | Tel: (+ 385) 1 6300 100Website: www.zagreb.diplo.de |
| UK | Ivana Lucica 4, 10000 Zagreb | Tel: (+ 385) 1 600 9100Email: [email protected]  |
| US | 2 Thomas Jefferson Street, 10000 Zagreb | Tel: (00 385) 1 661 2200Email: [email protected] |
---
Above are some of the commonly performed dental work in Croatia. To find out more, talk to our case managers, so they can help you find a Croatian dentist that suits your needs.
How to Reach Croatia?
Traveling by plane is the quickest and cheapest way to reach Croatia. The country has five international airports located in Zagreb, Pula, Zadar, Split, and Dubrovnik.
You can also travel by ferry because Croatia has a long coastline and numerous islands.
The international ferry entry ports are Zadar, Split, Pula, and Dubrovnik.
Dental Tourism in Croatia
Most parts of Croatia are accessible by flights from the UK and Ireland – but there are only a few direct flights to Croatia from outside Europe, and these fares can be expensive.
So, a cheaper option would be to fly to a Western European city and continue by air, bus, or train from there.
Best Way to Get to Croatia from Different Parts of Europe
From
Croatia Destination
Travel Option
Reason
Europe
Zagreb
Train
Slower but more interesting
North Europe
Zagreb, Dubrovnik, Pula, Zadar, Split
Flight
Cheapest & quickest
South Europe
Zagreb & Dubrovnik
Flight
Quickest
East Europe
Zagreb, Split & Dubrovnik
Flight
Quickest
Italy
Pula, Porec, Rovinj, Zadar, Split, Dubrovnik
Ferry
Scenic & fun
Dubrovnik, Split
Flight
Fast & cheap
Greece
Dubrovnik, Zagreb, Split
Flight
Quick
Zadar, Split, Dubrovnik
Ferry
Slow & nice
Albania
Dubrovnik
Buses or ferries
Very slow
To reach Croatia from the US, you can fly from the US – with common layover destinations that include London, Paris, Dublin, Munich, Vienna, and Istanbul. [8]
Getting to Split, Croatia
You can reach Split by air, land, or sea. You will find the train and bus stations and a ferry port within a short distance from the Split old town.
---
The Split airport (SPU) is well-connected with major European cities. Most of the major European airlines operate daily flights to Split throughout the summer period. [9]
Flight Route to Split International Airport (SPU)
Flying Times from Major Metropolitan Airports to Split Airport (SPU)
| | | |
| --- | --- | --- |
| City | Duration | Number of Stops |
| Germany (FRA) | 1 hr 40 min | Nonstop |
| Italy (FCO) | 1 hr 15 min | Nonstop |
| France (CDG) | 2 hr | Nonstop |
| London (LHR) | 2 hr 25 min | Nonstop |
| Manchester (MAN) | 2 hr 45 min | Nonstop |
| Ireland (DUB) | 4 hr 40 min | Layover: Frankfurt |
| New York (JFK) | 10 hr 45 min | Layover: Amsterdam |
| Canada (YVR) | 11 hr 50 min | Layover: Munich |
Getting to Split from Elsewhere in Croatia
Flight Travel from Croatian Cities to Split
| | | |
| --- | --- | --- |
| From | Flight Frequency | Appro. Travel Time |
| Zagreb | Daily | 45 mins |
| Dubrovnik | Few flights a week | 35 mins |
| Osijek | Once a week | 50 mins |
Check Croatia airlines website for more information.
---
Getting to Split from Europe
Bus travel: There are regular bus services from major European cities. You can get the timetable from the Split Bus Terminal website.
Train travel: Although you can reach Split by train, you may have to take connecting trains from Zagreb. Get the train timetable details from the Die Bahn website.
Water travel: Split is a major marine terminal for the central Dalmatian islands. Split also offers a regular overnight ferry service to Ancona in Italy. Check all details on croatiaferries.com.
Getting to Split from Other Croatian Cities
Train travel: There are regular train services from Zagreb to Split. It takes 6-8 hours to reach Split, depending on the train you take.
Bus travel: There are also numerous buses from Zagreb and elsewhere in Croatia to Split. See the Zagreb Bus Terminal website for timetable details.
Ferry: Numerous ferries and catamarans connect Split with nearby islands such as Brac, Hvar, Korcula, Vis, etc.
---
How to Get to Trogir?
Trogir, Croatia is centrally located on the Dalmatian coast, so getting to Trogir is stress-free and straightforward.
The city is only 5 km from Split airport (SPU) and can be reached in 10 minutes by car.
Croatia Tourism
Getting to Trogir from Split
Bus travel: Take bus route 37 from Trogir bus station to reach the Split airport (SPU). Trogir buses can be booked online at getbybus.
Car travel: If you prefer to drive, you can reach Trogir Riviera by taking different highways. With State Road D1, you can avoid tolled highways.
Passenger Ferry: Bura Line operates passenger ferries from Trogir to Split from May to October.
Best Dental Clinics in Croatia
Croatian dentists and clinics rank among the best in Eastern and Central Europe in terms of quality. [10]
Ul. Josipa Jovića 93, 21000, Split, Croatia
Mon - Fri 8 AM to 10 PM, Sat 8:00 AM to 2 PM
Highlights
Convenient location: 24 mins drive from Split airport (SPU)
Treatment by internationally trained and nationally accredited dentists
Offer the latest techniques and treatments with cutting-edge equipment and technology
Uses high-quality materials from world-renowned manufacturers such as Vivadent, Ivoclar, and GC
The clinic is mercury-free and provides metal-free solutions such as Zirconia Implants, metal-free fillings, and crowns
The clinic staff and dentist can speak English, German, Italian
Provide airport pick-up and drop-off with a Mercedes-Benz S or C Class
Multiple payment and currency options – USD, CAD, GBP, EUR, Bitcoin, Ethereum, and credit/debit cards.
Clinic Offers
Lifetime warranty for Ankylos implants
5-year warranty on zirconium crowns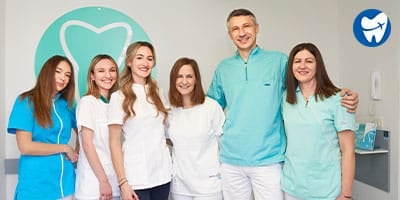 Put Dragulina 62F, 21220, Trogir, Croatia
Highlights
Easily accessible location: 15 mins drive from Split airport (SPU)
State-of-the-art dental clinic
Treatment by highly qualified, internationally trained dentists
Success rates: 90% for dental implants and 97% for prosthodontic work
Offer single-trip implants and CEREC (Same-day crowns)
Free diagnostic procedures with prosthodontic work above 1000 USD
The clinic staff are fluent in English and Croatian
Multiple payment options: Credit cards (Visa, Diners, Mastercard), and cash in all currencies
Free-of-charge hotel to airport transfers
Clinic offers
10-year warranty on zirconium crown and implants
10-year warranty on dentures
5-year warranty on veneers
10-year warranty on all-on-4/6/8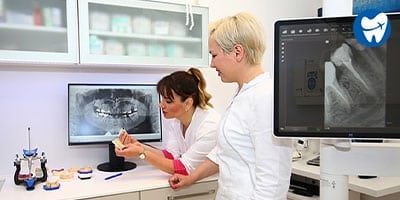 Put Matije Gupca 33, 23000, Zadar, Croatia
Mon - Fri 8 AM to 5 PM, Sat 8 AM to 2 PM
Highlights
First visit and examination free of charge
State-of-the-art-technology
State-of-the-art equipment: CBCT – MORITA Veraviewpocs 3D R100
10 years warranty to all implants
Accreditations
Hrvatska stomatološka komora (Croatia)
Croatian Society of Plastic, Reconstructive and Aesthetic Surgery (Croatia)
German Society of Dental Implantology (Germany)
Best Dentist in Croatia
---
Dr. Martina Karlo
18 Years of Experience
DMD
Expertise
Dental implants and veneers
Education
University of Zagreb, Croatia
Performed over 14,000 treatments
Associated with CDA, CES and CAAM
Attended courses on ozone in dentistry, Ankylos implant system, advanced pediatric dentistry and sedation etc.
Dr. Dario Repic
17 Years of Experience
DDS, Ph.D
Expertise
Root canal treatment, Veneers, Crowns
Education
University of Zagreb
Specialized in Endodontics and Restorative dentistry
Ph.D. in Dental Medicine, University of Zagreb
Member of European Society of Endodontology
Member of Croatian Society of Endodontology
Dr. Ivana Lijić
19 Years of Experience
DMD
Expertise
Dental implants
Education
University of Zagreb
Competence in aesthetics, Beč, Austria
One year program "The Curriculum Implantology", GBOI
Perio-implant, Opatija, Croatia
Member of German Association of Dental Implantology
Avail FREE consultation from best Croatian dentists!
Call us now!
Recommended Hotels
Priska Med Luxury Rooms
---
kroz Smrdečac 45, 21000, Split, Croatia
1.5 mile from Dentelli Clinic
Hotel Ola
---
Ul. Hrvatskih žrtava 296, 21218, Seget Donji, Croatia
0.7 miles from Alpha Dental
Hotel Rotondo
---
Ul. Hrvatskih žrtava 53, 21218, Seget Donji, Croatia
0.3 miles from Alpha Dental
Bifora Heritage Hotel
---
Lučica 11, 21220, Trogir, Croatia
Grand Nergiz Otel
---
Tahılpazarı, 472. Sk. No:3, 07040 Muratpaşa/Antalya, Turkey
1.4 miles from Seçil Dental Clinic
Croatia Dental Care Reviews
Patient Testimonial – Dental Center Croatia
Croatia Tourism
Croatia is a small country but has a rich culture and heritage. It is home to ten UNESCO World Heritage sites – 8 cultural sites & 2 natural sites. [11]
Croatia is an attractive and increasingly popular tourist destination with over 18 million tourist visits per year -Croatia's population is 4 million. [12]
Let's explore some of the finest tourist places in Croatia.
---
Split is Croatia's second-largest city and a very safe vacation destination. You can find some first-class charms here.
According to the US World News Report, [13] the city ranks
#3 in best places to visit in Eastern Europe
#15 in cheap European vacations
Historic Center
The cultural heart of Croatia & a popular travel spot. Explore Diocletian's Palace, Marjan Forest Park, or shop at local markets.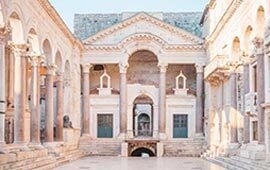 Diocletian Palace
A UNESCO World Heritage Site. Occupies around 30,000 square meters lying in the heart of the city. Enjoy the walled fort, shops, bars, & restaurants.
---
Trogir is known by the names of Little Venice, City of Happy Moments, and The Stone Beauty. It is a beautiful historic town situated on the Croatian coast.
Just 20 mins from Split, Trogir is a perfect day trip from Split. Here, you can find beautiful monuments, stunning sea views as well as good relaxing opportunities.
Trogir Historic Center
The charming town will surely keep you busy for a few solid hours.
---
Croatia has more than 1200 islands. The largest ones are Cres, Brac Krk, Hvar, and Pa.
You can explore these islands by an island-hopping cruise along the Dalmatian coast.
If you prefer day trips, most of the islands can be reached by ferry from the mainland.
Top 10 Islands in Croatia
Sailing around Croatia will be a wonderful experience!
You can watch lovely nature and seascapes while traveling between numerous cities and villages along the coast.
---
Croatian Food
Apart from the varied Croatian landscape, its traditional foods are also wide-ranging.
The food varies from one Croatian region to another. Some of the popular dishes in the various areas are: [14]
Zagreb – Croatian meat stews
Slavonia – Spicy foods and paprika with fish stew
Croatia's coast and areas like Istria – Istrian olive oil, Istrian ham and cheese, Croatian prosciutto, and other types of dry-cured meat.
Dalmatian coast – Mediterranean-style Croatian food like fresh green vegetables, garlic, herbs, seafood, gnocchi, pasta, tomato sauce, and plenty of olive oil.
Here are a few dishes you can try on your visit.
Punjena Paprika
Croatian Bean Soup
North Croatian Red Cabbage Stew
Is Croatia Safe?
Yes, Croatia is a high-quality and safe tourist destination, with all the prerequisites for safe tourism. [15] .
Also, the country is a member of large multi-national organizations like the EU and the NATO , getting support and protection. [16]
Croatia is among the top 20 safest countries in the world.
[17]
.
Croatia ranked 17th in the 2021 Global Peace Index, which is 105 places ahead of the United States (133). [18]
How Safe is Croatia for Tourists?
As for tourism, Croatia is a safe country. The country has a safety index of 83 on a scale of 100.
Violent crimes are rare, and even the petty crime rate is low. [19]
But you should follow the basics of staying safe at any destination. Here are some tips for keeping yourself safe: [20]
Places to avoid in Croatia: Zagreb's strip clubs, Ribnjak Park, and King Tomislav Square
Safe places in Croatia: Split and Dubrovnik are safe destinations. The other safe places include Zagreb's Upper Town (Gornji Grad, lower town (Donji Grad), Medvednica, Medvedgrad, Dalmatian town of Sinj, near Split, towns of Dakovo, Pozega, Samobor, and Krizevci.
Landmine danger areas: Unexploded landmines are present in Eastern Slavonia, Brodsko-Posavska County, Karlovac County, Zadar County, and remote regions of Plitvice Lakes National Park.
Croatian Mine Action Centre's website can help you with the map of affected areas.
Important Phone Numbers
The country code for Croatia is +385, so when you want to call a Croatian number from your own Croatian number, add a "0" to remove the "+385."
| | |
| --- | --- |
| Services | Number |
| International calling number for Croatia | +385 |
| All emergencies / National Protection & Rescue | (+385) 112 |
| Ambulance: | (+385) 194 |
| Police | (+385) 192 |
| Rescue at sea | (+385) 195 |
| Roadside assistance |  (+385) 1987 |
| General information: | (+385) 18981 |
| Weather forecast and road conditions | 060 520 520 |
| Croatian Tourist Board |  www.croatia.hr |
Conclusion
Dental tourism in Croatia can return your lost smile while enjoying the beauty of the best coast in Europe. You are certainly in excellent hands with all the dental treatment possibilities.
To know more, contact us for free guidance.
FAQs
The price of dental implants in Croatia ranges between 1,050 USD and 9,300 USD depending on the type of implant:
All-on-4: $6,400
All-on-6: $7,750
All-on-8: $9,300
In Croatia, dental work packages are almost 70% cheaper than those in the UK and 55% less than those in Ireland.
You can pay through US dollars, Canadian dollars, GBP, EUR, Bitcoin, Ethereum, and credit/debit cards.
Croatia has lower dental prices because of lower costs of staff education and training, operating a dental clinic, and real estate. [21]
Yes, Croatian dentists are competent to offer high-level dental care. Croatian dentistry also has an excellent reputation. The medical schools teach internationally accredited study programs. The dentists who graduated from these schools become top specialists through further training and education. [22]
Moreover, medical staff in Croatia are well recognized in Europe due to their long medical, scientific research, and education history.
Yes, the quality of dental care in Croatia is comparable to any Western country. Moreover, the Croatian clinics and dentists are considered one of the best in Europe. [23]
Yes, our Croatian partner clinics have English-speaking dentists and staff. The dentists have over 17 years of experience treating international patients.
Croatia has a Mediterranean climate with dry, warm summers and mild, wet winters. The best month to visit Croatia is May-June or September-October. You can enjoy the warm sunny weather without a significant tourist crowd.
Citizens of European countries do need a passport to visit Croatia. They can use their national cards as proof. Other country nationals will need a passport with a minimum of 3 months validity. Check here to know about visa requirements to Croatia.
Explore Croatia with your picture-perfect smile!
Let's go!