If you have missing teeth, a dental bridge can fill the gaps in your smile. Moreover, you can get value for your money by seeking affordable dental bridges abroad.
Read this article to learn how Dentavacation has made it easier for you.
Watch on YouTube: "Dental Bridges Abroad "
Dental Bridges Abroad
Low-cost dental bridges are available in Mexico, Thailand, El Salvador, and Costa Rica.
Here you can save more than 80% of the prices charged in the US, Canada, and Australia.
A dental bridge is a false tooth, or teeth, held in place by crowns on either side of the gap (known as abutments).
These false teeth are called pontics. And these are specifically made of porcelain, gold, or alloys.
Either natural teeth or implants can support dental bridges. [1]
Watch on YouTube: "Dental Bridge Procedure"
Video Courtesy: The Tooth Restorator
Advantages of Dental Bridges
Missing teeth can affect oral health in several ways. However, dental bridges can be helpful to: [2]
Restore your smile
Make speech clearer
Maintain the shape of your face
Re-establish the ability to chew properly
Prevent the remaining teeth from moving out of position
Types of Dental Bridges
Dental bridges can be of four types: [3]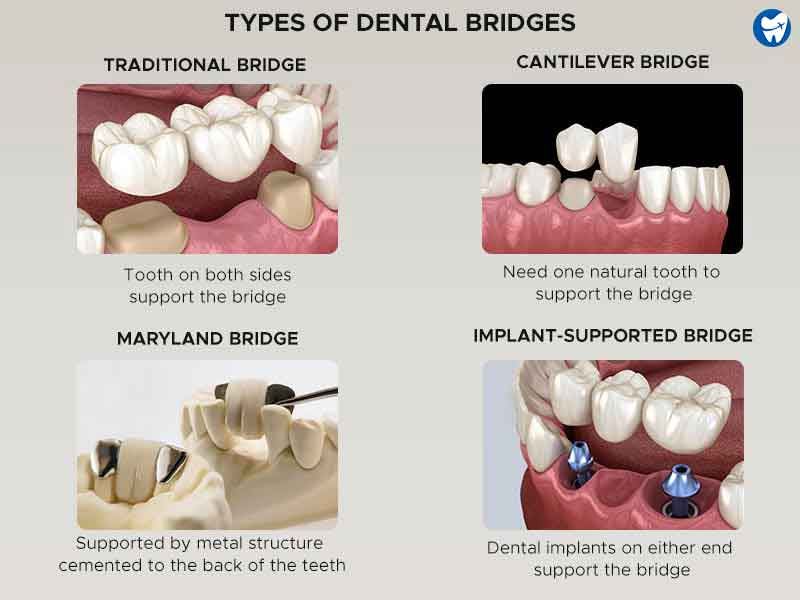 Types of Dental Bridges
Traditional Dental Bridges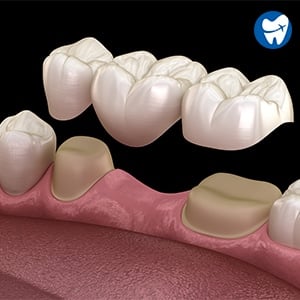 It is the most popular kind of dental bridge.
It can be 3 unit bridge, a 4-unit bridge, or a 5-unit bridge.
They are usually made of either porcelain-fused-to-metal (PFM) or ceramics.
It can be used when you have natural teeth on both sides of the gap left due to missing teeth.
A traditional dental bridge consists of a false tooth or teeth being held in place by dental crowns/abutments.
These are cemented onto your adjacent teeth.
Cantilever Dental Bridges
Used to replace only a single missing tooth.
The pontic is attached to one tooth and then hangs over, filling the gap.
Therefore, only one natural tooth next to the gap can secure a bridge.
Similar to traditional fixed bridges – a crown on only one side supports the pontic.
Downside – Your adjacent teeth need to be trimmed down to make room for the crowns.
These are not recommended in the back of the mouth as they cannot bear the full force of a patient's bite.
It can lead to fracture and failure of the restoration.
Maryland Dental Bridges
Typically, used to replace front teeth.
They are also called resin-bonded bridges.
Tooth preparation of adjacent teeth is more petite.
It is not recommended for the back teeth like the molars.
The strength of the bridge depends on the resin properties that hold it in place.
A pontic is held in place by a metal or porcelain framework.
This framework is bonded onto the backs of the two teeth adjacent to the missing tooth.
Implant-Supported Dental Bridges
Dental implants support bridges instead of adjacent abutment teeth.
It is considered the strongest and most stable type of dental bridge.
It is recommended when a patient has more than one tooth missing.
In general, one implant is surgically placed for every missing tooth.
If one implant for each missing tooth isn't possible, the bridge may have a pontic suspended between two implant-supported crowns.
Zirconia Implant Bridge
Bridges made of Zirconia are a good combination of superior strength and esthetics.
It is an attractive material for people who prefer metal-free bridges due to metal allergies or cosmetic reasons. [4]
With proper care, these bridges overseas could last you a lifetime.
The bridge is made out of zirconia, the hardest dental material available.
There is no acrylic to chip as they have a high resistance to staining and fracture. [5]
These are made using CAD-CAM (Computer Assisted Design-Computer Assisted Manufacturing.
Zirconia implant bridges are the most permanent tooth replacement option available in dentistry currently.
In a 4-year retrospective, these bridges were found to have a 99.4% success rate.
~ Michael Tischler and Colleagues [6]
Dental Bridge Procedure Abroad
Dental Bridge Procedure
---
Tooth Preparation: Adjacent teeth are re-contoured to create room for a crown to be placed over them.
Impressions: Impressions are taken, and models of the teeth are made.
So that they serve as molds from which a dental lab creates the bridge.
Temporary Bridge: Finally, the dentist fixes a temporary bridge on the prepared teeth using temporary cement.
---
Removal of the temporary bridge
The permanent bridge is then cemented. It is followed by making adjustments to achieve a proper and comfortable fit.
You may require recall visits to check the fit of the framework and the bite.
If it is a fixed bridge, your dentist may temporarily cement it in place for a few days to ensure a good fit.
Once you are satisfied with the fit, the bridge is cemented into place using permanent cement.
Source: News-medical [7]
---
Watch on YouTube: "Dental Bridge Procedure: Step By Step"
Dental Bridge Procedure
Removable Denture vs. Dental Bridge
Removable Denture
A removable denture is made when there are not enough teeth in the mouth for the setting up of a fixed dental bridge.
Dental Bridge
A bridge stays in the mouth permanently to act as a substitute for missing teeth. It is cemented onto the abutment teeth.
Removable Denture
Dental Bridge
Pros

Cheaper than fixed bridges[8]
Easy to remove and clean at home
Does not compromise the adjacent teeth
Relatively less natural appearance

Retentive and need not be removed
Makes it easier to chew food
Brushing/flossing can be done as you did before
Feel more like natural teeth than removable bridges

Cons

Rest on the gums, and can lead to resorption of the bone from excess pressure over time[9]

Teeth need to be trimmed to make space for the porcelain/metal of the abutment crowns [10]
Source: ResearchGate [8] , [9] , Science Direct [10]
Dental Bridge vs. Dental Implant
To replace missing teeth, you can get a cheap porcelain bridge abroad or opt for dental implants.
But which treatment is right for you? Let's take a look.
| Basis of Comparison | Dental Bridges | Dental Implants |
| --- | --- | --- |
| Surgery | Usually not required | Required |
| Time | It can be done in a single visit | A second visit is required |
| Cost | Cheaper | More expensive |
| Tooth Preparation | Trimming of adjacent teeth affects their strength | No impact on surrounding teeth. |
| Longevity | Most bridges can last about 10 years.[11] | They can last a lifetime with proper care.[12] The crowns may need to be changed, but the implant screw may not need replacement. |
Source: ResearchGate [11] , Wiley Online Library [12]
How Much Does a Dental Bridge Cost?
A traditional bridge can cost around $5,000 in the US, $1800 in Australia, and $1200 in New Zealand.
On the other hand, each crown cost of a 3-unit bridge in Mexico and Costa Rica is $180 and $395, respectively.
You are likely to save more than 80% on dental bridges abroad.
Similarly, the price of implant-supported bridges in Mexico is $8,950, while it is more than double in Australia.
Dental Bridges Prices Abroad (In USD)
Country
Regular Bridge*
Implant-Supported Bridge#
Mexico
$180
$8,950
Costa Rica
$395
$9,500
US
$5,000
$16,000
Australia
$1800
$20,500
New Zealand
$1200
$13,000
Bulgaria
$620
$5400
Hungary
$302
$4000
Colombia
$450
$4900
India
$553
$5040
Philippines
$1,598
$2,814
* For each crown, # per arch
*Prices are subject to change as per needs.
However, the cost of dental bridges may vary depending on the material used, the number of teeth to be replaced, and the country where you get the procedure done.
These destinations provide affordable dental treatments along with the advantage of an overseas holiday.
Dental Bridges Abroad: Reviews | Testimonials
Watch this video to see how Robert from Washington came to Mexico for dental crowns and bridges.
Equally important, see how he spared his savings in Los Algodones- about four times that in the US.
Watch on YouTube: "Robert"
Robert's Review on Bridges in Los Algodones, Mexico
Conclusion
We offer affordable dental bridges abroad for people without dental insurance.
Save yourself from debts by contacting Dentavacation and find out how to get the cheap porcelain bridge overseas.
Dental Bridges Abroad: FAQs
Adjusting to your bridge might take a few days. Until you become accustomed to the bridge, eat soft foods and take small bites.
And with time, you will feel like it's your own teeth making it easier for you to chew properly.
The dental bridge does not impact your speech, although it may need little adjustment over time.
For a bridge, a dentist has to trim the adjacent teeth.
But, in the case of healthy teeth, the idea of cutting them down to prepare for a bridge is not ideal. Every time you cut a tooth, you weaken it.
In such cases, dental implants are an excellent alternative.
A dental bridge fills gaps between a few to several missing teeth.
However, long-span traditional bridges are not preferred for patients with several missing teeth. Therefore, dentists recommend implant-supported bridges in such cases.
Brush your teeth twice a day. Also, floss daily to help prevent tooth decay and gum disease.
Remember to keep a balanced and nutritious diet. And visit your dentist every 6 months for a checkup.
The cost of a routine dental bridge in Mexico is $180 per crown.
The prices may add up depending on the number of units: 3 unit bridge, 4 unit bridge, or a 5 unit bridge.
But, if you want an implant-supported bridge, you may have to spend $8,950 per arch.
On the other hand, the cost of a regular dental bridge in the US is usually $1500-$5000, and implant-supported dentures can reach as high as $30,000.
Missing your missing teeth? Bridges can help!
Learn how