Titanium vs. Zirconia dental implants – which is better? If you have a missing tooth, both are long-lasting replacements. The primary difference is that the titanium is stronger while zirconia has a more esthetic appeal.
Read on to discover the cost, properties, pros, and cons of each dental implant material.
Watch on YouTube: "Zirconia Vs"
Popular Dental Implant Materials – Titanium vs. Zirconia
A dental implant is an artificial tooth that is inserted into the jawbones to replace a missing tooth or teeth.
A functional dental implant has an attached crown, which is like a natural tooth.
Dentistry is constantly evolving and integrating new materials and techniques.
Dental implants are the best tooth replacement option and are now a very popular therapeutic intervention.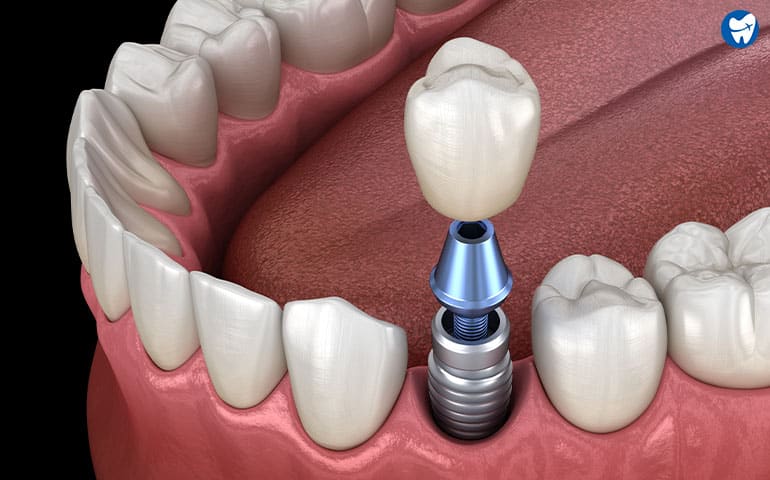 Dental Implants
Dental implants are expensive and require a surgical procedure, so you must consider the cost and surgical requirements before selecting them.
You may feel overwhelmed deciding which dental implant to select between two excellent options: Titanium vs. Zirconia tooth implants.
In this article, we have researched and compiled relevant details to help you decide which of the two dental implants to choose.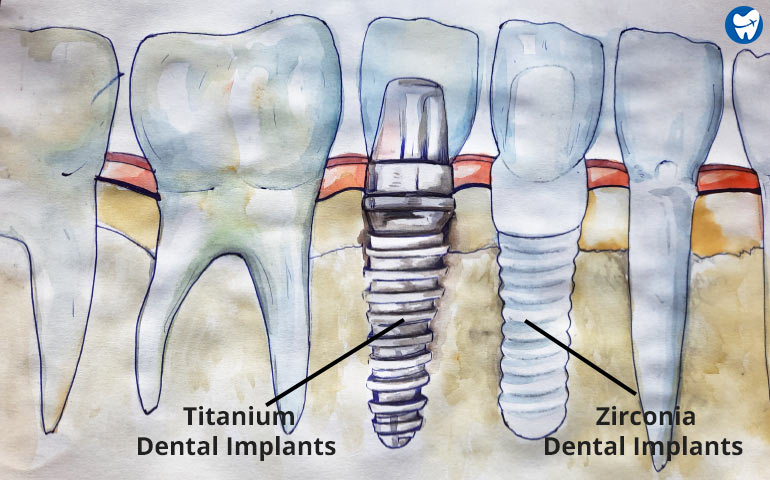 Types of Dental Implant – Titanium & Zirconium
Dental Implant Material Options
The implant material plays a key role in the long-term success of dental implants. Ideally, they should be non-toxic, fracture-resistant, and corrosion-free.
The two widely used dental implant materials are:
Titanium and its alloy
Zirconium (also called Ceramic)
Both these materials are FDA-approved, biocompatible, and considered safe.
Most importantly, they are chosen based on the patient's concerns and goals.
Why Should You Choose Titanium Implants?
Titanium is the gold standard for the fabrication of dental implants. [1]
Dental surgeons have safely used Titanium dental implants since 1965, and these materials have proven to be corrosion-resistant over the years. [2]
Dental Implant Procedure
Titanium implants promote "osseointegration," which means fusion of the bone around the implant, similar to how the bone fuses with natural tooth root.
Pros and Cons of Titanium Implants
| | |
| --- | --- |
| Pros | Cons |
| High resistance to damage | Allergic reactions [3] |
| Lightweight, yet strong and durable | Potential for Autoimmune Disorders [4] |
| Biocompatible | Galvanic toxicity [5] |
How to Avoid the Side effects of Dental Metal Implants?
Inform your dentist if you already have any metal implant or crown in your mouth.
Your dentist will consider all the aspects of galvanic toxicity before using a titanium implant.
If you have a history of metal allergies or want to check for allergies to titanium, take the metal allergy tests before choosing a metal implant.
Tests to Detect the Titanium Allergy
Blood Test – To diagnose a type IV allergy. Most of the reactions to dental material are Type IV
MELISA test – An effective method to detect metal sensitivity
Source: Indian J Dermatol. [6]

Why Should You Choose Zirconia Implants?
Zirconia is a relatively newer implant material than titanium. Zirconia implants are also called ceramic implants.
They are used as metal-free treatment options. They have an esthetic white color similar to natural teeth.
Like Titanium implants, they are non-toxic and maintain the health of gums around the implant.
Zirconia or white metal has a sufficiently high strength that drives its use in dentistry.
Pros and Cons of Zirconia Implants
| | |
| --- | --- |
| Pros | Cons |
| Natural looking aesthetics | Prone to micro fractures [7] |
| No allergic reaction | Susceptible to low-temperature degradation [8] |
| Metal-free. Non-corrosive | Less flexible and not customizable [9] |
Properties – Titanium vs. Zirconia Tooth Implants
Now that you have a fair idea about the pros and cons of titanium and zirconia dental implants, let's see their ideal properties.
| | | |
| --- | --- | --- |
| Properties | Titanium Implant | Zirconia Implant |
| Image | | |
| Strength | Greater strength | Good strength |
| Fracture toughness | Better fracture toughness | Good fracture toughness |
| Debris | Plaque collection around the implant is more likely | Plaque collection is less likely |
| Esthetics | With time,  a grayish black line appears near the gum margins | Color of gums remains the same because it is metal-free |
| Osseointegration | Good fusion of implant to the bone | Good fusion of implant to the bone |
| Healing | Good healing of gums after implant placement | Good healing of gums after implant placement |
| Allergies | Rare cases of allergies were reported | No allergies reported yet |
| Survival Rate* | 98.8% over 10 years | 95% over 7 years |
How Much Do Dental Implants Cost?
In the US, the cost of single dental implants ranges between $1,500 to $6,000, and All on 4/6 implants cost between $15,000 and $40,000.
The table below shows price comparisons of dental implants in different countries.
Dental Implant Cost Without Insurance (USD)
| | | | |
| --- | --- | --- | --- |
| Country | Titanium Implant | Zirconium Implant | All-on-4/6 implants* |
| USA | $1,500-5,000 | $1,500-6,000 | $15,000-40,000 |
| Canada | $1,500-4,600 | $1,500-5,520 | $20,000-35,000 |
| Australia | $2,100-5,500 | $3,000-7,000 | $15,000-30,000 |
| Mexico | $975-1,300 | $1,220-1,950 | $7,085-14,255 |
| Thailand | $1,200-1,600 | $1,500-2,000 | $8,000-16,000 |
The cost for a single titanium implant is typically between $975 and $5000, whereas Zirconia implants range between $1,500 and $7,000.
As you might have guessed, Zirconia implants cost more than titanium dental implants.
The complex manufacturing process of zirconia implants makes them expensive. [10]
Be wise & get dental implants at a low price!
Save ~63%
Implant-supported Dentures
All-on-4/6/8 dental implant procedure uses 4,6 or 8 implants to attach the dentures to the upper/lower jaw.
These dentures may be removable or fixed. When removable, they are known as overdentures / snap-on dentures.​​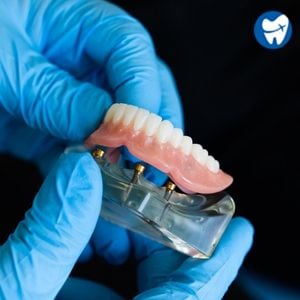 Snap-on Denture
Implant-Supported Permanent Denture
You can easily remove overdentures because they often have a ball and socket joint.
However, only the dentist can remove a fixed denture in the case of all-on-four implants.
Titanium implants are the best choice if you wish to replace all teeth or get an implant-supported denture.
How Much Do Implant-Supported Dentures Cost?
The fixed implant dentures cost around $15,000-30,000 per arch. You can expect to pay anywhere from $8,000 to 17,500 for overdentures.
When your dentist gives you an approximate cost for the dental implant procedure, ask them for a cost breakdown.
What Factors Influence the Cost of Dental Implants?
The cost of the treatment may depend on several factors, such as:
Consultation fees
Type of dental implant material
Brand of the dental implant
Number of dental implants required for the missing teeth
Diagnostic procedures like x-rays CAD/CAM, CT scans, etc
Cost of surgery (if needed)
Cost of additional procedures like bone grafting, sinus lift (if required)
The location where your tooth implant procedure is carried out
Number of professionals involved in your case
The dentist's experience and area of specialization
The complexity of your case
How to Pay for Dental Implants?
Around the world, the patient pays for dental implant treatments out of their pocket.
Most dental insurance plans consider tooth implant procedures a cosmetic treatment, so they don't cover them.
However, some dental insurance plans are starting to partially cover the cost of treatment.
Best Dental Insurance for Dental Implants
---
Dental Insurance Plans for Dental Implants in USA; Source: Investopedia
---
In Australia, the government does not cover the cost of most dental procedures under Medicare.
Hence, you may have to use private health insurance or pay from your pocket for dental care.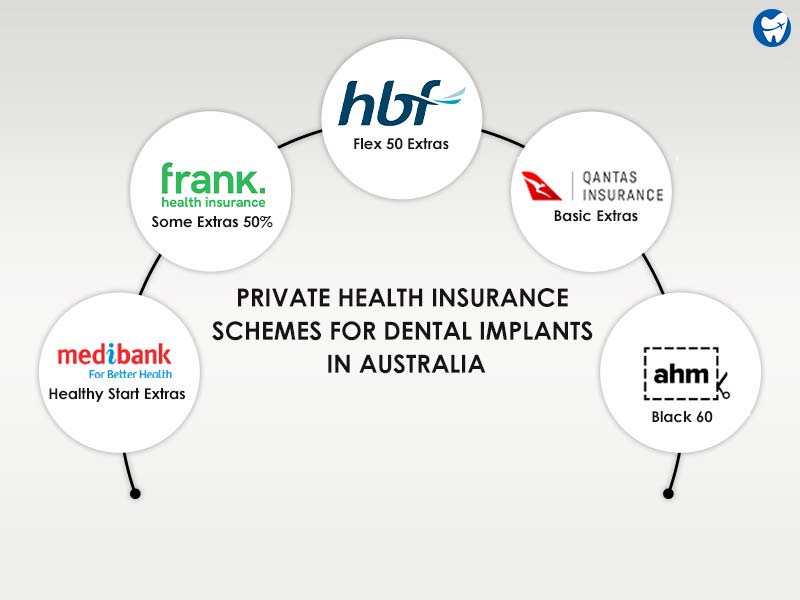 Dental Insurance Schemes for Dental implants in Australia; Source: Finder.com
To find out what your insurance plan covers, refer to the "General treatment, Extras or Ancillary" section of your policy. Be careful when you check the policy because the terms used to describe dental coverage may vary.
According to PrivateHealth.gov.au
| | |
| --- | --- |
| Type of Dental Coverage | Investigations / Procedures |
| Routine / General | X-rays, dental examinations, cleaning and polishing, fluoride treatment, tooth extractions, fillings |
| Major | Crowns, veneers, bridgework, implants, and dentures |
If your dental provider is a member of the HICAPS (Health Industry Claims and Payment Service), they can help you determine how much refund/concession you are eligible for.
Dental implants are treated under periodontics (which deals with gum problems).
So if your policy covers gum problems but does not specifically exclude implants, you may file a claim for the implant procedure.
Don't forget to check with your insurance agent to be sure.
---
In Canada, you have the following options:
✅ Health Spending Account (HSA) for business owners
An economical replacement for traditional health insurance
It's a legal plan in compliance with Canada Revenue Agency (C.R.A)
Dental implant cost is converted into a pre-tax expense
Benefit – Over 50% savings
✅ Medical Expense Tax Credit (METC) for non-business people
It is a tax credit applied through a personal tax return
Dental implant procedure costs can be claimed
You may also want to check out some local options.
Certain local dentists have different dental payment plans and financing options that allow you to pay for a dental implant procedure at your convenience. [11]
---
Five Tips For Choosing a Dental Insurance Plan
Before you choose an insurance plan, find out the following:
The dental procedures your plan covers.
The waiting period before you can claim the money.
The maximum amount of money you can claim under your policy.
Expenses you pay out of your pocket.
Read the terms and conditions of your policy document carefully.
Dental Implants Abroad
If dental implants in your home country are unaffordable or lack insurance coverage, an alternative option can be dental work abroad.
There are many inexpensive and quality dental implant options available globally. Opting for dental tourism can save as much as 70-80% on your dental bill.
Check here to find out the top dental tourism destinations based on their popularity among patients.
Conclusion
Tooth implants are gradually being accepted as the therapeutic option for teeth replacement.
Titanium and Zirconia dental implants are the two most commonly used in dental clinics.
Even though these implants are both long-lasting, there are specific clinical indications for using each of them.
Insurance companies are slowly accepting dental implants as an essential treatment for teeth replacement.
Therefore, the use of tooth implants may become an affordable treatment option for teeth replacement in the future.
FAQs
Not necessarily, because the best dental implant option is case-dependent.
Both zirconia and titanium implants are good options for replacing missing teeth.
Zirconia implants are recommended if you are allergic to metals.
Titanium implants are better if you are having a full mouth reconstruction because they have high fracture toughness.
The 7-10 year survival rate of zirconia implants is 95%, while it is 98.8% for titanium implants.
The longevity of implants is dependent on regular checkups and proper oral hygiene.
Commitment to maintaining good oral health can help your implants last longer.
For single implants, zirconia has similar properties to titanium. However, for full mouth replacement, titanium is slightly superior.
It is best to discuss the complexity of your case with your dentist and consider factors like potential allergies, cost, etc., before making a choice.
The best tooth implant depends on a patient's clinical condition and other factors.
For example, Titanium is the best choice for single or multiple implants, while Zirconia is the best for single implants or if you have metal allergies.
Though Zirconia implants are more esthetic, titanium implants are stronger and more fracture resistant.
A dental implant choice is best made after carefully considering your oral healthcare needs.
Tooth implants have the following downsides:
They are expensive
Insurance usually doesn't completely cover them
They require you to always maintain good oral hygiene