Dental Work in Zadar, Croatia
Medically reviewed by
Dr. Erin N Erickson, DDS
20 Jan 2023
Are you looking to get dental work done, but the prices are too high in your home country? Why not combine an enthralling vacation with dental work in Zadar, Croatia?
Dental tourism in Croatia comes at a much lower price than in the UK.
There are many reasons to visit this gorgeous city, and this is just one of them.
We have compiled a list of things you should know before visiting Zadar.
So, start reading our guide to find all the necessary info about the city & dental work offered there!
Video Courtesy: DIANO MAYA
Why Choose Dental Work in Zadar, Croatia?
Dental work in Zadar, Croatia, is becoming increasingly popular. Some of the reasons why there is a surge in popularity are listed below:
Affordable Prices – 75% less than the UK.
Excellent Reputation – Quality treatments comparable with Western countries. [1]
Quality Materials – Top brands of products are used, including Nobel Biocare, 3M, Ivoclar, Sirona.
Beautiful Vacation Destination – A gorgeous city with plenty to see and do.
No language barrier – Our Zadar clinic offers excellent care by dentists who are fluent in English.
In Zadar, Croatia, you can take advantage of much lower prices and still get fantastic treatment. Here are a few main reasons why the prices are lower:
The currency exchange rate is favorable to foreigners. However, the most important reason is the living standards, which are much lower in Croatia than in the UK. [2]
Dental work is still expensive for the majority of people living in Croatia.
People coming from abroad have a higher standard of living, so the prices seem more affordable to them.
While getting your teeth done, you will be enjoying the wonderful coastline and the Old Town.
Living Cost Comparison – Croatia Vs. UK
What Is the Cost of Dental Work in Zadar, Croatia
The cost of dental work in Zadar, Croatia, is much lower than in the UK. Depending on the procedure, you can expect to save up to 75% on the price.
For instance, the cost of a titanium implant is €880 in Croatia. The same in the UK costs €2,600.
Expect to pay €4,180 for All-on-4 dental implants. In the UK, you would pay €13,800 for the same treatment.
Dental Work Cost Comparison (Euros)
| | | |
| --- | --- | --- |
| Procedure | Zadar | UK |
| Titanium implant (including abutment & crown) | €880 | €2,600 |
| All-on-4 dental implants (per arch) | €4,180 | €13,800 |
| All-on-6 dental implants (per arch) | €5,940 | €15,500 |
| Porcelain crown | €194 | €1,300 |
| Zirconium crown | €240 | €1,300 |
| Teeth whitening (in office) | €220 | €530 |
| Single porcelain veneer | €308 | €940 |
*Prices may vary with the complexity of a case.
Popular Procedures
Zadar offers all the same dental procedures as your home country. Our clinic provides everything you may need. These procedures include:
---
Dental implants replace the root of a missing or damaged tooth. An implant is an artificial tooth that replaces lost or damaged teeth. It is placed surgically.
A single implant in Zadar costs €850.
---
Dental Crowns
Crowns are "covers" for damaged teeth.
If your teeth are decayed, malformed, or broken, they are a good choice.
A porcelain crown in Zadar is €445, and a zirconium crown costs €240.
---
Porcelain Veneers
Veneers are custom-made tooth-colored shells that fit the front surface of teeth.
They are generally used for aesthetic problems with teeth.
The price of a single porcelain veneer in Zadar is €300.
---
Apart from these, the clinic offers composite fillings, extractions, root canals, teeth whitening, and all other standard procedures.
The prices for all the procedures are up to 75% cheaper than in the UK. You can pay with a card or cash.
All procedures have a 10-year warranty if you return to the clinic for a regular check-up once a year.
Top Clinic in Zadar, Croatia
In Zadar, Croatia, we recommend Zara Dental Centar.
It is a modern dental clinic equipped with the latest technology that has been in business for over 15 years.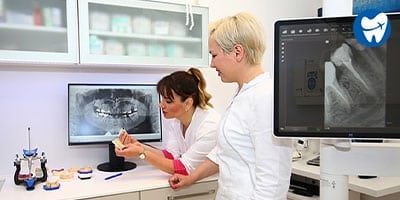 Put Matije Gupca 33, 23000, Zadar, Croatia
Mon - Fri 8 AM to 5 PM, Sat 8 AM to 2 PM
Clinic Highlights
Zara Dental has a team of multi-specialty dentists, and your first dental examination will be free of charge.
The clinic uses state-of-the-art technology, including
CBCT – MORITA Veraviewpocs 3D R100 for 3D diagnostics
SiroLaser Blue, a dental diode laser
Philips Zoom! ®WhiteSpeed for teeth whitening.
Some of the brands used include Nobel Biocare, 3M, Ivoclar, and Sirona.
Zara Dental Centar offers transportation services, and the appointments are flexible and easily available.
They have six dental chairs that enable the team to manage multiple patients simultaneously.
Best Dentist in Zadar, Croatia
When searching for a top dentist in Zadar, Croatia, you can't go wrong with a doctor practicing at Zara Dental Centar.
---
Dr. Ivana Lijić
19 Years of Experience
DMD
Expertise
Implants
Education
University of Zagreb
Bone & tissue days, Germany
Competence in aesthetics, Austria
One year program" The Curriculum Implantology"
GBOI DSD by Christian Coachman, Dubrovnik, Croatia
Dental Tourism in Zadar
Zadar is a city located on the coast of Croatia, and it is a beautiful Mediterranean town that offers plenty of beautiful sights and fun activities.
There are many historical monuments in Zadar and loads of great restaurants with tasty local food.
If you decide to leave town and visit the area in its close vicinity, you will find many natural sights to experience.
The best time to visit is during the spring & summer (June or September)
Let's start with some of the most iconic things you don't want to miss.
Church of St. Donatus
It is a Byzantine-style church from the 9th century used as a concert hall or an exhibition space.
Cathedral of Anastasia
This gorgeous cathedral was built in the 13th century on the foundations of much older buildings.
Land City Gates
These gates used to be the main entrance to the city and are one of the many gates along the walls that ring Zadar.
Sea Organ
A special installation located near the end of the Riva in Zadar, the Zadar Sea Organ is a sound art object.
Greeting to the Sun
It consists of special glass plates that absorb solar energy throughout the day and create a light show during the dark.
Plitvice Lakes National Park
It comprises 16 large lakes connected by waterfalls and set inside a picturesque forest; it is truly a sight to behold.
How to Reach?
The easiest way to get to Zadar, Croatia, is by plane since the city has one of the five international airports in the country.
Zadar International Airport (ZAD) serves Zadar region. Flights from London to Zadar are 2 hours and 20 minutes nonstop.
There are many direct or 1-stop flights available from Ireland (DUB) to Zadar (ZAD), starting at €200 (round trip).
However, the prices may vary depending on your booking date, time, or month.
The estimated flight duration between Dublin, Ireland, and Zadar is 3 hours.
Ryanair Airlines offer non-stop flights from Dublin to Zadar.
So, to travel to Croatia, you will need the following documents:
Visa
Irish citizens don't need an entry visa to Croatia (for a stay of up to 90 days).
If you wish to stay longer, you'll need to register at the nearest local police station (I.D., proof of accommodation & reason for the stay will be needed).
Valid Passport
Your passport must be valid for at least 3 months after your departure.
Also, it must not be older than 10 years and should be in good condition.
Return Ticket
Visitors might need to present a return ticket to exit Croatia after 90 days.
Proof of Accommodation
Croatian authorities may ask for proof of accommodation upon your arrival.
Proof of accommodation can include hotel/Airbnb bookings or a rental agreement.
Source: DFA [3] , Atlys [4]
Travel Tips
Here are several essential travel tips you should keep in mind when traveling to Zadar, Croatia.
---
The currency used in Croatia is the kuna; 1 euro equals 7.5 kunas.
If you travel to Croatia from the UK, make sure to convert some of your money to kuna before leaving.
You can exchange currency in Croatia at a bank or an exchange bureau.
Kuna currency
---
Wifi will require a passcode in most places, so you might want to get an international phone plan. Some SIM card options include:
WorldSIM
OneSIM
GoSIM
TravelSIM
If not, you can always ask for the passcode; they will usually give it to you.
---
Language
The country's official language is Croatian, but you can expect most people to know English.
Accommodation
If you're looking for places to stay, our clinic recommends:
Hotel Mediteran
Falkensteiner Borik Hotel
For places to eat, we recommend these restaurants:
4 Kantuna
Salsa Rossa
Restaurant Fosa
UK travelers should buy a continental adaptor for the wall sockets in Croatia. If you visit during summer, make sure to wear sunscreen. It can get quite hot.
---
Is It Safe to Visit Zadar, Croatia, for Dental Care?
When it comes to the safety and quality of dental care in Zadar, Croatia, there is no need to worry.
Our clinic is equipped with the latest, top-of-the-line equipment and has some of the best Zadar dentists you can find.
As a Dental Patient
When selecting a dental clinic, make sure to visit their website and check all of their credentials.
Try to find info about the experience of the dentists, the technology they use at the clinic, and the brands of the materials used.
Only with enough research will you be sure that you picked the right clinic.
As a Dental Tourist
When it comes to general safety, Zadar is considered highly safe. Croatia is considered to be one of the safest countries to travel to.
According to the Institute for Economics and Peace, Croatia is the 17th peaceful country globally. [5]
Dental Work in Zadar – Reviews
We sorted out several reviews of satisfied customers from Zara Dental Centar.
I just took out a wisdom tooth. Top team, very attentive and professional, pleasant atmosphere, a great recommendation.
It is with great pleasure that I would like to commend all the employees of your institution.
A young and competent team. I was there for a tooth cleaning and filling, and I can warmly recommend this practice!
Conclusion
There you have it. All you need to know about dental work in Zadar, Croatia.
If you want to visit this gorgeous country for your vacation and need some work done on your teeth, Zadar is an excellent choice.
The city offers plenty of things to see, but no worries, the dental work they do here is top-notch.
We already mentioned that you would be saving a lot of money on it. For more details, you can talk with our case managers.
FAQs: Dental Work in Zadar, Croatia
Yes, Zadar Croatia has experienced dentists well-versed in some of the most complex procedures. They are internationally trained.
Not only that, the clinics are equipped with the latest technologies, so you know that you will get a great value.
Some of the technologies used include:
SiroLaser Blue, a dental diode laser
Philips Zoom! ®WhiteSpeed for teeth whitening
CBCT – MORITA Veraviewpocs 3D R100 for 3D diagnostics
They use brands such as Nobel Biocare, 3M, Ivoclar, and Sirona.
Zara Dental Centar has a team of highly experienced dentists who provide you with the best service.
Of course, Zadar dentist prices are much lower than in the UK or US.
For your dental work in Zadar, Croatia, you can expect to pay up to 75% less than in the UK.
For example, a single porcelain veneer costs €308 in Zadar, while in the UK, you would need to pay €940.
A porcelain crown costs €194 in Zadar and €1,300 in the UK. Basically, any dental procedure is less expensive in Zadar.
A titanium implant with abutment and crown costs €880 in Zadar. Compare that to the UK, where the price is €2,600.
All-on-4 dental implants cost €4,180, and All-on-6 Dental Implants cost €5,280.
For those same procedures in the UK, you would be paying €13,800 and €15,500, respectively.