Dental Implants in Croatia
Medically reviewed by
Dr. Erin N Erickson, DDS
23 Sep 2022
Dental implants in Croatia can be up to 70% cheaper than at home. Croatia offers top-quality dental work and materials at modest prices!
Can't afford dental implants at home? Why not go to Croatia instead and get them done for less?
Croatia Travel. Video Courtesy: LFFV
What Do I Need to Know Before Getting Dental Implants in Croatia?
When it comes to dental care, it is of utmost importance that you have all of the information you need at your fingertips.
This article will inform you of everything you need to know to make the right decision.
It includes information on travel arrangements, accommodation, pricing, and, of course, an introduction to the best clinics Croatia has to offer.
Dental Tourism in Croatia
Why Choose Dental Implants in Croatia?
Dental tourism is becoming more and more popular as time goes on. Not only do you get to take a holiday, but also get your dental work done at much lower costs!
Croatia is a popular destination for dental care for the following reasons.​
Excellent Prices
Getting dental implants in Croatia is far more accessible now than ever before.
In some cases, the price of dental implants, such as all on 4, can be more than 70% less than you would pay at home.
The cost of living, operating costs, and educational costs in Croatia are far lower than in the US and UK. [1]
These factors keep the prices more affordable while still offering high-quality care and products. [2]
Dental Cost Savings
​Access to Professional Practitioners
The dentists we work with in Croatia have at least 15 years of experience.
Our affiliated doctors are members of the Croatian Dental Association, the Croatian Endodontic Society, and the Croatian Association of Aesthetic Medicine.
High-quality Treatment
Croatia is at the cutting edge of medical research and development. [3]
It means that dentists in Croatia can handle anything you need regarding dental implants.
Croatian doctors are qualified and experienced to perform additional procedures like bone grafting or sinus lifts.
Ease of Communication
A common concern is if there is a language barrier when traveling to a foreign country.
Most Croatians speak decent English so communicating is far easier than might be expected.
Croatia is also an overall inexpensive travel destination, so you won't spend much during your stay.
Croatian Dentists | Ease of Communication
Tourism Hotspots​
There are plenty of other great reasons to visit Croatia, besides affordable dental care.
It doesn't all have to be about the dental clinic!
Croatia is becoming more and more of a desirable tourist destination in recent years.
Appearing in the television series Game of Thrones has increased Croatia's popularity.
Croatia Traveler
Easy To Travel To
There are plenty of cheap flights from the UK and Ireland to Dubrovnik or Split.
These cities border the Adriatic Sea and boast incredible sights and activities.
For the more adventurous, there is also the chance to try some water sports!
We recommend staying for a while and to enjoy the gorgeous coastline and heritage sites!
Croatia Travel Booking
How Much Do Dental Implants Cost in Croatia?
As we mentioned above, dental implant prices in Croatia are among the cheapest globally. If you compare the prices, you can save more than 70%!
In Croatia, prices start from 900 EUR or $1,050 for a single titanium implant, including abutment.
All-on-4 dental implants are as low as 5,500 EUR or $8,500 including a fixed hybrid acrylic bridge.
Below, we have given you a rundown of the costs to see how much you will save.
Dental Implants Cost Comparison (Euro)
Procedure
US
UK
Croatia
Single dental implant**
€4,200
€2,500
€900
All-on-4 implants per arch
€20,500
€13,700
€5,500
All-on-6 implants per arch
€24,000
€15,400
€6,600
All-on-8 implants per arch
€30,000
€17,100
€9,500
Zirconium/ceramic veneer*
€1,700
€1,275
€215
Bone graft*
€1000
€800
€120
Sinus lift
€2,100
€1,500
€210
Same day implant
€2,550
€1,750
€900
*per unit; **including abutment
*prices may vary with the complexity of a case
Implant Brands Used: Nobel Biocare, K3Pro, Ankylos, Zimmer dental USA, or Zest LODI USA.
Full Mouth Dental Implants Cost in Croatia
You can save up to 70% compared to what you would pay at home for a single dental implant with an abutment, all-on-4, all-on-6, and all-on-8 implants.
The cost of a dental implant with abutment is 2,500 euros in the UK. In Croatia, the price is around 900.
All-on-4 implants are around 13,700 euros (per arch) in the UK. In contrast, all-on-4 dental implants in Croatia costs 5,500.
All-on- 6 implants average around 15,400 euros (per arch) in the UK, compared to 6,600 in Croatia.
All-on-8 implants (per arch) cost roughly 17,100 euros in the UK. But in Croatia, you can get them for 8,000.
It is clear why Croatia is such an attractive option to those looking for affordable dental implants.
The price of full-mouth dental implants in Croatia can save you more than enough money to make the journey worthwhile.
You can find low-cost and high-quality dental implants in European destinations like Romania and Bulgaria.
---
Limited-Time Special Packages
| | | |
| --- | --- | --- |
| Package | Inclusions | Offer Price |
| Dentelli Special Sail Away Package | All-on-6 premium (titan construction), Accommodation, Free local transfer, Two-day sail on 45ft sailboat, Relaxing Massage | $12,500 |
---
Limited-Time Special Packages
| | | | |
| --- | --- | --- | --- |
| Package | Inclusions | Days | Offer Price |
| All-on-4 Dental Implants (Implant Direct, Zimmer) | Free stay, Initial examination, RTG diagnostics, Tooth extractions, Tooth scaling, Tooth polishing/air blasting, Tooth whitening, Mouthguard, Oral hygiene kit for dental implants | 5-7 days | €5,500-5,950 |
| All-on-6 Dental Implants (Implant Direct, Zimmer) | Free stay, Initial examination, RTG diagnostics, Tooth extractions, Tooth scaling, Tooth polishing/air blasting, Tooth whitening, Mouthguard, Oral hygiene kit for dental implants | 5-7 days | €5,950-6,800 |
---
Top Clinics in Croatia
Of course, there are many dental clinics in the country. However, not all of these can claim the title of the best dental clinic in Croatia.
Your teeth are essential for general health and quality of life, so you should never settle for less in regard to dental care.
We work directly with three clinics in Croatia. Each one is exceptional in terms of professionalism, quality and value.
There is an international airport in the city, so it is easily accessible. There are also plenty of things to do in addition to the surgery.
Ul. Josipa Jovića 93, 21000, Split, Croatia
Mon - Fri 8 AM to 10 PM, Sat 8:00 AM to 2 PM
Multilingual staff
In-house lab and flexible appointments
Lifetime warranty on Ankylos implants
They offer several limited-time discounts and packages
They arrange for hotel stays nearby and transportation
Team of leading experts well-known in Croatian medicine
5-year warranty on zirconium crowns (only breakage covered)
Equipped with the latest cutting-edge equipment and technology
Offer free RTG (x-ray imaging) and consultation, and payment can be made in installments
It is in line with the national average pricing so that you can have big savings and get excellent value for the money
Dentelli also boasts one of the more relaxing settings you could ever find. This place is full of light and modern décor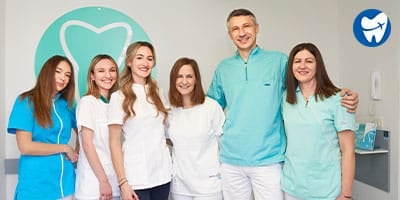 Put Dragulina 62F, 21220, Trogir, Croatia
10-year warranties on dentures
The staff speaks fluent English
Only 15 minutes drive from Split airport
10-year warranties on All-on-4, 6, and 8
10-year warranties on zirconium crowns and implants
The clinic is set in the UNESCO heritage site of Trogir
They also provide other services like bone grafts & sinus lifting
They offer discounted limited-time packages for 5 – 7 days accomodation
Equipped with state-of-the-art equipment and internationally renowned hygiene and safety protocols
A team of highly educated staff (dental specialists, doctors of science) who follow an interdisciplinary approach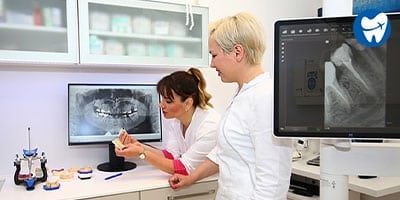 Put Matije Gupca 33, 23000, Zadar, Croatia
Mon - Fri 8 AM to 5 PM, Sat 8 AM to 2 PM
Clinic experience: More than 15 years
The first dental examination is free of charge
They have all amenities to perform complete dental therapy
A team of multi-specialty dentists that have been in practice for 15 years.
Offer top implant brands at fair prices, world-class doctors, and high-tech equipment
Dentists and staff keep their knowledge updated through regular training at home and abroad
Best Implant Dentist in Croatia
---
Dr. Martina Karlo
18 Years of Experience
DMD
Expertise
Dental implants and veneers
Education
University of Zagreb, Croatia
14,000+ treatments performed.
A doctorate dental degree from the University of Zagreb, School of Dental Medicine, Croatia.
Expertise in Dental Implants & Advanced Cosmetic Dentistry, Digital Smile Design.
Memberships: Croatian Dental Association, Croatian Endodontic Society, Croatian Association of Aesthetic Medicine
Dr. Dario Repic
17 Years of Experience
DDS, Ph.D
Expertise
Root canal treatment, Veneers, Crowns
Education
University of Zagreb
Treatments performed: 2000
He holds a Ph.D. in Dental Medicine.
Memberships: European Society of Endodontology, Croatian Society of Endodontology.
Dr. Ivana Lijić
19 Years of Experience
DMD
Expertise
Dental implants
Education
University of Zagreb
One year program "The Curriculum Implantology," GBOI
Competence in aesthetics, Bone & tissue days & Perio-implant from Austria, Germany & Croatia
Memberships: German Association of Dental Implantology, Croatian Dental Chamber, Croatian Association of Aesthetic Medicine, Croatian Medical Association
Dental Implants – Before & After
Full Mouth Reconstruction X-ray – Before & After
All-on-4 X-ray – Before & After
When Are Dental Implants Needed?
Dental implants are vital when there are missing teeth and serve as a long-lasting replacement for the real thing.
They aren't just there for cosmetic purposes! Missing teeth can create a whole range of issues that are fixed by these implants.
When Are Dental Implants Necessary?
These issues range from discomfort while eating to a person's voice potentially being changed in extreme cases.
Implants can enhance appearance and confidence. They provide a lot of comfort and improve the quality of life in general.
What Are the Types of Dental Implants?
There are different types of implants to use. It all just depends on your specific situation and which one you will need.
The most commonly used ones are as follows:​
---
A single-tooth implant is supported by a titanium rod that goes into the jawbone.
A dental crown is attached to it.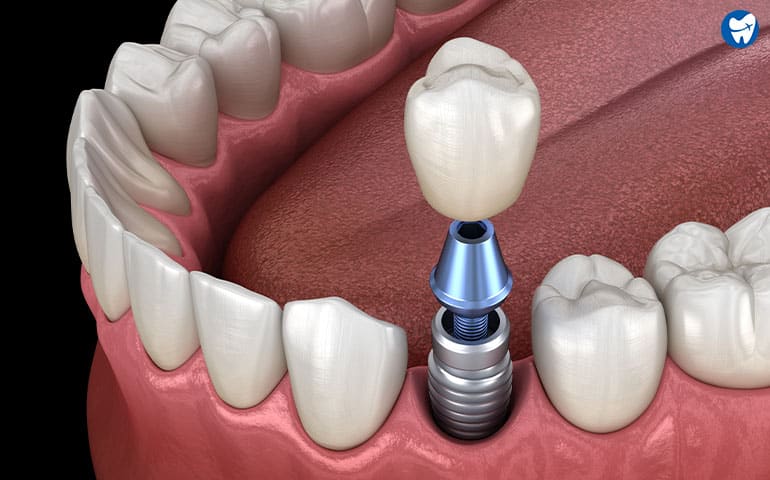 Single Dental Implant
---
If you have several missing teeth, this is a good option.
You can get individual implants or an implant-supported bridge to replace multiple adjacent teeth.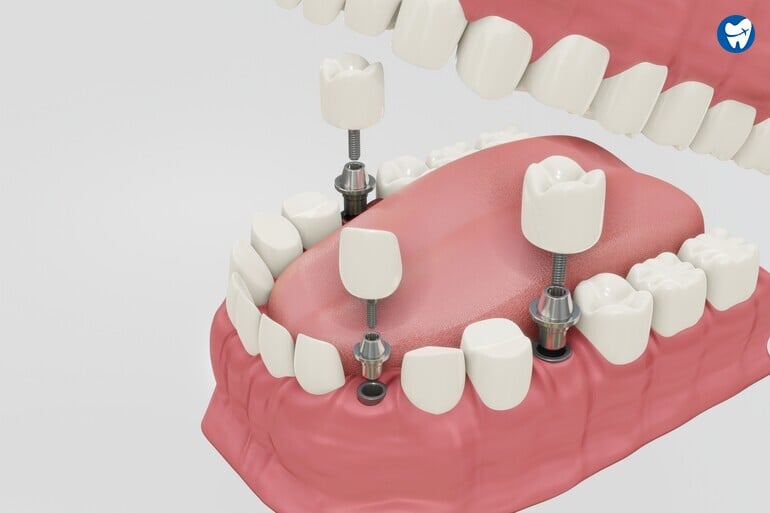 Multiple Dental Implants
---
In this procedure, four implants are placed into the bone. These will then support your new teeth.
All-on-4 Dental Implant
---
Six implants into the bone will support your new teeth, ensuring that they are incredibly sturdy.
All-on-6 Dental Implant
---
For more support, you can opt for the eight implant version of the procedure.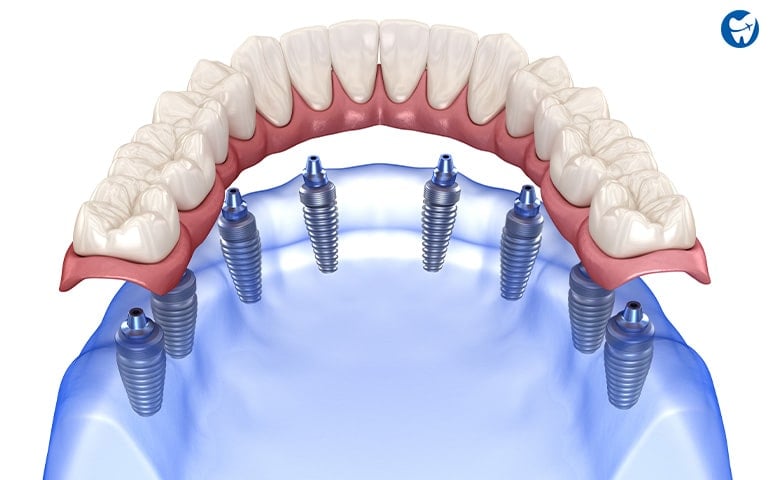 All-on-8 Dental Implant
---
If you have enough bone, it is possible to get brand new teeth in a day.
Same Day Implant
---
What are the Steps for Getting a Tooth implant?
Inserting dental implants is a surgical procedure to which the prosthesis is attached.
First, the dental surgeon will cut through the gum to expose the bone underneath. Then, holes are drilled into the bone.
In these holes, implant screws/posts are placed. After this, you will need to recover for a few months.
Dental Implant Process in Croatia
Over time, the bone will heal around the mount extra tightly via a process called osseointegration.
It will ensure that your new teeth are solidly supported. At this point, an abutment will be placed to act as a connector to hold the new crown. A crown can then be attached.
You can expect to wait around four months for everything to heal completely. [4]
What is the Success Rate of Dental Implants?
There are so many different types of procedures. Each example is different from the next.
However, the overall success rate across the board is very high.
Studies indicate that your implants stand a 96.4% chance of lasting longer than ten years. [5]
What are the Pros and Cons of Dental Implants?
---
There are plenty of great reasons to opt for dental implants. Among them are:
Aesthetics: They improve your smile and look and feel like regular teeth. [6]
Practicality: Implants are incredibly sturdy, meaning you can eat without worry.
Durability: They are fused to the bone. They aren't going anywhere!
Health: Implants reduce continued bone loss.
---
Before getting dental implants, some things are worth considering. The main cons are:
Periimplantitis: Infection can arise in some cases causing pain, swelling, and bleeding.
Surgical complications: They may arise if strict protocols are not followed during surgery.
Unforeseen extras: Extra procedures like sinus lifts, bone grafts, and extractions may be needed for some patients.
---
Do Dental Implants Require Bone Graft?
Requiring a bone graft varies from person to person. Your dentist will make this determination after careful evaluation of your case.
Sometimes, procedures such as sinus lifts and bone grafts may become necessary.
Bone grafts are needed when the patient has experienced significant bone loss.
By grafting in some new material, the jaw will be better able to support the implants.
Roughly 50% of dental implant procedures will require a bone graft first. [7]
A sinus lift is needed when you don't have enough bone in the upper jaw to place the implant. [8]
If your sinuses are too close to your jaw, you may also need this procedure.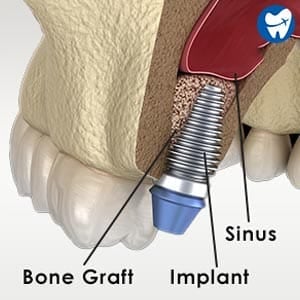 Sinus Lift in Croatia
What is the Aftercare for Dental Implant Surgery?
Many are surprised by how little discomfort they are in after this surgery.
It doesn't mean that there aren't a few things you should know first, though.
Dental Implant in Croatia – Aftercare Tips
Two weeks after the procedure, you can lightly brush this area with mouthwash.
Going into the fourth week, you can now resume routine cleaning of the area. Read this page to know more about dental implant aftercare.
Travel Tips for Croatia
There are five different airports where you can fly to Croatia. If you stay less than 90 days and are from the UK, US, or Europe, you will not need a visa to enter Croatia.
Both clinics are easily accessible from nearby airports, with buses running regularly and reliably.
Aside from that, here are some things you will need to know when you arrive.
Croatia is very safe, but still, be on the lookout for pickpockets.
Many attractions close during the winter.
Always carry a little cash. Not everywhere will take your card.
Though not expected, do tip 10% or more.
Get ready for rocky beaches!
Bus travel is a cheap, clean, and easy way of getting around.
Check out the dental tourism in Croatia page for additional handy travel tips.
As you can see, choosing to get dental implants in Croatia makes a lot of sense.
You can expect the same high-quality service, and it costs considerably less! And that's before we even get into the scenery!
FAQs
A dental implant for one tooth in Croatia will cost you as little as $1,050, including abutment. That works out at around 900 euros.
That's one-third of the price of the same procedure in the UK and one-fourth of the US price!
A single tooth can cost in the range of €2,100-2,550 out of pocket, depending on where you live. That price can also increase if you need bone grafts or other extras.
Opting for dental implants in Croatia is an affordable option as it offers up to 70% savings.
The average cost of all-on-4 implants in Croatia is only €5,500 or $5,000. Compared to prices in the US ($25,000), it is only about one-fourth of the cost.
If you travel from the UK, you can save almost 50% on this procedure, as the price of all-on-4 implants in the UK is €13,700.
Refer to the cost table above to get a detailed price list.