Dental Implants in Turkey
Are you wondering about getting dental implants in Turkey? Do you want to combine a vacation with cheap dental work and save money? Then, Turkey might be the destination for you.
We have collected all the essential information on this subject, so read on!
Patient Testimonial: Dental Implants in Turkey
You may be living in a country where dental treatment costs are too high or a lack of insurance coverage.
In such a case, going overseas for dental work can offer significant savings!
Traveling abroad can come with certain benefits, some of which are connected to your health.
Getting dental implants in a different country can be a chore, but you can have some excellent work done if you know the crucial details.
Dental Implants in Turkey
Turkey offers a lot of ways to save money on dental implants.
You can enjoy your holiday while visiting this gorgeous country and get your dental treatment at the same time!
Why Choose Dental Implants in Turkey?
Turkey is a beautiful country with plenty of things worth sightseeing.
It has a rich history influenced by several empires, including the Ottoman, Byzantine, and Roman.
You will discover marvelous sights if you decide to visit Turkey, which should be a good enough reason to go there.​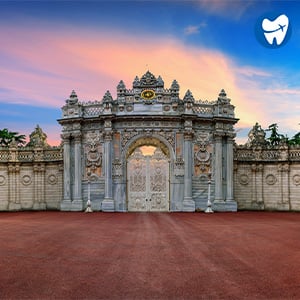 Ottoman Empire Palace Dolmabahce
Hagia Sophia in Istanbul, Turkey
Anything you can think of, ranging from gorgeous beaches to ancient palaces located in Istanbul, is yours to explore in this gorgeous country.
Naturally, your main point of interest should be getting your teeth done in Turkey, but all of this is a welcome bonus.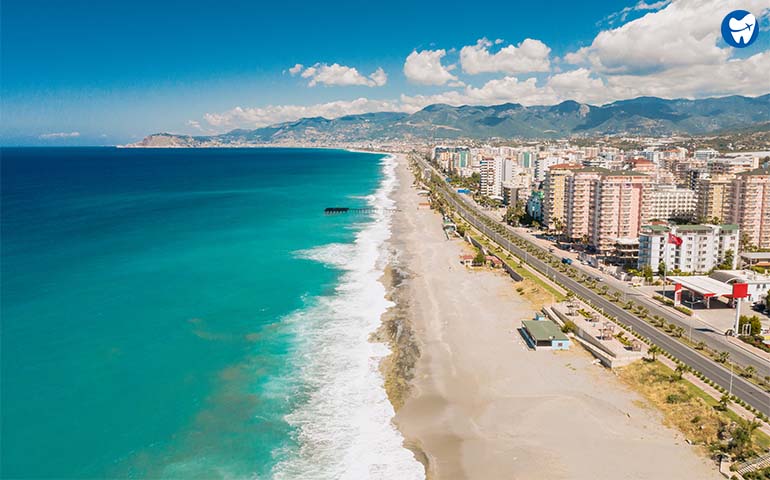 Kaputas Beach | Antalya Turkey
Of course, all of this comes second to the main reason you would get dental implants abroad: the price.
Expect to pay far less money in Turkey for the same quality of work you would get done in your country. [1]
The reviews are overwhelmingly positive when it comes to dental implants in Turkey. ​
There are several reasons why dental implants are this cheap in Turkey.
The currency exchange rate is one of them. Expect to save money while exchanging currency.
Moving on, we have living standards that are lower in that country. [2]
Dental implants are still expensive for the citizens of Turkey, but people coming from abroad have a much higher living standard.
It seems extraordinarily cheap to them.
Lastly, implants are manufactured at a lower cost in Turkey. The combination of low prices and everything else this country has to offer tourists is highly appealing.
It makes getting dental implants in Turkey a smart decision.
Expect to have plenty of opportunities to rest between dental appointments. This way you can enjoy the gorgeous sights and restaurants of Turkey.
How Much Do Dental Implants Cost in Turkey?
Dental implants in Turkey are far cheaper than in the United States.
You would pay approximately $2,790 for a single implant in the US. In Turkey, that price can be as low as $350 but not higher than $1,000.
When it comes to all-on-4 implants, expect to save a lot more money.
You will pay around $24,000 for it in the US, while you can get it done for as low as $3,650 in Turkey.
The same goes for all-on-6 and all-on-8 implants as well.
Dental Implants Cost Comparison (USD)
| | | | |
| --- | --- | --- | --- |
| Procedure | Turkey | UK | USA |
| Single Tooth Implant | $350 | $2,000 | $2,790 |
| Implant, Crown, and Abutment | $1,600 | $3,300 | $4,930 |
| All-on-4 Implants ( per arch) | $3,650 | $16,000 | $24,000 |
| All-on-6 Implants ( per arch) | $5,200 | $18,000 | $30,000 |
| All-on-8 Implants ( per arch) | $6,900 | $20,000 | $36,000 |
*prices may vary with the complexity of a case
As you can see from the above table, the costs are approximately 70% to 80% lower than what one has to pay in the USA or UK.
Top Clinics for Cheap Dental Implants in Turkey
We picked our top 10 choices for the best clinics for dental implants in Turkey.
Dental Excellence | Dental Clinic in Antalya, Turkey
DentSpa | Dental Clinic in Istanbul, Turkey
Their Certifications include:
Certifications | Dental Clinic in Istanbul, Turkey
Best Implant Dentist in Turkey
Our choices for the best implant dentists include those employed in the ten clinics mentioned above.
Of course, we can't name all of them, so we picked at least one dentist from each clinic.
---
Dr. Fatih Erkun
10 Years of Experience
DDS
Expertise
Dental Implants
Education
Gazi University
Director of Dental Excellence Turkey
Qualified in Smile Design (DSD by Christian Coachman)
Postgraduate training in Prosthetic dentistry
Dr. Şükrü Mert Yüce
15 Years of Experience
PhD
Expertise
Implants, Crowns, Veneers
Education
Ege University School of dentistry
Treatments performed: 100,000
Works as a prosthodontist in Dentaglobal, Izmir
Ph.D. in Prosthodontics, School of Dentistry at Ege University, Turkey
Dr. Madina Gulverdiyeva
12 Years of Experience
PhD
Expertise
Dental implants
Education
Gazi University, Faculty of Dentistry, Department of Prosthodontics
Participated in many conferences and workshops such as digital smile design, cosmetic treatments for the face and jaws
Speaks four languages: Azerbaijani, Turkish, English, and Russian
Ph.D. at Gazi University, Faculty of Dentistry, Department of Prosthodontics
Dr. Fatma Aktepe
4 Years of Experience
DDS
Expertise
Dental implants, root canal treatment
Education
Bolu Abant Izzet Baysal University, Turkey
Head dentist at Zirve dental
Expert in implantology, root canal treatment and cosmetic dentistry
Member of Turkish Dental Association
Dr. Kerem Turgut
14 Years of Experience
DDS, PhD, MSc
Expertise
Dental Implants, All on 4, Zygoma Implants
Education
Marmara university, Istanbul, Turkey
Aesthetic Dentistry Masters Degree
Member of International Team for Implantology(ITI)
Member of Turkish association of Oral and Maxillofacial surgery
Turkey Dental Implants – Patient Reviews
UK patient testimonial
German patient testimonial
What Are Dental Implants?
Dental implants are metallic screws inserted into your jawbone and replace your tooth roots.
Unlike dentures, they are fixed and completely stable and rest on the bone.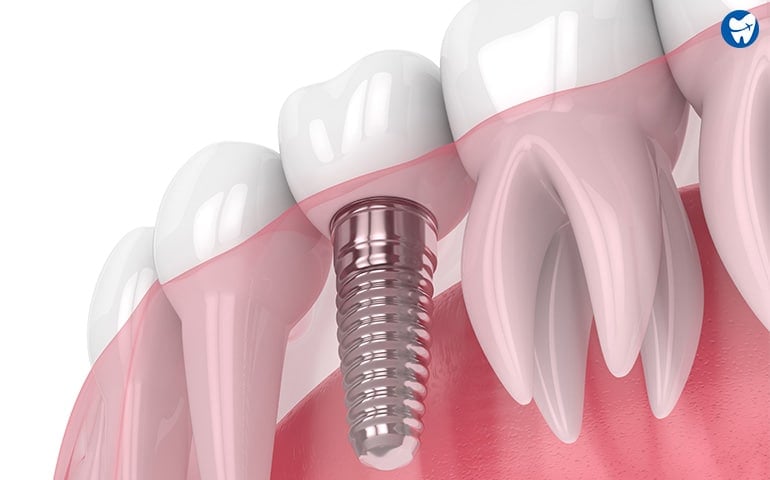 What are Dental Implants
After the implants are placed, they are fused with the bone in a process known as "osseointegration." [3]
You will be able to use your teeth immediately once you get implants.
When Are Implants Needed?
Dental implants are needed when your teeth are missing, but you don't want to (or can't) get dentures, crowns, or bridges.
A lost tooth needs replacement because the consequences of losing teeth and doing nothing about it can be serious.
Dental implants help you have a healthy bite that keeps your jawbone healthy. [4] It prevents bone deterioration.
Of course, they also make your smile look better and have aesthetic benefits.
What Are the Types of Dental Implants?
There are 3 basic types of dental implants:
People who are missing just one tooth will get a single implant inserted, topped with a dental crown.
Several Teeth Replacement
For those with multiple missing teeth, 2 or more implants are inserted into the bone & a dental bridge sits atop them.
Full-Mouth Reconstruction
Full-mouth reconstructions replace all of the teeth in your mouth.
There are several popular procedures used for this, and these are known as All-on-4, All-on-6, and All-on-8.​
Single Tooth Implant in Turkey
Multiple Dental Implant in Turkey
---
All-on-4 procedures are the ones where four implants support artificial teeth.
This type of reconstruction helps to maximize the use of available jawbone.
It also allows for immediate function. [5]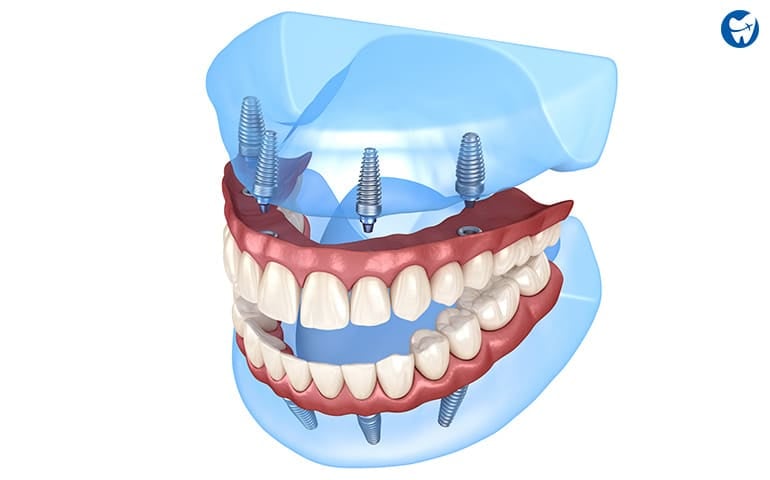 All on 4 Dental Implants
---
All-on-6 procedures refer to those that involve six dental implants.
It is mainly used on people who don't have a perfectly shaped jawbone.
However, they should have enough bone mass to support these six implants. Hence, some may require bone grafts & sinus lifts.
All on 6 Dental Implants
---
All-on-8 procedure is considered the most stable type of dental restoration.
The implants fuse more strongly with the jawbone,
High jawbone density is required. If a patient suffers from trauma, they most likely won't get an All-on-8 implant.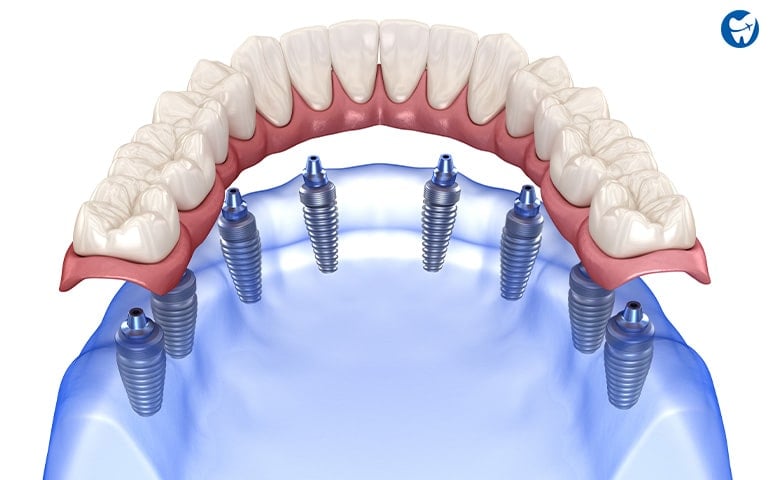 All on 8 Dental Implants
---
While a single dental implant in Turkey offers up to 80% savings, full mouth reconstructions also become pocket-friendly.
You can save as much as 84% over the US price and 77% over the UK's price for All-on-4 treatment.
What is the Procedure of Getting Dental Implants?
Dental implant surgery involves several steps:
Tooth extraction (if needed)
Grafting the socket
Healing time for the socket
The placement of the implant
Healing abutment delivery
Final Impressions
Placement of the screw-retained crown
You should expect to stay at least eight days to finish your dental implant procedure.
Expect at least four visits to the dentists in the two trips you make.
The duration of your stay and the number of appointments depends on your case's severity.
What are the Additional Procedures When Getting Dental Implants?
Some of the additional procedures include sinus lifts and bone grafts.​
---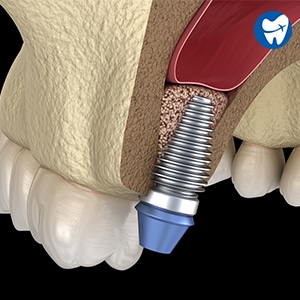 Bone grafting is done before the placement of implants.
It is performed on patients with less jawbone.
This procedure fills up the area of bone loss with artificial or natural bone.
---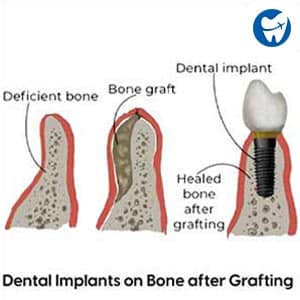 A sinus lift is another procedure performed before the implant placement.
It is done to increase the amount of bone on the upper jaw.
It is done to make a place for a bone graft.
---
What Are the Pros and Cons of Dental Implants?
Advantages & Disadvantages of Dental Implants
What is the Success Rate of Dental Implant Surgery?
According to studies, the success rate for lower jaw implants is 95%, while for upper jaw implants is 90%. [5]
What is the Required Aftercare For Dental Implants?
After your implant treatment, only drink cold drinks (without a straw) and avoid smoking until the wound heals.
Start cleaning your teeth immediately but avoid the surgical site for a few days. Use hot salt mouthwashes during the first week.
| | |
| --- | --- |
| Immediate Aftercare | Long-term Aftercare |
| Clean your teeth right away but avoid the place of surgery. | Use ice packs on swelling if it persists. |
| Use hot salt mouthwashes. | Stitches will dissolve or be removed generally after a week or two. |
| Drink only cold drinks without a straw. | Watch your diet and don't drink too much alcohol. |
| Don't smoke until the wound heals. | Brush your implants twice a day, and floss once daily. |
Try to keep food away from the surgical area. Clean your teeth soon after eating.
Travel Tips for Getting Teeth Implants in Turkey
We have collected several essential travel tips we believe everyone should know before going to Turkey:
You will likely need a visa to enter the country. However, you can get one quickly in around 5 minutes by applying online.
You can travel to Turkey in several ways, including air (our clinics are pretty close to airports), water, road, or railway.
Some websites, such as Wikipedia, booking.com, and PayPal, don't work in Turkey, so think ahead.
You might want to get an international phone plan. Some SIM card options include WorldSIM, OneSIM, TravelSIM, and GoSIM.
People don't speak English very well in Turkey, so learn a few common Turkish phrases.
The food is extremely cheap, even in better restaurants.
You can move around Turkey using plane travel cheaply, but you can also use a bus if you want to save money.
Buy a travel adapter for the F type, the European power outlet.
You can choose to stay in a hotel, Airbnb, or hostel, which are affordable.
We recommend Akra, Laren Family, Yazar Lara, Smart Hotel Izmir, Four Points by Sheraton, KAya Thermal Hotel, and Ontur Hotel.
Hotels
Smart Hotel
---
İsmet Kaptan, 1368. Sk. No:2, 35210 Konak/İzmir, Turkey
3.9 miles from Dentaglobal
Laren Family Hotel
---
Çağlayan, 2054. Sk. No: 21, 07230 Muratpaşa/Antalya, Turkey
0.1 mile from Dental Excellence
Yazar Lara Hotel
---
Çağlayan, 2005. Sk. no:36, 07025 Muratpaşa/Antalya, Turkey
1.3 miles from Dental Excellence
Four Points by Sheraton Izmir
---
Çınarlı, Ankara Asfaltı Caddesi No:17, 35110 Konak/İzmir, Turkey
0.4 mile from Smile Izmir Clinic
Kaya Thermal
---
Ilıca Mah., Zeytin Sk. No:112, 35320 Narlıdere / Balçova/Narlıdere/İzmir, Turkey
11.4 miles from Dentaglobal
Conclusion
There you have it, everything you need to know about dental implants in Turkey.
For those interested in visiting the country but also need to get some work done on their teeth, visiting Turkey is the answer.
It has plenty to offer when it comes to tourism, but you will also be able to get excellent dental work done there.
If you don't have a problem getting dental implants abroad, Turkey is one of the best choices.
You will save tons of money, receive outstanding medical care and enjoy a gorgeous country!
Talk to our case managers to get the latest prices.
FAQs
It will depend on the dentist, and the situation, so different dental clinics will charge different prices.
Expect to pay between $350 to $1,000 in general. The prices are case-dependent and different for every patient.
Of course, a full set of teeth is more expensive and will cost anywhere between $3600 – $8000.
The more complex procedures take multiple visits.
It depends on the clinic you choose based on your extensive research. You will be able to get cheap dental work there with excellent quality.
That is only possible if you check for authentic credentials and select an experienced dentist.
Dentists associated with us in Turkey are an excellent choice for major dental work. This includes implants, crowns, and veneers.
It boils down to the fact that resources are cheaper in Turkey.
Lower business taxes, rents, wages, and cheaper liability insurance for surgeons help drive down the price in Turkey. [7]
Also, the country's standard is different.
For people coming from the US or other European countries, the tooth implant cost in Turkey may seem low.
However, the price is still relatively high for citizens of Turkey because of their lower living standards.
People from abroad also save money on currency exchange [8] , so that's something to take into account.
When it comes to the conventional dental implant procedure, it involves two phases.
The first one takes 8 to 10 days, and the second phase takes around seven days. Of course, this all depends on the patient's jaw bone quality.
Both phases can be performed in under eight days by some clinics.
Typically expect to need two to three appointments, and it depends on your case how close to each other they can be.
There are also same-day dental implants that take under 24 hours on the same trip.
A full set of teeth implants in Turkey costs anywhere between $3,650 and $7,000.
It will depend on which material you want for your implants and your general oral health.
All-on-4: $3,650
All-on-6: $5,200
All-on-8: $6,900
The simple answer would be "yes," although it depends on the complexity of the procedure and the dentist you choose.
You should have no problems getting dental implants in Turkey if you do proper research.
Even though the dental implants price in Turkey is lower than usual, they are entirely safe.
The materials used there are high-quality, and you will be able to get advice from your dentist even when you return home.
They will provide you with all the support over the internet at no extra cost.