Patient Reviews
Take a look at these patient reviews before choosing from the top dental clinics & dentists in Cambodia. 👇
High-standard quality services and acceptable prices. A1 services.
Toch Kollin
Phnom Penh
Dr. Pagna was very gentle & attentive. I came in 30 minutes earlier than my appointment & he got straight to work.
Anouk Delapree
US
They are amazing! Friendly, professional & competent. I definitely recommend this place.
I went there to get my teeth cleaned. The doctor is great & the environment is comfortable.
Hence Chang
Phnom Penh
Cost of Dental Work in Cambodia
The price of major dental procedures in Cambodia is only a fraction of the US cost.
You can save about 65% – 80% on dental work in Phnom Penh.
Compare the prices in the table below:
Cost of Dental Work in Cambodia Vs. the US
Procedure
Cambodia
US
New Zealand
All on 4 Implants*
$8,000
$24,000
$18,570
All on 6 Implants*
$10,000
$28,000
$27,000
PFM crowns
$200
$1,100
$800
Zirconia Crowns
$350
$2,000
$1,300
Root Canal Treatment
$100
$1,100
$1,400
Porcelain Veneers#
$350
$2,500
$2,050
Surgical Tooth Extraction
$150
$650
$350
*including fixed acrylic bridge per arch, #per unit
Prices are subjected to change with each case.
Payment Methods in Cambodia
Cash
Credit/Debit Cards
Bank Transfer
Clinic Logistics
It's time to grab some information about dental clinics in Phnom Penh. Here's an easy way to book an appointment with them.
At DentaVacation, you can enquire using a free quote form or by scheduling a call.
An assigned case manager will speak to you & discuss the necessary details.
They will help you plan a wonderful dental vacation in Cambodia.
Make sure to find out the clinic's working time if traveling overseas to fix your teeth.
Our dental provider in Cambodia offers services from Monday to Saturday, 8 AM to 7 PM.
Moreover, the clinic remains open on Sundays from 8 AM to 12 PM.
So, you can plan your trip to Phnom Penh on weekends too.
The dentists in Cambodia excel in their clinical abilities and hold certifications for:
Dental Implants "All-On-4 course"
Optimized Aesthetic in Dental Implant
Art & Science of Anterior Tooth Restoration
Dental Implant Surgery and Prosthodontics
Advance Course: "Occlusion and Full Mouth Rehabilitation
Aesthetic Restoration "All-Ceramic and Porcelain Veneer Preparation"
Brands, Technology & Equipments Used
The dental practice in Cambodia is well-equipped to meet all patient needs & improve clinic ergonomics.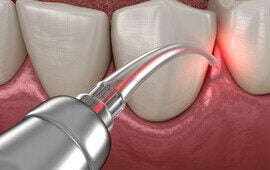 Dental Lasers
Laser dentistry can treat several dental maladies, including cavity preparation, gum surgery, and tooth whitening. It is a less invasive & painless way.
Autoclave
An autoclave uses high-pressure steam to kill nearly all types of pathogens. The instruments are sterilized in a chamber and heated to a temperature of 121-134°C.
Intraoral Scanner
It is a digital scanning device that emits a safe, low-power laser. It is used to create a 3D image of the inside of a patient's mouth in high detail.
Dental Microscope
It uses a high-resolution magnifying lens, & LED lighting for better visualization. Microscope reduces eye strain & enhances patient & dentist comfort
Cambodian dentists use top-notch brands like MEGAGEN (Germany) for dental implants.
The purpose of using high-quality materials is to ensure excellent long-term outcomes.
Top Clinic Locations
Cambodia, especially Phnom Penh, is a popular destination for dental tourism due to its low cost.
Phnom Penh
This capital city of Cambodia has colonial-era buildings, traditional temples & markets, providing a diverse experience for visitors.
Suburbs Locations
Discover with us some notable suburban locations in Cambodia.
Both expatriates and local residents can reside in these areas.
Boeng Keng Kang
It is a central neighborhood, known for its modern shopping malls, high-end apartment buildings & other amenities.
Tuol Kork
It is a rapidly developing suburb with a mix of residential, commercial, and educational facilities. It is suitable for regional inhabitants as well as foreigners.
Toul Tom Poung
A bustling neighborhood is located in the Russian market. It is a huge marketplace where you get a wide range of goods at low prices.
Chbar Ampov
It is located on the outskirts of Phnom Penh. This suburban area has affordable housing options and low-density development.
Recommended Hotels
Pagna Dental Clinic recommends a few good hotels close to the territory. It will shorten the hotel-clinic distance & will save you time.
Hotel Emion Phnom Penh
---
No.192 Preah Sisowath Quay, Phnom Penh, Cambodia
3.2 miles from Pagna Dental Clinic
Hotel Zing
---
HWC9+4M7, Sokhalay, Phnom Penh, Cambodia
2.7 miles from Pagan Dental Clinic
Almond Hotel Sothearos
---
No 128F, Sothearos Blvd, Tonle Bassac Corner of the Russian Embassy Phnom Penh, Street Sothearos, 12301, Cambodia
2.4 miles from Pagan Dental Clinic
Le President Hotel
---
House 680 Street 128 Sangkat Phsar Depot 2, 12154, Cambodia
2.7 miles from Pagan Dental Clinic
Before & After: Dental Work in Cambodia
Before & After: Dental Crowns in Cambodia
Before & After: Dental Implants in Cambodia
FAQs
Travelers generally require a visa to enter Cambodia. You can apply online for an e-visa.
However, the easiest way is to get your visa on arrival in the country. It is valid for a stay of 30 days. [1]
As per Cambodian Government, British passport holders must have a visa for entry into Cambodia.
The dental staff in our partner clinic in Cambodia are multilingual. They speak English, French & Khmer. 
So it's easier to communicate & understand each other during treatment.
As per the Royal Embassy of Cambodia, travel insurance for Cambodia is an absolute must.
So, all foreign visitors should possess a travel insurance policy with coverage of up to $50,000. [2]
The clinics offer a warranty & take responsibility for treatment services.
They guarantee to deliver good services, high quality, and painless procedures.