Dental Implants in Istanbul, Turkey
Do you have missing teeth and, on top of that, a lack of insurance coverage in your home country? In that case, you can consider dental implants in Istanbul, Turkey.
Read this article for a breakdown of the cost and to find the best clinics & dentists.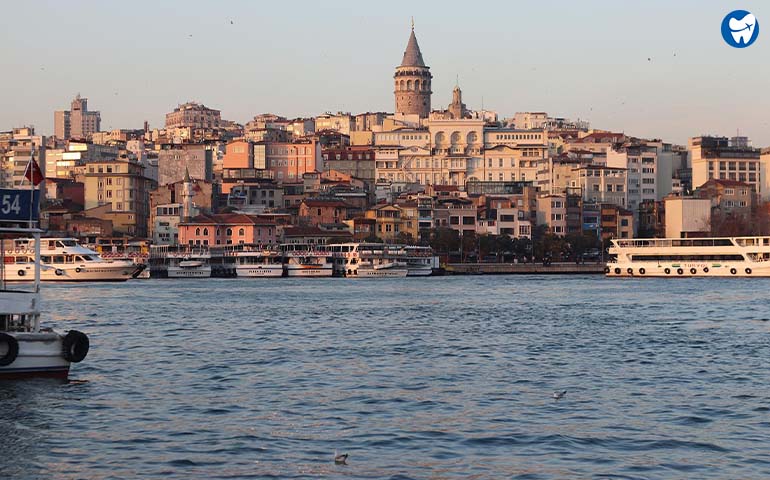 Istanbul, Turkey
For missing teeth, dental implants are arguably the best long-term solution.
Dentures are an alternative, but they keep moving while you eat. Besides, they frequently cause mouth ulcers. [1]
In this article, we have outlined the best clinics and dentists for your convenience.
So let's find out more about getting dental implants in Istanbul, Turkey.
Why Choose Dental Implants in Istanbul, Turkey?
Turkey ranks 6th on the World Tourism Organization (UNWTO) 2020 World Tourism Barometer.
– UNWTO [2]
Turkey is famous for its cultural influence on the world.
But its significance is not limited to just traveling. You can also enjoy exemplary dental services there.
Some important reasons for getting implants there are:
Affordable Cost
You can get cheap dental implants in Istanbul. It's hands-down the number one reason. Cost savings run up to 70%; that's a steal.
For skeptics, the low cost is due to the low cost of living. [3]
Quality Dental Work
Our clinic is equipped with state-of-the-art technology to ensure the best oral care for its patients.
Ease of Access
You get short nonstop flights from London, Manchester, and Birmingham.
Enjoying a Vacation
Istanbul is beautiful, culturally rich (think Ottoman Empire), and modern enough to lure in all types of tourists.
English-Speaking Staff
Our partner clinics hire multilingual staff, so you won't face any communication problems.
Experienced Dentists
Our dentists are qualified with — 9+ years of experience — and specialization certificates.
How Much Do Dental Implants Cost in Istanbul?
Getting dental implants in Istanbul, Turkey, is a money saver.
A single titanium dental implant cost in Istanbul (with abutment) is $350. In the US, you pay $5,000 for the same.
The cost of all-on-4 dental implants in Istanbul, Turkey, is around $3,700. The same in the US costs $24,000.
Therefore, your total cost savings can be up to 60% to 80%.
To simplify things, check the following table for price comparison:
Cost of Dental Implants in Istanbul vs. the US and UK
| Procedure | US | UK | Istanbul |
| --- | --- | --- | --- |
| Titanium Dental Implant (with abutment) | $5,000 | €2,900 | $350/€880 |
| All-on-4 Implants (per arch) | $24,000 | €14,000 | $3,700/€3,520 |
| All-on-6 Implants (per arch) | $28,000 | €15,895 | $4,000/€3,520 |
| Bone Graft (per unit) | $1,200 | €582 | $250/€220 |
| Sinus Lift | $1,500 | €700 | $430/€378 |
*Prices are subject to change.
Best Dental Implant Clinic in Istanbul, Turkey
Getting dental implants is a pricey investment, even when getting the procedure done in a relatively cheap destination like Turkey.
So, you'd like the clinic you choose to be top-tier.
Fortunately, to save you hours of scrolling over reviews, we found the best dental implant clinic in Istanbul, Turkey.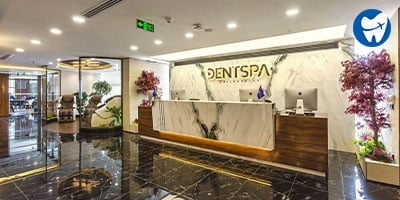 Teşvikiye Mah. Hakkı Yeten Cad. No:11 Terrace Fulya Center 1 K:M4, 34365 Şişli
Clinic Highlights:
Multilingual staff
State-of-the-art technology
Experience with foreign patients
Free airport pickup and drop-off
Located near a hotel zone (Downtown, Istanbul)
A spa-like experience along with qualified dental care
Multiple payment methods (cash, debit, and credit cards)
Affiliation with national and international dental associations

Multiple ISO certifications (ISO 10002:2018, ISO 45001:2018, and ISO 27001:2013)
Best Implant Dentists in Istanbul, Turkey
Our top dentists in Istanbul, Turkey, are:
---
Dr. Sükran Tüfekçioğlu
10 Years of Experience
DDS
Expertise
Implants, All on 4/6/8, Oral Surgery
Education
Istanbul Medipol University Faculty of Dentistry
Attended various scientific conferences on dentistry
Attended various seminars and courses on oral surgery
Member of TDB and European Association for Cranio Maxillofacial Surgery
Dr. Serdar Yılmaz
15+ Years of Experience
DDS
Expertise
Dental Implants
Education
Marmara University
Member of International Association of Oral and Maxillofacial Surgery, Oral and Maxillofacial Surgery Society and Turkish Dental Association
Has given many oral presentations and papers in the Congress
Dental Implants in Istanbul: What Are They?
Dental implants are your best bet for replacing one tooth, a few teeth, or even an entire arch of teeth. [4]
Through surgery, zirconia/titanium implants are drilled into your jawbone.
Once the surgery site heals, crowns or full-on dentures are screwed tight on the implants.
Types of Dental Implants in Turkey
Single Dental Implant
Made out of zirconia or titanium, you need a single dental implant to treat one missing tooth.
All-on-4 Dental Implants
In this procedure, four implants are drilled into one jaw (two at the front and two at the back) with a full-arch denture.
All-on-6 Dental Implants
The same as an all-on-4 but with six dental implants. It offers more strength and stability than an all-on-4 due to the two extra implants.
Dental Implants Procedure in Istanbul, Turkey
---
Your dentist will evaluate your teeth, gums, and jawbone through X-rays and CT scans.
---
Small incisions will be made in your gums, and the dental implants will be surgically placed.
---
The healing period lasts for 3-6 months, where the implant will fuse with your jawbone via Osseointegration.
---
A small connector will be attached to the implant, which can then be used to attach a restoration.
---
During this healing period, the gums will heal around the abutments.
---
A bridge, crown, denture, or other forms of restoration will be permanently attached.
---
Source: WebMD [5]
Success Rate for Dental Implants in Istanbul, Turkey
When we talk about dental implants, we mention their survival rate instead of their success rate.
There are a few factors that decrease your implants' survival rate. They're the following:
Smoking
Age (the older you are, the lower the survival rate)
Bone quality (before and after the surgery)
Implant parameters (height, type, and diameter)
Source: NCBI [6]
Dental implants' survival rate is about 97% after 10 years. [7]
Pros and Cons of Dental Implants in Istanbul, Turkey
---
They look and feel natural.
Maintain the jaw bone levels.
A long-term solution for missing teeth.
You can chew all types of food again.
Source: WebMD [8]
---
They can fail.
Not/partially covered by insurance.
The procedure can be lengthy (6+ months).
Strict requirements to be qualified for dental implants.
Source: Medicine Net [9]
---
Additional Procedures for Dental Implants in Istanbul, Turkey
Your doctor may recommend additional procedures to initiate dental implant treatment in some exceptional cases.
These additional procedures include sinus lifts and bone grafts.
They're needed to rectify one major issue: the lack or insufficiency of your jawbone to sustain the implants.
Sinus Lifts in Istanbul
It is otherwise known as sinus augmentation – it involves adding bone mass to the upper jaw and lifting the sinus. [10]
Bone Grafts in Istanbul
As the name suggests, a piece of bone is attached to your existing jawbone to add to its thickness, making it possible to operate. [11]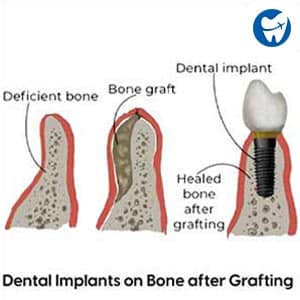 Learn all about dental implants here!
Aftercare Tips for Dental Implants in Istanbul, Turkey
Dental implants last a long time on average, but you can extend their lifespan with proper care.
Their maintenance requires getting used to. Luckily, it's simple and is split into two categories:
---
Short-Term Aftercare
Skip hot drinks for one to two days post-surgery.
No intense workout for 48 hours after the procedure.
To speed up your healing process, avoid/quit smoking.
Allow the anesthesia to wear off after your surgery before eating.
Refrain from touching the surgical site with your tongue/fingers.
If your dentist prescribes antibiotics, make sure to complete your course.
Source: WebMD [12]
---
Long-Term Aftercare
Brush your teeth twice a day and rinse your mouth after every meal.
Use regular floss after brushing your teeth as it is generally more effective than Waterpik.
If feasible, use an electric toothbrush since they have been shown to be more effective at preserving gum health.
To help you unmask any arising complications, schedule regular checkups, and cleanings with your dentist.
Source: Kids Health [13]
---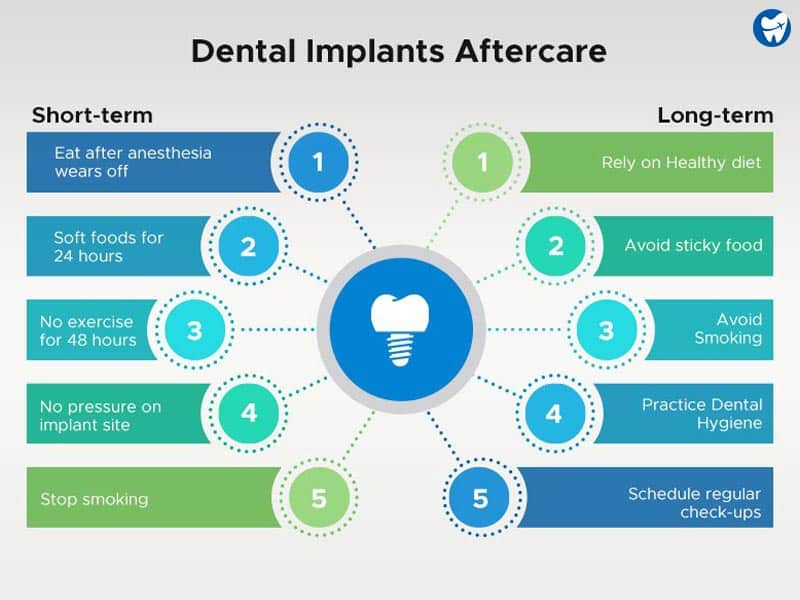 Dental Implants Aftercare Tips
For more information on dental implant aftercare, you can follow this link.
Travel Tips for Dental Tourism in Turkey
Turkey is a safe country. [14] However, that doesn't mean it's devoid of petty crimes. Tourist scams and the likes are notorious worldwide.
Therefore, be aware of your surroundings. If you've never been to Turkey, you should learn a bit about it to maximize your safety and enjoy your trip.
Before Arrival
The local authorities require proof of vaccination or a negative PCR test (done 48 hours before arrival). [15]
Safety
Keep your valuables locked in your hotel room, and not show any exuberant signs of wealth.
Culture
The majority of the Turkish population is Muslim. [16] So, avoid public displays of affection, public drinking, and dress modestly.
Travel Tips for Dental Tourism in Istanbul, Turkey
Currency
The currency of Turkey is the Turkish Lira (₺). [17]
Traveling Around Turkey
Buses are a popular means of transport in Turkey. [18] It's also a lot cheaper than traveling by plane.
Electronics
You will need a European adapter for all your electronic chargers.
Dental Implants Istanbul, Turkey: Reviews
Patient Review of Dental Implants in Istanbul
Conclusion
Istanbul is a culturally-rich tourist destination. With safe & quality dentistry, it has become a great destination for dental tourism.
If you are looking for a lovely vacation with high-quality dental work, you must consider dental implants in Istanbul, Turkey.
You can join thousands of happy customers and restore your beautiful smile!
For further assistance, please contact us!
FAQ's
The cost of dental implants in Istanbul ranges from $350–$1000. On the other hand, the same will cost you $5,000 in the US.
Also, all on 4 dental implants in Istanbul cost only $3,700. But you have to pay a huge amount of $24,000 in the US.
You'll save 84%!