Dentistry is quite expensive in the US & Canada. No wonder dental implants in Cancun, Mexico, are becoming a big hit. In Cancun, implants cost only a fraction of the American prices – without cutting corners on quality.
Continue reading to get a better idea of the cost and clinics in the city.
Watch on YouTube: "Dental Implant Procedure Video"
Dental Implant Procedure Video
Why Choose Dental Implants in Cancun, Mexico?
Blockquote- Medical tourism in Cancun is becoming popular for its affordability and safety. [1]
You should note that for people seeking affordable dental treatment abroad, Cancun offers several benefits.
Some of the key advantages include:
Affordability | Up to 70% Savings
The cost of dental implants in Cancun, Mexico, is up to 70% less than in the US & Canada.
In other words, the low living cost in Cancun makes dentistry an affordable option. [2]
Quality Dentistry | Reputed Clinics
Dental care in Cancun is second to none. Above all, the clinics here have the most advanced dental tools.
Moreover, they use the latest techniques (CAD/CAM Technology) to perform the treatment smoothly.
Skilled Dentists | Professional Staff
Well-trained dentists with over 30 years of experience perform dental procedures in Mexico.
The dentists from our partner clinics are qualified from renowned institutes in the US.
Quick Appointments | Flexible Timings
Waiting times for dental procedures in the clinics are negligible.
Flexible appointments give customers freedom of time. So they can choose time accordingly.
Convenient Travel | Ease of Access
The low cost and ease of travel (especially for the US and Canadian citizens) make Cancun the best choice for a dental trip.
The average trip duration is around 3 hours from the US to Cancun. [3]
How Much Are Teeth Implants in Cancun, Mexico?
The cost of a titanium dental implant in Cancun, Mexico, is as low as $890.
By comparison to the prices in the US — $5,000 and Canada — $4,600, you save up to 80%.
The same applies to Zirconium dental implants.
For an overall overview, check the following table for price comparison:
Cost of Dental Implants (in USD): Cancun vs. the US vs. Canada
| Procedure | Cancun | US | Canada |
| --- | --- | --- | --- |
| Titanium Dental Implant | $890 | $5,000 | $4,600 |
| Zirconium Dental Implant | $1,000 | $6,000 | $5,520 |
| All-on-4 Dental Implants | $7,680 | $24,000 | $22,000 |
| All-on-6 Dental Implants | $9,480 | $28,000 | $26,000 |
| All-on-8 Dental Implants | $11,280 | $35,000 | $32,000 |
| Same-Day Implant with crown | $1,050 | $5,000 | $4,600 |
| Mini Dental Implant | $450 | $1,500 | $1,200 |
| Zygoma Dental Implants | $2,500 | $32,000 | $25,600 |
| Bone Graft (per unit) | $200 | $800 | $640 |
| Sinus Lift (per quadrant) | $1,500 | $2,500 | $2,000 |
*Prices are subject to change.
Best Dental Clinics in Cancun, Mexico
Planning to get a cheap dental implant abroad can be a huge task. On top of that, finding the right clinic is a bigger challenge.
To save your time, we introduce the top two dental clinics in Cancun.
Watch these two videos to know more about the clinics!
Best Dentists in Cancun, Mexico
DentaVacation connects you with highly reputed dentists. Our top picks for dentists are:
---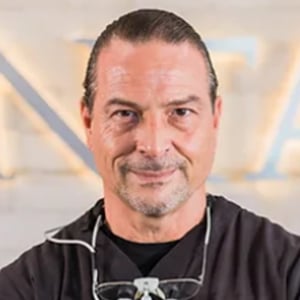 Dr. Joaquin Berron
30 Years of Experience
DDS
Expertise
Implants, All on 4/6/8, Crowns & Bridges, Dentures
Education
Universidad Tecnológica de México
Post Graduation: Integral Dentistry – UNITEC (Universidad Tecnológica de México)
Implant Fellowship: Louisiana State University (LSU), US
Association: ADA
Dr. Irma Gavaldon
30 Years of Experience
DDS, MS
Expertise
Full Mouth Rehab, Dentures, Crowns & Bridges
Education
Universidad Autónoma de México
Post Graduation: Master's Degree in Restorative Dentistry (University of Michigan)
Accreditation: Board Examination for California and Michigan
Association: ADA
Dr. Miller Vieira
17 Years of Experience
MSD
Expertise
Implants, All on 4/6/8, Veneers
Education
University of Guarulhos São Paulo
Certifications in DSD (Digital Smile Design) and SKYN Concept protocols in 2015
Certified by the São Paulo Association of Surgeons in "Advanced dental implantology – surgical module"
Member of the AACD (American Academy of Cosmetic Dentistry)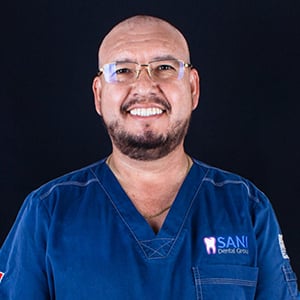 Alejandro Ramirez Rivaz
26 Years of Experience
DDS
Expertise
Implants, All on 4/6/8, Veneers
Education
Mexican College of Oral and Maxillofacial Implantology
Completed Fellowship II Certification from Mexican College of Oral and Maxillofacial Implantology
Active member of the Mexican College of Oral and Maxillofacial Implantology
Dr. Nestor Oliver Salguero
5 Years of Experience
DDS
Expertise
Dental implants, full mouth restoration, oral surgery
Education
Evangelical University of El Salvador, El Salvador
Certified by the Mexican Council of Oral and Maxillofacial Surgery
Oral implantology fellowship, UNAM Mexico City D.F.
Member of the Mexican Association of Oral and Maxillofacial Surgery (AMCBM)
What Are Dental Implants?
A dental implant is the best long-term solution for a missing tooth. It is an artificial root device generally made of titanium. [4]
The implant is placed into the jaw to support a replacement tooth/teeth. It looks natural and is placed within the jawbone.
Dental implant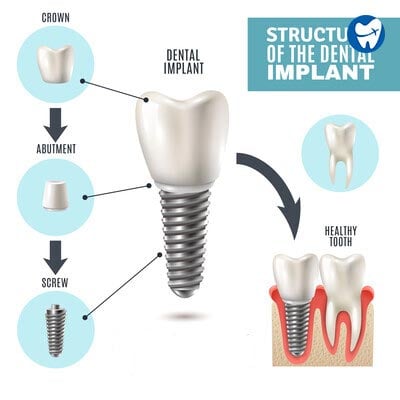 Parts of a dental implant
Types of Dental Implants in Cancun, Mexico
Dental implants are of two types:
Endosteal Implants: Commonly used. Patients with healthy jawbones or those who can receive a bone graft are eligible for these.
Subperiosteal Implants: They are the best option for patients who don't have enough jawbone and want to avoid surgery.
Source: Colgate [5]
Zygomatic Implants are the best for patients who don't have much bone in the upper jaw. [6]
Dental Implants Procedure in Cancun, Mexico
The successful dental implants procedure requires six steps:
---
Consultation
Your dentist will evaluate your teeth, gums, and jawbone through X-rays and CT scans.
---
First Surgery
Small incisions will be made in your gums, and the dental implants will be surgically placed.
---
Healing Period
The healing period lasts for 3-6 months, where the implant will fuse with your jawbone via Osseointegration. [7]
---
Abutment Placement
A small connector will be attached to the implant, which can then be used to attach a restoration.
---
Healing Period
During this healing period, the gums will heal around the abutments.
---
Restoration
A bridge, crown, denture, or other forms of restoration will be permanently attached.
---
Keep in mind that you may need additional visits for complicated cases.
Additional Procedures
You need to meet a specific requirement for jawbone density to undergo dental implant surgery.
A sufficient amount of jawbone is required for the implants to be securely placed.
Otherwise, you are increasing your chances of complications — and even procedure failure.
Fortunately, insufficient bone can sometimes be corrected with additional procedures.
Sinus Lifts in Cancun
Sinus Lifts is also known as sinus augmentation. The process involves adding bone mass to the upper jaw and lifting the sinus. [8]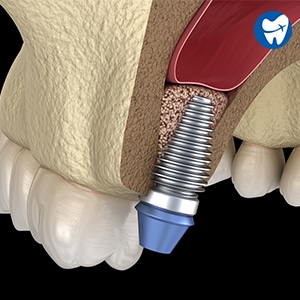 Sinus Lifts in Cancun
Bone Grafts in Cancun
In this process, a piece of bone is attached to your existing jawbone. As a result, it adds to its thickness, making it possible to operate. [9]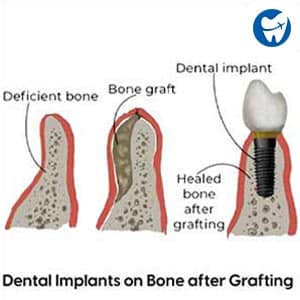 Bone Grafts in Cancun
Pros and Cons of Dental Implants
Advantages & Drawbacks of Dental Implants
| Pros | Cons |
| --- | --- |
| It can be a life-long solution with proper care. | Need to meet certain requirements for eligibility. |
| They look and feel natural. | The procedure can be lengthy. |
| Decrease jawbone shrinkage. | Rarely, the procedure may fail. |
| You can chew all types of food again. | Lack of insurance coverage. |
| Source: WebMD [10] | Source: Medicine Net [11] |
Success Rate
When we talk about dental implants, we mention their survival rate instead of their success rate.
Factors Affecting Dental Implants Recovery Time
There are a few factors that decrease your implants' survival rate. They're the following:
Smoking
Age (the older you are, the lower the survival rate)
Bone quality (before and after the surgery)
Implant parameters (height, type, and diameter)
Source: NCBI [12]
Dental implants' survival rate is about 97% after 10 years. [13]
Aftercare
Dental implants' aftercare is easy, yet, it requires a period of adjustment and discipline.
---
Short-Term Aftercare
Apply an ice pack to reduce swelling.
Quit smoking to speed up your healing process.
Avoid hot drinks for one to two days post-surgery.
Don't touch the surgical site with your tongue/fingers.
Allow the anesthesia to wear off after your surgery before eating.
If your dentist prescribes antibiotics, make sure to complete your course.
Source: WebMD [14]
Dental Implants Aftercare Tips
---
Long-Term Aftercare
Brush your teeth twice a day. Flossing is optional but highly recommended. [15]
Schedule regular clean-ups and check-ups with your dentists (once every few months is a good start).
---
Read more about dental implant aftercare tips here.
Dental Tourism in Cancun
Cancun is one of the cheapest vacation destinations in the western hemisphere.- US News
[16]
On top of that, a dental holiday in Mexico offers a genuine option to get quality dental work in Cancun.
Cancun Ocean
To top it all off, Cancun provides a one-of-a-kind experience for every type of traveler.
Cancun is a must-see destination, with everything from luxury resorts to the beachfront.
---
Several airlines operate frequent flights from the major cities of the US and Canada.
Approximate flight times from major US Cities to Cancun:
Miami – 1 hour 30 minutes
Houston – 2 hours 15 minutes
Atlanta – 2 hours 30 minutes
Dallas – 2 hours 45 minutes
Visa Requirements
US and Canadian citizens don't need a Visa for a visit shorter than 6 months.
Yet, you will need a valid passport — with a 6-month validation period before entry.
Carry a Multiple Immigration Form (FMM) that's obtainable online.
You'll have to present your FMM when you leave Mexico. Failure to do so will result in a fine. Therefore, make sure to keep it on you.
Source: Travel.State.Gov [17]
---
The following travel tips will make your stay safe and smooth.
Plan a day trip.
Exchange your dollars for pesos.
Use the buses to get around the city.
Go all-inclusive while booking resorts.
Avoid overpriced souvenirs at the beaches.
Best months to visit: December to April (peak season).
Source: US News [18]
Caution
Swim only when supervised by a lifeguard in rough surf. Green beach flags indicate safe waters, whereas yellow and red flags indicate increased caution. Swimming is prohibited if you see a black flag. [19]
Safety Tips
Keep your valuables locked in your hotel room.
Book taxis through your hotel or an authorized taxi stand.
Don't carry valuables and travel documents while traveling.
Do not discuss travel plans or your room number with anyone.
Do not disclose personal business details to strangers in person or over the phone.
Source: Travel.State.Gov [20]
---
Is It Safe To Get Dental Implants in Cancun, Mexico?
Yes, getting dental implants in Cancun, Mexico, is completely safe. But we would suggest doing your research for extra safety.
Moreover, to rule out any doubts consult with the potential dental care providers before going to the treatment.
The following points will clear all your doubts:
Our partner clinics follow high safety standards to get optimal treatment at an affordable price.
These clinics are reputable and have been in business for decades.
Mexican Federal Government deployed a Tourist Protection Army in December 2021 to elevate Cancun's security levels. [21]
To summarize, Cancun is a credible place to get dental implants.
Dental Implants in Cancun: Reviews & Testimonials
I did a couple of implants, crowns, some tooth extraction, root canal. Happy with my results!
I came with a lot of anxiety about the dental implant process but I had a great experience, very impressed!
Super professionals! The impeccable clinic! They put me 5 implants, perfect!
Conclusion
With dental implants in Cancun, Mexico, you no longer have to hide your smile. You get top-notch dental care at a cheaper price range.
In this article, we've tried our best to cover every aspect of implants and related procedures.
Still, if you require any further assistance or have more questions, contact us!
FAQs
The cost of a titanium dental implant in Cancun, Mexico, is $890. But, in the US, you pay $5,000 for the same treatment.
Similarly, all on 4 dental implants in Cancun cost $7,680. That's 69% cheaper than the US prices. You'd pay $24,000 in the US.
Yes, dental implant surgery is possible in one day.
Although their survival rate is above 90%, they have a slightly higher chance of failing than traditional implants. [22]
Yes, dental implants can last a lifetime. The scientific literature states that the 10-year survival rate of dental implants is 97%.
With the proper care and maintenance, they can last a lot longer. Proper maintenance includes:
Quitting smoking
Regular check-ups
Daily brushing and flossing