Dental Veneers in Turkey: Revamp Your Smile!
Medically reviewed by
Dr. Erin N Erickson, DDS
30 Sep 2022
Veneers are a cosmetic procedure not covered by dental insurance. Luckily, getting dental veneers in Turkey comes at a considerably minimal cost.
Maybe Turkey has been on your radar, but you're concerned about the safety of the process and which clinics to choose.
Rest assured, we answer all your questions in this article. So, keep reading.
Patient Testimonial
Turkey is the 6th most-visited destination for tourists –
World Tourism Organization (UNWTO)
[1]
In 2019, 51.2 million international tourists chose the Land of Four Seasons (Turkey) as their downtime stop.
Lots of those tourists go there to get their dental procedures done. One of the most sought-after treatments is dental veneers.
So, let's talk about dental veneers in Turkey. Are they worth getting?
Why Choose Teeth Veneers in Turkey?
Price Difference
Veneers in Turkey are cheap compared to the US, and the UK. The prices are nowhere to be compared (up to 70% cost difference).
To sweeten the deal, most dental clinics in Turkey offer complete sets of veneers and discounts when paying cash.
Price-Quality Ratio
People are skeptical when they first find out about the cost of veneers in Turkey. Hence, they get suspicious about the quality of the procedure.
They lack the knowledge that low costs are because the cost of living in the Land of Four Seasons is lower than in the UK. [2] The quality remains at par with the home country.
Qualified Dentists
Dentists in Turkey are among the best in the world. Our dentists have a minimum of 8 years of education and 7 years of work experience.
Most of them are published researchers in their respective fields and are all members of the Turkish Dental Association.
Exploring a New Country
You can hit two birds with one stone: Getting your veneers and sightseeing.
So, you get the chance to show off your new smile on camera while you try Turkish coffee at one of their local coffee shops.
Why Choose Turkey?
How Much Do Veneers Cost in Turkey?
The price of porcelain veneers in Turkey is €210 – €350 per tooth. Moreover, even cheaper options like composite veneers cost €97 – €105 per tooth.
The price comparison is evidently and marginally huge, with 70 – 80% savings compared to the UK.
Check the following table for a cost comparison between veneers prices in the US, the UK, and Turkey:
Cost of Dental Veneers in Turkey vs. US vs. UK
| Type of Veneers | US ($) | UK (€) | Turkey ($/€) |
| --- | --- | --- | --- |
| Porcelain | $2,500 |  €1,100 | $250/€210 |
| Composite | $1,500 | €550 | $115/€97 |
| Emax Laminate | $1,750 | €600 | $310/€273 |
| Zirconium | $2,500 | €850 | $230/€195 |
*Note: The prices are case-dependent.
A full set of veneers in Turkey cost around €1,260 – €2,100 for the porcelain type.
Generally, a full set is termed for 6 veneers on the upper front teeth. The same would cost €4,500 to €6,600 in the UK.
Top Clinics in Turkey
There are lots of dental clinics in Turkey. Each has its reputation.
We based our recommendations according to a thorough selection process of essential parameters, including:
Association with national/international organizations
Flexible payment methods
Travel assistance
No language barrier
Advanced facilities and equipment: Digital Anesthesia | 3D Digital Screening & Impressions | Surgical guided implants
Here are some best dental clinics in Turkey:
Dental Veneers in Turkey: Reviews
Patient Testimonial
Dental Veneers Review
Best Cosmetic Dentist in Turkey
Cosmetic dentists in Turkey are qualified and well-trained. Aside from the mandatory 5-year education and the optional 3-4 years of specialization.
They are registered with the Turkish Dental Association and regulated by the Turkish Ministry of Health.
Their number of years of experience may differ, but they are well-trained and precise with their craft.
We recommend the following dentists, based on their reputation and credentials, as the best cosmetic dentists in Turkey:
---
Dr. Fatih Erkun
10 Years of Experience
DDS
Expertise
Dental Implants
Education
Gazi University
Five years dex-team-postgraduate training in Prosthetic dentistry
Qualified in Smile Design (DSD by Christian Coachman)
Member of Turkish Dental Association
Dr. Şükrü Mert Yüce
15 Years of Experience
PhD
Expertise
Implants, Crowns, Veneers
Education
Ege University School of dentistry
Doctorate degree (Prosthodontics), department of prosthodontics, Ege university
Certified from British Academy of Cosmetic Dentistry
IPS E-MAX Certification
Dr. Utku Dincer
5 Years of Experience
DDS
Expertise
Smile Design
Education
Yeditepe University Faculty of Dentistry
Member of the Turkish Dentists Association
Member of the Aesthetic Dentistry Academy
Dr. Ozge Gunes
5 Years of Experience
DDS
Expertise
Aesthetic Specialist
Education
Kocaeli University Faculty Of Dentistry
Member of the Istanbul Chamber of Dentists
Attended many congresses and courses
Some dentists possess PhDs in their respective fields of specialization and years of experience conducting dental procedures and treatments.
What Are Veneers?
A veneer is a thin layer of porcelain, zirconia, or composite resin bonded to your teeth and can change the size, shape, or color of your smile.
They repair crooked, stained, and chipped teeth.
They should not be confused with crowns. Crowns act as a cap that wraps around your teeth recommended for broken teeth, deep cavities, and root canals.
It's also worth mentioning that veneers are a purely cosmetic procedure. That means your dental insurance will most likely not cover their cost.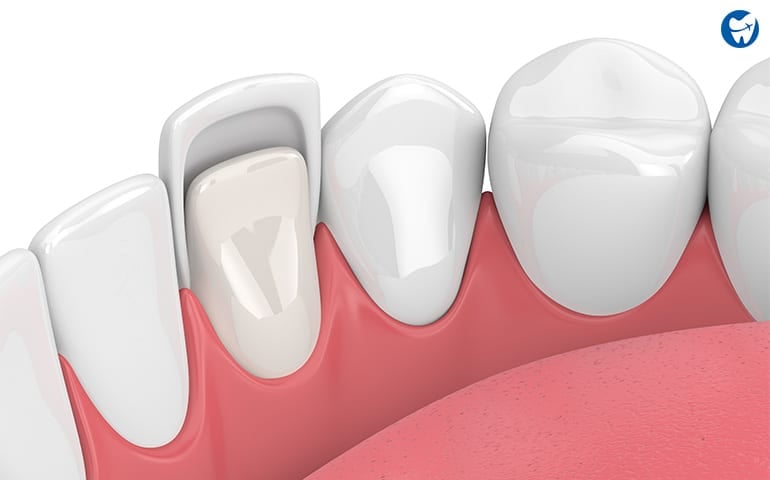 Dental Veneers in Turkey
Types of Teeth Veneers in Turkey
---
Porcelain Veneers in Turkey
Porcelain veneers can last 10 to 20 years with proper treatment and maintenance.
Typically the veneer procedure involves trimming the tooth enamel which makes it an irreversible procedure.
Porcelain Veneers
---
Composite Veneers in Turkey
They are made of composite resins. It's easily placed, needing only one appointment.
It's great for patients who are unable to have work done in multiple appointments.
The downside of composite ones is that they're less durable than porcelain [3] veneers, and they are more prone to staining over the years.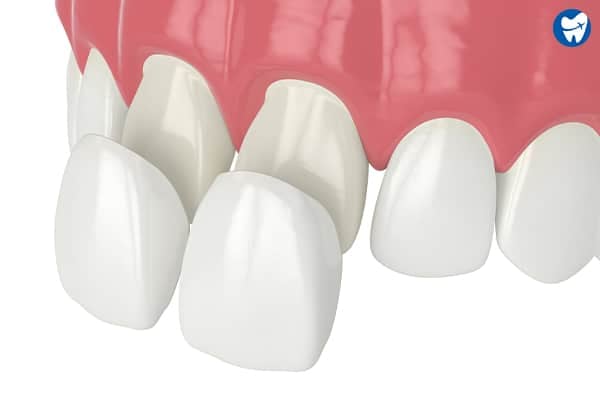 Composite Veneers
---
Lumineers in Turkey
Also called "no-prep" veneers [4] because they take less tooth preparation time than traditional ones.
Lumineers differ from porcelain veneers by being thinner and more translucent.
Lumineers
Therefore, they're not recommended for patients with severely discolored teeth.
---
Procedure
The time to complete the procedure varies depending on the type and the technology that the dentist uses.
Rest assured, you don't have to make multiple trips to Turkey to get it done.
Here's an overview of what to expect:
---
Your doctor will do an exam and diagnostic tests (X-rays and CT scans), then ask about your goals and expectations.
Later, impressions are taken and sent to the lab to make a trial set (mockup) of veneers.
---
The lab creates a wax model to ensure the patient likes the veneers' shape and length.
Then, the mockup is placed over the existing teeth to see if the patient approves the overall look.
---
The patient is made comfortable for the procedure with a local anesthetic. Then, a small amount of the facial enamel is removed.
Afterward, impressions are taken for the lab to create the veneers. Temporary ones (meant to last for 2 weeks) are provided while permanent ones are being made.
---
The procedure starts like appointment 3 with an injection, and then the permanent veneers are tried in and placed.
---
Dental Veneers Procedure
Should the dentist you choose have CAD/CAM technology, you can leave your appointment with same-day veneers.
This technology enables your dentist to upload 3D scans onto his computer, from which he can design them while you're sitting comfortably on the chair.
You can also request adjustments on the spot. Once you feel satisfied with the computer-generated smile, the final mockup is sent to an onsite laboratory.
After fabrication, the veneers are placed during the same appointment.
Success Rate
Dental veneers have a high success rate with few complications, as shown in the following table.
| Type | Survival rate |
| --- | --- |
| Porcelain | 10-year survival rate close to 95% [5] |
| Composite | A 10-year survival rate of 90% [6] |
| Laminate | 10-year survival rate of 93.5% [7] |
| Zirconia | 5-year survival rate of 97.6% [8] |
Pros and Cons
| Pros | Cons |
| --- | --- |
| Short treatment time. | Need regular maintenance for longevity. [9] |
| Fix the shape and color of your teeth. [10] | They are irreversible. [11] |
| Lumineers are irreversible.  [12] | May need replacement after 10 years. [13] |
|  Your smile can be customized. | Bruxers have a lower success rate. [14] |
Aftercare
Caring for your veneers, like the rest of your mouth should be a priority. Otherwise, you risk reducing their life span.
Here are some quick tips to help you increase their longevity:
Keep a Teeth-friendly Diet
Certain foods, when consumed continually over time, can discolor your veneers. These foods include tea, coffee, and berries.
Create a Bulletproof Oral Hygiene Routine
That includes brushing your teeth after consuming staining foods, once in the morning and once before bed. Also, use mouthwash daily.
Regular Check-ups
Regular checkups with your dentist and professional cleanings with a hygienist should be done twice a year.
Invest in a Nightguard
It could be a lifesaver for those who grind their teeth (Bruxism).
Travel Tips
Currency: The Turkish Lira (₺) is Turkey's currency. $1 is approximately ₺8.5, and €1 is about ₺9.9.
Sim Card: There are only three GSM providers in Turkey:
Vodafone
Turkcell
Turk Telekom
You can only purchase a sim card with a valid passport. Once you buy one, it must be registered, according to Turkish law.
Travel Tips in Turkey
The Turkish e-visa website warns tourists from:
Public display of affection
Petting stray dogs
Criticizing the Turkish government (punishable by law)
They encourage their visitors to:
Keep an eye on their belongings when in tourists areas
Carry toilet paper/tissues because some bathrooms may be lacking in these essential items
Enjoy your trip! For more information about how to reach Turkey, check out our Dental Tourism in Turkey page.
Conclusion
If you're looking to enhance your smile, getting dental veneers in Turkey is a bargain worth chasing.
The cost-quality ratio is enticing and offers you the opportunity to travel and enjoy some downtime in a beautiful country.
If you are interested in the location, talk to our case managers to get the latest prices and deals.
FAQs
Getting dental veneers in Turkey is one of the most affordable options, with prices going as low as €97 to €210 per tooth.
In the UK, the same would cost €1,100 to €1,500 per tooth. Hence, you can save up to 70 – 80% on the procedure.
The price depends on the type of veneer and the number of teeth to be treated. The following table gives you a rough estimate of veneer prices.
| Price | Zirconia | Composite | Porcelain |
| --- | --- | --- | --- |
| Per tooth | $230/€195 | $115/€97 | $250/€210 |
| Full set | $4,600/€3,900 | $2,300/€1,940 | $5,000/€4,200 |
Yes, however, like anywhere it is important to choose a reputable clinic.
Turkey is a reasonably safe country with lots of internationally recognized dental clinics.
Our recommended clinics are in some of the safest cities in the world (Istanbul, Izmir, and Antalya).
Veneers can last up to 20 years with proper care and maintenance. All veneer types have a 90% or above survival rate after 10 years. [15]
Veneers from Turkey can last as long as veneers from any other country.
Some people are skeptical about the quality because of the low prices, however, the country's low currency value compared to the Pound and USD are the reason for lower costs.
Yes, they can. Porcelain veneers have the best longevity out of all the types (see survival rate table). To ensure longevity, you should be:
Brushing and flossing your teeth twice daily
Visiting your dentist regularly
Consuming staining foods in moderation
Avoid grinding your teeth and wear a Night Guard
Avoid chewing hard foods with veneered teeth
Stop smoking