All on 4 Dental Implants in Los Algodones, Mexico
Special Offer: All on 4 Implants for $8,900 only! 5-year Warranty*
Are you looking for an affordable way to replace your missing teeth without traveling too far? Then all on 4 dental implants in Los Algodones are for you!
It is perfect for Americans and Canadians who want to save 60-70% on high-quality treatments across the border.
Sounds interesting? Keep reading to find out more about what Los Algodones has to offer.
Patient Testimonial: All on 4 Implants in Los Algodones, Mexico
Why Get Your All on 4 Implants in Los Algodones, Mexico?
Border Location | Easily Accessible
Los Algodones is a small town in Mexico about 16km from the Yuma-Mexico Border.
Transport links to the border town are good, with an international airport. (IATA: ELP)
Affordable Prices | 60-70% Savings
Choosing to get your all on 4 dental implants by the US-Mexico border is one of the most cost-effective options for your treatment.
Even with the costs for accommodation and traveling to Mexico for teeth implants, you can still save 60-70%.
Premium Quality Brands| Advanced Technology
Our Los Algodones dentists have high experience in performing numerous all on 4 implants.
They are members of International associations like the American Dental Association (ADA).
Multilingual Staff | Clear Communication
Staff at our Los Algodones facilities are warm, friendly, and fluent in English & Spanish.
Treatments are offered in a clean and welcoming environment with short waiting lists.
Vacation Opportunity | A Relaxing Time
You can enjoy a nice vacation, eat authentic tacos, and drink margaritas while you're here.
Every year, over 1 lakh Canadians & Americans cross the border into Los Algodones for dental care. [1]
Who Is the Ideal Candidate to Get Los Algodones All on 4 Implants?
Most people with several missing teeth or denture wearers over the age of 18 are qualified to get all on 4 implants.
Ultimately, the person who decides your eligibility is the Los Algodones dentist.
But you're a good candidate if you're a non-smoker with: [2]
✅ Healthy gums
✅ Good oral health
✅ Good overall health
✅ Sufficient bone density
Cost of All on 4 Dental Implants in Los Algodones, Mexico
The average cost of all on 4 dental implants in Los Algodones, Mexico, is $8,900.
This price is for each arch and international standards of brands, including Straumann and Nobel Biocare.
So a full-mouth restoration will cost about $14,000 in Los Algodones, whereas in the US, it will cost $50,000. [3]
That means you can save 60-70% on your treatment in Los Algodones, compared to places like the US and Canada.
All-on-4 Cost Comparison (USD) – Los Algodones vs. USA vs. Canada
Procedure
Los Algodones
USA
Canada
All on 4 Implant*
$8,900
$24,000
$22,000
All on 6 Implant*
$7,980
$28,000
$26,000
All on 8 Implant*
$10,300
$35,000
$32,000
*Per arch with fixed acrylic bridge
*The prices may differ based on each patient.
Cost-Quality Trade-off?
The lower price of treatment doesn't mean you have to compromise on quality.
It's only because the cost of living south of the border is considerably lower than that in the US. [4]
Factors Affecting the Total Cost of All on 4 Dental Implants in Los Algodones, Mexico
Preparatory Treatments: Additional treatments like tooth extractions can raise the final price.
Implant Material: The type of restoration material affects the final cost.
For instance, titanium implants are more affordable than zirconium.
Implant Brand: Different implant brands like MegaGen and Nobel Biocare cost differently.
Sedation Technique: The price of different sedation techniques like local anesthetics, IV sedation, and general anesthesia varies.
Special Offer
Dental Trip to Los Algodones : Special Offer
The therapeutic laser work prevents infections, accelerates the healing process, and increases the implant success rate.
The procedure is subject to the doctor's authorization.
Note:
Offer cannot be used with any other promotional offers. Our website may not reflect the latest offers. Please get in touch with us through the
quote form
for the latest information.
Where Will Your Implant Work Be Done?
We facilitate all on 4 implant treatments at well-known dental centers in Los Algodones.
Here are two of the best clinics with competent dentists you can visit.
Top Dental Clinics in Los Algodones, Mexico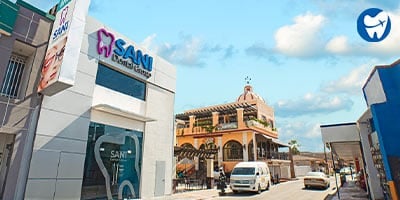 Calle Álamo 287, Vicente Guerrero, 21970 Vicente Guerrero.
Mon - Fri (8:30 am - 5:00 pm) Sat (9 am - 3 pm)
Equipped with an on-site dental laboratory, and sterilization systems
Use state-of-the-art technologies like CAD/CAM & CT-scan machines
Bilingual staff and dentists who will make you feel comfortable
2-5 year warranty* for treatments like all on 4 dental implants
Located near the Andrade border
Free transportation to & from the airport
Offer discounted prices for stays at the Hacienda and Cielito Lindo hotel
Accept payments in cash, personal, traveler, and cashier checks, international credit cards, and money orders.
*Terms and conditions apply.
Affiliations & Accreditations: ADA , BBB , The Mexican Council of the Medical Tourism Industry.
C. Tercera 160, Vicente Guerrero, 21970 Vicente Guerrero, BC
Mon - Fri 9 AM to 4 PM, Sat 9 AM - 2 PM
Highly trained dental staff, continually attending courses in prestigious international institutions like the Harvard Medical School
Equipped with nine dental chairs to treat multiple patients simultaneously
Use the latest technology like CAD/CAM
1,200+ successful all on 4 implant operations
Follow world-standard sterilization protocols
Multilingual dentists and staff fluent in English and Spanish
2 minutes away from the US-Mexico border
Free WiFi access and phone calls to the US and Canada
Accept payments in cash, credit cards, debit cards, and personal checks
Affiliations & Accreditations: ADA , Recipient of the 2015 Patient Satisfaction Award by Medigo.
Best All on 4 Implant Dentists in Los Algodones
---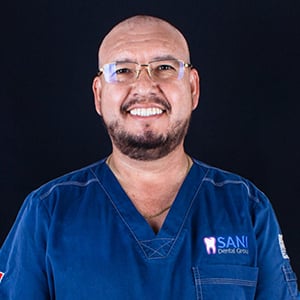 Alejandro Ramirez Rivaz
26 Years of Experience
DDS
Expertise
Implants, All on 4/6/8, Veneers
Education
Mexican College of Oral and Maxillofacial Implantology
Diploma in Oral Implantology
Postgraduate in regenerative medicine
Dr. Alejandro Barragan
10 Years of Experience
DDS
Expertise
Implants, All on 4/6/8, Oral Surgery
Education
Autonomous University of Baja California
Advanced Course in Implant Dentistry & Prosthodontics
Advanced Bone Grafting Surgery, Misch Implants Institute, US
Dr. Xochipilli Bojorquez
8 Years of Experience
DDS
Expertise
Implants, All on 4/6/8, Full Mouth Rehab
Education
Autonomous University of Baja California
Evidence-Based Implant Dentistry, HSDM, US
Clinical Residency, Malo Clinic, Portugal
You're in safe hands of our certified dentists!
Book now!
All on 4 Dental Implants in Los Algodones – Before & After
Patient: Carol Marion Virginia, United States
Patient: Jeremy Shermo Wisconsin, United States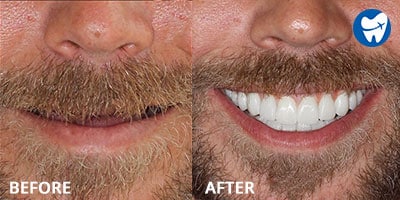 All on 4 Dental Implants in Los Algodones Reviews
All on 4 Dental Implants – An Overview
Tooth loss can be a devastating process and affect everything in your daily life, from eating to smiling.
Mexico offers an affordable solution to these problems with Los Algodones all on 4 implants.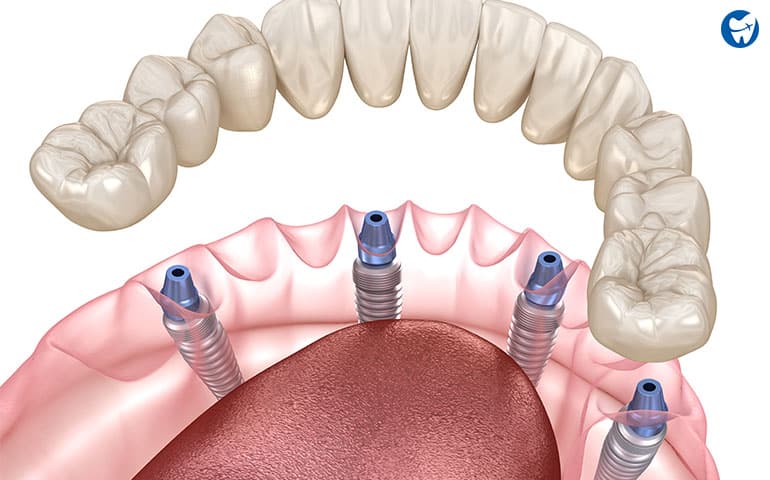 All-on-4 dental implants
All on 4 implants are fixed permanent options for restoring missing teeth.
In this process, four implant posts are placed directly into the jaw.
These implants fuse with the natural bone to provide maximum stability.
All on 4 implants are commonly used for people who have lost their teeth or are about to lose them due to old age, gum problems, trauma, or tooth decay.
The technology is such that surgery results in a rapid and permanent set of teeth that sits naturally within your mouth.
It is generally suitable for most patients, regardless of their age, gender, or stage of periodontal disease.
A preliminary CT scan will ensure that you have adequate bone strength to cope with the implants.
Panoramic dental radiography
As per the recent study of 471 patients with all on 4 implants, the prosthetics showed a survival rate of 98.8% for 18 years. [5]
Benefits of Full Mouth Rehabilitation with All on 4 Implants in Los Algodones, Mexico
Better esthetics, easier to clean, and immediate function
Less invasive procedure and avoid bone grafts
Better stability compared to other dental restorations
Cost-effective solution for full mouth rehabilitation
Favorable clinical outcomes with a high success rate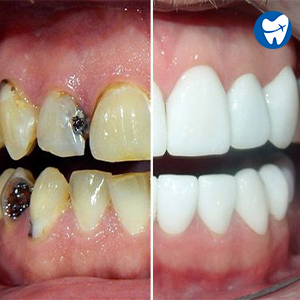 Full mouth restoration – Before & After
Source: Surgery & Case Studies: Open Access Journal [6]
Step by Step Procedure of All-on-4 Dental Implants in Los Algodones, Mexico
All-on-4® treatment concept | Nobel Biocare
1️⃣ Preparation
The dentist will check your dental x-rays and determine if you need preparatory treatments, including bone grafting, teeth extraction, or periodontal care.
2️⃣ Implant placement
The dentist will administer your chosen anesthetic and make incisions in your gums to place four implant posts in your jaw.
3️⃣ Temporary Denture Placement
Temporary dentures will be placed upon the implants until your gums heal.
4️⃣ Osseointegration
Within 4-6 months, your gums will heal, and the implants will fuse to the surrounding jawbone and become permanent in your mouth.
5️⃣ Abutment and Prosthetic Teeth Placement
After you've fully healed, the dentist will remove the temporary dentures, place the abutments over the implant posts.
And then place your new artificial teeth on top of them to complete the process.
Source: Dental Implant Surgery, Colgate [7]
Travel Tips for Los Algodones
✅ Check your visa requirements before planning the trip. Citizens of the US and Canada can stay in Los Algodones, Mexico, for up to 180 days without a visa. [8]
✅ Los Algodones has the best weather February-April. [9] So plan your dental trip for then if you can.
✅ Book a hotel room beforehand. Hacienda and Cielito Lindo are great hotels near our partner clinics.
✅ Mexican Peso is the currency in Los Algodones.
✅ Buy a travel sim card to make your trip easier. Telcel is a popular operator with good coverage.
Road Travel Tips. Video Courtesy: Aruna Heather Davis
✅ Take a walk around the colorful downtown Los Algodones to get the best souvenirs and try authentic Mexican food before your treatment.
Plan your dental trip with DentaVacation for a memorable experience.
We offer complimentary ground transfers, on-location support, discounts on hotels, travel documentation assistance, and a lot more to ease your trip.
Conclusion
So why not travel down south and get your all on 4 dental implants in Los Algodones, Mexico?
This quality tooth replacement treatment is excellent for dental tourists from the US and Canada.
It may be the way for you to regain your winning smile too.
FAQs
On average, all on 4 dental implants with fixed acrylic bridges cost $8,900 per arch in Los Algodones, Mexico.
This cost may vary based on each patient, the implant brands, and materials.
Still, it's 60% cheaper than the $24,000 you'll have to pay in the US for the same procedure.
It's completely safe to get all on 4 implants in Los Algodones, Mexico, if you do your research and find a good clinic with experienced dentists.
The procedure is minimally invasive, painless, and performed under anesthetics.
Plus, Los Algodones is easily accessible from US cities like:
| | | |
| --- | --- | --- |
| US City | Distance | Time  |
| Yuma | 11 miles | 19 mins |
| Los Angeles | 265 miles | 4 hours |
| Las Vegas | 290 miles | 5 hours |
It can take anywhere from 2 to 4 hours per arch to place all on 4 dental implants in Los Algodones, Mexico.
The whole procedure with healing time can take up to 6 months.
Additional treatments like bone grafting can prolong your treatment by 2-6 months.
The all on 4 implants you get in Los Algodones, Mexico, can last up to 18 years and more if you follow a good dental care routine. [10]
While the implant posts don't need to be replaced, your dentures will undergo wear and tear and may need replacement every 15 years. [11]
While your new teeth from Los Algodones can't get decayed, your gums and bones surrounding the implants can still get damaged.
So brush twice daily, floss, and visit your dentist regularly for a check-up.
For detailed aftercare tips, you can read more here.