How to Afford Dental Work Without Insurance
In 2013, 33% Americans were reported to be without dental insurance. [1]
Further, it was stated that the people without dental benefits have a higher incidence of other illness. For instance, they are
67%
more likely to incur heart diseases.
Oral diseases in children and adults are becoming increasingly common. Unfortunately, dental work is expensive and not everyone can easily afford it.
For people with dental insurance, the financial burden is somewhat decreased, but what about the rest? The question is: how to afford dental work without insurance?
Affordable dental treatment abroad, among other options, can be a good solution.
Did you know: Owing to high prices, dental care, eye care and prescription drugs are the first things people give up on. Approximately one in ten adults delays medical care for as long as possible (source: 
National Bankruptcy Forum
). Read on to find out how to afford dental care without insurance.
Paying for Dental Procedure Sans a Dental Plan?
There are certain options that can help lighten the financial burden from expensive dental procedures.
Dental School Clinics:
school clinics provide cheaper treatments. Dental students need some practical training and experience before they can be given the license for dental practice.
Dental schools at University of Minnesota, University of Buffalo and University of Iowa are some examples. To get treated at a dental school clinic, a referral from the dentist is a requirement.
However, the procedures take longer than usual when done by a dental student because they are performed under the guidance of a licensed dentist who is required to keep a check.
Hence, one might have to make several visits to the dental school clinic for the treatment to be successfully completed.
Avenues To Explore: For Cheap Dental Work
Low-Cost Dental Service Providers and Online Savings Coupons:
There are certain community dentists that work according to the patient's income scale. Such dentists function on a 'sliding scale.'
A local, charitable organization that works on improving local communities can help you locate such a dentist.
If such patients are unable to find or afford such a dentist, they are eligible to benefit from the services of a free dental clinic.
In Canada, Inner City Health Associates provides a list of places and contact numbers to help you find low cost dental care.
There are daily deal websites that can help you save money on dental work. These websites sometimes offer deals with regard to services like dental fillings and cleaning.
Government Insurance Programs:
To help people belonging to the low income bracket and uninsured people, many governmental organizations have been set up.
Organizations like Health Resources and Services Administration have emerged as a major resource for American citizens who do
not have any insurance. The organization gives a list of affordable dental service providers in one's local area.
The Canadian Association of Public Healthy Dentistry provides plans for federal public service employees and their dependents as well. Here, dental services that aren't covered by the provincial dental care plan are taken care of.
Nonprofit Organizations Offering Dental Services:
The American Dental Association and the National Association of Free & Charitable Clinics provide lists of affordable dental clinics in individual states.
There are many nonprofit organizations like Give a Kid a Smile and Donated Dental Services that provide oral care to children and senior citizens, respectively.
Charitable programs, such as that of Oral Health America, are also great at providing affordable dental care.
Dental Care via Financing Program:
Sometimes dentists have an in-house financing program. Such a program might even offer reduction in prices to patients without dental insurance.
Another option is a financing program that offers to spread out the dental treatment over the course of several months. This way the patient does not need to spend a huge amount of money all at once.
Dental procedures like teeth whitening and implants are generally not included in dental insurance. [2] Many people do not get to know the exact cost upfront. Contact us to know the exact cost for your dental treatment!
Dental Loans:
Several dentists work with loan companies that help in financing dental work.
Even though such companies might have a higher rate of interest when compared to credit card companies, their requirements are usually not as stringent.
Dental Tourism:
A more recent option for people who lack insurance or want to save money on dental work is undergoing their procedures abroad. This is known as Dental Tourism.
Countries like Mexico, Costa Rica, and Thailand are known to offer dental services at affordable rates. Usually, dental tourism in these countries can help Americans and Canadians save up to 70% of the costs estimated back home.
According to California Dental Association, the number of Americans going abroad for dental procedures has rapidly increased. (Source: 
California Dental Association
)
Dental Tourism for Those With No Insurance
Let's have a look at how much one can save by having a procedure in a dental tourism destination vis-a-vis their native country.
---
The exact cost of a dental crown depends on its type, the material it is made of, its location, and the size of the tooth.
The cost goes up when crowns made of gold alloy are used instead of porcelain-fused-to-metal crown.
While one may find dental crowns in the United States quite hard on the pocket, the cost of dental crowns in Mexico is much lower.
Dental Crowns: Cost Comparison
Check out the following table which shows comparison of the price of porcelain-fused-to-metal crown:
| | | |
| --- | --- | --- |
| Country | Average Cost in 2017 | Approximate Savings |
| United States | $875 | — |
| Mexico | $350 and upwards | 60% |
| Costa Rica | $350 and upwards | 60% |
---
Depending on the material the dental bridge is made of, its cost varies.
Needless to say, a bridge with one pontic will cost less than a dental bridge with more than one pontic.
Dental bridges in Mexico are much more affordable and pocket-friendly compared to the United States.
Dental Bridges: Cost Comparison
Have a look at the following table which compares the price of bridge in various countries:
| | | |
| --- | --- | --- |
| Country | Average Starting Cost in 2017 | Approximate Savings |
| United States | Between $1,100 | — |
| Mexico | $425 (porcelain-zirconium) | 60% |
| Costa Rica | $425 | 60% |
---
For people under 21 years of age, Medicaid covers the cost of dental implants if they are needed to substitute permanent teeth.
For people over this age, there are no prescribed minimum requirements for Medicaid dental coverage and thus, it depends on individual states whether they provide coverage for dental implants or not.
Dental Implants: Cost Comparison
Dental Implants in Costa Rica and Mexico are pocket-friendly options to explore for those who feel the procedure is too expensive in their home countries.
| | | |
| --- | --- | --- |
| Country | Average Costing Cost in 2017 | Savings |
| United States | Between $1,500 | — |
| Mexico | $750 (including abutment) | 50% |
| Costa Rica | $700 (including abutment) | 53% |
---
Dental Tourism in Mexico
Offering a multitude of benefits with regard to dental services, Mexico is rapidly developing in the field of dental tourism. [4]
You can expect affordable prices for a wide range of services, right from dental fillings to full mouth restoration in Mexico.
The latest of dental technology is used to carry out the dental procedures at affordable rates.
Mexico also happens to be close to the United States and the towns offering dental services are easily accessible.
This country has a vibrant culture to offer to tourists. A Mexican dental holiday includes a wonderful combination of both dental work and vacation.
Some towns in Mexico that offer dental services are Los Algodones, Tijuana, Rosarito and Cancun. In particular, Los Algodones is the 'molar capital' of the world.
Here, one can find prescription drugs at a lower price as well as good quality dental care.
Mayan Riviera: Mexico
Our dental clinic in Los Algodones offers the latest technologies for dental care at affordable prices.
Especially for dental tourists, pick and drop services, concierge services and a free stay at a nearby hotel are available.
Not just Americans but even Canadian snowbirds are known to seek affordable dental care in Mexican clinics that are located near the Arizona, California, Texas and New Mexico borders.
Such towns include Los Algodones and Tijuana.
Dental Tourism in Costa Rica
Situated quite close to Canada and the United States, Costa Rica offers personalized dental care at fixed yet affordable prices.
Very particular regarding dental care, sanitation in dental clinics and the technology used, Costa Rican dentists are experts in their field of practice.
Safe and secure, Costa Rica has the lowest crime rate in all of Latin America. It is a beautiful country that has friendly and welcoming people.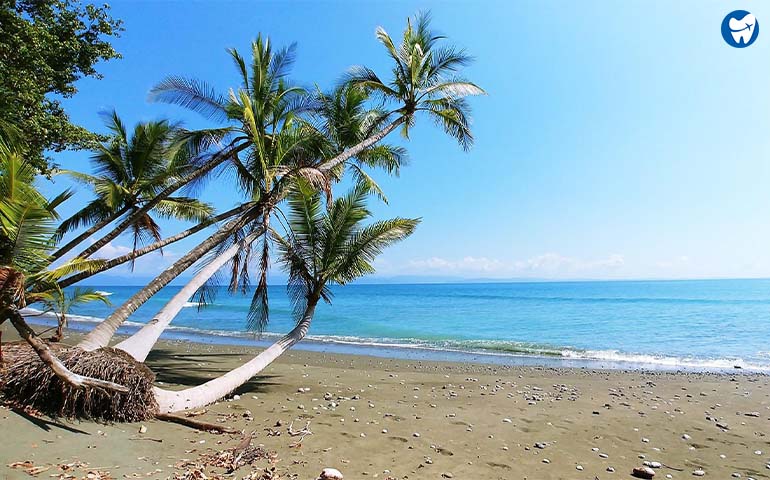 Costa Rica
Many locals can easily converse in English and therefore, tourists do not really feel language barriers.
Our dental clinic in San Jose offers excellent services to dental tourists. It is located 11 miles from the International airport and is fully equipped with the latest dental facilities.
A dental vacation in Costa Rica can potentially help you save approximately 50% of the costs estimated for dental or cosmetic surgeries in your home country.
Dental Tourism in Thailand
Often labeled as "The Land of Smiles", Thailand offers dental treatments at pocket friendly packages. Choosing to go on a dental trip to Thailand can help you save up to 70% of the estimated costs back home.
With approximately 120 private hospital and hundreds of experienced doctors, Thailand provides both cosmetic and restorative dentistry treatments. Bangkok and Phuket are two cities providing excellent dental care facilities.
Thailand is easily accessible because the Suvarnabhumi International Airport (BKK) has direct flights from most of the major cities in Europe, Australia, New Zealand, Asia and North America.
Dental tourists from neighboring countries, who are looking to avail dental services in Thailand, can reach the destination via the railway or bus service.
Don't have dental insurance? We got your back!
Talk to us