Cost of Dental Implants in Costa Rica
Want to replace missing teeth but lack dental insurance? Don't worry! With low-cost dental implants in Costa Rica, you can restore your smile without breaking your wallet.
Stay with us as we tell you everything you need to know to restore your smile in this beautiful country.
Costa Rica – A Favorite Place for Dental Care
Dental implants are the closest you can get to healthy, natural teeth. They are the only dental restoration option that preserves natural bone, helping to stimulate bone growth.
– American Academy of Implant Dentistry [1]
What Are Dental Implants?
Implants are artificial fixtures inserted inside the jawbone that hold prosthetic teeth.
They bring back functionality and create a beautiful smile for people with lost teeth.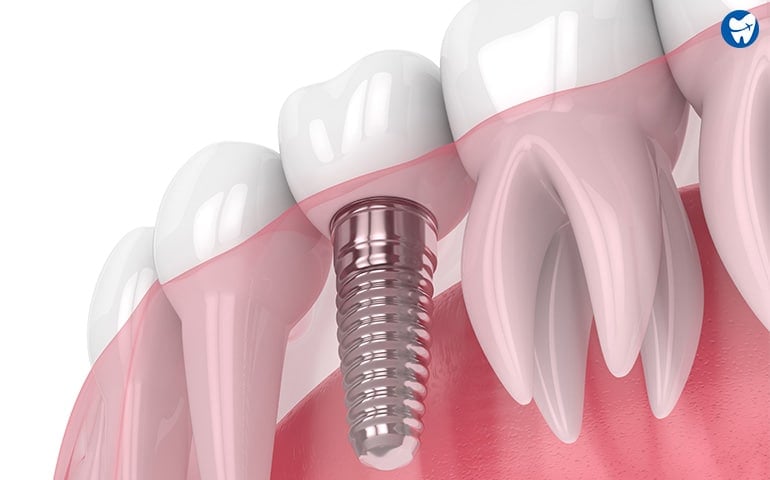 Dental Implant
While they're strong and long-lasting, [2] they can get quite expensive, especially in the US and Canada.
But with the low cost of dental implants in Costa Rica, you'll be able to get them for a lower price.
Click here to learn more about them.
Different Types of Dental Implant Materials
Implants are made of two materials:
Titanium
The most traditionally used material. [3]
Zirconia
A well-tolerated & resistant ceramic. [4]
Zirconia dental implants in Costa Rica are an excellent option for people who are allergic to titanium.
Also, it has a color similar to natural teeth.
Why Choose Costa Rica for Dental Implants?
Costa Rica is a popular destination in Central America for dental tourism.
Not only is it safe and affordable, but it's also an excellent spot for a relaxing vacation.
Still, wondering why you should travel to Costa Rica to get your implants? Here is why:
1. Affordability
Dental Work in Costa Rica is much cheaper compared to the United States or Canada.
Even after spending money on plane tickets and hotel stays, most people save quite a bit of money.
2. Proximity
Costa Rica is just a short flight away from major US cities like Miami, Dallas, and Chicago.
Visitors traveling by plane usually arrive at San Jose Airport (SJO).
Citizens of the US, Canada, and the E.U. do not require a Visa. [5]
Flight Durations from Costa Rica
3. Safety
You will be safe as long as you use common tourist safety precautions. [6]
Take advice from authorities, hotels, and tour operators.
You can read more about safety in Costa Rica here.
You may be asking, "Is it safe to get dental implants in Costa Rica?"
Costa Rica has the motto Pura Vida which means pure life.
Costa Ricans take every opportunity to enjoy life, and this care-free term expresses general satisfaction.
4. Tourism Options
Costa Rica has splendid beaches, opportunities for excellent fishing, and fantastic water sports.
It has endless options for getting close to nature.
Guanacaste is one such spot that offers all of this. It is located about 130 miles from the capital city, San Jose.
You can enjoy many tourists spots in the lap of nature here.
Three million people in the United States have implants, a number that is growing by 500,000 annually. [7]
How Much Are Dental Implants in Costa Rica?
Dental implant prices in Costa Rica are about 70% less than in the US & Canada.
For instance, the cost of a single dental implant in Costa Rica is as low as $750. It includes implant, abutment as well as surgical placement in the jaw.
The same procedure in the US would cost you $4,500. That entails 84% savings!
Similarly, all-on-4 dental implants in Costa Rica cost only $10,700. On the contrary, you'll shell out $24,000 in the US.
Also, the average cost of full mouth restoration here is $15,000. But you'll end up spending $50,000 in the US for it.
Look at the table below for a detailed cost breakdown:
Cost of Dental Implants in Costa Rica vs. the USA
Implant Type
Costa Rica
USA
Canada
Dental Implant (+Abutment)
$850
$4,500
$4,000
Single Day Implant
$850
$4,500
$3,000
All-on-4 Implants*
$10,700
$24,000
$22,000
All-on-5 Implants*
$14,850
$22,000
$24,000
All-on-6 Implants*
$11,500
$28,000
$26,000
All-on-8 Implants*
$15,000
$35,000
$32,000
Bone Grafting (per tooth)
$500
$2,000
$700
Sinus Lifting
$1,650
$6,000
$5,500
Zygoma Implants (including abutment)
$2,000
$18,000
$29,000
*Including fixed hybrid denture/ jaw
*Prices may vary with each case
When getting multiple implants, the costs may be even lower. This price is as high as in the USA, with long waiting times for Canadians.
Price of Single Implant in Costa Rica v/s USA and Canada
| | | | |
| --- | --- | --- | --- |
| Country | Costa Rica | USA | Canada |
| Price | $750 – $1,000 | $3,500 – $6,000 | $3,000 – $5,000 |
75 – 88% savings in Costa Rica
The price in Costa Rica depends on the prosthesis used, among many other factors.
For example, the porcelain-zirconia prosthesis costs less than the porcelain noble metal one.
Discounts & Specials on Tico Implants
The current discount special for full mouth dental implants in Costa Rica with all on 6 or 8 implants is $10,750 ($12,900).
This price includes implants, bridges, teeth removal, and bilateral sinus lift.
Procedure
Cost (USA)
Discount Cost
All on 6/8* with a porcelain bridge
$24,000
$10,750 $12,900
All on 6/8* with zirconium bridge
$24,000
$10,750 $12,900
* Upper and lower
*Discounts and specials for All on 4 and single implants may also be available.
Best Implant Clinics in Costa Rica
Best Dentists in Costa Rica
Dentists in Costa Rica have obtained formal training in the United States at O.C.O. Biomedical.
Along with dental specialty, dentists have done fellowships in Implantology.
Also, our Costa Rican Implantologists are registered with:
✅ AAID
✅ ICOI
✅ A.D.A. (American Dental Association), under No. 171365329
✅ College of Dental Surgeons of Costa Rica, under No. 1654099
Let's meet some of these dentists:
---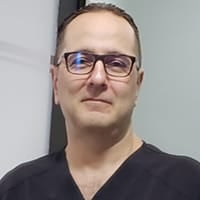 Dr. Juan Donato
16 Years of Experience
DDS
Expertise
Dental Implants
Education
ULACIT
Oral and Maxillofacial Surgery
Dental Implantologist Specialist
Costa Rica DDS Board Certified
Dr. Simon Flikier
20+ Years of Experience
DDS
Expertise
Implants, Crowns, Veneers
Education
University Veritas San Jose,
Member of the American College of Prosthodontics
Associate Fellowship World Clinical Laser Institute
Member of Costa Rica's Prosthodontist Association
Dr. José Garita
18 Years of Experience
DDS
Expertise
Implants, Crowns, Veneers
Education
University of Science and Technology (ULACIT)
Post-Doctoral Fellow: Dental Implant Specialist
Member of the American Dental Association
Additional training in clinical hypnosis for anxiety & pain management
Trusted and top ranked prosthodontist in Costa Rica
Member of the American Prosthodontic Society
Dr. Mario Bonilla
16 Years of Experience
Expertise
Dental Implants
Education
DDS, Endodontics Course
Dental implants training from the US
Member of the American Dental Association
Dr. Ricardo Lopez
10 Years of Experience
DDS
Expertise
Digital Smile Design (DSD)
Education
Universidad Latina De Costa Rica
Member of Gide Institute (GIDE)
Surgical Implant Dentistry Level 1 By Zimmer Biomet
Member of the Costa Rica Dental Association Colegio De Cirujanos Dentistas De Costa Rica (CCDCR)
Fellowship In Implant Dentistry From University Of Miami & The International Congress Of Oral Implantologists ICOI
Our partner dentists are members of ADA , AAID , and ICOI .

The dental clinics boast of state-of-art technology such as:
CAD/CAM technology
Cone Beam Computerized Tomography (CBCT) for diagnosis
Three-dimensional CT scan imaging (SCANORA® 3D & panoramic X-rays)
You can read about the technology available in our partner dental clinics here.
Dental Implant Options in Costa Rica
Implants are metal posts that are surgically placed into the jawbone.
In simple words, they are a tooth root replacements.
Additional components, i.e., abutment and crown or denture, help restore the tooth's visible part.
Many implant options are available in Costa Rica:
One-piece Implants
These are implants with an inbuilt abutment. Usually, zirconia implants come with a fused fixture and abutment.
Two-piece Implants
The abutment and implant come in a pair. The abutment has to be attached to the implant and is a separate component.
Multi-implant Systems
A special technique to restore the entire jaw. It can be done using only several Implants.
These are commonly called all-on implant systems. [8] Example:
Four implants support the porcelain bridge for one jaw.
Six or eight implants support the full-arch restoration.
Immediate Load Implants
Getting implants can require two visits with a 3 – 6 months gap. [9] Same-day implants help with the immediate tooth restoration.
Zygomatic Implants
When the upper jaw can't support implants, zygomatic implants are used. They avoid grafting and sinus lift procedures. [10]
Mini Implant
Smaller implants, called mini-implants, are used when the bone height is very low.
What Is the All on 4 Dental Procedure?
With all-on-4 implants, four implant posts are inserted in the jaw. A set of dentures are placed on top of them.
It makes them cheaper and requires one less trip to the dentist.
The cost of all-on-4 implants in Costa Rica is around $10,700.
You can read this page for more information on all on four implants.
All on 4 / All on 6 / All on 8 Dental Implants in Costa Rica, Which One Is Better?
To restore a whole row of teeth, you need 4, 6, or 8 implants. The main difference is in their number.
More implants distribute chewing pressure more evenly, thus decreasing the load on your jaws.
It maintains bone integrity & hence the implants last longer. Naturally, more implants will increase the cost.
But eventually, the best procedure for you is the one that suits your needs and budget.
The dentists here will advise you on the same depending on your case.
Step-by-Step Procedure of Dental Implants
Step 1: Damaged tooth extraction & preparation (bone grafting if necessary)
Step 2: Implant insertion
Step 3: Abutment placement
Step 4: Prosthetic tooth placement
Dental Implant – Step-by-step Procedure
How Many Appointments Does It Take to Get Dental Implants in Costa Rica?
The number of appointments for getting cheap dental implants in Costa Rica differs based on your condition and the clinic you go to.
For instance, the procedure will take longer if you need bone grafting.
Although for most patients, the procedure requires:
Two trips, 3 – 6 months apart
2 – 4 appointments total
How to Prepare
Visit a dentist to see if you're a good candidate
Follow the dentist's pre-operative instructions
Listen to our Costa Rica dentist explaining how each patient is studied separately before dental implants.
Patient Diagnosis Before Dental Implants
What to Expect?
Dental Implants in Costa Rica- What to Expect?
Most implant procedures in Costa Rica are successful.
However, if the healing process doesn't go well due to smoking, [11] your dentist will remove the implant, and you can try again in 3 months.
What about Same-day Dental Implants in Costa Rica?
You can also get same-day implants in one appointment, but you need to have the adequate bone structure for this procedure. [12]
What Determines the Cost of Dental Implants in Costa Rica?
Factors Affecting the Cost of Dental Implants in Costa Rica
Implant Brands & Quality in Costa Rica
Sometimes, a dentist abroad may offer low-cost implants of cheap quality.
We encourage our clients to research and choose only clinics that offer high-quality dental implant brands.
Some of the reputable brands used by our partner dental clinics include:
Nobel Biocare
Straumann
Zimmer
Alpha-bio
O.C.O. Biomedical
Biomet 3i
Mis
S.I.N
These implants are available worldwide, so if you face any issues with them, you can consult your local dentist too.
Dental Implants Aftercare
Even if you get the best dental implants in Costa Rica, you still need to take care of them by avoiding damaging habits and practicing excellent oral hygiene.
See this page for more information on implants aftercare.
How to Get Dental Implants in Costa Rica?
It is easy to get implants in Costa Rica. Just follow the given steps in this dental guide:
1️⃣ Fill the Request Form, Email us or chat with us on this page. Our case manager will discuss your dental needs & preferences.
2️⃣ DentaVacation emails you a price estimate based on your preliminary information.
3️⃣ Get custom treatment options by sharing any existing treatment plans, photographs, X-rays, or C.T. scans you may have.
It helps to get a more accurate price & probable trip duration.
4️⃣ Trip Planning: Our team discusses ideas on trip planning with you (hotels, airfare, and even tourist options).
5️⃣ After you arrive in Costa Rica, you will receive dental work.
Depending upon your package, you will also get a complimentary hotel stay & airport transfer.
6️⃣ Our customer care will keep in touch with you in the post-treatment period to help you with any issues.
Dental Implant Work in Costa Rica
Other Teeth Replacement Options in Costa Rica
Costa Rica implants are not your only option for replacing missing teeth.
Below you can compare the most common options and choose the one that best suits you.
Implants Vs. Tooth-supported Bridges Vs. Dentures
| | | | |
| --- | --- | --- | --- |
| Comparison | Implants | Bridges | Dentures |
| Nature | Fixed | Fixed | Removable |
| Invasiveness (Surgery) | Required | Not required | Not required |
| Stability | More stable | Less stable | Less stable |
| Durability | Lifetime | 5-10 years | 7-15 years |
| Effects on adjacent teeth | No effects | Trimming needed | No effects |
| Trips | Two | One | Four to six |
| Cost | Expensive | Cheaper | Cheapest |
Source: AAID [13] , Colgate [14]
The Best Locations for Dental Implants in Costa Rica
San Jose
Some of Costa Rica's best clinics are in its capital, San Jose.
Besides getting high-quality implants, you can enjoy a nice vacation here by visiting:
The Poas Volcan
La Paz Waterfall Gardens Natural Park
The Pre-Colombian Gold Museum
San Jose
Playa Del Coco, Guanacaste
Apart from having excellent dental clinics, this city is a tropical paradise with some of the most pristine shorelines.
You can surf at Playas del Coco or one of Guanacaste's other amazing beaches like:
Sunset View in Playa Del Coco
Costa Rica Dental Implants Reviews
Dental Implants & Crowns
"Really, I would come back here for any major dental procedure that I need and felt very comfortable doing that!"
– Sandra Terra, Florida, U.S.A.
Teeth Implants in Costa Rica
"The staff was so caring. It felt like family! I knew I was there for my miracle, and it all worked out."
– Charessa Lyle, Texas, U.S.A.
DentaVacation facilitates affordable dental work at reputable dental destinations across the world.
For more information on the cost of dental implants in Costa Rica, contact us now.
Costa Rica Dental Implants FAQs
Costa Rica is a tourist-friendly place and safe for getting implants.
That is if you do your research well and find reputable clinics with experienced dentists and state-of-the-art technology.
The country itself has been rated as one of the safest destinations in all Central America. [15]
You can save up to 40-60% in both countries, but some prices in Mexico are a bit cheaper than in Costa Rica.
For example, all-on-4 implants in Mexico cost $9,800 while they cost $10,700 in Costa Rica.
Or bone grafting costs $380 in Mexico while it costs $500 in Costa Rica.
The best dentists and dental clinics in Costa Rica are located in the country's capital, San Jose.
Guanacaste also has some great clinics with experienced dentists in Playas Del Coco.
You need to do thorough research to find the most reputable implant dentists in Costa Rica.
Make sure to check their qualifications, years of experience, and patient reviews before making the final decision.
Yes, there is a guarantee on implants in Costa Rica. Dentists in Costa Rica provide a lifetime guarantee on implants.
For crowns and bridges, there is a 1-year guarantee.
The dental clinics will advise you on how to take care of your new teeth.
It will include periodic follow-up cleanings in your home country.
In case of any post-implant problems, you can contact DentaVacation to facilitate remedial measures.
We require our network clinics to be open to any post-treatment questions & care.
These allow the dentist to formulate a customized treatment plan for you.
This preliminary treatment plan will enable you to understand your expected dental journey abroad, even before arriving here.
If you have any treatment records, including medical and dental reports, you should share them with the case manager/ dental advisor.
Yes and No. Some U.S. or Canadian dental insurance companies provide reimbursements for dental work in Costa Rica.
You may be reimbursed at the "out-of-network" provider rate.
Yes, you can be put to sleep during an implant procedure. Local anesthesia is given before any dental treatment.
If you are still anxious, conscious sedation can be given. In this procedure, you will remain drowsy but pain-free.
In between the two trips, there is a period of healing.
During this time, the bone fuses to the implant surface via a process called osseointegration.
The failure to fuse will result in a failed implant.
Only after fusion, the permanent crown can be attached, and the implant can become active and load-bearing.
Depending upon the procedure, you will be recommended semi-solid to a soft diet.
It is recommended to take a diet free of nuts and chips to prevent trauma to the gum tissue in the mouth.
No, you should not smoke after implants. Studies reveal that smoking increases the dental implant failure rate.
It is recommended that the patient refrains from smoking for a few weeks after surgery.
Yes, you can eat anything you want after getting implants. These look and feel exactly like natural teeth.