Computerized dental crowns in Mexico are ideal for Americans who cannot afford the procedure at home. Mexico offers them at 50% of the US prices.
Let's read further to know more about the costs and clinics!
Computerized Dental Crowns in Mexico
Why Get Computerized Dental Crowns in Mexico?
Here are some of the benefits of choosing Mexico for CAD/CAM crowns:
💰 Affordable
Computerized dental crowns in Mexico cost half as much as in the USA or Canada.
Such low prices are due to the low cost of living in Mexico. [1]
🚗 Proximal Location
The location of Mexico saves you a lot of traveling time.
Tijuana or Los Algodones is easily accessible via a short drive from the US border.
💯 Efficient Service
The clinics in Mexico are well equipped with all the facilities to treat foreign patients.
The clinics use state-of-the-art technology and have negligible waiting times.
⚕️ Experienced Dentists
Mexico offers highly qualified dentists for computer-aided dental crowns.
The dentists who work with us are also well-versed in English.
In addition to the above benefits, Mexico also offers great cuisines, monuments, and beautiful beaches.
So, why not save some money on your dental treatment while enjoying Mexico's attractions?
Cost of Computerized Dental Crowns in Mexico
The cost of computerized dental crowns in Mexico is $320. However, the same costs around $1000 in US.
This is how you end up saving 60% plus on costs.
Here's a cost comparison for types of crowns in USA, Canada, and Mexico.
| | | | | |
| --- | --- | --- | --- | --- |
| Procedure | USA | Canada | Mexico | Savings |
| All Porcelain Crown | $800-$1400 | $1000-$1800 | $340-$600 | 50-80% |
| Zirconia Crown | $1000-$1600 | $1000-$1800 | $320-600 | 60-80% |
| Ceramic Crown | $800-$1500 | $800-$1600 | $350-$600 | 60-70% |
*Prices are subject to change.
Best Dental Clinics for CAD/CAM Crowns in Mexico
We hand-pick the best dental clinics for your safety.
Here are some of our top clinics in Mexico's popular locations for dental crowns:
Best Dentists in Mexico
While looking for dentists, it's more important to check qualifications & experience than affordability.
Below is the list of our partner dentists in Mexico who are qualified and reputed.
---
Dr. Emmanuel J. Leon
10 Years of Experience
DDS
Expertise
Implants, All on 4/6/8, Oral Surgery
Education
University Michoacána de San Nicholas
Graduated from Mexico – 2008
Postgraduate in Odonto-Pediatrics
Dr. Thomas Koty
25 Years of Experience
DMD, M.Sc.
Expertise
Implants, All on 4/6/8
Education
Training in Harvard
Master of Science for Cosmetic and Dentistry
Studied in Germany, managed several top international clinics
Dr. Gisela Ruby Monroy
18 Years of Experience
DDS
Expertise
Root Canal Treatment
Education
The Autonomous University of Mexico
Endo-Periodontal specialist
Certified in "Maxillary Orthodontic and Orthopedic"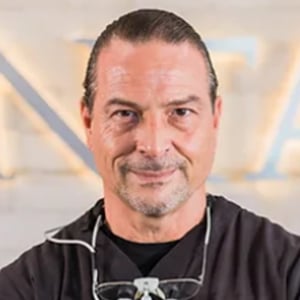 Dr. Joaquin Berron
30 Years of Experience
DDS
Expertise
Implants, All on 4/6/8, Crowns & Bridges, Dentures
Education
Universidad Tecnológica de México
Dental implant specialist
Graduate from Reina de Mexico – 1986
Dr. Miller Vieira
17 Years of Experience
MSD
Expertise
Implants, All on 4/6/8, Veneers
Education
University of Guarulhos São Paulo
Certifications in DSD (Digital Smile Design) and SKYN Concept protocols in 2015
Certified by the São Paulo Association of Surgeons in "Advanced dental implantology – surgical module"
Member of the AACD (American Academy of Cosmetic Dentistry)
What Are Computerized Dental Crowns in Mexico?
Computer-aided design/computer-aided manufacturing (CAD/CAM) process is the indirect restoration of your teeth designed by a computer and milled by a machine. [2]
Procedure
Your dentist uses an intraoral camera and CAD/CAM to create a 3D image of your damaged tooth.
Then, the dentist uses CEREC machine to make dental crowns in-office, using a model of your teeth.
Your dental crowns are made using CAD/CAM technology and a milling machine. They can be placed on the same visit.
Source: NCBI [3]
Watch on YouTube: "Creating a Zirconia Crown"
Video Courtesy: OsloMet Helsevitenskap
Time Taken and Recovery of Computerized Dental Crowns
Traditional crowns usually take about two to three weeks.
However, there are CEREC crowns or same-day crowns.
They are made using CAD/CAM technology, a milling machine and are ready in one hour. [4]
The recovery period after dental crown placement is a few days.
You may experience minor inflammations or irritation. [5]
Aftercare
Follow basic oral hygiene practices. Restrain from following habits:
Chewing ice
Biting your nails
Grinding or clenching your teeth
Using your teeth to open cans or packaging
Source: WebMD [6]
CEREC crowns look natural and give patients a perfect smile. They typically last upto 10-15 years and have a high success rate of 95%. [7]
Are Computerized Dental Crowns in Mexico Safe?
Mexico is a popular medical tourism destination for Americans due to its proximity and trained dentists. [8]
Here's a checklist for choosing a clinic for dental crowns abroad:
✅ The clinic should provide your required treatment.
✅ Check for the qualifications and experience of the dentist.
✅ Find out the sanitation and sterilization protocols followed by the clinic.
✅ Lastly, look for English-speaking staff. Also, check for a translator if the team doesn't speak English.
The dental clinics in Mexico comply with the checklist above and ensure you the same service as the US. [9]
Dental Tourism in Mexico
Watch on YouTube: "Mexico Top 10 Places to Visit"
Video Courtesy: Addicted 2 Travel
Mexico is well situated for easy access to the USA and Canada.
If you're traveling to Mexico for crowns, make your travel plan well in advance.
Here, you can visit:
🏖️ Beaches in Cancun
⛪ Church and Museums in Los Algodones
🎭 Casa de la Cultura and El Popo in Tijuana
🛕 The Metropolitan Cathedral and Templo Mayor in Mexico City
You can also walk the streets of local markets and enjoy chocolates and food.
To know more about dental vacation in Mexico, click here!
Conclusion
Computerized dental crowns in Mexico are the next step in digital dentistry.
We all know that the future is digital; hence, our clinics use advanced technology to stay up-to-date for your safety.
The clinics use CAD/CAM to improve your dental treatment quality and longevity.
FAQs
The procedure is a same-day process.
However, if you are an international patient, it may take you two appointments during the same visit, depending on your case.
It's best to wait for minimum 30 minutes after the procedure is done.
This eliminates anesthesia's effect so that you don't damage your tongue.
Avoid any sticky or hard food for 24 hours.
Source: Medical Life Sciences [10]