Are you worried about the expensive costs of dental implants in your home country? Dental implants in Sofia offers budget-friendly, high-quality treatment from certified dentists.
Getting dental implants in Germany, the UK, or Italy is expensive.
Whereas our partner clinics in the Bulgarian capital city, Sofia, are a good option. Continue reading for further insights!
Watch on YouTube: "Dental Implant Procedure Video"
Implant Procedure Video
Cost of Dental Implants in Sofia
Our partner clinics in Sofia specialize in implantology. Titanium dental implants cost b/w $1,962 – $2,355 in the UK.
These costs may differ with treatment complexity, and the material/brand used.
In Sofia, the cost of the same dental treatment ranges b/w $600 – $1,400.
Even when compared with the USA and Germany, you can save up to 70% on dental implants in Sofia.
That too for brands like Nobel, Osstem, and Straumann for implants. Also, a range of crowns that include E-max and Zirconia.
Dental Implants Avg. Cost Comparison (USD)
USA
Germany
UK
Sofia
Titanium Implant
$5,000
$1,400
$2,355
$600
All-on-4 implants
$22,500
$10,700
$16,000
$3,870
All-on-6/8 Implants
$29,000
$24,000
$22,000
$7,300
Mini Implants
$2,000
$2,354
$1,962
$955
Zirconium Crown
$2,000
$1,500
$785
$760
Porcelain Implants Crowns
$1,500
$1,231
$981
$720
Porcelain E-Max Crown
$2,000
$2,300
$2,093
$720
*Price may change with the complexity of a case.
Please Note: Bulgaria Dent charges a consultation fee of USD 60.
This gets adjusted in the final bill if you undergo any treatment with the clinic. For Alldental, the consultation is FREE.
Top 5 Reasons to get Implants in Sofia
💰 Affordability
Internationally recognized brands cost up to 70% cheaper in Sofia.
Sofia is one of the cheapest cities in Europe. [1] Your overall expense in the city will be more affordable.
🦺 Safety
Our partner clinics in Sofia use class B Autoclave sterilization for safe dental implantation.
The safety index of the capital city of Bulgaria, Sofia, is 73%. Violent crimes do not exist in the city. [2]
👌 High-Quality Dentistry
Internationally accredited physicians work in our partner clinics.
Our partner clinics (Bulgaria Dent & Alldental Clinic) have 4.8 & 5-star Google ratings by old patients.
✨ Popularity
Bulgaria is one of the leading choices for dental tourists. [3]
Low-cost medical expertise is one of the main factors for the growing recognition.
🗣️ English-Speaking Staff
English is the second most popular foreign language spoken in Bulgaria. [4]
The staff at our partner clinic understands English. Therefore you can easily communicate your dental problems to them.
Best Dental Clinics in Sofia, Bulgaria
ul. "Pirin" 81, 1680 Manastirski Livadi, Sofia, Bulgaria
Mon - Fri 9 AM to 7 PM, Sat - Sun 9 AM to 5 PM
Key Features
It is one of the modern dental clinics with Internationally accredited Implantologists.
The dentists are trained and certified by:
The European Implant Association
The European Esthetic Dentistry
Bulgaria Dent is your one-stop solution for any dental implant procedure. It uses state-of-the-art technologies like:
Implantological motor and piezosurgery unit: W&H (Austrian)
Dental microscope: Global Surgical (American)
Optical magnification: Carl Zeiss (German)
Endomotors and applexers: Morita (Japanese)
Swiss tartar and polishing machine: BIOLASE (American)
For sterilization, the clinic uses Class B Autoclave, which is approved by European standards.
ul. "Kavarna" 9, 1612 g.k. Lagera, Sofia, Bulgarije
Key Features
It is another well-known dental implant clinic in Sofia. The physicians in the clinic are internationally approved.
They are:
Member of the Bulgarian Dental Association.
Member of the International Team for Implantology.
Bulgarian Association for Oral Implantology.
AllDental clinic has an in-house dental lab, which reduces your total chair time.
Best Dentists in Sofia, Bulgaria
---
Dr. Leonid Nikolaev
5+ Years of Experience
DDS
Expertise
Implants, All on 4/6/8, Crowns & Bridges, Dentures
Education
Trained with Prof. Paulo Malo – Portugal, Dr. Marco Tallarico – Italy, Dr. Mauro Fradeani and Dr. Stefano Gori – Italy, Prof. Dr. Nitzan Bichacho – Israel
The European Prosthodontic Association
The European Association for Osseointegration
The European Dental Implantology Association (EDIA)
Dr. Tanya Atanasova
5 Years of Experience
DDS
Expertise
Oral surgery and pediatric dentistry
Education
Military Medical Academy
Membership: European Federation of Oral Surgery Societies (EFOSS)
What is a Dental Implant
It is considered a replacement for a missing tooth. They are a screw-like structure (diameter of 1.8 mm to 7 mm), [5] placed into the jawbone.
It is then allowed to fuse with the bone over a period of a few months.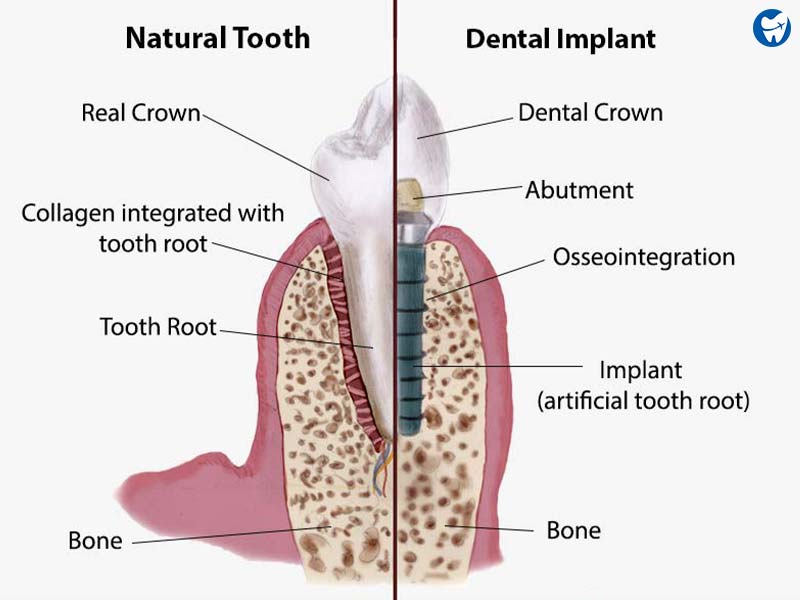 Natural Tooth and Implant
The dental implant acts as a substitute for the root of a lost tooth.
The process of fusing the dental implant and the jawbone is called "osseointegration."
Dental implants are generally made of titanium.
This material allows them to merge with bone without being recognized as a foreign object in your body.
A Dental Implant Consists of Three Parts:
The Implant: It is a screw-like structure that is placed into the jawbone. It gives a strong base that supports the tooth.
The Crown/Dental Cap: It encircles the screw and looks exactly like your original teeth. It is usually made up of gold, titanium, and zirconia.
The Abutment: It is made up of porcelain, gold, or titanium. It connects the implant and the crown.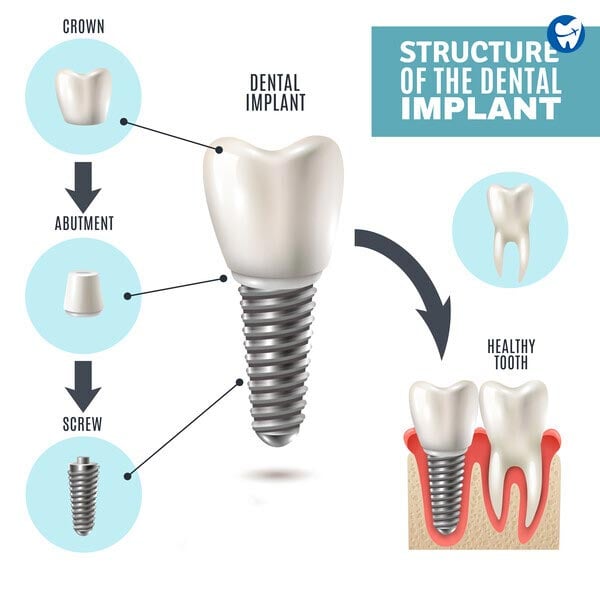 Structure of Dental Implant: Post/Screw, Abutment & Crown
10 Advantages of Dental Implants
Chewing performance increases [6]
Functions like your natural teeth [7]
Lower risk of cavities in adjacent teeth [8]
Grinding of adjacent teeth is not required [9]
Trusted technique with a success rate of 98% [10]
Dental Implants improves your self-esteem
Implants are strong and last for a long time
Jaw bone does not decrease due to implants
No embarrassing moments of slipping dentures
It replaces your tooth root and the bone is preserved better [11]
Dental Implant Techniques
Depending on the health of your jawbone, your dentist will suggest the perfect dental implant treatment as per your need.
The options may include:
Regular Dental Implant
Screw-like structure (Size: 3.5 mm -5.5 mm)
Can be used in the upper or lower jaw
Functions like your original teeth
Functions like a natural tooth
Mini-Dental Implants
Screw-like structure (Size: Less than 3mm)
No need for bone grafts
Commonly used to support a lower denture
Fast healing
Less invasive technique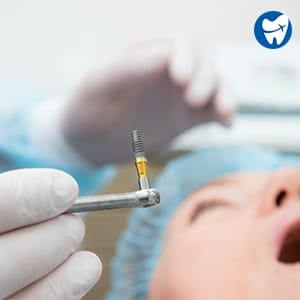 All on 4/6/8 Implants
All teeth are supported by 4/6/8 dental implants
It is a permanent, screw-retained replacement
Allows full-mouth restoration
Immediate function & aesthetics
Reduced cost
Depending on the number of implants used for one jaw, these may be called
all-on-4 or all-on-6/8
.
These systems are designed to restore your upper or lower set of teeth. It is usually performed on toothless patients.
Planning a Dental Implant Trip to Sofia
We have come up with easy, step by step guide to dental implants in Sofia:

---
Research
The first step should be researching dental clinics in Sofia. There are many pros and cons to having dental work abroad.
You would have heard negative reviews of many people who sought dental treatment abroad.
The primary reason for this could be not choosing the correct Clinic.
We understand you must be having several questions and doubts about dental implants in Sofia.
You must be wondering:
How much do dental implants cost in Bulgaria?
Is Sofia, Bulgaria safe for dental work?
Is dental implant painful?
Are the dentists in Bulgaria well qualified for Implant treatment?
We know these questions are essential for you to plan your dental implants in Sofia properly.
We have made it easier for you. Getting an appointment in our partnered clinics for dental implants is easy and flexible.
We can help you to choose an implantologist as per your dental condition.
---
Duration
Wondering how many days you require to stay in Sofia for your treatment? Well here is a treatment duration table that can help you.
| Procedure | Duration |
| --- | --- |
| Titanium Implant | 1-7 days |
| Mini Dental Implant | 1-7 days |
| All-on-4 Dental Implants | ≈5 days |
| All-on-6 Dental Implants | ≈5 days |
| All-on-8 Dental Implants | ≈5 days |
By now, you must have got a rough idea about the number of days you need for dental implants in Sofia.
So the next step should be how to reach Sofia from your home location.
---
How to Reach
Sofia International Airport [SOF] receives international flights from various destinations.
Bulgaria Flight Map
Bulgaria Air is the dominant airline carrier that connects several European destinations.
It takes approximately 2- 8 hours to reach Sofia.
---
Finalizing Your Stay in Sofia
There are many options to stay. You will find many hotels in the center of the city.
The best part is, that the hotels are within reach of our partner clinics.
Bulgaria Dent is located at a distance of 2.92 miles (11 min) from the city center & Alldent Clinic is located at a distance of 3 miles (9 min) from the city center
Please Note: All dental clinic offers free airport pick-up and drop-off facilities for their patients.
You can avail of their services.
You shouldn't miss out on eating Bulgarian yogurt, which is a trademark of the country.
The yogurt is very creamy and contains a bacteria called Bulgaricus, which has immense health benefits. [12]
---
Conclusion
If you are seeking dental implants in Sofia, Bulgaria, then your dentist will be the best person to guide you about the type you need.
Best of all, DentaVacation can help you in planning your trip for dental work in Sofia.
FAQs
The cost of dental implants in Sofia, Bulgaria at the DentaVacation partner clinic ranges between $9,55 – $7,300.
Table: Cost of Dental Implants
| Treatment | Sofia, Bulgaria |
| --- | --- |
| Titanium Implant* | $1,400 |
| All-on-4 implants* | $3,870 |
| All-on-6/8 Implants* | $7,300 |
| Mini Implants | $955 |
| Zirconium Implant Crown | $760 |
| Porcelain Implants Crowns | $720 |
| Porcelain E-Max Crown for Implants | $720 |
*Per Jaw
Yes. Dental implants such as all-on-4/6/8 require the same maintenance as your original teeth. Daily oral hygiene routine:
Clean your teeth twice a day with a soft-bristle toothbrush
Use a low-abrasive toothpaste
Brush in a gentle circular motion
Floss daily with implant-specific floss.
In our partner clinic in Sofia, full mouth restoration using the implant will cost you between $7,740 – $14,600.
You can refer to the table mentioned above for detailed prices of implants.
Yes. There are several studies, the results of which indicate that as long as cardiovascular disease (CVD) is under control via medication.
It is not a contraindication to the dental implant procedure. [13]
Please Note: Remember to inform your dentist about your medical history before the start of your implant treatment.
Dental implants are a better choice than dentures. Implants easily merge with your jawbone and act as original teeth.
They are more aesthetic, and the maintenance is easier than conventional dentures. [14]
Generally, it takes approximately 3 – 6 months to heal.
Dental implant surgery is a customized procedure, and the recovery process varies from patient to patient.
It depends on several factors like:
Your overall oral health
The type of surgery you require
Whether or not you need grafting or tooth extractions
Multiple payment options are available at our partner clinics. Bulgaria Dent accepts payment in:
Bank transfers
Cash in the local currency
Card payments (both credit and debit cards)
AllDental accepts payment in:
Cash
Bank transfers
Revolut
PayPal
Visa
Master Card
DentaCoin
Before your trip to Sofia, make sure your children are up-to-date on their routine vaccines: [15]
Polio vaccines
Varicella (chickenpox) vaccine
Diphtheria-tetanus-pertussis vaccine
Measles-mumps-rubella (MMR) vaccine