Dental Implants in Caloocan, Philippines
Metro Manila is known as the Pearl of the Orient. It is a popular choice for dentistry among Australians. Patients can expect huge savings on quality dental implants in Caloocan, an urban city in Metro Manila.
Video Courtesy: UNTV News and Rescue
Dental implants are effective and long-term treatment to replace missing teeth.
But, in the UK, Australia, New Zealand, and the USA, the cost of dental work is high.
That's why about 1 in 5 Australians choose treatment overseas. For them, countries like the Philippines and Thailand are a top choices. [1]
Cost of Dental Implants in Caloocan
A Titanium implant in Caloocan costs 1/4th of the price in Australia.
To know how much dental implants cost in Caloocan, study the cost comparison table below:
Avg. Cost Comparison in USD
| Implant | Caloocan | USA | Australia |
| --- | --- | --- | --- |
| Mini Dental Implants | $473 | $1,000 | $2,500 |
| Bone Graft Per Quadrant | $825 | $1,500 | $1,100 |
| Titanium Implant | $1,062 | $4,250 | $4,100 |
| Same Day Implant | $1,592 | $3,500 | $2,850 |
| Bone Graft Full Arch | $1,650 | $2,500 | $4,000 |
| Porcelain Bridge | $2,814 | $3,000 | $4,590 |
| All-on-4 Dental Implant | $7,533 | $24,200 | $22,500 |
| All-on-6 Dental Implant | $9,806 | $28,800 | $27,000 |
| All-on-8 Dental Implant | $12,079 | $38,400 | $36,000 |
*Prices may vary with each case
While a single implant offers up to 75% savings, full mouth restorations also become pocket-friendly.
You can save as much as 69% over the US price and 67% over Australia's price for All-on-4 treatment.
Why Choose Caloocan for Dental Implants
💰 Cost-Effectiveness
You can save up to 75% of what it costs in the USA or Australia.(cost table)
Low dentists' fee due to the lower cost of living in the Philippines. [2]
📍 Tourism in Caloocan
The pristine beaches of Caloocan provide for a splendid vacation.
Historic destinations & deeply engraved culture become a key fascination. [3]
There's a lot to explore in nearby locations too. The scuba-divers have called the Philippines a diving mecca. [4]
📞 Ease of Communication
Philippines' official languages: Filipino and English.
The majority of people can speak English as a second language.
Philippines ranks among the top 20 in English Proficiency Index. [5]
A Comprehensive Guide to Dental Implants
Dental Implants Structure
History
The modern-day dental implant is the innovation of Per-Ingvar Brånemark, who is known to be the Father of Dental Implantology. [6]
However, the actual evolution dates back to the existence of humankind. Let us further explore the evolution of a dental implant: [7]
---
Ancient Egyptians Used Ligature Wire Made of Gold to stabilize periodontally involved teeth.
---
Etruscans used soldered gold to replace missing teeth. Phoenicians used gold wires to stabilize teeth.
---
Phoenicians used ivory to replace missing teeth stabilized by a gold wire.
---
Mayan Population used seashells to make Implants for mandibular teeth.
---
First Porcelain Crown placed on a platinum Disc. But, this failed to fuse with bone (osseointegration).
---
Strock brothers experimented with screw fixtures made of Chromium & Cobalt alloy (Vitallium).
---
Formiggini, along with Zepponi, developed a post-type endosseous Implant.
---
Dr. P. Brånemark used the first Titanium Implant in Humans to replace missing teeth.
---
Need
Possible cause or damage that may require replacement with dental implants:
A dental decay

A dental trauma
Gum disease

Conditions like broken teeth
If you don't undergo treatment, you may experience the following problems:
Misalignment of your biting

Weak oral health
Unsatisfied appearance

Possibility of gum diseases 
Artificial replacement provides better oral health and, of course, improved aesthetics.
Process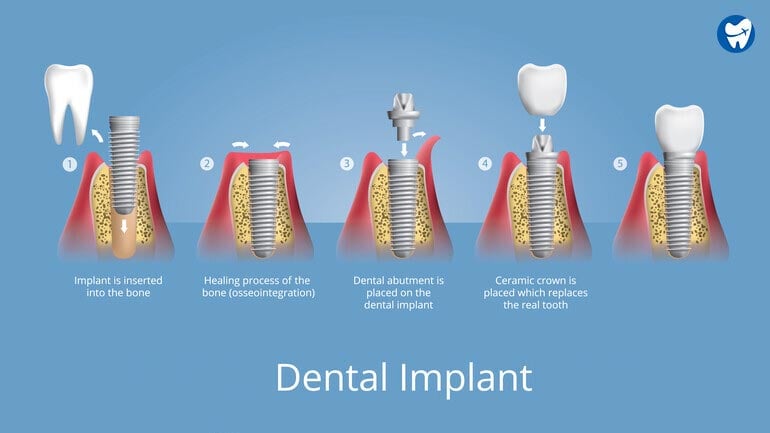 Dental Implant Process
Techniques
A dentist first considers some specifications like the health of your jaw bone.
Then, he drafts a personalized treatment plan for you. He may list one or more possible techniques. The popular implant techniques are:
Same-Day Implants
These are also called immediate load implants.
Implants, as well as crowns, are placed in a single visit.
Mini Dental Implants
Require less-invasive techniques.
These are placed mainly for lower dentures.
All-on-4
Four implants restore all teeth in one jaw.
Bone grafting is not needed.
All-on-6/8
Six or eight implants restore all teeth in one jaw.
Bone grafting may be needed.
Advantages of Dental Implants
1. Improved Confidence
Implants do not make you feel that the teeth are artificial.
They are highly stable and won't fall off like removable dentures.
2. Improved Speech
The surgeon perfectly places dentures in place.
These won't slip or fall off, allowing undisturbed speech.
3. Improved Oral Health
With the implants, there is no burden on any other natural tooth.
Remaining teeth stay in optimum health with improved oral hygiene.
4. Improved Durability
Implants are anchored inside the bone and do not decay.
Extended durability when compared to dentures and bridges.
5. Overall Cost Benefit
Other alternatives (dentures/bridges) seem comparatively cheaper.
However, dentures or bridges need replacing every 5 to 15 years. [8]
Dental Implants are a long-lasting solution. Hence, their overall cost is lesser.
Best Dental Implant Clinic in Caloocan
Being equipped with the latest dental technology, make it a state-of-the-art clinic. SHDC offers all the procedures listed in the cost table.
129 Asuncion St. Morning Breeze Subdivision Caloocan City 1400 Phillipines
Accredited to the Philippine Dental Association

High experience with international patients

English-speaking staff

State-of-the-art Facility

Highly qualified implantologists
The clinic has gained prominence over the years.
They receive patients from local and global populations.
Implantologists in Caloocan
The following dentists work at SHDC, Caloocan:
---
Dr. Alexander Eduardo R. Garcia
32 Years of Experience
DDM, FPFA
Expertise
Dental Implants
Education
Manila Central University
Languages: English, Filipino
Associations: International Congress of Oral Implantology (ICOI), International Academy of Mini Dental Implant (IAMDI), Philippine Dental Association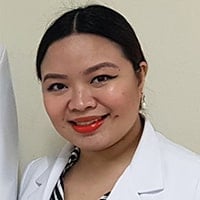 Dr. Patricia Angeline
9 Years of Experience
DDM
Expertise
Cosmetic & Implant Dentistry
Education
Manila Central University
Languages: English, Tagalog
Associations: International Congress of Oral Implantology (ICOI), International Academy of Mini Dental Implant (IAMDI), Philippine Dental Association
Hotels
JQV Hotel
---
Blk 95 Lot 2 Package 3 Phase 6 Barangay 178, Camarin Rd, Caloocan, Philippines
13 miles away from Sacred Heart Dental
RedDoorz
---
#2 Congressional Avenue Corner, Epifanio de los Santos Ave, Quezon City, 1800 Metro Manila, Philippines
3.6 miles from Sacred Heart Dental
Maloban Grand Hotel
---
194 MacArthur Hwy, Potrero, Malabon, Metro Manila, Philippines
1.2 miles from Sacred Heart Dental
Brentwood Suites
---
6 Doctor Garcia St, cor Quezon Ave, Quezon City, 1103 Metro Manila, Philippines
6 miles away from Sacred Heart Dental
Read more about Dental Implants here: All on 4, All on 6 & 8, Dental Implants, Zygomatic Implants, Dentures, Full mouth restorations
To know more about Dentistry in the Philippines, read: Dental tourism in the Philippines, Dental Implants in Philippines,