Dental tourism in Thailand is booming at an incredible rate. It has become a mecca for foreign tourists. Besides, dental treatments in Thailand are around 60% cheaper than those in the West.
Read how dentists in Thailand offer meticulous work at an attractive cost.
Watch on YouTube: "Guide on Dental Work "
Dental Tourism in Thailand
Tourist Arrivals in Thailand averaged nearly 1.5 million from 1997 until 2019," making it one of the top holiday destinations.
- Trading Economics [1]
Why Choose Thailand for Your Dental Tourism?
Thailand is one of the top destinations for dental tourism because: [2]
Dental clinics offer a wide variety of dental procedures.
Dentists use high-tech equipment to carry out dental treatments.
Dental treatments in Thailand are around 60% cheaper than those in the West.
The quality of treatment is high. Patient care and safety is the primary concern.
Our dentists have degrees from top Thai dental colleges and some have international training.
The flora, fauna, and climate with exquisite architecture make it a place for a perfect holiday destination.
You can get dental treatments ranging from simple procedures like:
Tooth fillings
Extractions
Cleaning and tooth whitening
Or you can get more complicated treatments done in Thailand which include:
Dental implants
Veneers, crowns, and bridges
Correction of malaligned teeth
What is the Cost of Dental Work in Thailand?
Dental work is about a third of the price in Thailand compared to Australia.
The average cost of dental implants (including a crown) is $1,500 in Thailand.
The same procedure in Australia can cost you a whopping $6,000.
Procedures like dental crowns and veneers cost $500 and $350 per tooth in Thailand.
Similarly, all on 4 implants in Thailand are relatively cheaper than in Australia
Thailand Dental Prices (USD)
| Procedure |  Thailand | Australia |
| --- | --- | --- |
| All on 4 implants | $9,400 | $13,650 |
| Metal Braces | $1,670 | $2,600 |
| Implant (+crown) | $1,200 | $2,100 |
| Removable Denture | $550 | $1,350 |
| Crown | $250 | $990 |
| Root Canal Treatment | $250 | $280 |
| Veneer | $200 | $700 |
| Teeth Whitening | $150 | $570 |
| Tooth Extraction | $30-70 | $90-120 |
| Composite Filling | $27 | $140-225 |
*Prices are subject to change with patient needs.
Dental Clinics in Thailand
Thai dental clinics provide good quality high technology facilities.
A few examples include digital panoramic x-ray, CT scanning equipment, 3D CAD/CAM, and in-house laboratories.
They have accreditations with many international dental organizations. JCI – a US-based healthcare initiative, is one of them.
Some clinics are ISO certified as well. Check below the list of reputed dental clinics:
As of 2019, Thailand had more than 66 JCI-accredited hospitals.
Bangkok Smile Dental Clinic is known for the following features:
Partnered with MALO CLINICS.
Follow International sterilization and Infection Control Standard
Provides airport pickup services and assists with your stay
Guides you with your insurance/financial procedures
The BTS Skytrain (Nana Station) is a mere 5-minute walking distance.
Sterilization in Thailand Clinics
DentaVacation chosen clinics follow four-step sterilization. [3]
Step 1: Manual Cleaning
Instruments are scrubbed to remove deposits and residue.
Step 2: Ultrasonic Cleaning
Instruments are treated in an ultrasonic cleaner. It operates on different frequencies, depending on the type of instrument being sterilized.
Autoclave
Step 3: Packaging and Autoclave
After drying. instruments are packed in sealed pouches.
The date of packaging & expiry date of the sterilized instruments is noted.
Sealed pouches are autoclaved to guarantee 100% sterilization.
Step 4: Ultra Violet Chamber
Sterilized instruments are kept in waterproof packaging in Ultra Violet chamber to maintain sterilization.
Fumigation of the Clinic:
Fumigation is carried out weekly. The entire clinic is treated with chemical fumes. This ensures the treatment area is sterile and safe.
Monitoring Sterilization:
CDC suggests "weekly spore tests". [4] Biological Monitoring System by 3M ESPE is used to monitor sterilization. [5]
It is a system with 20-year product history. This ensures that the sterilization controls and standards are above the required standards.
What are the Risks Associated with Dental Tourism?
According to the Australian Dental Association(ADA), [6]
Dentists abroad have to work according to dental tourists' limited time frame. Therefore, it is necessary to ensure proper diagnosis and treatment plan.
You need to check that hospitals and clinic abide by the infection control standards.
Find out if the doctor in practice has the required qualification and is proficient in his/her field.
Sometimes aftercare services are neglected, which can lead to complications.
Top Dentists in Thailand
We aspire to provide you with the best services, keeping in mind the safety protocol.
Our doctors provide you with proper and timely follow-up after the treatment.
---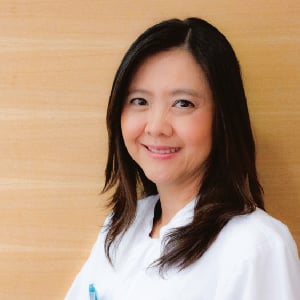 Dr. Sunisa Ratanaworabhan
23 Years of Experience
DDS
Expertise
Implants, All on 4/6/8
Education
Mahidol University
Implant Dentistry NYU, CE program
International Congress of Oral Implantologists (ICOI)
Certificate in Implant Dentistry NYU, CE program
Master's Course in Esthetic Implant Dentistry, CE program, School of Dental Medicine Bern
Dr. Wanwimol Kerdphon
41 Years of Experience
DDS Hons.
Expertise
Dentures, Crowns & Bridges, Implants, All on 4/6/8
Education
Chulalongkorn University
Graduate diploma in Clinical Sciences
Dr. Punyada Intapibool
Years of Experience
MS
Expertise
Implants, Crowns, Veneers
Education
Chiang Mai University
Center of excellence for implantology
Dr. Boonyanat Guensri
Years of Experience
DDS
Expertise
Dental Implants
Education
Chulalongkorn University
International Committee of Implant Dentistry
Thai Board of Oral & Maxillofacial Surgery
Dr. Preeda Pungpapong
23 Years of Experience
MS, DDS
Expertise
Dental Implants
Education
University of North Carolina
Certificate, Prosthodontics
Certificate, Implant Fellowship (Periodontics) University of North Carolina
Dr. Udsana Tanapathomchai
Years of Experience
DDS
Expertise
Implantologist
Education
Chulalongkorn University
Certificate Course in Oral Implantology, University of Frankfurt
Fellow of the California Implant Institute 2014
Certificate in Prosthodontics, Chulalongkorn University
Certificate Course in Oral Implantology, University of Frankfurt
Dr. Neeranart Thirasupa
5 Years of Experience
DDS (First Class Honors), M.Sc.
Expertise
Invisalign
Education
Prince of Songkla University
Certification of completion, Invisalign, Align technology, Inc.
Thai Board of Orthodontics, The Royal College of Dental Surgeons of Thailand
Residency Training Program in Orthodontics
Dr. Kittima Siripanich
10 Years of Experience
DDS & CDE
Expertise
Esthetic Dentistry
Education
Chulalongkorn University, Bangkok
Certificate in Esthetic Dentistry Program
Continuing education, UCLA Asethetic Continuum
University of California (School of Dentistry) - Los Angeles, USA
Dr. Pavitra Waikasetkorn
Years of Experience
MSc
Expertise
Aligners, Braces
Education
Bangkokthonburi University
University of Michigan, Ann Arbor, USA
International training in Restorative Dentistry, Orthodontics
Anxious about your treatment? Get expert opinion!
Talk to us!
Best Dental Destinations in Thailand
Our superior quality dental clinics are located in all the major cities of Thailand.
You will get the services extending from exotic Bangkok, beachy Phuket in the south to historic Chiang Mai in the north.
They offer world-class dental care at a comparatively low cost.
---
Wat Arun Bangkok
The Grand Palace Bangkok
Apart from being a top destination for leisure, Bangkok is a hub for world-class dental clinics.
Our clinics in Bangkok are easily accessible. The locations being in the vicinity of hotels/accommodations.
---
Phuket Beach
Phi Phi Islands Phuket
Located in the south, Phuket has diverse landscapes. It comprises lush tropical landscape, white beaches, magnificent coves, and bays.
Surrounding islands and exquisite Chinese-Portuguese architecture add to its beauty.
You can revel in various activities. Kayak in the mangroves at Bang Rong or watch the sunset in Sri Panwa.
With well-established dental healthcare centers, Phuket is a renowned destination for dental tourism.
The island location of the clinics makes it a one-stop destination for rejuvenation along with healthcare.
---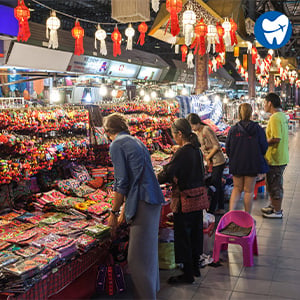 Night Bazaar Chiang Mai
National Park Chiang Mai
Owing to its cold temperature, Chiang Mai is an attraction to a larger group of trackers and backpackers. [7]
Along with its street food and rich culture, Chiang Mai is famous for its botanical gardens and hill tribe villages.
Activities like river rafting and elephant riding are one of Chiang Mai's greatest tourist attractions.
Chiang Mai International (CMX) airport is only ten minutes from the city center.
It serves both international and domestic flights, making Chiang Mai accessible to tourists worldwide.
---
Sanctuary of Truth in Pattaya
Pattaya Beach
A party destination, Pattaya is situated in the East Coast of Thailand Gulf.
It is one of the top 3 cities in Thailand popular amongst tourists.
Sophisticated international hotel chains and fine dining restaurants are a common sight in Pattaya.
Though a city of loud nightlife, Pattaya, does not fail to amaze with its par excellence dental healthcare services.
Some clinics at Pattaya provide additional facilities like a massage chair or aromatherapy.
---
Thailand's second largest island [8]  is known for its beaches, coconut groves, luxury resorts, and posh spas.
Ang Thong Marine National Park and Namuang Waterfall offer breathtaking scenic beauty.
The rocks of Hin Ta And Hin Yai are one of the island's most popular tourist attractions.
Wat Plai Laem, the Buddhist temple is a landmark of Koh Samui. It has a colorful statue of Buddha.
Kôw gang (rice and curry) shops are commonly seen here.
Indulge in activities like scuba diving, snorkeling, jungle trekking, and sailing.
The island offers top-quality dental work under strict sterilization and a friendly atmosphere.
---
How to Reach Thailand?
Suvarnabhumi Airport (BKK) and Don Mueang International Airport (DMK) are main airports. Located in Bangkok, they connect numerous countries with multiple flights daily.
Transportation from airport to city center is possible via taxis, Tuk-Tuks, and the Sky Train.
Tuk-Tuks are a three-wheeled motorized vehicle used as taxis.
Fares range from 16B to 44B or 140B for a one-day pass while traveling via SkyTrain.
Some clinics and hospitals provide with their shuttle services.
Passport Validity
Passport should be valid for at least six months beyond the date of your entry into Thailand.
Tourist Visa Requirements
Thai embassy states passport holders of 19 different countries do not require a visa to visit Thailand. [9]
Thailand tourist visa is valid for 30 days. You will have to apply at the Office of Immigration Bureau for an extension of stay.
Flights from Australia to Bangkok (Thailand)
Non-stop flight time between Bangkok and Sydney is around 9 hours 30 minutes.
The fastest one-stop flight between Bangkok and Sydney takes close to 12 hours.
Flight Duration from Australia to Thailand
The cheapest months to fly to Thailand is in May-October. [10]
The price range of flights from Sydney to Bangkok varies between $300-$1000.
Thai Government currency permit for:
An individual: THB 50,000
A family: THB 1,00,000
If carrying more than USD $20,000: inform Customs officials
Source: International Air Transport Association [11]
What is the Best Time to Visit Thailand?
Thailand offers a year-round tropical climate. Depending on the region, the weather varies from cooler in the hills to hotter in the cities like Bangkok. The beaches are sunny during the day and pleasant by night.
The average temperature of Thailand ranges from 18°C to 38°C.
November to February are the colder months.
December is the coldest month, with an average temperature of 79 °F (26.11 °C). The temperature range is between 60 °F (15.56 °C) to 85 °F (29.44 °C).
In the northern mountainous regions like Chiang Mai, it can fall as low as 40 °F (4.44 °C)
April is the hottest month, with the average temperature being 95 °F (35 °C). The temperature range is between 79 °F (26.11 °C) to 95 °F (35 °C).
Rainy season falls from July to October. A short afternoon downpour occurs.
Useful Travel Tips
UNESCO World Heritage List: Thailand has 3 cultural and natural properties. [12]
---
Thailand has various places for recreation, including beaches, parks, museums, waterfalls, malls, etc.
There are many sites that you can visit during your dental trip.
Wat Pho
A temple located immediately south of the Grand Palace is famous for preserving Thai medicine.
Phuket Beach
The sandy beaches in Phuket like Patong, Freedom, Kata are the best places to relax and rejuvenate.
Koh Kut
Koh Kut, also known as Hideout Haven of the East, is a nature lover's retreat.
Phi Phi island
It is a group of six islands with stunningly beautiful bays and beaches.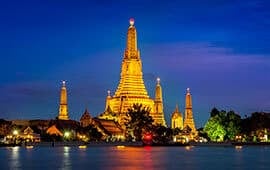 Grand Palace
The iconic Thai architecture in Bangkok is worth paying a visit to.
Night markets and clubs make the nightlife more happening. They are significant points of tourist attraction.
Many leisure activities offered in the country make your stay enjoyable.
Some of them are ziplining, mountain climbing, bungee jumping, hot air balloon tour, white-water rafting, scuba diving, snorkeling, cruising in Phuket, etc.
Indulge in the world-famous Thai massage.
Choose Thailand for a refreshing experience, coupled with better quality healthcare facilities.
---
How Safe is it to Travel to Thailand?
The U.S. News reports that Thailand is one of the safest countries in the world.
Thailand is safe whether you're strolling around the city or shopping in the market streets.
Violent incidents are usually a rare sight. Though taking precautions is always a must.
Emergency numbers:
Medical emergencies and rescue services: 1669
Thai tourist police: 1155
Central Emergency (Police, Ambulance, Fire): 191
Crime Suppression: 195 or (662) 513 3844
Tourism Authority of Thailand (TAT) Call Centre: 1672
Immigration Bureau: (662) 287 3101-10
Register yourself with your Country's Foreign Affairs Departments for your overseas trip.
Australia- Department of Foreign Affairs and Trade
New Zealand- Ministry of Foreign Exchange
The United States- Department of Foreign Affairs and Trade
It is a free and voluntary service offered by your country to aid in a time of emergency.
Share your travel plans, to enable identification in case of any mishap.
Have a travel insurance policy to cover any theft, loss, and medical problems.
---
Remember to wear easy-to-remove shoes as many historical places permit entry barefoot only.
Beware of the dishonest Tuk-Tuk drivers who may try to take advantage.
When visiting Bangkok's holy temples, dress appropriately. Purchase the required attire rather than renting it to prevent the sellers from befooling you.
Do not get confused with street names as they are very different from back home.
Beware of different ticket prices at tourist attractions.
Thailand's electrical system is 220V at 50Hz.
Type A and Type C electrical plug types are used. Make sure you bring the proper adaptors for your plugs.
Tipping in Thailand is not mandatory but always appreciated. [13]
Leave a tip of 20-50 baht at hotels.
Tip a minimum of 10% at an expensive restaurant.
At a spa in Thailand, a tip of 10% or 50 Baht per 30 minutes is considered okay.
Taxi drivers in Thailand will not expect you to tip.
---
Best Countries report ranked Thailand globally 4th for adventure value and 7th for cultural heritage. [14]
Dental Holiday Package to Thailand
Some dental procedures like crowns require two trips to the dental clinic. It takes a gap of about 3-4 days (at max) between appointments.
During the first visit, the dentist carries out specific steps.
It includes tooth preparation, impression taking, finalizing the tooth shade, and temporary crown fitting.
In the second visit, he fits the permanent crown.
A stay of around 10-15 days will be required for procedures like full mouth dental implants and clear aligners.
Luxuriate in a relaxing holiday while getting your dental work.
Top 5 Useful Apps for Thailand Tourists
Google Translator – Communicate easily with the natives by learning their language. In Thai, Khop Khun – thank you, Sawaddee –  hello.
Grab– Make traveling around in the city easy and affordable with Grab.
Line– Like WhatsApp, Line is the most used messenger app in Thailand. You can send and receive messages, calls, photos, videos, documents, and Voice Messages.
XE Currency– Keep track of your expenses with a currency converter app.
BTS SkyTrain– A mass transit train service to help you travel around the city without any hassle.
Thai Cuisines
Thailand is famous for a wide variety of food. Some top Thai food includes:
Green Curry
Gaeng Keow Wan Kai is a green curry paste with basil, bamboo shoots, and aromatic spices.
Khao Soi
Thai curry noodle is a coconut curry-based noodle dish prevalent in the north Thailand.
Tom Yum
Spicy Shrimp Soup is a blend of lemongrass, lime leaves, and lime juice with shrimps & straw mushrooms.
Khao Phat
It is made of fried rice, eggs, herbs, onions. Natives also add chicken, beef or shrimp.
Restaurants and hotels in Thailand serve western cuisines from American club sandwiches and burgers to Indian food.
You can even spot international fast food chains including, McDonald's, and KFC.
Some restaurants serve Australian family cuisine. They include: –
Bondi Aussie Bar &Grill in Phuket
The Australian Bar & BBQ
Drink from a sealed water bottle. Take precautions while eating street food.
Avoid areas prone to flies and mosquitoes to prevent food and water contamination.
Conclusion
Patients who find dental treatments expensive in their home country contribute to flourishing dental tourism in Thailand.
You can ensure a delightful holiday paired with a cost-effective dental trip here.
For this, you can book Thailand dental holiday packages with DentaVacation to invest in better dental healthcare.
FAQs
Central Thai (Siamese). Very few people can speak and understand English.
Thai silk, Spa and aroma products, Coconut oil, Coconut palm sugar, Handmade bags, Home Decor.
No, instead of Uber, you can book a ride using an app called Grab.
Also, you can use Google translator to make communication easy with the cab drivers.
You can access free Wi-Fi at Suvarnabhumi Airport, which is available for up to 2 hours per day.
Most Thai hotels and restaurants provide you with a Wi-Fi facility.
Alternatively, you can buy a SIM card using your passport as identification, and use the data facility.
You can make payment and money transaction in Thailand via various modes including:
Cash in Thai baht which is easily exchangeable nearly everywhere
Credit/Debit cards like Visa, MasterCard.
Sim cards are available at Bangkok airport. However, they are pricey compared to the ones you can buy in the city.
You need to have a passport as identification when buying a sim card.
There are three major suppliers in Thailand, that provide 3G coverage, namely True, DTAC, AIS.
Some 7Elevens also sell sim cards with a brand limitation.
Almost all shopping malls in Bangkok, Phuket, Chiang Mai, Krabi, and Koh Samui have mobile internet shops.
You can get data plans activated, at affordable prices.
AIS Traveller
SIM 599 THB
(excl VAT) gives access to unlimited internet.
It is valid for 15 days, 6 GB at MAX speed with 100 THB call credit. (*Prices may vary)
Thailand follows the Indo-China Time Zone, which makes it 7 hrs ahead of GMT
The following diagram shows the time difference between Thailand and other countries: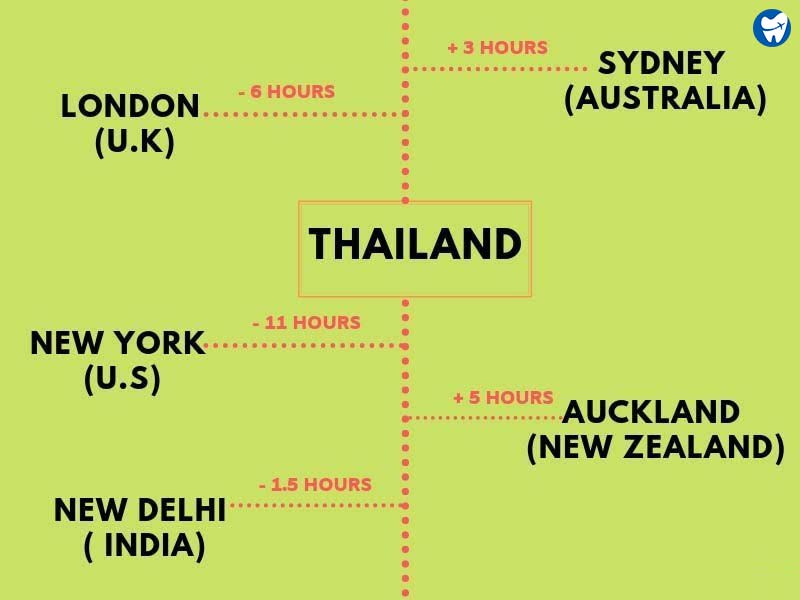 Time Duration Between Thailand and Different Countries
Though parties at a nightclub are too prevalent, beware of party drugs. Watch your drink and never leave it unattended.
Royal Thai Police is in power to conduct enforcement raids on bars and clubs.
Possession of any kind is illegal and punishable. Don't let touts mislead you.
Centers for Disease Control and Prevention recommends travelers to get vaccinated against the following diseases. [15]
Vaccination Checklist for Thailand (CDC)
| Disease | All Travelers | Most travelers | Some Travelers |
| --- | --- | --- | --- |
| Measles | Yes | | |
| Hepatitis A | | Yes | |
| Hepatitis B | | | Yes |
| Diphtheria | Yes | | |
| Tetanus | Yes | | |
| Pertussis | Yes | | |
| Typhoid | | Yes | |
| Cholera | | | Yes |
| Malaria | | | Yes |
| Rabies | | | Yes |
| Yellow Fever | | | Yes |
| Measles/ Mumps/ Rubella |  Yes | | |
| Japanese Encephalitis | | | Yes |
The options for accommodation are diverse. It ranges from affordably priced hotels to high-end luxurious hotels.
You can rent hostels and dormitories as well for the desired time.
Lodging and transportation during public holidays and national festivals are hard to find.
Songkran (Thai New Year) which falls on the 13th-15th of April every year is one such example.
Time to explore all the pristine locations in Thailand
Plan my trip!