Dental Treatment in Monterrey, Mexico
Is the dental care cost at home getting you down? Dental treatment in Monterrey can help your wallet. Monterrey offers low-cost and high-quality dental care in a convenient location close to the U.S.
Video Courtesy: Monterrey, Mexico | Cinematic Travel Video by Zach Seastrand
Monterrey is the most Americanized city [1] in Mexico and a hotspot for medical tourism. [2]
The town is just 150 miles south of the Texas-Mexico border. Thus, it offers American and Canadian dental tourists convenient proximity to home.
Monterrey's Healthcare Services are Comparable to World Standards [3] – Expatland.com
How Much Does a Dentist Cost in Monterrey, Mexico?
Monterrey offers far cheaper rates for all dental treatments. But do you know how much you can save on dental care?
Let's look at the cost comparison for various dental works in Monterrey/US & Canada:
Dental Work Avg. Cost Comparison (USD)
Procedure
USA
Canada
Monterrey
Single Tooth Titanium Implant
$5,000
$4,600
$800
All-on-4 Implants
$24,000
$22,000
$12,000
All-on-6 Implants
$28,000
$26,000
$13,000
Porcelain Crown
$1,800
$1,650
$700
Porcelain Veneer
$2,500
$2,300
$650
Snap-on denture (per arch, removable)
$2,000
$1,840
$500
Root Canal (anterior / pre-molar / molar)
$1,500
$1,300
$350
Bone graft (per unit)
$1,200
$1,100
$400
Sinus lift
$2,500
$2,300
$650
Laser Teeth Whitening
$1,500
$1,380
$200
Simple Tooth Extraction
$300
$270
$95
Implant Brand in Mexico – Hiossen®
*Treatment price may change with the complexity of the case.
Dental treatments in Monterrey are up to 70% cheaper than in the US or Canada.
While a procedure like all-on-4 is only $12,000 in Monterrey, the same can range between $22,000-26,000 in the USA.
Cost of Implants, Monterrey
A single tooth dental implant (with abutment) costs about 800 USD in Monterrey. This price is up to 86% less than in the US or Canada.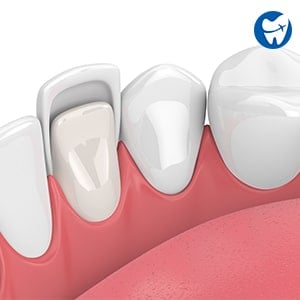 Cost of Veneers, Monterrey
Cosmetic procedures like porcelain veneer in Monterrey cost 650 USD, while it is above 2,300 USD in the US or Canada.
Moreover, you need not bother about the quality of dental work as it matches U.S. standards. [4]
By now, you may agree that Monterrey is the best option for your pocket. Getting dental work in Monterrey is more convenient than going to other countries.
For Americans, geographical ease of reaching is another added benefit.
Low-cost dental treatments in Mexican cities: Ajijic,  Cabo, Mexico City, Los Algodones, Mexicali, Cancun, and Tijuana.
Why Visit a Dentist in Monterrey?
Monterrey has a very attractive medical infrastructure. The city has the largest number of certified hospitals in Latin America.
-Oxford Business Group [5]
Here are the top 5 benefits of dental care in Monterrey:
Great Savings
Dental work in Monterrey is almost 70% less than in the US or Canada.
You can save on food and lodging expenses due to the low cost of living in Mexico. [6]
Tip: Compare your local dentist prices with Monterrey's costs. You can save thousands if you need major procedures.
High-quality Work with Guarantee
High-quality treatments using the latest technology and international implant brands
Get a total guarantee on your dental work (if you have a check-up every 6 or 12 months)
Tip: Before your trip to Monterrey, ask your dentist, "How many years do you guarantee your dental work?"
Fast Service & Better Results
Monterrey dental clinic offers all the specialties in one dental practice.
You get quicker and better results when you have all specialists under one roof.
Tip: If you need specialty dental work – such as gum, full mouth reconstruction, or dental implants, get an appointment with the specialist.
Ease of Communication
Our partner clinic dentists can speak English fluently.
People in Monterrey can also speak English. [7]
Amazing Dental Vacation
A bustling city, surrounded by mountains in all directions.
It offers a unique mix of culture, history, and outdoor activities. [8]
Best Dental Clinic in Monterrey
We recommend the best dental clinic in Monterrey, Mexico, based on their experience in treating overseas patients, the quality of treatment, credentials, and patient testimonials.
Dentistas Teran (Centro Médico Dental Tecnológico)
Arquitectos 102, Tecnológico, 64700 Monterrey, N.L., Mexico
Mon - Fri 9 AM to 7.30 PM, Sat 9 AM - 1 PM
Dentistas Teran is located in the south of Monterrey, Mexico. The clinic has been providing high-quality dental treatment to both local and international patients since 1970.
Key Treatments: Orthodontics, Endodontics, Periodontics, Implantology, Maxillofacial Surgery.
Highlights of the Clinic and its Dental Team
More than 50 years of experience
Convenient location: 25 min drive from the airport (MTY)
Modern clinic with a radiological cabinet
Latest dental care methods-video diagnosis, laser, etc.
Treatment by highly experienced dentists
95% and above success rate for dental treatments
High experience in handling overseas patients
Treatments backed with the guarantee
Free post-treatment consultation
Multiple payment options
Clinic Accreditations
Secretary of Health of the State of Nuevo Léon
Mexican Dental Association
Nuevo León Dental Association
College of Nuevo León Orthodontics
Mexican Association of Orthodontics
Mexican Association of Periodontology
Best Dentists in Monterrey, Mexico
---
Dr. Gerardo Teran
15 Years of Experience
MDS
Expertise
Invisalign, braces
Education
The Autonomous University of Nuevo Leon
Education: Master of Dental Sciences with Specialty in Orthodontist & UANL Master of postgraduate orthodontics UANL
Certifications: Certified by the Mexican Council of Orthodontics. Member of the Council of Orthodontics of Nuevo León & Member of the Mexican Association of Orthodontics.
Expertise: Orthodontics, Endodontics, Prosthodontics Periodontics and Implantology Orthognathic and Aesthetic Surgery
Dr. Gerardo Terán García is Chief Dentist at Dentistas Teran
How to Reach Monterrey, Mexico
Monterrey is well connected to the USA and the rest of Mexico by air, train, and road.
Whether you arrive by air or road, you will need to fill out a tourist card at the port of entry.
We can arrange your travel logistics and assist you throughout your journey.
---
International flights land at Monterrey's
General Mariano Escobedo International Airport (MTY)
Del Norte International Airport (NTR)
Several low-cost airlines also fly from Monterrey to different parts of the country. It includes Mexico City, Guadalajara, Cancun, Merida, and Puerto Vallarta.
Flying times from some major metropolitan airports to Monterrey International Airport (MTY) are listed below.
Flights to Monterrey
---
When you travel by air or drive down to Monterrey, you should carry a valid passport.
Direct flights to Monterrey are available from major cities in the US.
If you plan to drive in Monterrey, you should buy Mexican auto insurance.
---
Carry your Canadian passport with you.
You can enter Mexico without a visa as long as you stay less than six months.
---
Dental Tourism in Monterrey
Monterrey is very different from any other Mexican metropolis. [9]
You will realize that Monterrey is more like the United States and less like Mexico when you visit here. [10]
Here are some of the attractions that you don't miss during your trip.
---
Fountain of Neptune in the Macroplaza
Admire this striking fountain and sculpture portraying Neptune – the Roman god of the sea.
You can find grassy lawns, benches, and paved walkways around the fountain.
It's an ideal place to enjoy a picnic or watch locals going about their business.
Location: Centro, 64000 Monterrey, Nuevo Leon, Mexico
Timings: Open 24 hours
Santa Lucia Riverwalk
This place is a 2.5 kilometers artificial canal with a pedestrian walkway. You'll be able to walk or make up a small boat.
It is where you can enjoy beautiful landscapes – an ideal place to relax, walk or exercise.
Video Courtesy: Edgard Ross
Location: Avenida Fundidora y Adolfo Prieto S/N, Obrera, 64010 Monterrey, N.L., Mexico
Timings: 6 AM – 10 PM
---
Telephone
Check Communications in Mexico guide for detailed information about the latest table of national dialing codes.
Exchanging Currency
Banks with ATMs are found all over the downtown area of Monterrey. For details about exchanging and managing your money, read the guide to Money in Mexico.
Travel Insurance
To get travel medical insurance when you visit Monterrey, a guide to Travel Insurance in Mexico can help.
Getting Around the City
Uber's and buses are the cheapest way to get around the city. Ubers are widely available. You can explore the city if you pay a small fee. [11]
Shopping
There are plenty of modern stores that sell the best clothes and accessories. You can avoid electronics in Monterrey, as they are double the price than in the US. [12]
Air Quality
Monterrey is mainly an industrial city; hence the air quality is not the best. [13] Check the Real-time Air Quality Index to see updates made every hour.
Weather
Monterrey has warm to hot weather all through the year. Rainy weather is between May and September. If you want to know more about Climates in Mexico, click here.
Useful Links for Monterrey Travel
---
Consular Agencies in Monterrey, Mexico
Address
Assistance
United States
Avenida Alfonso Reyes 150, Valle, 66196 Santa Catarina, N.L., Mexico
From Mexico

Tel: 01-81-8047-3100

From the U.S.

Tel: 011-52-81-8047-3100

For more details, check the US embassy website.

Canada
Torre Gomez Morin 955 Ave. Gomez Morin No. 955, Suite 404 Col. Montebello 66279 San Pedro Garza Garcia, N.L. – Mexico
From Mexico:

Tel: 81-2088-3200

From Canada:

Tel: 011-52-81-2088-3200

For more details, check the Canadian embassy website.
---
Is Monterrey Safe?
Though Canada and the US travel advisories restrict travel in several parts of Mexico, you will find no travel restrictions in Monterrey in Nuevo León.
Overall, Monterrey is a safe place, however: [14]
Take basic steps and avoid run-down areas after dark.
Driving in the city is safe. You can avoid the outside town at night. Some of these areas are notorious for car theft and robberies.
Conclusion
Dental treatment in Monterrey is a great way to receive dental care at a low cost while enjoying a nice vacation to recover.
If you wish to know more, fill out the request form or contact us for a free quote.
FAQ's
Yes, dental work in our partner clinic in Monterrey is safe because
Dentists are highly experienced.
The clinic is modern and uses the latest equipment and technology.
For safe treatments, the clinic adopts the highest level of sterilization procedures.
Dental work packages in Monterrey are almost 70% more affordable than in the US.
The average cost of all- on-four implants in Monterrey is 12,000 USD. This price is half of the US or Canada's cost.
Porcelain veneer (per unit) in Monterrey, Mexico, costs around USD 650.
Yes, you can get same-day implants. These are also called immediate-loading implants.
You can get the treatment if you are eligible and have enough bone density.
Yes, our partner clinic dentists in Monterrey are fluent in English.
The clinic uses Autoclave, Dry heat, Ultraviolet light to sterilize the equipment.
All tourists traveling to Monterrey must have a valid passport.
A passport or passport card is required if you drive from the US to Monterrey.
Yes, Canadian and U.S. driver's licenses are valid in Mexico.
Besides, you can use your Mexico Insurance policy only if you have a valid non-Mexican, driver's license.