Dental Implants in Hungary
Due to the high cost and lack of insurance in the UK, dental implants can cost a fortune. But, Hungary offers assured savings of up to 70%. This article summarizes all you need to know about dental implants in Hungary.
Benefits of Dental Implants. Video Courtesy: DIO IMPLANT
Why Choose Dental Implants in Hungary?
Hungary is a leading dental tourism destination, [1] owing to many practicing dentists and affordable dental treatments.
Here are the reasons why you should choose Hungary for dental implants:
1. Affordable Dental Implants
Getting your dental implants done in Hungary can save up to 70% on costs.
The average price of replacing a single tooth with a dental implant in the UK is £2,100 – £2,950.
In comparison, the cost of dental implants in Hungary is as little as £600.
All-on-4 dental implants cost in Hungary is around £4,000 compared to £7,560 – £11,000 in the UK.
2. Proficient Dental Surgeons
Being affiliated with the European Union, Hungary adheres to all the guidelines and regulations laid out by the EU for dental practice.
Registration with the Ministry of Health is a requisite for all dentists in Hungary.
Furthermore, most dentists are members of the Hungarian Medical Chamber (HMC), maintaining a high practice standard. [2]
3. State-of-the-art Technology
Our partner clinics in Hungary use leading-edge dental technology. The overall patient comfort and satisfaction are of utmost importance to them.
4. Ease of Communication
The official language of Hungary is Hungarian, which most people speak.
However, English is the second most commonly used language in Hungary. [3]
5. Fast-track Dental Treatment
Advanced dental technology in Hungarian clinics results in shorter treatment periods.
Placement of a single dental implant in Hungary takes about two visits, with each visit being 3-4 days.
6. Popular Tourist Destination
Hungary is a multiethnic country situated in the heart of Europe. The serene landscapes and ancient architectural marvels are its main attractions.
It is also a popular travel destination because of its diverse geography and rich cultural history.
How Much Do Dental Implants Cost in Hungary?
In Hungary, dental implants prices for a single implant (with abutment) are approximately £597.
In the UK, a single dental implant costs £3,300, enabling you to save 80%!
For full mouth rehabilitation, patients can choose All-on-4 dental implants in Hungary (Budapest).
Another option to replace all your teeth is all-on-6 dental implants in Hungary.
Cost of Dental Implants in Hungary Vs. the UK
| | | |
| --- | --- | --- |
| Procedure | Hungary | UK |
| Single-tooth implant (with abutment) | £597 | £3,300 |
| All on 4 implants (per arch) | £3,952 | £10,420 |
| All on 6 implants (per arch) | £5,396 | £22,320 |
| Bone grafting (per unit) | £319 | £480 |
| Sinus lift | £319 | £700 |
*Prices are case-dependent.
All-on-4 dental implants cost in Hungary(Budapest) is around £3,900 compared to £10,500 in the UK.
Similarly, the price of all-on-6 dental implants in Hungary is £5,396. While in the UK, the cost is around £22,320.
Some patients may require additional dental procedures.
The bone grafts in Hungary start from £319, while in the UK, it is £480.
For sinus lifts, the price comes to £320 in Hungary and £700 in the UK.
Top Dental Implant Clinic in Hungary
Hungary is a leading dental tourism hotspot. Most dental clinics here offer top-quality dental treatments at affordable prices.
They also house experienced staff and the latest equipment and technology.
Additionally, overall patient satisfaction is a priority in Hungary.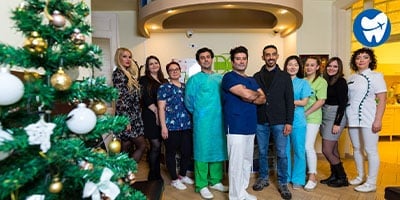 9 Szent Istvan Korut, 1st floor, suite 3, Budapest, Hungary 1055
With 15 years of experience, Dentium Implant Center is one of Hungary's best dental implant clinics.
Key treatments- Dental implants, dental prosthesis, aesthetic dentistry, orthodontics, and oral surgery treatments.
Highlights of the clinic
Exclusive distributor of dentium implants
10 years warranty for dental implants
Dentists have International work experience
Some advanced technology used at the clinic includes:
Panoramic radiograph units
Microscopic loupes
Separate operatories for patients
Computerized patient records
Advanced treatment machinery
Treatment transparency certificate
Best Implant Dentists in Hungary
---
Dr. Ali Dehghani
15 Years of Experience
DDS
Expertise
Maxillofacial Surgery, Esthetic Dentistry and Implantology
Education
University of Debrecen, Faculty of Dentistry
Distributor, of Dentium Implantation System in Hungary since 2009
Participated in professional trainings accredited by Dentium in Korea and Dubai
Member of Hungarian Chamber of Medicine
Dr. Amir Pasha Nouri
8 Years of Experience
DMD
Expertise
Oral Surgery and Implantology
Education
University of Pécs Faculty of Medicine
Performed more than 1000 extractions
Full mouth rehabilitation. (AllON4 surgical and prosthetic protocol/ Hybrid restorations)
Recommended Hotels
Following are recommended hotels for a seamless experience:
Hotel Presidente
---
Av. Central, Catedral, San José, 11801, Costa Rica
2.6 miles from Americas Dental Care
Hotel NH
---
Budapest, Vígszínház u. 3 H, 1137 Hungary
0.12 miles from Dentium Implant Center
T62 Hotel
---
Budapest, Teréz krt. 62, 1066 Hungary
0.43 miles from Dentium Implant Center
Crowne Plaza
---
Budapest, Váci út 1-3, 1062 Hungary
0.4 miles from Dentium Implant Center
Dental Implants Hungary Reviews
I'm so glad I found this office; they're always responsive, they are kindly smiling, and I am maximally satisfied with their work.
Really painless treatments, professionalism, kindness. I recommend it to everyone, even those who are afraid of the dentist.
Professional dental practice, accept any problems without prior consultation. The dentists are also very experienced.
What to Expect While Getting Dental Implants in Hungary?
First, a thorough examination of the mouth with X-rays, photographs, and 3D images is done.
Subsequently, the dental implant is placed. Under local anesthesia, a titanium screw is fastened in the jawbone at the missing tooth site.
Next is a healing period of 3-6 months. As you heal, your implant and jawbone will grow together in a process called osseointegration.
Finally, the abutment and implant crown is placed.
Dental Implant Installation Process
How Long Will I Have to Stay in Hungary for Dental Implants?
The first visit for dental implant placement takes about 2-3 days.
After a 3-6 months healing period, you will be called for a second visit of 4-7 days for abutment and crown placement.
The second visit is slightly longer for all-on-4 and all-on-6 dental implants in Hungary. 8-10 days are required to fix dentures.
A sinus lift or bone graft needs an additional 2-3 days in some patients.
Eligibility Criteria for Dental Implants
Most patients are eligible for dental implants. But in some cases, dental implants pose a challenge.
Exceptional instances in which dental implants are contraindicated include those: [4]
Uncontrollable systemic disease
Autoimmune medical conditions
Ongoing cancer treatment
Blood disorders
Mental disorders
Smoking, tobacco consumption
Teeth grinding or teeth clenching
On medications (e.g., Bisphosphonates)
Healing is compromised in such patients and thereby resulting in a poor prognosis.
Pros and Cons of Dental Implants
Pros 
Cons 

Improved aesthetics
Improved self-esteem
Improved speech
Easier eating
Improved oral health
Long-lasting solution

High cost
Require surgery
Multiple appointments
Risk of complications
Requires healthy dense bone
Poor oral hygiene leads to peri-implantitis [5]
Source: WebMD, [6] Healthline [7]
To read more about dental implants and their aftercare, follow this link.
How to Get to Budapest
Hungary is easily accessible by air, land, or water transport.
---
All international airlines connect the city of Budapest to other major cities. [8]
Liszt Ferenc Airport (BUD) is the city's international airport.
Flying Time & Airfare from Major UK Airports to Budapest Airport (BUD)
| | | |
| --- | --- | --- |
| City | Duration of Travel | Basic Airfare |
| London | 2h 25m | £220 |
| Manchester | 2h 40m | £260 |
| Edinburgh | 2h 50m | £250 |
Passengers have multiple transport options from the airport to their choice of abode. [9]
 Taxi (Főtaxi): Fixed tariff at £0.806/km), with a basic fee of £1.867
 Minibus (miniBUD): Official Budapest airport shuttle service
 Direct shuttle service (BKK) 100E, 200E: Liszt Ferenc International Airport To Budapest city center.
Our partner clinic also provides airport pick-up and drop-off.
---
Railroad
Trains are available from many European cities to Hungary. [11] Budapest has three major railway stations.
Keleti (Eastern) Railway Station
Déli (Southern) Railway Station
Nyugati (Western) Station
Bus Services
Regular bus services are operational to and from Népliget bus station. [12]
---
By Boat
Many companies have service boats on the Danube. It is the busiest and most important waterway in Europe. [13]
---
Things to Do in Hungary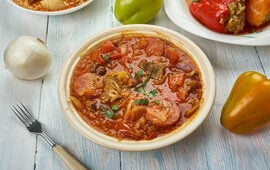 Relish local cuisine
While in the country, one must get a taste of authentic cuisine. No meal is complete without Gulyas (Goulash) soup and fish soup. [14]
Rejuvenate in thermal baths
The thermal spas in Hungary are a blend of Roman-Turkic civilizations. [15] They offer a place for recreation, relaxation, and rejuvenation to tourists.
Explore Ancient Architecture
Hungary is home to over 130 royal castles and palaces. Some worth visiting are  Buda Castle, The royal palace, Esterhazy Castle.
Adventure Sports
If you're looking for thrill-seeking travel, try a few of these activities in Hungary - Water sports, hiking, bike tours, and horse riding.
Conclusion
There's nothing better than receiving dental treatment when you can holiday at a beautiful location later.
Indeed, Hungary is a whimsical European wonderland that offers budget-friendly dental solutions for you.
Patients receive quality care with 70% cost-cutting on all their dental work.
Honest reviews of dental implants in Hungary have also put dental excellence and optimum care at the forefront.
Be assured of specialized implant dentistry at budget-friendly prices in Hungary. Contact us to get a free quote now.
FAQs
Dental implants prices in Hungary for the replacement of a single tooth is £597.
The average price of a single dental implant in the UK is £3,300.
Higher prices in the UK result from the high cost of living [16] and expensive rentals and overhead charges. [17]
These additional costs are eliminated mainly due to tax-free dental treatments in Hungary. [18]
Low cost of living is another contributor to accessible dental treatment in Hungary. [19]
All-on-4 dental implants in Hungary cost around £4,000. The price for the same treatment goes up to £11,000 in England.
Since dental treatment is tax-free in Hungary, the additional costs are cut down significantly.
Furthermore, housing and office space in Hungary are quite inexpensive compared to the UK.
The EU has a set of guidelines and regulations for a safe dental practice. Hungarian dentists adhere to all of them.
Furthermore, all dentists practice under the law of the Ministry of Health.
Patient safety remains uncompromised during all dental treatments. Practicing dentists are highly qualified and experienced.
A single lost tooth replacement with a dental implant in Hungary takes two visits.
The first visit is for implant placement, which takes about 2-3 days, followed by a 3-6 months healing period.
The second 4-7 days visit is for abutment and crown placement.
The second visit is slightly longer for all-on-4 and all-on-6 dental implants in Hungary.
8-10 days are required to fix the denture. A sinus lift or bone graft needs an additional 2-3 days in some patients.
Dental implants in Hungary are cheap due to the following reasons:
Low cost of living
Tax exemption on dental procedures
International standards of education at lower education fees
When compared to prices in the UK, you are assured of savings up to 70% in Hungary.
Due to such inexpensive dental treatment costs, Hungary is a leading Dental Tourism hub.