Dental X-rays are used to find problems that aren't apparent during a routine clinical oral exam. They give your dentist a detailed view of your teeth, jaw, roots, and facial bones.
Various factors determine dental X-ray prices. We will explore each of them in this article.
Watch on YouTube: "Dental X-Rays"
Dental X-Rays. Video Courtesy: American Dental Association (ADA)
Intraoral X-rays
Intraoral X-rays are one of two main categories of dental X-rays. As the name indicates, intraoral X-rays are taken inside of your mouth.
The resulting images are used:
To check for cavities
Examine the overall health of your teeth and roots
Intraoral is the most common type of dental X-ray. [1]
There are four types of intraoral radiographs.
---
Using a periapical X-ray, your dentist can see your entire tooth, from the crown to the root of the tooth.
A single periapical X-ray captures one or two teeth in one section of your upper or lower jaw.
It allows your dentist to evaluate the health of your roots and the integrity of the supporting bone structure.
These X-rays are commonly used to diagnose the source of acute pain.
They can also detect:
Cysts & tumors
Abscesses
Impacted teeth
Changes in bone
Periapical X-ray
The price of a periapical X-ray is $15 – $30.
---
A bitewing X-ray focuses on one section of your mouth. It provides a snapshot of your upper and lower teeth, mainly focusing on the crown portion.
Dentists use bitewing X-rays to look for:
Tooth decay between two teeth
Bone loss caused by gum disease
Condition of dental fillings, crowns & bridges
It also helps to prepare for dental restoration (crowns, bridges, etc.)

Bitewing Xray
To take an X-ray, you have to bite down on a wing-shaped film. Hence the name, bitewing.
Bitewing X-rays are typically ordered once or twice per year, although the frequency varies according to individual circumstances.
A single bitewing costs $10 – $25, while a set of four costs $20 – $100.
---
Occlusal (aka palatal) X-rays present a broad view of your mouth. Specifically, they show the full arch of your upper or lower teeth.
Occlusal X-rays allow your dentist to:
See extra teeth or teeth that are still under the gum
Evaluate tooth and jaw alignment
See fractures of the jaw bone
Diagnose cleft palate
Spot cysts, abscesses, and abnormal growths
Discover foreign objects
Occlusal Xray ; Image Courtesy: Researchgate
You can expect to pay $20 – $40 for an occlusal X-ray.
---
FMX—short for full mouth X-ray—refers to a series of dental X-rays designed to give your dentist a comprehensive look at your mouth.
It includes your teeth, gums, and general bone structure. Depending on your case, they usually consist of four bitewings and 10-14 periapicals.
Your dentist may recommend an FMX if you're a new patient or if it has been over three years since your last dental X-rays.
A full mouth radiograph can detect the presence of:
Gum disease
Abscesses
Cavities
Lesions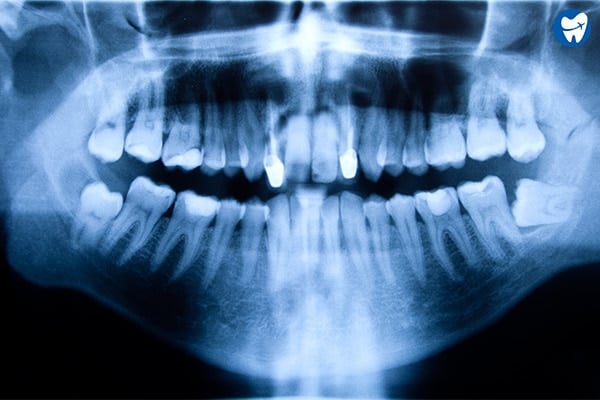 Full Mouth Xray
Because they include numerous images, FMX radiographs are relatively expensive.
They usually cost $85 – $250.
---
Extraoral X-rays
Extraoral X-rays are placed outside the mouth. They are suitable for diagnosing issues related to the jaw and skull.
With that said, they also present a detailed picture of your teeth.
Extraoral X-rays
In general, extraoral X-rays cost more than intraoral. They're divided into the following sub-categories.
---
A panoramic X-ray, as the name suggests, is a full-mouth radiograph. [2] Your dentist can see all of your teeth as well as the surrounding tissue and bone.
Panoramic X-rays help your dentist evaluate the position of your teeth, including the ones that haven't fully emerged yet.
It is essential in the context of orthodontics (braces and clear aligners).
In addition, panoramic X-rays help discover impacted teeth, infections, cysts, and tumors.
Panoramic X-ray
You do not need to bite down on any film for this radiograph.
Instead, you will position your head within a device that keeps you still while a rotating arm takes the images.
How much does a panoramic X-ray cost? Typically $60 – $200.
---
Cephalometric X-rays show one side of your head.
By detailing the position of your teeth relative to your facial profile, these radiographs help inform the course of orthodontic treatment.
For instance, your orthodontist may order cephalometric X-rays before, during, and after treatment with braces or clear aligners.
Cephalometric X-rays can be costly. Expect to pay $70 – $300.
---
Cone-beam computed tomography (CBCT) is a specialized radiograph that uses a rotating, cone-shaped X-ray beam. [3]
The result is a series of high-quality 3D images.
CBCT allows your dentist to perform a detailed assessment of your:
Teeth, roots
Soft tissue
Nerves
Jaw and facial bones
3D CBCT X-Ray
CBCT is commonly used before root canals, dental implants, and wisdom tooth extraction.
It is also an effective tool for diagnosing and evaluating tumors of the mouth and face.
Of all the dental radiographs, CBCT is the most sophisticated.
It is also the most expensive, with a price tag of $150 – $700.
---
Digital Dental Radiographs
The latest innovation in the realm of dental radiography is digital imaging
Unlike traditional X-rays, which have to be developed, digital radiographs are processed and sent to a computer within seconds.
Thus, you can view the X-rays immediately.
And because they're on a computer, the dentist can enhance the images for a more detailed evaluation.
Digital Dental Radiographs
They can also be sent with ease to other clinics and specialists.
Digital dental radiographs produce less radiation than traditional X-rays. [4] The costs are comparable.
Cost of Dental X-rays
Dental X-ray costs vary considerably. However, the good news is that most insurance companies cover the price of dental X-rays.
The price you pay will depend on:
The type of X-ray
The clinic where the imaging is done
Health insurance coverage
Yearly X-ray insurance allowance
Below are two tables breaking down the standard price range in US dollars for each type of dental radiograph.
---
| | |
| --- | --- |
| Type | Price Range |
| Bitewing (single) | $10 – $25 |
| Bitewing (set of four) | $20 – $100 |
| Periapical | $15 – $30 |
| Occlusal | $20 – $40 |
| FMX | $85 – $250 |
---
| | |
| --- | --- |
| Type | Price Range |
| Panoramic | $60 – $200 |
| Cephalometric | $70 – $300 |
| Cone-beam computed tomography | $150 – $700 |
---
How to Save Money on Dental X-rays
Dental work can be expensive. Insurance makes a difference, but not everyone can afford the steep premiums and deductibles that companies charge nowadays.
If you lack insurance, consider the following ways to save money on dental X-rays.
✅ Medical Tourism
It has become a popular choice for patients who can't afford the price of dental care in their home countries.
Common destinations for dental tourists include Mexico, Thailand, Turkey, and Costa Rica.
It is easy to find overseas clinics with English-speaking staff and internationally-trained dentists.
Many of them offer virtual consultations at affordable prices.
✅ Dental Schools
Most dental schools offer treatment at heavily discounted rates. [5] Dental students provide care under the close supervision of licensed dentists.
The students get necessary hands-on experience, and you get quality dental care at a fraction of the average price. It's a win-win.
✅ Clinical Trials
It is possible to have certain dental conditions treated at little or no cost by volunteering for a clinical trial.
These trials are run by the National Institutes of Dental and Craniofacial Research in the US. [6]
Dental X-ray Safety
X-rays expose you to radiation, which can cause damage to cells and tissue. That being said, dental X-rays' radiation level is remarkably low.
The benefits outweigh the risks.
In addition, modern dental clinics take steps to minimize patients' radiation exposure.
These include:
Digital X-rays
Ultra-precise X-ray machines
Full-body protective lead aprons
Dental X-ray room – Woman in a protective lead apron during diagnosis
According to the University of Michigan Health, dental X-rays are also safe for pregnant women. [7]
If you need a dental X-ray during pregnancy, you will be given a lead apron to protect your baby from the radiation beam.
Dental X-rays Summed up
Dental X-rays are a critical tool for maintaining oral health. They come in many forms. Each serves a different purpose, and each carries a different price tag.
Your dentist will help you understand which type of X-ray is right for you.
FAQs
The two main types of dental X-rays are intraoral (inside the mouth) and extraoral (outside the mouth).
Intraoral X-rays are more common in dental clinics. They are also less expensive than extraoral X-rays.
The cost of dental X-rays varies by type. For instance, a standard bitewing X-ray costs $10 – $25, while a periapical X-ray costs $15 – $30.
Other types are more expensive. A panoramic dental X-ray will cost you $60 – $200. Cone-beam computed tomography (CBCT) is priced at $150 – $700.
Yes, dental X-rays can be used to spot infections.
Depending on which type of X-ray you get, it can also detect the presence of gum disease, cavities, abscesses, lesions, cysts, and misalignments.
To take an X-ray of your teeth, your dentist will place a piece of covered film in your mouth. While you bite down on the film, they leave the room to take the images.
During the X-ray, you will wear protective lead aprons over your body.
Bitewing X-rays are the most common type of dental radiographs. They are usually performed once per year. People with certain dental conditions may require more frequent X-rays.
The amount of radiation in a dental X-ray is minimal. You can further minimize the exposure by using digital X-rays and protective lead aprons. Still, any radiation exposure carries a risk of cell damage.
Yes, you can get dental X-rays while pregnant. Your dentist will have you wear a protective apron lined with lead.
You may also have to wear a collar to shield your thyroid from radiation. Share any concerns you have with your dentist before the X-ray.
However, this is case-dependent. Your dentist might consider it only in your 2nd trimester or in case of an emergency.
Dental X-rays are generally not painful. The radiation beam cannot be felt. However, certain dental X-rays may cause discomfort.
For instance, intraoral X-rays require you to bite down on a hard piece of covered x-ray. It can be uncomfortable for some patients.
It depends on your insurance plan. Some private insurance policies include dental coverage.
On the other hand, a lot of people pay for separate dental plans. Medicare does not cover dental treatment. Medicaid dental coverage varies by state.
Dental X-rays are performed for numerous reasons. Bitewing X-rays are typically done every year as part of your routine dental care.
More specialized X-rays (occlusal, cephalometric, cone-beam CT) are used to investigate specific dental issues.
Dental X-rays are generally safe. They do expose you to radiation, but the amount is exceedingly low.
To further limit your exposure, your dentist may use digital X-rays or have you wear a protective bib.
Dental X-rays are considered an essential component of routine care. Beyond that, they're necessary to treat specific oral health conditions effectively.