How Cheap Are Dental Crowns in Croatia?
Medically reviewed by
Dr. Erin N Erickson, DDS
23 Sep 2022
Dental crowns in Croatia can cost up to 75% less than at home. Yet, for that price, you are still privy to the highest standards of dental treatment. Can't afford dental crowns at home? It may be time to consider a trip to Croatia!
Patient Testimonial – Dental Center Croatia
This article includes vital information on accommodation, travel arrangements, the procedure itself, and of course, pricing!
We will also introduce you to the professionals behind the best dental clinics in Croatia.
Why Choose To Get Your Dental Crowns in Croatia?
The clear answer is that dental crowns and bridges are up to 75% cheaper in Croatia.
Moreover, Croatia stands as a prime example of how accessible dental tourism has become.
Europeans, Americans, and Russians alike have been going there for years now.
Dental Tourism in Croatia
Not only do you get to take an affordable vacation – but you can also get your dental work done for a fraction of the cost.
We find that Croatia's massive appeal is due to these factors:
The Excellent Prices | Save up to 40 – 50%
Access to Professional Practitioners | Experienced & certified dentists
Ease of Communication | English-speaking dentists
Tourism Hotspots | Beaches, historical sites, and much more…
Easy to Travel to | Inexpensive flights to 5 international airports
Scroll down to find out more reasons to travel to Croatia for dental crowns.
How Much Does a Crown Cost in Croatia?
The price of crowns in Croatia is 40 – 75% less than what you pay in the US or UK. The zirconia crown price in Croatia is €620 compared to €1,160 in the UK.
The porcelain crown price in Croatia is €350 compared to €930 in the UK. To see how much you'll save, consult the table below.
Dental Crowns in Croatia Cost Comparison
| | | | | |
| --- | --- | --- | --- | --- |
| Procedure | UK | US | Croatia | Duration |
| Porcelain Crown for Implants (with Abutment) | €1,160 | $3,000 | $730/€620 | 3-5 days |
| Porcelain E-Max Crown for Implants (with Abutment) | €750 | $1,500 | $790/€670 | 3-5 days |
| Porcelain Bridge (permanent bridge) (per jaw – 12 units) | €8,400 | $13,000 | $3,975/€3,375 | 3-5 days |
| Porcelain Fused to Metal Crown | €640 | $900 | $275/€235 | 3-5 days |
| Full Porcelain Crown | €930 | $1,100 | $410/€350 | 3-5 days |
| Ceramic Crown | €933 | $1,500 | $410/€350 | 3-5 days |
| Zirconium Crown | €815 | $1,300 | $430/€365 | 3-5 days |
| Implant-supported Bridge (3 crowns) | €4,080 | $10,000 | $2,750/€2,335 | 3-5 days |
| All-Ceramic Bridge (3 crowns) | €2,215 | $3,000 | $1,250/€1,060 | 3-5 days |
| All Metal Bridge (3 crowns) | €2,100 | $3,000 | $1,550/€1,350 | 3-5 days |
| Porcelain Fused to Metal Bridge (3 crowns) | €1,810 | $2,700 | $825/€700 | 3-5 days |
*Prices are case-dependent.
Top Clinics in Croatia
It is impossible to choose the best from these three clinics as they are inseparable regarding levels of expertise and, of course, cost.
Instead, we will introduce you to them both and let you decide which suits your needs better.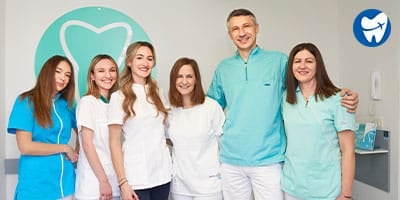 Put Dragulina 62F, 21220, Trogir, Croatia
The first clinic we deal directly with is based in Trogir.
Situated right outside Split in a UNESCO heritage site. This clinic is the perfect destination for those who want quality dental work and experience more of Croatia on their trip!
Clinic Highlights
Only 15 minutes drive from Split
Surrounded by beautiful scenery
10-year warranties on zirconium crowns
Staff speaks fluent English
Ul. Josipa Jovića 93, 21000, Split, Croatia
Mon - Fri 8 AM to 10 PM, Sat 8:00 AM to 2 PM
Opting for dental care in Split, Croatia, makes a lot of sense when you look at the high standard of dental care available to you.
One clinic that exemplifies these high standards is Dentelli. This clinic is ultra-modern and features cutting-edge technology throughout.
Clinic Highlights
5-year guarantee on zirconium crowns
Hotels within a 5-minute drive
In-house lab for fast treatments
Staff are fluent in English
Airport pick-up and drop-off service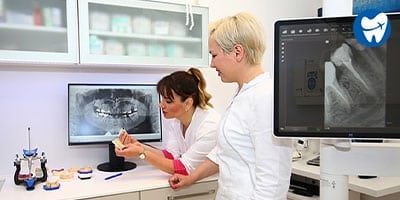 Put Matije Gupca 33, 23000, Zadar, Croatia
Mon - Fri 8 AM to 5 PM, Sat 8 AM to 2 PM
Located in Zadar, the oldest settlement in Croatia, we have Zara Dental Centar.
This clinic is decked out with the latest equipment and is staffed by an excellent team with experience across every specialty.
Clinic Highlights
Staff are fluent in English
Airport pick-up and drop-off service
Several hotels within a 5-minute radius of the clinic
Best Dentists in Croatia
Although there are many great dental clinics in Croatia, we work with some of the best doctors and clinics the country has to offer.
We want our clients to have easy access to the safest dental care with the highest possible standards.
---
Dr. Martina Karlo
20 Years of Experience
DMD
Expertise
Implants, Veneers
Education
University of Zagreb, Croatia
Treatments performed: 14,000
Languages Spoken: English, German, Croatian
Associations: Croatian Dental Association, Croatian Endodontic Society, Croatian Association of Aesthetic Medicine
Dr. Ivana Lijić
19 Years of Experience
DMD
Expertise
Implants
Education
University of Zagreb
One year program "The Curriculum Implantology", GBOI
DSD by Christian Coachman, Dubrovnik, Croatia
Association: German Association of Dental Implantology (DGZI)
Dr. Dario Repic
17 Years of Experience
DDS, Ph.D
Expertise
Crowns & Bridges, RCT, Veneers
Education
University of Zagreb
Ph.D. in Dental Medicine, University of Zagreb
Treatments performed: 2000
Languages Spoken: English and Croatian
Associations: European Society of Endodontology, Croatian Society of Endodontology
For more information on dental work in Zadar, Split, and Trogir, click the links!
What Types of Crowns Are Available in Croatia?
You can expect to get all of the same types of dental crowns that you can get at home in Croatia.
Porcelain Crowns in Croatia
Because porcelain crowns look strikingly similar to natural teeth, they are perfect for the front teeth.
Zirconium Crowns in Croatia
These crowns are incredibly durable & resemble the natural tooth color used on front teeth and molars.
PFM Crowns in Croatia
PFM crowns are porcelain fused to a metal alloy. This allows a natural appearance that is reinforced with metal.
EMAX Crowns in Croatia
They are an alternative to metal crowns &  are just as strong. They also have a natural look & are fabricated from lithium disilicate.
What Does the Dental Crown Procedure Involve?
The procedure starts with the dentist numbing the tooth/teeth in question.
Then, the tooth is trimmed down and prepared for the crown.
This reduces the size and the bulkiness of the crown needed, ensuring a more comfortable fit. A temporary crown can then be made to cover the area.
Next, the dentist takes an impression of your teeth.
Once the full mouth impression is taken, it is sent to a lab.
Either the lab will make a temporary crown, or the temporary crown will be made chairside.
Next, the dentist will take the shade of your teeth. This way, your new crown will match the natural color of your teeth.
You will get a temporary crown while your permanent one is being made.
The dentist will try the permanent crown in to ensure it fits, and make any necessary adjustments.
Once you and the dentist agree that the crown is comfortable it can be cemented into place. [1]
Once the cement has dried, and any excess material has been cleaned away, your smile will be restored to its former glory.
Dental Implants Procedure
You can read more about single-day & conventional crown procedures here.
*The conventional procedure will take two separate appointments to complete; one for trimming the tooth and another for placing the permanent crown.
*If the dental clinic you visit has CAD/CAM technologies at hand, it is possible to have the whole procedure done within a few short hours.
Dental Crowns in Croatia – Before and After Pictures
Here are some before and after pictures of dental crowns in Croatia:
The Pros and Cons of Getting Dental Crowns
There are always a few things to consider before committing to getting dental work such as this done.
---
Advantages
They improve the appearance of your tooth by altering its color and/or shape.
They can prevent a compromised tooth from further damage.
They can last for well over a decade if properly cared for.
Can protect a tooth after a root canal.
---
Disadvantages
Crowns can be chipped. In extreme cases, this will lead to them needing to be replaced.
Crowns can leak, leading to recurrent decay.
In rare cases, the patient may be allergic to either the cement or the materials used.
If the crown needs adjustments, it can cause some pain when biting down.
---
Source: News-Medical.Net [2]
Travel Tips for Croatia
Travelling to Croatia isn't anywhere near as difficult as you might have expected.
There are five international airports to fly into. Alternatively, there are also five ports to get a ferry to.
Travel Advice For Croatia: Video Courtesy: Royal Croatian Tours
Forlocal travel, busses are a cheap & reliable way of getting where you need to go.
For a more detailed rundown on what to expect when you land in Croatia, this page has all the information you will need.
Conclusion
Now that we have gone through the process of traveling to Croatia for your dental care needs, we hope that you feel well-informed enough to make the right decision.
If you feel ready, we can discuss your booking at your leisure. Contact us to get free guidance today!
FAQs
For a single zirconia crown in Croatia, you can expect to pay as little as 365 euros.
This compares to roughly 815 euros in the UK and 1,100 euros in the US.
During their 6-year degree, dentistry students in Zagreb, Croatia, will take 2,000 hours of lectures and seminars, 1,001 hours of preclinical, and 2,099 hours of clinical practicals. [3]
The degree that they receive, the Doctor of Dental Medicine degree, is accredited throughout Europe.
It is estimated that your crowns will last somewhere in the region of 5-15 years.
Naturally, this will depend on a few different factors. You will need to take good care of them.
Studies have shown how much stress they are put under and how well they are cleaned influences how long a crown will last.
If these conditions are met, 97% of your crowns will be intact after ten years, with 85% making it to the 25-year mark. [4]