Get dental work in Bogota by board-certified dentists at just 30% of the American cost. Keep scrolling to learn how!
Watch on YouTube: "Patient Review "
Watch Suke from the USA talk about her experience of dental work in Bogota
The below section will help you establish why going to Bogota for dental work will be the best decision of your life.
Why Should I Go for Dental Care in Bogota?
Economical Pricing | Save 70% in Bogota
Low cost of dental treatment due to easy access to medical equipment sourced from the US.
This cost-effectiveness is attributed to the US-Colombia Trade Promotion Agreement.
It has enabled the duty-free import of most healthcare equipment. [1]
On the other hand, the cost of living in Colombia is 71% less than in the US. [2] This fact also renders dental procedures affordable.
Certified Dentists | You Are in Good Hands
In this city, many dentists have studied at International universities or have foreign exposure.
Secondly, they are nationally board-certified.
You should also note that these dentists are bilingual and can speak fluent English. Read more about the dentist here.
Why Choose Bogota For Dental Work?
State-of-the-Art Clinics | Quality Dental Care
The dental clinics in Bogota have the latest equipment, including profijet, electroscalpel, Needleless anesthesia, radiovisiography, etc. 
Further, the clinics use world-class manufacturers and materials. Click here to read more about the clinic.
Distance | Short Flight Away!
Colombia is a short flight away from a majority of American cities. And while you are here, you can savor a vacation after getting your teeth done.
This makes dental tourism in Colombia, Bogota in particular, very appealing. Click here to plan your trip!
Bonus Trip | The Fun Awaits!
Bogota is truly a cosmopolitan city, boasting its art, gastronomy, and culture! Well, not just lined up museums and art centers!
But you can enjoy the stunning nightlife in Bogota!
Now that we have established what sets Bogota apart from its contemporaries, let's look at how your pocket will be impacted while getting dental work in Bogota.
How Much Does Dental Work Cost in Bogota? (2022)
The cost of dental work in Bogota ranges between $60 and $10,000, depending on the dental procedure.
For instance, the cost of all-on-4 implants in Bogota is $7,000. On the contrary, the same procedure costs around $25,000 in the US.
This entails a saving of 72% in Bogota!
Similarly, snap-on dentures cost a humble $3,500 in Bogota, whereas, in the US, they are priced at a whopping $12,300! 
The cost of veneers in Bogota is just $300 per unit. The same will set you back by $2,500 in the US!
Our partner clinics in Bogota use world-renowned manufacturers and materials, including Straumann and Neodent. 
For the price comparison of other dental procedures, refer to the table below.
Cost of Dental Procedures in Bogota
Procedure
US
Bogota
Savings
Implantology
All-on-4 dental implants
$25,000
$7,000
72%
All-on-6 dental implants
$29,500
$9,000
70%
All-on-8 dental implants
$35,000
$10,000
71%
Titanium implant
$4,000
$700
83%
Prosthetic Dentistry
Snap-on dentures
$12,300
$3,500
72%
Full dentures
$2,000
$600
70%
Restorative Dentistry
Root canal treatment
$2,000
$300
85%
Veneers per unit
$2,500
$300
88%
Porcelain crown with abutment
$1,900
$700
63%
General Dentistry
Deep cleaning
$975
$60
94%
Laser whitening
$950
$300
68%
Composite filling
$300
$80
73%
Prices are subject to change according to your specific case.
Best Dental Clinic in Bogota
We have partnered with the most reputable dental clinic in Bogota. Below are the credentials of the clinic.
Consultorio 514 515, Carrera 19a #82 - 85, Bogotá, Cundinamarca
Mon - Fri 08:00 AM - 05:00 PM, Sat 08:00 AM - 12:00 PM
Operating for 10+ years
The staff is fluent in English
You can pay via cash & credit/debit cards
Has an in-house radiology lab & basic life support system
Best Dentist in Bogota, Colombia
We assure you that your dental treatment is in the best hands. Dentica has employed some of the most sought-after dentists in Bogota.
Given below are the credentials of the lead dentist at Dentica.
---
Dr. Cristina Suaza
23 Years of Experience
DDS
Expertise
Implants, All on 4/6/8
Education
Universidad San Martín
Association: IAOI, ITI & ISDAM
Languages: English, Spanish, Portuguese & German
Continue reading about Bogota, Colombia's most popular dental procedures!
Top Dental Procedures in Bogota
Dental Implants
It is an artificial tooth that is inserted into the jawbone. Implants help in supporting bone growth and prevent bone loss. [3]
💰 Savings in Bogota: 83%
Crowns
They are tooth caps that cover damaged teeth. [4] These caps are usually made from porcelain, metal, glass, or ceramic. [5]
💰 Savings in Bogota: 63%
Veneers
Veneers provide an aesthetic dental treatment option used to improve the appearance of your smile is a dental veneer.
💰 Savings in Bogota: 88%
Root Canal (RCT)
A root canal focuses on treating disease or infection within the dental pulp. RCT can last a lifetime with proper care.
💰 Savings in Bogota: 85%
We know you are on the verge of planning your trip to Bogota. Naturally, you have questions about your safety in a country like Colombia.
The below section will cool down your apprehensions!
How Safe Is Bogota, Colombia, for Dental Work?
It's safe to travel to Bogota for dental work!
The following pointers substantiate why you would not regret traveling to Bogota, Colombia, to get your teeth done.
As of 2019, Colombia's Global Health Security index score was 55/100. [6]
More than 40% of Latin America's top hospitals and clinics are in Colombia. [8]
Colombia is one of the countries which provide low-cost universal healthcare. [10]
In 2019, approximately 1.9 million International tourists visited Bogota, Colombia. [7]
In fact, 4 of the top 10 Latin American Hospitals are in Colombia. [9]
You should note that the country is working on building its security system. [11]
Listening to other people's success stories is a sure-shot way to get motivated. The same goes for patient testimonials.
The following section covers the happy experience of people who got their teeth done at Dentica by Cristina Suaza.
Patient Reviews of Dental Work in Bogota
Watch on YouTube: "Dental Work in Bogota Colombia"
Witness this patient from the US flaunt his smile post getting his teeth done in Bogota
Dental Tourism in Bogota, Colombia
There is strong evidence of soaring growth of 300% in the number of foreign visitors to Colombia since 2006. [12]
A significant cause of this growth has been the quality and affordability of medical care.
With this growing tourism in the country, Colombia's capital city is experiencing thriving medical tourism.
Here are some tips and important considerations for planning your dental trip to Bogota.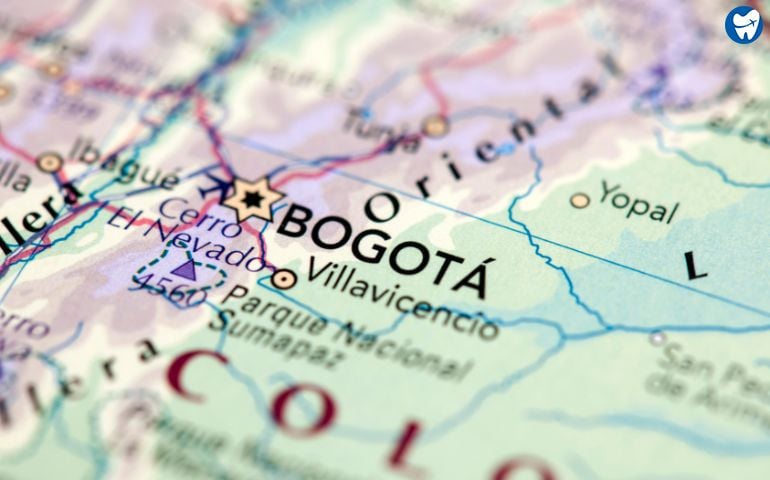 Map of Bogota
---
If you are a resident of the US, Canada, Australia, Europe, or New Zealand and are planning your dental trip to Colombia, you do not need any visa or permission from the government authorities.
This is because nationals of these countries are permitted to have a visa-free stay in Colombia for 90 days.
Post 90 days, you have to seek permission from your respective embassies in favor of extending your stay.
Do remember that stay is visa-free, but an active passport is mandatory.
For travelers from other countries, you must apply for a visa by submitting your active passport along with a visa application form and confirmed two-way air tickets.
Source: Travel.State.Gov [13]
---
The most common transportation medical tourists use to get to Colombia is by plane.
El Dorado International Airport is situated 13 km from the city center. Check out the flights from popular US /Canadian cities to Bogota, Colombia:
Flights from US/Canada to Bogota
| Origin | Duration | Stops |
| --- | --- | --- |
| New York, US (JFK) | 5 hr 6 min | Direct |
| Washington, US (BWI) | 7 hr 23 min | 1 stop |
| Toronto, Canada (YYZ) | 6 hr 10 min | Direct |
| Montreal, Canada (YUL) | 8 hr 35 min | 1 stop |
---
Climate is an important factor to consider before planning a trip.
Luckily, Bogota has little change in temperature and weather during the year.
Colombia is warm all year round with a few cloudy and rainy days. So you can pack light clothes and enjoy the sun.
However, the best time to visit Bogota is from December to March since it has the lowest possibility of rain. [14]
---
Bogota offers a similar infrastructure to most western nations, so public transportation is reliable.
Use the bus to get from the airport to your hotel or hospital. It's affordable and arrives every few minutes. [15]
But if you're not a fan of public transportation, apps like Uber are also popular.
Sim Cards
You should note that local sim cards are easily accessible and affordable. [16]
---
Hotels
For a comfortable and hassle-free stay, we recommend you to stay at one of the following hotels: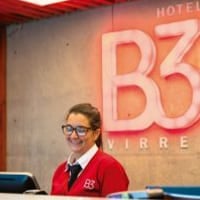 B3 Virrey
---
Cra. 15 #88-36, Bogotá, Colombia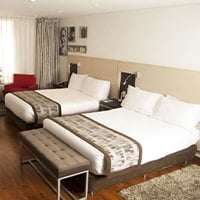 Jazz apartments
---
Cl. 87 #15 - 35, Bogotá, Colombia
City Flats
---
Cra. 8 #81 - 31, Bogotá, Colombia
Tourist Attractions in Bogota
If you are in Bogota for your dental treatment, spare some time to explore this exquisite city.
Gold Museum
This place has the most significant collection of gold items.
Mount Monserrate
Get a magnificent bird's eyes view of the city from here.
Barrio La Candelaria
Shop emeralds and handicrafts from this beautiful street.
For a Gastronomical Experience
One cannot be in Bogota and not try these lip-smacking dishes this city has to offer.
Ajiaco
This signature dish of Bogota will keep your insides warm.
Arepa
A thousand-year-old traditional dish from Bogota.
Tamale
This is an incredibly popular dish in Bogota.
Final Verdict
Dental tourism in Bogota, Colombia, is an affordable option because it's 63 – 94% cheaper than in the US and Canada.
Moreover, the city is equipped with state-of-the-art dental clinics and certified dentists.
These dentists are fluent in English and committed to providing you satisfaction like no other.
Get started with your journey towards getting a picture-perfect smile!
FAQs
Depending on what type of dental work you're completing, you can save anywhere between 68%-94% as compared to the US prices.
For example, if you're having a root canal treatment, you'll pay $300 compared to $2,000 in the US, saving you $85%.
However, getting all-on-8 implants will only cost $10,000, while the US will set you back by $35,000. This way, you're saving 71%.
The quality of Bogota's dentists is on par with the US and Canada.
Dentists like Dr. Cristina Suaza have 15+ years of experience working on patients from countries like the US, Canada, the UK, and France.
The Colombian government spends over 7% of its GDP on medical infrastructure and the latest equipment. [17]
So you're surrounded by the best doctors and equipment! Moreover, our partner clinics use high-end materials from brands like Straumann and Neodent.
When doing dental work in Bogota, you can expect similar quality compared to the US and Canada for a fraction of the price.
You might think that the cost is so low because dentists cut corners. However, this isn't true.
The cost of living in Colombia is significantly lower than in the US and Canada, and these savings get passed down to you.
The dental clinics in Bogota accept cash, debit, and credit card.
They even allow you to pay in USD, so you won't have to convert your money to Colombian Pesos.
Have more questions about dental work in Bogota?
I need help