Your Guide to Dental Implants in Cali, Colombia
You get a confident smile with dental implants in Cali, Colombia, while saving nearly 70%. Replacing missing teeth without insurance coverage is made easier with dentavacation.
Here is a guide to dental implants in Cali to help American or Canadian tourists make their journey fruitful.
Video Courtesy: ERemedium
Why Choose Dental Implants in Cali, Colombia?
Every tooth in a man's head is more valuable than a diamond.
- Miguel de Cervantes
Located in southwest of Colombia, Cali is well known for salsa, [1]
hiking, and scenic beauty.
Choosing dental implants in Cali is an affordable option. The price offered here is 50 to 70% less than in the US.
However, the cost is not the only rationale behind Cali's popularity and affability.
Here are all the reasons you should choose this vibrant destination for dental work:
Why Choose Dental Implants in Cali, Colombia?
Quality Dental Implants
Cali's dental practices use internationally renowned brands, including Zimmer, Pi-Branemark, Nobel Biocare, and Alpha Bio for implants.
Affordable Cost
The cost of living in Cali is low, [2] making it an affordable tourism destination.
Hence, the price of dental implants in Colombia is comparatively lower than in the States.
Experienced Implantologists
Cali has internationally trained dentists in implantology with over 20+ years of experience.
You can keep your worries aside as you get treatment from dental experts.
Multilingual Staff
Our partner clinics have staff that speaks English, French, and Spanish.
So you can anticipate better understanding without losing the content in translation.
Good Connectivity
Colombia has good connectivity to all major cities of the USA and Canada.
Traveling from the USA to Cali takes around 5.5 hours if boarding a direct flight. [3]
There are nonstop and one-stop flights available which make traveling more convenient.
Cali is an excellent place to get dental implants with an essence of a wonderful holiday. Continue reading to learn how!
Success Rate
The long-term success rate of dental implants ranges from 90 to 95%. [4]
However, the success rate depends on your gum health, bone support, medical conditions, and the dentist's expertise.
How Much Do Dental Implants Cost in Cali, Colombia?
A dental implant in Cali may cost you $695, while the same costs $2,400 in the US [5] and $1,500 in Canada. [6]
Similarly, the all-on-4 dental implant price in Colombia is around $6,300, whereas the same will cost $24,000 in the US. [7]
Therefore, by choosing dental implants in Cali, you can save up to 70% on your treatment expenses.
The table below shows the cost comparison:
Cost of Dental Implants in Cali, Colombia vs. the US & Canada (in USD)
Procedure
Colombia
US
Canada
Single Titanium Implant
$695
$2,400
$1,400
Titanium Implant (Screw, Abutment, Crown)
$1,500
$5,000
$4,600
All-on-4 Dental Implants*
$6,300
$24,000
$22,000
All-on-6 Dental Implants*
$8,800
$24,000
$26,000
Same-Day Implant with Crown
$900
$5,000
$4,600
Bone graft (per unit)
$210
$1200
$1080
Sinus lifts
$360
$1,500
$1,350
Dental Brands Used: Zimmer, Pi-Branemark, Nobel Biocare, and Alpha Bio
*Including fixed hybrid denture per jaw
*Prices may vary with each case.
You will get the finest quality at a low price; rest assured.
Top Implant Clinic in Cali, Colombia
Estetica Dental offers a wide range of treatments by qualified dentists.
Besides titanium or all-on-4 implants in Cali, Colombia, the clinic provides restorative & esthetic procedures too.
Cl. 4a ## 35A - 42, Cali, Valle del Cauca, Colombia
Clinic Highlights
Reputed dental clinic
High-quality dental services
Specialize in implant and esthetic dentistry
Dedicated free parking space and pick up/drop off facility
Offers affordable dental care to local and international patients
Use internationally recognized brands, thus you get the best dental implants in Cali
 Brands Used are Nobel, Zimmer, Alpha-Bio, Pi-Branemark
Best Implant Dentist in Cali, Colombia
Talking about the best implant dentist in Cali, you must check their experience & expertise. Find out for yourself what skills the dentist hone.
---
Dr. Juan Fernando Uribe
20 Years of Experience
MDS, DDS
Expertise
Implantology & Rehabilitation
Education
University Andres Bello, Chile
Accreditation: ADA
Placed over 2,000 implants
Implantology course at the Zimmer Institute, California
Post Graduate training in Chile, under Dr. PI Branemark
A Brief Guide on Dental Implants
A dental implant is a surgically placed artificial tooth root within your jawbone. [8]
It allows the placement of a crown or bridge on it, giving you the feel and look of a natural tooth.
Implants fuse with your jawbone (also known as osseointegration) to strongly support artificial teeth. [9]
Choosing implants is the best choice to replace your missing teeth if you have adequate bone support and healthy gums. [10]
Based on the number of teeth you replace, there are different types of dental implants, such as:
Single Dental Implant
All on 4 Dental Implants
All on 6 Dental Implants
All on 8 Dental Implants
Dental Implant Procedure
Dental implant placement includes 3 phases, requiring two visits to your dental clinic.

Stepwise Placement of Dental Implant in Cali, Colombia
---
Visit 1 | Implant Placement
The first phase is the surgical process of implant placement.
It also involves bone graft, sinus lifts, and abutment placement procedures.
---
Healing Back Home
Within 1 to 3 months, implant contact to bone increases. Thus, allowing functional loading of the implant. [11]
During this period, the implant fuses to your jaw bone through osseointegration. [12]
---
Visit 2 | Crown placement
It is the final stage where your dentist evaluates the progress and places the dental crown.
---
Additional Procedures | Sinus Lifts & Bone Grafts
When there is insufficient bone density for dental implants in the upper jaw, the sinus floor is elevated.
The sinus lift [13] and bone graft help increase bone height for implants.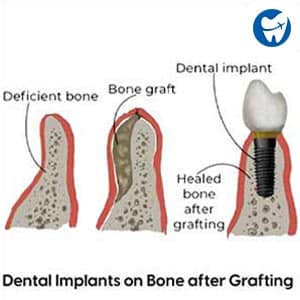 Bone Graft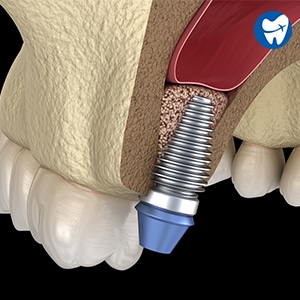 Sinus Lift
In this process, your dentist will create a small space between the floor of your sinus & upper jaw and fill it with the bone graft.
This new bone will merge with the existing one.
After which, your dentist will prepare for dental implant placement.
Pros and Cons of Dental Implants
| 👍 Pros | 👎 Cons |
| --- | --- |
| Most efficient as they mimic natural tooth | Dental implants need extensive surgery |
| Improved speech and chewing | Surrounding tissue might get injured |
| Better oral health | The implant can fail (rarely) |
| Enhances quality of life | The initial investment is high compared to other options |
| Preserves the supporting bone and gums | There is a need for adequate bone support for implant placement |
| Dental implants are long-lasting | It takes time for healing |
Source: FDA [14]
Aftercare
Dental implant placement is a surgical procedure.
So, you will likely experience discomfort, pain, and swelling for a few days after the procedure.
The complete healing may take longer as your oral tissue needs to fuse with your implant.
You should continue maintaining good oral hygiene and visit your dentist regularly for evaluation.
Immediately after the surgery, you should: [15]
Eat only soft food
Avoid smoking
Avoid stressful workout
Avoid taking hot beverages or food
Rest well to allow your body to heal
Take medication as instructed by your dentist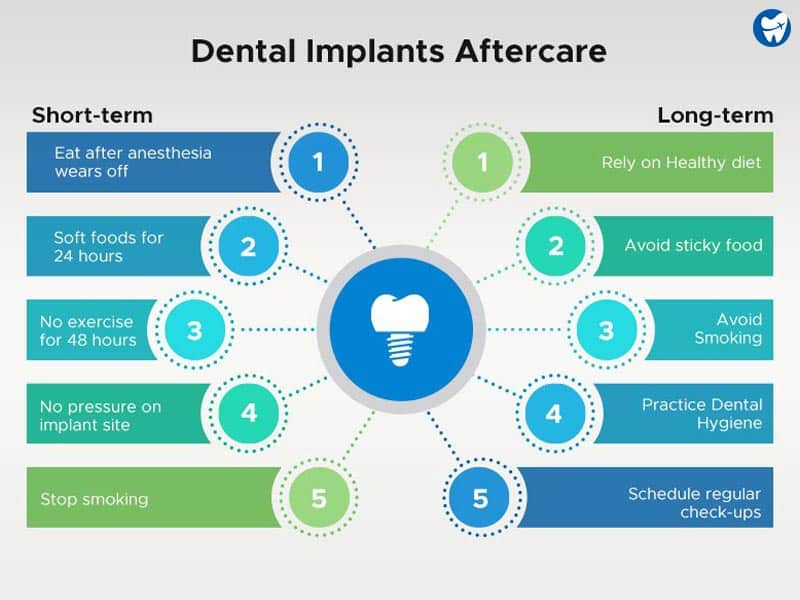 Dental Implants – Aftercare
Dental Tourism in Cali, Colombia
Visit Cali for affordable dental treatment & immerse yourself in its culture as well.
Video Courtesy: City Tours in Cali
Cali is around 995 meters above sea level, located in the southwest Colombia region. [16]
It is an excellent opportunity for you to explore nature as well as historical landmarks.
The Cali National Nature Park offers day hikes with a view of unique animals & birds.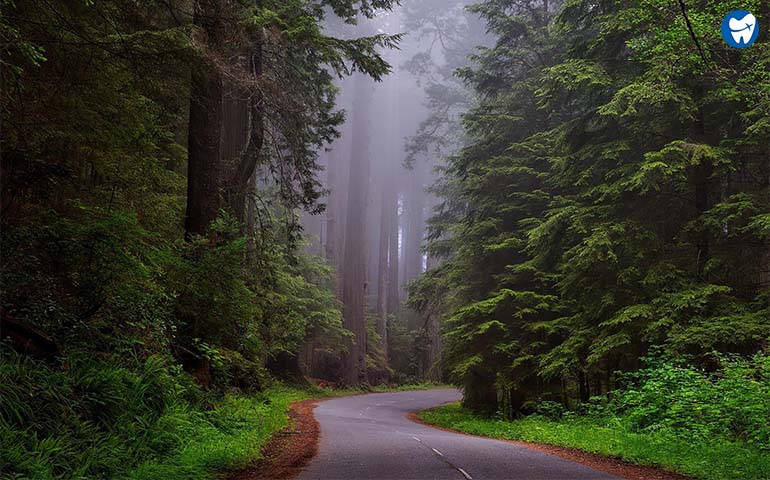 Nature Walk in Cali Columbia
Additionally, the city is known for its creative street art. [17]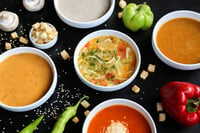 Sancocho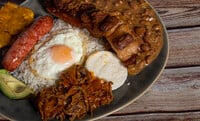 Bandeja Paisa
Empanadas
From accommodation to food, everything is cheap in Cali. A few fun things you can do in Cali are:
Enjoy the street food tour
Take one or two salsa lessons
If you want to go out for hikes, Pico de Loro is an excellent place in Cali, Colombia [18]
Visit San Cipriano, a small village known for crystal-clear rivers, waterfalls, and nature walks
Spend some time walking to check out the colorful street art and murals created by local and international artists
Street Art in Cali Columbia
Travel Tips Colombia
All visitors to Colombia require to: [19]
Register on the Colombian government's CheckMig application (within 72 hours to flight)
Carry a passport (6 months validity) with at least one page for entry stamp
Have yellow fever vaccination
Have currency of not more than 10,000 USD
Your safety is our concern, so we recommend that you: [20]
Be extra cautious in crowded areas
Monitor local news for demonstrations or strikes
Do not travel to high-risk areas (Arauca, Cauca, and Norte de Santander Departments)
Receive alerts or emergency help by enrolling in the Smart Traveler Enrollment Program(STEP)
Dental Implants in Cali, Colombia: Reviews
US resident Mr. Murat visited Dr. Uribe in Cali for dental implants, bone grafts, and crowns.
See how satisfied he was after receiving the treatment. Watch the video to hear him out well.
Patient Testimonial: Dental Implants in Cali, Colombia
Conclusion
Cali can be a great destination for affordable dental implants and a delightful vacation.
70% cost savings, skilled dentists, up-to-date clinics, salsa classes, and street art ensure you get the best of both worlds.
Going for dental implants in Cali, Colombia is worth a trip if planned with DentaVacation.
FAQs
A dental implant in Cali, Colombia, costs around $600 – $800, and the whole process is completed in 2 to 3 phases.
It is much cheaper than in the USA and Canada, which cost $2,400 and $1,400, respectively.
You can save up to 70% on your treatment by choosing implants in Cali, Colombia.
All-on-4 dental implants in Cali, Colombia costs $6,300 – $6,900 (includes four titanium implants, abutments, and the prosthesis).
The same procedure will cost you $24,000 in the USA and $22,000 in Canada, which is around 70% higher when compared to Cali, Colombia.
Yes, it is safe to get dental implants in Cali, Colombia.
In Estetica Dental Avanzada, the Dental surgeon has over 19 years of experience.
And they use high-quality implant materials from internationally recognized brands such as Zimmer, Pi-Branemark, Nobel, and Alpha Bio.
Placing a dental implant may take 1 – 2 hours.
For a same-day implant, the crown fabrication takes extra 2 – 4 hours.
But, in a two-phase process, the dentist places an implant surgically during the first visit.
Later, after 4 - 6 months of healing, you can visit Cali for a permanent crown/denture.