Considering Turkey dental veneers to transform your smile? Curious about why are veneers cheaper in Turkey? Discover now and save up to 96%!
Watch on YouTube: "U"
Dental Veneers in Turkey
How Much Are Veneers in Turkey?
Turkey offers significant cost savings for veneers as it is up to 96% cheaper than the UK/US.
For instance, a single-tooth porcelain veneer in Turkey can be as affordable as $98/€90.
While the same procedure costs $2,510 in the US and €1,220 in the UK.
Likewise, composite veneers in Turkey are priced at just $110/€100 with savings of ~90% compared to the US/UK.
For a more detailed breakdown of prices, refer to the table below.
Turkey Veneers Cost vs. US
Procedure
US
Turkey
Savings
Porcelain veneer*
$2,510
$98
96%
Composite veneer*
$1,640
$110
93%
Zirconium veneer*
$2,510
$175
93%
E max veneer*
$1,750
$195
88%
Laminate veneer*
$2,275
$325
85%

*per unit
*Prices are case-dependent
Turkey Veneers Cost vs. UK
Procedure
UK
Turkey
Savings
Porcelain veneer*
€1,220
€90
92%
Composite veneer*
€580
€100
83%
Zirconium veneer*
€1,300
€160
88%
E max veneer*
€690
€180
74%
Laminate veneer*
€1390
€300
78%

*per unit
*Prices are case-dependent
Note that prices can vary depending on different factors like:
Type of veneer used
Number of veneers
Dentist's experience and reputation
Complexity of the case
Location of your Turkish dentist
Additional procedures (if required)
Our clinics also offer unbeatable Turkey teeth package to get a stunning smile.
Scroll down to understand why are veneers cheaper in Turkey!
Why Are Veneers Cheaper in Turkey?
Turkey has become a top spot for dental tourism, offering high-quality treatments at affordable prices. [1]
Moreover, in Turkey, veneers cost only a quarter of the US or UK cost.
Let's compare the price with other European countries!
Veneers Cost Turkey vs. Other European Countries
But the question that arises is, why are veneers in Turkey so much more affordable?
Continue reading!
Lower Labor Costs
Turkey generally has lower labor costs than Western Europe and North American countries. [2]
Therefore, this lower cost of labor allows dental clinics in Turkey to provide competitive prices for their services.
This makes Turkey an attractive option with quality dental care at a fraction of the cost.
Reduced Overhead Expenses
Dental clinics in Turkey have lower overhead expenses.
These include lower costs for rent, utilities, and administrative expenses compared to Western countries. [3]
These lower operating costs enable clinics to pass on the savings to their patients.
Competitive Dental Tourism Industry
Turkey has emerged as a leading destination for dental tourism.
The country actively promotes medical and dental tourism, attracting patients from around the world. [4]
To stay competitive, Turkish dental clinics offer attractive prices and pacakges for international patients.
43%
of individuals in the
UK and US
consider improving their smiles with
cosmetic dentistry
.
[5]
After all, a person's smile is what we notice right after those eyes!
Curious about dental veneers? Click here to find out more!
Government Support
The Turkish government actively supports health tourism in Turkey.
It has adopted policies to simplify and promote healthcare access for international patients in Turkey. [6]
This support can further contribute to cost savings for patients.
Reasons Why Are Veneers Cheaper in Turkey
Affordable Travel
Turkey provides cost-effective travel opportunities with inexpensive flights. [7]
Affordable flights and travel options to Turkey reduce the overall cost of your dental veneers.
You can save money on travel expenses, making the trip more economical.
No Cost Services
Our provider clinics in Turkey offer a free pick-up and drop facility that saves your transportation costs.
Likewise, a free initial consultation allows you to discuss your dental needs at no charge.
This helps minimize your overall expenses, making your dental veneers more economical.
Favorable Currency Exchange
If your home currency is stronger than the Turkish Lira, it means you can exchange it for a larger amount. [8]
A favorable exchange rate reduces your veneer cost in Turkey with strong currencies.
Therefore, you can get more value for your money when paying for your dental veneers.
Say yes to a confident smile without breaking the bank!
Contact now!
Veneers in Turkey Reviews
Let's read the reviews that will shed light on the quality and affordability of dental veneers in Turkey.
Highly recommend Turkey for anyone nervous about getting dental work abroad. Money aside, you can be confident you're getting the best.
Lisa, UK
Dental Work, Turkey
I got Emax laminate veneers, and the entire process took only 4-5 days. Their professionalism and respect for patients was remarkable.
Jon Zayas, UK
Emax Laminate Veneers, Turkey
From teeth whitening to porcelain veneers, their service was top-notch and affordable. Now, I can confidently show my beautiful smile!
Jane, US
Porcelain Veneers, Turkey
Veneers in Turkey Before and After
Let's witness the magic of veneers in Turkey at such affordable prices!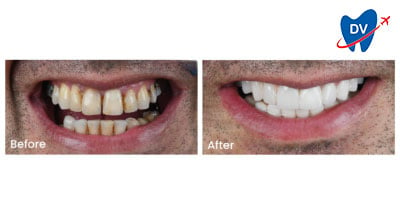 Veneers in Turkey Before and After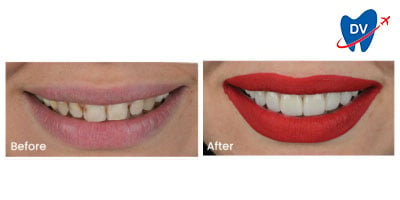 Veneers in Turkey Before and After
For more information on the best place to get veneers in Turkey, click here!
Conclusion
The affordability of veneers in Turkey isn't by chance; it's the result of a strategic blend of factors.
If you want a cost-effective smile upgrade, Turkey's affordable veneers are for you.
Turkey makes your every investment worthwhile with its affordable dental work!
FAQs
Getting veneers in Turkey is more cost-effective, with savings of up to 95%  compared to the UK and US.
For example, a single porcelain veneer for one tooth in Turkey can cost as low as $98/€90.
While the same procedure can set you back $2,510 in the US or €1,220 in the UK.
Composite veneers in Turkey cost only $110/€100, offering 90% savings compared to the US/UK rates.
Turkey veneers are worth it for you as they offer:
Cost savings
Quality treatment
Post-procedure care
Dental tourism experience
Getting veneers in Turkey can save you money, but it's crucial to take into account a few key factors:
Your expectations
Your oral hygiene
Follow-up care strategy
If you've thought through these aspects, then Turkey veneers are worth it for achieving a more affordable smile.
Yes, traveling to Turkey for veneers can be safe if you take the right precautions.
As per reports, most regions of Turkey are considered safe. [9]
Here are some steps to ensure your safety:
Research Clinics: Look for reputable dental clinics with positive reviews and experienced dentists.
Check Accreditation: Ensure the chosen clinic meets international safety standards.
Dentist Credentials: Confirm the qualifications and experience of the dentist who will perform your procedure.
Plan Carefully: Allow time for recovery in your travel schedule and avoid tight itineraries.
Follow Instructions: Adhere to pre and post-procedure guidelines provided by the clinic.
Emergency Contacts: Keep contact information for the clinic and local emergency services accessible.