Have you ever lost a tooth and needed to replace it as quickly as possible? Then we have the perfect solution for you. So, getting dentures in Thailand can act as natural and quick replacements for your missing teeth.
Want to know more? Let's explore how!
What Are Dentures?
Why Choose Dentures in Thailand?
---
Dentures in Thailand are a convenient and affordable solution for several dental tourists.
It is because you pay only a tiny percentage of what you would have to otherwise pay in your home country.
In all, you can save up to 90% across various cities in Thailand.
---
Our partner clinics receive many dental tourists from Australia and New Zealand.
They strive to provide quality care rivaling the Australian standards for just a fraction of the prices.
We offer
Board-certified specialists
High standards of sterilization
Low-cost and high-quality solutions
State-of-the-art equipment and technologies
Certified in-house labs facilitating quicker treatments
Award-winning clinics accredited by the Joint Commission International
---
Thailand is one of the most visited destinations, with nearly 35 million tourists yearly. [1]
It is famous for its beautiful beaches, rich culture and history, temples, and cuisine.
The cheap travel and other expenses make it one of the most chosen destinations for dental treatments combined with a holiday.
---
How Much Do Dentures Cost in Thailand?
Thailand dentures cost starts at around $425. Further, the cost of partial dentures in Thailand is $110 compared to $1215 in Australia.
In other words, you can save up to 90% by getting dentures in Thailand.
Additionally, the cost of partial dentures in Phuket, Thailand, will let you save more than $1000.
The table below compares the cost of full & partial dentures in Thailand and Australia.
| Types of Dentures | Bangkok | Phuket | Chiang Mai | Australia |
| --- | --- | --- | --- | --- |
| Partial acrylic frame denture | $110 | $135 | $160 | $1215 |
| Partial metal frame denture | $245 | $360 | $405 | $1685 |
| Full acrylic denture | $640 | $425 | $600 | $2310 |
*Prices are subject to change.
Types of Dentures
Types of dentures are categorized into three classifications based on
---
Removable
Implant assisted
---
Removable Dentures
These include complete dentures or partial ones.
Removable dentures are replacements for missing teeth. False teeth are attached to a denture base (acrylic or metal). [2]
This assembly fits onto the gum and soft tissue region. It is supported by attachments adhering to the remaining natural teeth.
You can remove them from the mouth regularly to maintain oral hygiene.
Removable Dentures
Implant-Supported Denture
These dentures are supported in the oral cavity using implants anchored to the jaw bone. [3]
Depending on the number and location of missing teeth, the number of implants is decided.
Once the implant screws osseointegrate (mechanically attached) with the bone, dentures can be placed onto them. These dentures could be partial or complete.
Removable implant dentures allow easy removal of the denture from the mouth whenever required. It can be snapped back on at any time.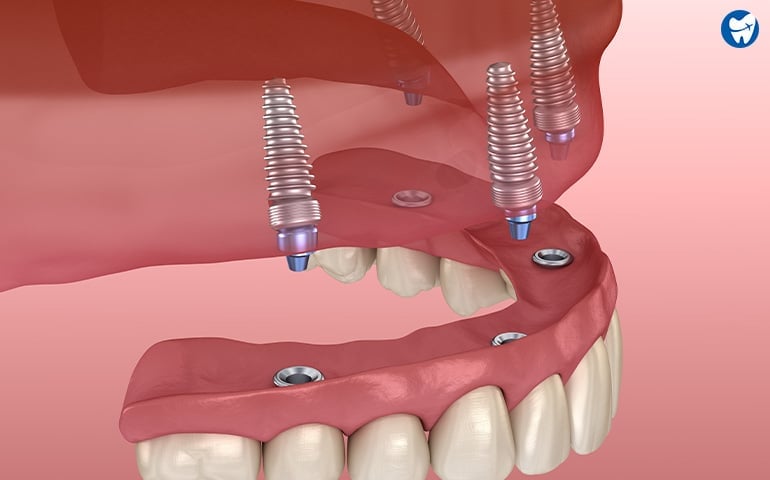 Implant-Supported Dentures
Partial Dentures
When one or more teeth attached to a denture base replace your missing teeth, it is known as a partial denture.
Removable partial dentures could be of three types [4]
Cast Metal Dentures
Acrylic Flippers
Flexible Denture
Full Mouth Dentures
Full-mouth dentures, also known as complete dentures, are replacements when all the natural teeth are missing. [5]
These missing teeth can be replaced either using a removable denture or an implant-supported full mouth denture.
Full Mouth Dentures
Acrylic Dentures
Acrylic resin is a soft pink-colored material that hardens after a particular time.
It forms the denture base that rests on the soft tissues of your oral cavity.
They have advantages over metal denture bases as they are more esthetic, easy to repair, and lightweight. [6]
Other supporting elements (clasps) that adhere to natural teeth fix onto this acrylic base.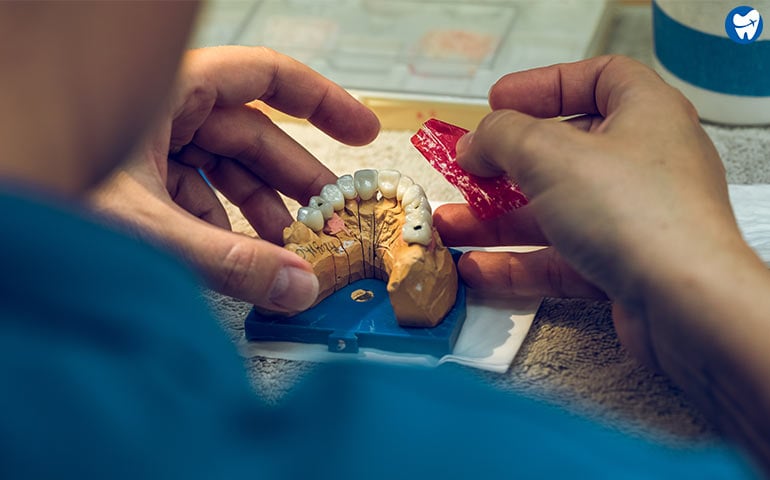 Acrylic Material for Dentures
Metallic Dentures
Cast metal partial dentures generally have a metal base. This metal base is made up of cobalt-chromium alloy.
Its first use for removable partial dentures was documented in the 1930s. [7]
Sometimes specific individuals may be allergic to acrylic resin. Hence, depending on the case requirement and personal preference, your dentist will suggest the best option.
Dentures With Incorporated Metal
With all these options available, you may get confused in deciding the best suitable choice for you.
Worry not! We partner with some of the top-rated clinics for dentures in Thailand.
The section below will help you choose the location that is most convenient for you.
Best Clinics for Dentures in Thailand
You can save up to 90% on getting your partial dentures in Bangkok, Thailand, at the clinics listed below.
Dentures cost in Phuket can also earn you savings of more than 85% at our partner clinic.
Moreover, the cost of partial dentures in Chiang Mai, Thailand, is also 85% lesser than that in the US.
Best Dentists for Dentures in Thailand
---
Dr. Mongkol
20 Years of Experience
DDS
Expertise
Aligners
Education
Honors Chulalongkorn University
Association: ICOI (International Congress of Oral Implantologists)
Participation: Recognition with the Dental Council of Thailand.
Dr. Sunisa Ratanaworabhan
23 Years of Experience
DDS
Expertise
Dental Implants
Education
Mahidol University
Association: International Congress of Oral Implantologists (ICOI)
Participation: Rehabilitation for Edentulous and Partially Edentulous patients
Dr. Saranya Ranusawad
Years of Experience
DDS, MSc
Expertise
Dental Implants
Education
Mahidol University Bangkok
Association: International Association for Dental Research
Participation: Rethinking Oral Rehabilitation, Bangkok
Dr. Punyada Intapibool
Years of Experience
MS
Expertise
Implants, Crowns, Veneers
Education
Chiang Mai University
Faculty of dentist Chiang Mai University
Reviews on Dentures in Thailand
When God created dedication, professionalism, and value for money, he created Sea Smile. Fast, effective & efficient service.
The staff is awesome at Bangkok Smile Dental Clinic. They are so happy and friendly. I felt very relaxed.
Dental Tourism in Thailand
Bangkok is a traveler's paradise. This is because you save on your dental work & spend on enjoying a well-deserved vacation.
Some of the must-dos of the Thai capital are:
Firstly, visit the Reclining Buddha at Wat Pho
Also, the Grand Palace and the Wat Phra Kaew
The weekend Chatuchak market for some exciting shopping
Zip through the streets of Bangkok in a tuk-tuk (a three-wheeled motorized taxi)
Sip a nice cocktail at one of the several pulsating rooftop bars in the city
Conclusion
To summarize, getting dentures in Thailand gives you a unique combination of quality and affordability.
Moreover, it also helps you replenish your energies by enjoying its touristic offerings.
Frequently Asked Questions
A full set of denture costs in Thailand starts at only $425 per jaw, whereas the same costs $2310 in Australia.
You can save up to 80% on getting dentures in Thailand.
On the other hand, partial dentures in Thailand are charged at only $110, allowing you savings of 90% compared to the US costs.