All You Should Know About Dental Veneers in Croatia
Medically reviewed by
Dr. Erin N Erickson, DDS
26 Sep 2022
Veneers are an excellent solution for people with teeth discoloration, chipping, or other types of esthetic problems. Getting dental veneers in Croatia is inexpensive to achieve a gorgeous smile.
Visiting this
country
is a great excuse to get your teeth done
affordably
[1]
so
read on
to find more!
Patient Testimonial: Smile Design in Split, Croatia
Dental veneers in Croatia come at a much lower price than in the UK.
The price is just one of several reasons to get your teeth done in this Mediterranean country.
For starters, we have compiled a list of some of the most important factors that could influence your decision to get your teeth done in Croatia, so start reading to find out.
Why Choose Dental Veneers in Croatia?
Many patients have deliberately chosen Croatia as their holiday destination to get their teeth done.
If you are wondering why they are doing it, here is a quick list of several reasons that make this a great idea:
✅ Cost Savings – Up to 75% if you're from the UK or 90% if you're from the US
✅ Quality materials – Our clinics use high-quality zirconium & ceramic veneers
✅ State-of-the-art technology – Our clinics have the latest dental technology
✅ Vacation – Croatia is a beautiful country that offers plenty to see and do
You will receive excellent service for much lower prices while enjoying the breathtaking coastline of Croatia.
The customer service in our clinics is impressive, and all of the dentists are fluent in English.
How Much Do Veneers Cost Croatia
The price of veneers in Croatia is much lower than in the US or UK.
Expect to pay between $250 and $550 (€210 – €320) per veneer. Compared to that, the price of a single veneer in the US is around $2,150, and about €850 in the UK.
As you can see, you will be saving quite a bit of money. Check the table below for more detailed pricing with prices you can find in our clinics in Croatia.
Dental Veneers Cost Comparison
| | | | |
| --- | --- | --- | --- |
| Type of Veneers | Croatia (USD/Euros) | US (USD) | UK (Euros) |
| Single Zirconium | $375 / €320 | $2,000 | €850 |
| Single Porcelain | $250 / €210 | $2,150 | €940 |
| 8 veneers | $3,300 / €2,800 | $18,200 | €3,550 |
| 8 veneers | $6,100 / €5,200 | $36,000 | €9,000 |
*Note: Prices are case-dependent.
Not only that, but some dental clinics have special packages included in their prices.
You can get a free stay, transfer, accommodation, and even a relaxing massage.
Top Clinics in Croatia
We will present you with three of our Croatia clinics that offer excellent prices and high-quality dental treatment with some of the best dentists in Europe.
If you plan to get veneers in Croatia, these are our top picks for you.
Ul. Josipa Jovića 93, 21000, Split, Croatia
Mon - Fri 8 AM to 10 PM, Sat 8:00 AM to 2 PM
They offer several limited-time discounts and packages
Team of leading experts well-known in Croatian medicine
Equipped with the latest cutting-edge equipment and technology
Offer free RTG (x-ray imaging) and consultation, and payment can be made in installments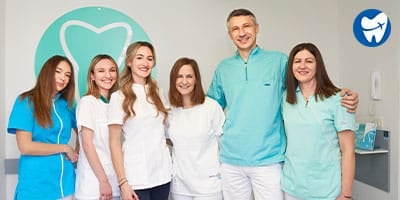 Put Dragulina 62F, 21220, Trogir, Croatia
They offer discounted limited-time packages for 5 – 7 days stay
Equipped with state-of-the-art equipment and internationally renowned hygiene and safety protocols
A team of highly educated staff (dental specialists, doctors of science) who follow an interdisciplinary approach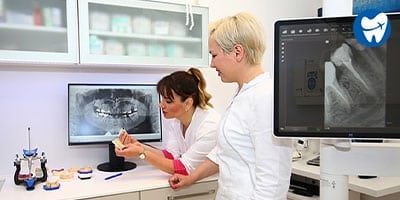 Put Matije Gupca 33, 23000, Zadar, Croatia
Mon - Fri 8 AM to 5 PM, Sat 8 AM to 2 PM
First dental examination is free of charge
A team of multi-specialty dentists that have been in practice for 15 years.
Offer top implant brands at fair prices, world-class doctors, and high-tech equipments
In addition to this, the clinics also provide several limited-time discounts and packages that you can check out below:
---
Package Inclusions and Price for Hollywood Smile Design (16 veneers)
| | | |
| --- | --- | --- |
| Package | Inclusions | Special Price |
| Dentelli Special Relax Package | Accommodation, Free local transfer, Physical Therapy, Relaxing Massage | $7,500 $6,300 |
| Dentelli Special Religious Package | Accommodation, Free local transfer, Visit the catholic Sanctuary Medjugorje/Vepric/Solin, Relaxing Massage | $8,000 $6,300 |
| Dentelli Special Adventure Package | Accommodation, Free local transfer, Rafting river Cetina or visit national park Krka, Relaxing Massage | $8,500 $6,300 |
---
| | | |
| --- | --- | --- |
| Procedure | Inclusions | Special Price |
| Package 16 Veneers | Free stay, Initial examination, RTG diagnostics, Tooth scaling, Tooth polishing/air blasting, Mouthguard | $7,500 $6,600 |
| Package 8 veneers + Bleaching | Free stay, Initial examination, RTG diagnostics, Tooth scaling, Tooth polishing/air blasting, Tooth whitening, Mouthguard | $4,200 $3,300 |
---
Best Cosmetic Dentist in Croatia
There are many excellent dentists in Croatia, and our clinics employ some of the best.
When it comes to veneers and cosmetic dentistry, here are our picks from the top 3 clinics.
---
Dr. Martina Karlo
20 Years of Experience
DMD
Expertise
Implants, Veneers
Education
University of Zagreb, Croatia
Has obtained numerous diplomas and qualifications
Completed courses such as veneers, bite splints and athletic mouth guards.
Other courses include implant prosthetics, ankylos implant system, digital smile design.
Dr. Dario Repic
17 Years of Experience
DDS, Ph.D
Expertise
Crowns & Bridges, RCT, Veneers
Education
University of Zagreb
Graduated with honours from the Faculty of Dental Medicine
Senior researcher, Study of Dental Medicine, School of Medicine
Dr. Ivana Lijić
19 Years of Experience
DMD
Expertise
Implants
Education
University of Zagreb
DSD by Christian Coachman, Dubrovnik, Croatia
One year program" The Curriculum Implantology," GBOI
What Are Veneers?
Dental veneers are tooth-colored shells that are custom-made to fit onto the front surface of your teeth.
Most often, they are made out of porcelain or composite.
They are used to correct discoloration, chips, or other esthetic problems.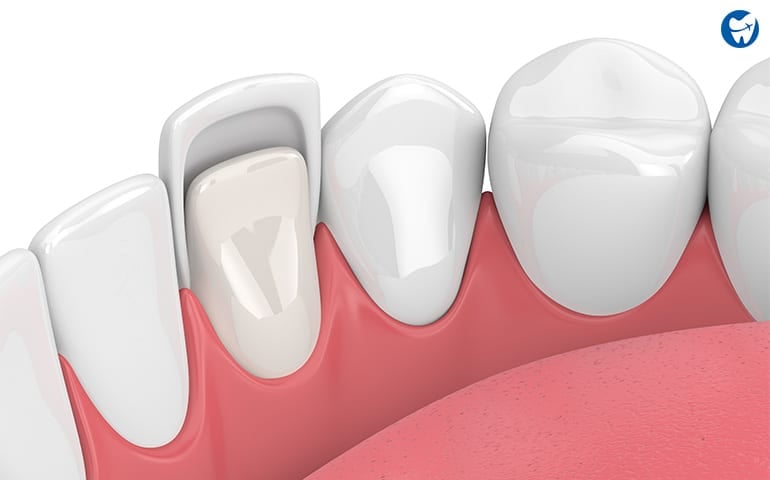 Dental Veneers in Croatia
Ideal Candidate for Veneers
People that get veneers are usually those that aren't happy with their smiles. Some of the most common issues include:
Discoloration
Chipped or broken tooth
Minor malalignment
Worn down teeth
Diastema closure
Types of Teeth Veneers
Three types of veneers are most commonly used:
Composite Veneers
The most economical option, but stains quickly and has lower strength, tends to break more often.
Porcelain Veneers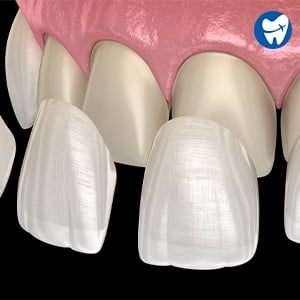 These are the traditional veneers that are most commonly used. They will last a considerable amount of time.
Lumineers
A more conservative type of veneers that are placed onto a natural tooth without any trimming.
Procedure
The procedure of getting veneers includes several steps:
Dental Veneers – Procedure
For an overseas patient, two or three appointments would be needed.
You should check with the dentist, but expect anywhere from three and seven days to be necessary to complete everything, but never more than that.
For more information on the types, procedure check this page.
Success Rate
Dental veneers typically have a very high success rate.
However, there is a slight chance that some veneers might have lower durability and might deteriorate over time.
Uncorrected parafunctional habits can also influence longevity.
Porcelain veneers have a survival rate of 96% after ten years and 91% after 20 years.
On the other hand, composite veneers have a survival rate of 80% after five years. [2]
Pros and Cons of Veneers
| | |
| --- | --- |
| Pros | Cons |
| Long-lasting | Costly |
| Easy to shape | Fragile |
| Realistic appearance | Permanent |
| Hides tooth decay & discoloration | Irreversible tooth trimming |
| Stain-resistant (except composite veneers) | Expensive repair if damaged |
Source: Everday Health [3]
Aftercare
When it comes to the aftercare of veneers, treat them the same as natural teeth.
Good oral care is essential, so develop a comprehensive oral hygiene routine after placement. This is important to prevent decay behind or around them.
Also, make sure to prevent stains and avoid habits such as fingernail biting.
Dental Veneers in Croatia: Reviews
I came over Veneers; I was blown away by the dentist and her delightful team. I'm so grateful.
I came from the UK at half the price (and time) to replace all my crowns. I could not be happier! So professional.
Dental Veneers – Before & After​
Pictures of before and after dental veneers procedure done in Croatia.
Travel Tips
Before going to Croatia, everyone should know a few essential travel tips:
1️⃣ For stays shorter than 90 days, visitors from the EU countries, the U.K., Canada, the US, Australia, and New Zealand, do not need a visa to enter Croatia.
2️⃣ EU citizens may use their national cards instead of a passport.
3️⃣ Visitors from other countries need a passport with at least three months of validity from their planned return date.
4️⃣ If you need a visa, you can apply for it at crovisa.mvep.hr
5️⃣ The easiest way to get to Croatia is by plane, as the country has five international airports in Zagreb, Pula, Zadar, Split, and Dubrovnik.
6️⃣ Since Split has an airport, you can get there quickly, and Trogir is only a 10-minute drive away.
7️⃣ You can also use the ferry with entry points in Zadar, Split, Pula, and Dubrovnik.
For more detailed info, please look at our dental tourism in Croatia guide.
Conclusion
That about sums up everything you need to know about getting veneers in Croatia.
Croatia is the right spot if you want to visit a wonderful country for your vacation and make your smile look better.
The country is equipped with one of the best coastlines globally and offers top-of-the-line dental work for anyone looking to save some money.
If you are interested in getting your teeth done in Croatia, you can talk to our case managers and learn the latest prices.
And also! Don't forget to join our FREE private Facebook Support Group to get access to certified dentists & a community of like-minded peers! Hurry!
FAQs
A single veneer in Croatia is priced between $250 and $550 (€212 and €470, respectively).
The price in Turkey is between $110 and $340 (€94 and €290) when using one of our clinics.
The price will depend on the type of material used. For example, our clinic in Istanbul offers composite veneers alongside porcelain and zirconium ones.
Composite veneers are the cheapest at $110, while the other clinics use only the more expensive materials.
A complete set of 8 dental veneers costs $3,300 – $4,200 in Croatia.
For comparison's sake, in the US, you would pay $18,200 for the same treatment, and in the UK, you would pay around $7,600.
The clinics offer a reasonable price for veneers, as we mentioned in this article. For one veneer, you can expect to pay between $250 and $550. It is
70 – 90% cheaper than in the US
50 – 75% cheaper than in the UK