Is your upper jaw unfit for a regular implant? Do you need an implant, but it's too expensive in your country? Zygomatic Implants in India can be the right choice for you.
India is a promising country that provides dental implants at 60% of US prices.
Watch on YouTube: "ZYGOMATIC implants – How to place dental implants without bone "
Video Courtesy: Clínica Médico Dental Pardiñas
Why Choose India for Zygomatic Implants?
Quality dentistry at affordable costs makes zygomatic implants in India beneficial.
A few advantages of dental tourism in India are:
State-of-the-art technology
NABH accredited dental clinics
Internationally trained implantologists
Cost Of Zygomatic Implants in India
The cost of zygomatic implants in India is $350. However, the same costs around $25,000 in the USA.
You can save up to 90% with zygoma implants in India.
Here's a comparison table below:
Cost of Zygomatic implants (in $USD)
| | | |
| --- | --- | --- |
| Country | Cost | Savings |
| India | $350 | – |
| New Zealand | $24,400 | 80% |
| USA | $25,000 | 82% |
| Canada | $29,000 | 90% |
| Australia | $29,500 | 92% |
*Prices are subject to change.
The main reason anyone travels abroad for dental care is to save money.
Zygoma implants in India cost significantly less than in the US, with potential savings of 70-90%.
The reason for such a low cost is [1]
Low cost of services
Lower standard of living
For the highest quality & premium brand of implants
Contact us!
Best Clinics for Zygomatic Implants in India
Now you will be thinking, India is such a vast country.
How are you supposed to find the best clinic for your dental implant?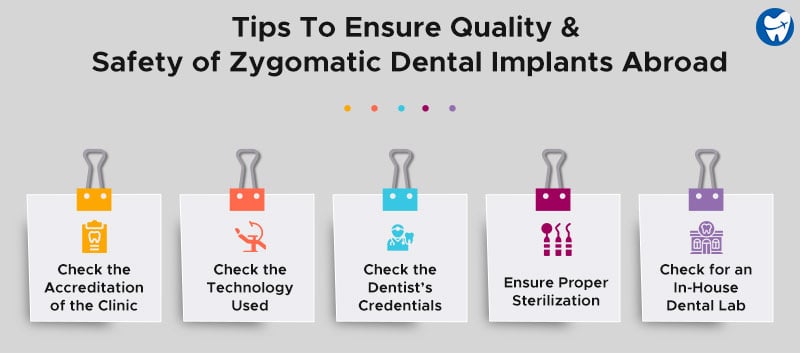 We are here to help you with this.
We have a widespread network of clinics all over India.
Best Dentists for Zygomatic Implants in India
---
Dr. Shashi Bhushan
8 Years of Experience
BDS, MDS
Expertise
Implants, All on 4/6/8, Crowns & Bridges, Dentures
Education
University of Bhopal, Madhya Pradesh
IOAMT and SMART Certified Biological Dentist
Internationally trained implant specialist in non-invasive surgeries
Dr. Balasubramanya K V
20 Years of Experience
BDS, MDS
Expertise
Implants, Gum Surgery, Cleaning
Education
Rajiv Gandhi University of Health Sciences
Member of IDA and ISP
Diploma & Master – Austria
KAVO dental Excellency- Biberach Germany
Dr. Gaurav Malik
20 Years of Experience
MDS, BDS
Expertise
Periodontics & Implantology
Education
Rajiv Gandhi University of Health Sciences
Fellowship in Oral Implantology
Advanced diploma from Miami Medical And Research Institute In Implant Dentistry, Portugal
Dr. Rohan Virani
10 Years of Experience
BDS, MDS
Expertise
Dental Implants
Education
Yerala Dental College and Hospital
Member of (ICOI)
Training in KOS Compression Screw Implant – Europe
Clinical Masters in Immediate Loading Dental Implants – Germany
Worried about consultation fees? It's FREE!
Book now!
What are Zygomatic Implants?
Zygomatic implants are an advanced version of dental implants to replace teeth in the upper jaw.
They are placed in the cheekbone, known as the Zygoma bone.
They reduce the need for bone-grafting procedures. [2]
These implants have been used since the 1990s. [3]
Zygomatic Implants in India
Are You a Candidate for Zygomatic Implants?
People with the following conditions can benefit from zygoma implants: [4]
Failed traditional implants
Bone loss in the upper jaw
Upper jaw with loose or missing teeth
Benefits of Getting Zygomatic Implants in India
Graftless procedure
Long-lasting support
Improved smile and oral hygiene
Fast healing and low maintenance
Source: Researchgate [5] NCBI [6]
A comparison between Zygoma and other implants
| | | | |
| --- | --- | --- | --- |
| Type | Zygomatic Implants | All on 4 | All on 6/8 |
| Procedure | Fixed hybrid denture is supported on 2-4 implants in the jaw bone [7] | A fixed hybrid denture is supported on 4 implants in the jaw bone [8] | 6/8 implants support a fixed bridge in the jaw bone [9] |
| Duration of treatment | 4-6 months [11] | 3-6 months [12] | 3-6 months [13] |
| Success Rate | High [14] | High [15] | High [16] |
Success Rate of Zygomatic Implants
Zygomatic implants with a success rate of 95-100% are more successful & long-lasting than traditional implants. [17]
There can be minor complications like sinusitis. [18]
How Does Zygomatic Implants Treatment in India Work?
Complications in the bone mass and volume of the jaws can make it challenging to opt for conventional implants.
That is when zygomatic implants come to the rescue.
Dentists perform a CBCT scan at the beginning of the implant procedure.
A zygomatic implant is anchored on each side of the upper jaw with additional 3-4 usual implants for support in the front. [19]
Dental Tourism in India
In addition to providing affordable dental treatments, India also offers excellent tourism opportunities.
India is a land of diverse cultures and traditions.
Watch on YouTube: "Incredible India Tourism Video"
Video Courtesy : Indian Globetrotting
Things To Do
New Delhi
Delhi is the capital city of India, home to many historical monuments.
The attractions include India Gate, Qutub Minar, the Lotus Temple, and many more.
Hyderabad
Hyderabad is full of art and architecture.
It is noted for its historical monuments – Golconda Fort, Chowmahalla Palace, and Ibrahim Bagh.
Bengaluru
Bengaluru is the capital and largest city of Karnataka.
Lal Bagh, Nandi Temple and Bangalore Palace are places worth visiting in Bengaluru.
Jaipur
Jaipur is the capital city of Rajasthan, also known as "The Pink City."
You can visit two UNESCO World Heritage Sites: Amer Fort and Hawa Mahal.
Chandigarh
Chandigarh is also known as "The City Beautiful."
The city is known for the beautiful Rock Garden, Sukhana Lake, and Rose Garden.
Rajkot
Rajkot is a town in Gujarat famous for its hand-made goods.
Places like Khambhalida Caves, RKC Quadrangle, and Ishwariya Lake are worth visiting here.
You can also visit local markets and try Indian cuisines.
Some famous Indian dishes are- Dal Batti Churma, Dhokla, Idli, Dosa and many more.
Local Market
Idli
Final Word
The alternative of zygomatic implants has entirely transformed the implant procedures for the jaws.
Zygomatic implants in India provide you with affordable treatment and a great vacation.
FAQs
Zygomatic implant treatment in India can be completed in 3-6 months, depending on your condition.
Patients of regular implants often complain of severe pain, requiring medication to address.
With zygomatic implants, pain and discomfort are severely reduced.
The doctors use world-renowned brands when it comes to zygomatic implant treatment in India: