Porcelain Teeth Veneers in Costa Rica
Veneers are expensive in the US and are mostly not covered by insurance. But, a bright and stunning smile does not have to cost a fortune. The solution? Porcelain veneers in Costa Rica!
Curious to know more? This article will explore the ins and outs of getting veneers in Costa Rica!
Costa Rica is their favorite place for dental care with Dentavacation!
Cost of Porcelain Teeth Veneers in Costa Rica
The cost of porcelain veneers in Costa Rica is $450 per unit, while the same costs $2,500 per unit in the US. Thus, you can expect around 80% savings!
The following table compares the price of porcelain veneers in Costa Rica and the US.
| | | |
| --- | --- | --- |
| Procedure | US | Costa Rica |
| Porcelain veneer (per unit) | $2,500 | $450 |
| Porcelain veneer (per set) | $30,000 | $5,400 |
*Prices may vary as per case complexity.
Some patients may fear lower cost means cheaper quality, but this could not be far from the truth.
The cost of living in Costa Rica is 38% cheaper compared to the US! [1]
As Costa Rica has a lower cost of living, most things are cheaper in the country.
This allows them to offer more affordable prices for the same quality of dental services.
Cost is a significant pull factor in Costa Rica. Keep reading to find out the other reasons that make Costa Rica an excellent choice for veneers.
Why Choose Porcelain Teeth Veneers in Costa Rica?
There are many advantages when you choose to get porcelain teeth veneers in Costa Rica. They are:
1. High-Quality Dental Services
Five Star Dentistry
Our partner dental clinics in Costa Rica use state-of-the-art technology, such as advanced dental 3D imaging and

CEREC

They have an excellent sterilization protocol. Some even have an on-site lab for veneers.
Excellent Dentists
A team of well-qualified and highly-experienced cosmetic dentists staff our partner dental clinics in Costa Rica.
Our dentists are known to provide absolute patient satisfaction and the highest standards of dental service.
2. Travel Convenience
The main airport in Costa Rica, the Juan Santamaría International Airport (Code: SJO), receives hundreds of direct flights from major US cities. [2]
Some of our partner clinics offer ground transfers from airport-clinic-hotel to ensure a hassle-free commute in Costa Rica.
3. No Language Barrier
The dental staff of our partner clinics speaks English fluently, so you won't have to worry about any communication barriers.
4. Popular Tourist Destination
You can couple your dental visit with exciting tourism activities and adventures in Costa Rica.
It is a popular destination with beautiful beaches in Caribbean Sea and Pacific Ocean.
Explore the massive rainforests and mighty rivers.
Enjoy kayaking, hiking, horseback riding, or exploring diverse wildlife.
Beach in Costa Rica
Now that you are assured that Costa Rica is the best choice for your dental woes, let us help you pick the best dental clinic here.
Best Dental Clinic in Costa Rica
We at Dentavaction follow strict guidelines in choosing the top dental clinics for you.
Based on our research, here's a list of the best cosmetic dental clinics in Costa Rica that offer a wide array of dental services.
These dental clinics in Costa Rica employ some of the top dentists who specialize in veneers. Read on to know more about them.
Best Dentists in Costa Rica
---
Dr. Simon Flikier
20+ Years of Experience
DDS
Expertise
Implants, Crowns, Veneers
Education
University Veritas San Jose,
Member of the American College of Prosthodontics
Associate Fellowship World Clinical Laser Institute
Member of Costa Rica's Prosthodontist Association
Registered as Specialist in Prosthodontics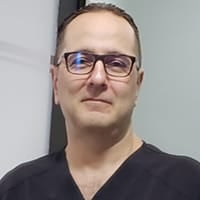 Dr. Juan Donato
16 Years of Experience
DDS
Expertise
Dental Implants
Education
ULACIT
Dental Implantologist Specialist
Costa Rica DDS Board Certified
Dr. Eduardo Elías Gazel
8 Years of Experience
DDS
Expertise
Implants, Gum problems
Education
University Of Costa Rica
Research experience - Prevalence of peri-implant diseases in patients treated at the Faculty of Dentistry of the Pontificia Universidad Javeriana
Language spoken : Spanish, English
Dr. Mario Bonilla
16 Years of Experience
Expertise
Dental Implants
Education
DDS, Endodontics Course
Dental implants training from the US
Endodontist course - USP, Brazil - 1995
DDS - Faculty of Dentistry, UNIP, Brazil - 1993
Member of ADA, AAID & ICOI
Dr. Ricardo Lopez
10 Years of Experience
DDS
Expertise
Digital Smile Design (DSD)
Education
Universidad Latina De Costa Rica
Surgical Implant Dentistry Level 1 By Zimmer Biomet
Fellowship In Implant Dentistry From University Of Miami & The [abbreviation short="ICOI" long="International Congress Of Oral Implantologists"]
Member of [abbreviation short="GIDE" long="Gide Institute"]
Member of the [abbreviation short="CCDCR" long="Costa Rica Dental Association Colegio De Cirujanos Dentistas De Costa Rica"]
Want a FREE consultation? Look no further!
Book now
What are Porcelain Veneers?
Porcelain veneers are thin, customized shells made to cover the surface of your front teeth to enhance their aesthetics. [3]
Other types of veneers include ceramic veneers, composite veneers, and lumineers.
Porcelain veneers can change the size, shape, and appearance of your teeth.
Porcelain Veneers in Costa Rica
They fix various dental problems, like: [4]
Discolored teeth
Mildly chipped or broken teeth
Misaligned or worn out teeth
Gaps between teeth
 A Complete Guide to Veneers
Procedure for Porcelain Veneers in Costa Rica
You will make around three trips to your dentist in Costa Rica to complete your porcelain veneer procedure.
The procedure typically encompasses the following steps: [5]
---
Consultation & Planning
Your dentist will examine your teeth. You may need X-rays or molds of your teeth made.
This is to determine if porcelain veneers suit you. Then, a personalized treatment plan is made.
---
Preparing Veneers
Your dentist will reshape the tooth and trim off a little enamel. They will make a model or impression of your teeth.
It  is then sent to the dental lab. The lab synthesizes the veneers.
---
Dental Bonding
Your dentist will cement the veneer into place.
They'll make adjustments if needed to ensure it blends naturally with your teeth.
---
 Dental Veneers Procedure in a Nutshell
Eligibility for Porcelain Veneers in Costa Rica
You may be a good candidate for porcelain veneers if you have discolored, chipped, or fractured teeth.
Your dentist in Costa Rica will examine your teeth and perform tests to ensure this procedure is right for you.
However, this procedure is not recommended if you have any of the following: [6]
Teeth grinding or clenching
Poor oral hygiene or dental caries
Severely overcrowded or misaligned teeth
Insufficient enamel for bonding
A fractured tooth with more than one-third of it missing
Dental Tourism in Costa Rica: Travel Tips
For most people in America, Costa Rica is relatively a short plane ride away, but the feel and the experience are worlds away from the bustling cities they come from.
Costa Rica is known for its wealth of natural beauty, with amazing beaches and rainforests that tourists like to visit.

Waterfall in Costa Rica
Here are a few things worth considering as you plan your trip:
The best time to visit Costa Rica is between December and April when the weather is at its driest and brightest. [7]
There are many direct and connecting flights from the US to Costa Rica. Flights may take around 4-7 hours, depending on where you fly from. [8]
US nationals do not require a visa. However, you will need a valid passport as well as a return ticket within 90 days. [9]
Coordinate with a dental tourism agency. Dentavacation can help you pick the right clinic for your needs. You may contact us for any help you need on this front.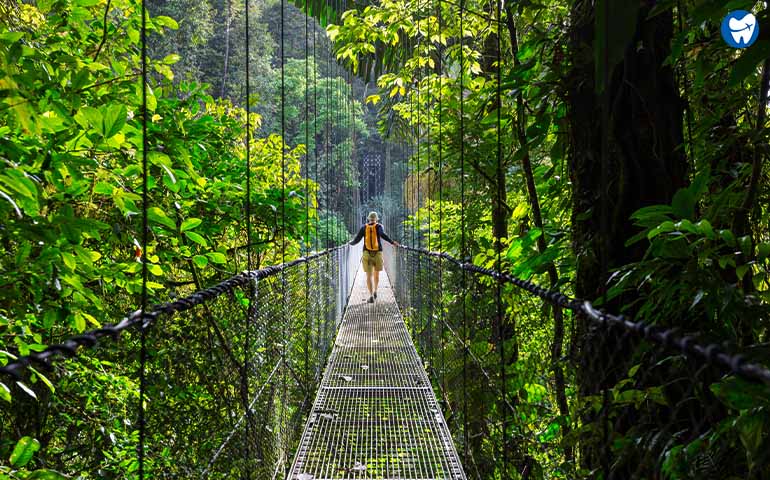 Hike in Costa Rica
While in Costa Rica, exercise general caution as a dental tourist. Stay away from dangerous areas and do not carry large sums of money while you travel.
You can contact the US Embassy in Costa Rica at (506) 2519-2000 should you need assistance. You can also make an online appointment before your visit. [10]
Costa Rica Veneers Reviews
Listen to what our happy patients say about getting veneers in Costa Rica!
Arlenee Grabowski on Veneers in Playa Del Coco, Costa Rica
Love this place! Dr. Flikier and Dr. Navarro are fantastic!
Great experience! The team is super professional.
Conclusion
Say you're keen on improving your smile for less money. In that case, getting porcelain teeth veneers in Costa Rica is an excellent choice.
And you can be rest assured that the quality of dental work in this Central American country meets rigorous international standards.
If you have any queries about getting porcelain veneers in Costa Rica, feel free to contact us. We're happy to address your concerns!
FAQs
Generally, the cost of porcelain veneers in Costa Rica is around $450 per unit.
This is much cheaper than porcelain veneers in the US, which cost around $2,500 per unit. You can expect to save around 80%!
You will need around 3-11 days in Costa Rica to get dental veneers.
During this time, you'll make about three visits to your dentist, including the initial consultation.
The preparation of your permanent dental veneers can take up to 1-2 weeks. But some of our partner clinics have an on-site dental lab that prioritizes international patients.
Costa Rica is a great destination for affordable porcelain veneers that match the quality found in the US and Canada.
You can get treated by well-qualified dentists while enjoying a scenic vacation at only 20% of US costs.