Getting orthodontic treatment might not be enough when suffering from a jaw bone deformity. In such cases, orthognathic surgery is the only solution. However, in the US and Canada, the sky-high cost can make it unaffordable. Worry not! Orthognathic surgery in Tijuana can be the answer to all your woes!
What are the benefits? Why should I even get it? Is it risky? Can I trust the dentists in Tijuana?
If you have all these questions, read ahead and we will give you all the answers.
Watch on YouTube: "JAW SURGERY PROCEDURES THAT GIVE PEOPLE A NEW SMILE"
Jaw Surgery Procedures. Video Courtesy: Now I've Seen Everything
Skeletal deformities, i.e., jaw bone structure problems, can lead to a lot of physical and emotional distress. On top of that, the high cost disappoints you even more.
Luckily, corrective jaw surgery in Tijuana, Mexico, comes at a fraction of the cost.
What is Orthognathic Surgery?
Before moving on, it is essential to know what the term "Orthognathic" means. "Ortho" means "Bones," and "Gnathic" means "related to the jaws."
In simple terms, orthognathic surgery corrects severely misaligned or deformed jawbones.
It involves repositioning the upper, lower, or both jaws.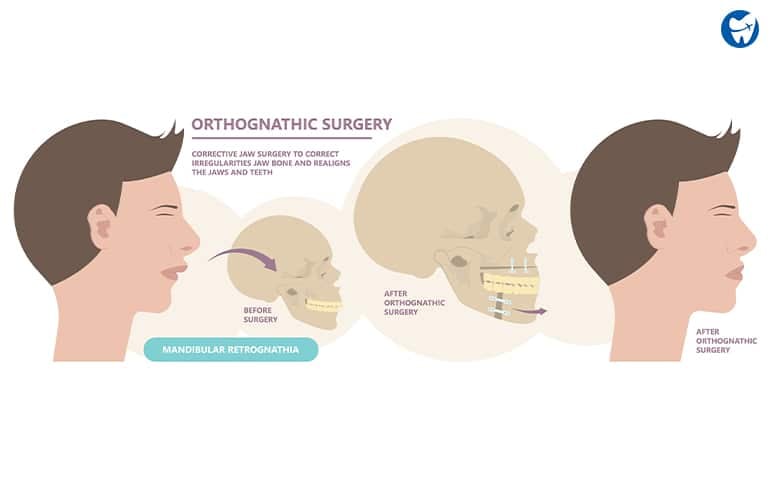 Corrective Jaw Surgery
It helps correct facial deformities such as an overbite, open bite, underbite, weak chin, cleft palate (split in the roof of the mouth), and gummy smiles.
Is Orthognathic Surgery an Option for Me?
Facial deformities (asymmetry) and jaw irregularities may cause malocclusion (misalignment of teeth). [1]
The candidates for corrective jaw surgery have the following symptoms: [2]
Birth defects (Cleft lip/palate)
Receding or protruding chin/jaw
Gummy smile
Facial injury
Trouble chewing & swallowing
TMJ disorders
Excessive wear of the teeth
Chronic mouth breathing
Compromised dental & facial appearance can lead to inability to chew food, jaw muscle and joint problems, speech difficulties, and bad oral hygiene.
This ultimately lessens the quality of life and lowers your self-esteem.
But how do you know if the problems arise from your mal-aligned teeth or the jaw? Your orthodontist takes that call after a thorough examination.
He will assess your history, x-rays, and present records.
In case of severe skeletal problems, he will refer you to an oral & maxillofacial surgeon for the surgery.
Why Choose Corrective Jaw Surgery in Tijuana?
You can overcome the above-listed problems at a fraction of US prices with Orthognathic Surgery in Tijuana, Mexico.
Here are some of the reasons why you should choose Tijuana:
Skilled Doctors | Internationally Trained & Experienced
Our OMF surgeons are certified and have extensive experience with dentofacial problems. They also speak fluent English.
Affordable Cost | 65-70% Savings
Compared to the United States, the lower cost of living in Mexico results in considerable savings. [3]
Dedicated Patient Coordinator | Assistance at Every Step
Our case manager will fully coordinate your arrival, accommodation, appointments, and transportation.
Benefits of jaw surgery in Tijuana
A Perfect Holiday Destination | Relax & Unwind Post Treatment
The Mexican border city is famous for its multifaceted and vibrant culture.
Avenida Revolucion and Centro Cultural Tijuana are worth a visit.
You can also head towards the beautiful city of Rosarito for its lovely beaches.
Multiple Payment Options Accepted | Hassle-Free Payment
We accept cash or cashier's check, credit cards, bank transfers, and PayPal.
Free Pick-up and Drop-off | Safe Transport
Ground transfers are complimentary (on select packages only). Moreover, our facility is 45 minutes from the San Diego airport (SAN).
Jaw Surgery Cost in Tijuana, Mexico
Deciding to undergo orthognathic surgery in Tijuana, Mexico saves you a minimum of 65% when comparing the cost of the procedure in the US and Canada.
To illustrate, single jaw surgery costs in Canada without insurance are between $18,000 and $36,000. In the US, jaw surgery ranges from $20,000 to $50,000. [4]
In our recommended clinic in Tijuana, the price is as low as $10,300.
Jaw Surgery Cost Comparison (USD) – Tijuana, Mexico vs. US vs. Canada
| | | | |
| --- | --- | --- | --- |
| Orthognathic Surgery | Tijuana | US | Canada |
| Single Jaw | $10,300 | $20,000 – $40,000 | $18,000 – $36,000 |
| Double Jaw | $11,700 | $53,000 | $47,700 |
| Triple Jaw | $13,300 | $56,000 | $50,000 |
*prices may vary with the complexity of a case
Package Inclusions
Apart from FREE cleaning, our Jaw Correction Surgery Package* cost includes:
✅ Clinic fees
✅ Surgeon charges
✅ Anesthesia fees
✅ 1-night hotel stay post-op
✅ Destination manager for trip assistance
*Terms and conditions apply
DentaVacation offers a wide range of services which includes:
Travel document assistance
Fixing appointments with doctors
Arranging hotel accommodation
Airport pickup & drop-off
Top Dental Clinics in Tijuana, Mexico
With over 150 dental clinics in Tijuana, the selection process can be stressful.
We've cut through the noise and boiled it down to Smile Builders dental clinic for the following reasons:
Av. Revolución 993, Zona Centro, 22000 Tijuana, B.C., Mexico
Advanced technology
Diversified dental team with different specialties
Use of leading implant brands
Flexible payment options
Multilingual staff
5-25 years treatment warranty*
International standards of sterilization
Special deals with local hotels
Best Dentists in Tijuana, Mexico
In 2017, there were 1.37 dentists per 10,000 residents in Mexico. [5]
The number of oral and maxillofacial surgeons is far less than that, given the long years of education required to achieve such status — a minimum of eight years.
---
Dr. Juan Manuel Olivar
8 Years of Experience
DDS
Expertise
Implants, All on 4/6/8, Oral Surgery
Education
Autonomous University of Baja California
Expert in Orthognathic surgery, TMJ dysfunction, facial aesthetics.
Dental degree from The University of Zulia, Venezuela
Specialized in oral and maxillofacial surgery, UNAM
Certified by the Mexican Council of Oral and Maxillofacial Surgery.
Maxillofacial Surgery Clinic in Tijuana Reviews
My dental issues began at knocking out my front permanent teeth. Smile Builders gave me more confidence with my smile.
Oof, what isn't there positive to say about these guys? From the front office to the techs and the dentists–everyone is wonderful.
Types of Corrective Jaw Surgery
Now that you have a basic idea of what the surgery is and who can be a candidate, let's find out how many types there are:
---
Also called Maxillary Osteotomy – in relation to the maxilla (upper jaw).
You may need it if you suffer from one (or more) of the following symptoms: [6]
Severely protruded/receding upper jaw
Crossbite/overbite/open bite
Midfacial hypoplasia — where your upper jaw, cheekbones, and eye sockets are smaller than the rest of your facial features.
---
Also called Mandibular Osteotomy – in relation to the mandible (lower jaw).
It's prescribed when you have a severely protruding or receding lower jaw. [7]
---
Also called Bimaxillary Osteotomy – it involves both jaws.
This procedure can correct jaw size and position, balance facial features, improve jaw function, treat sleep apnea, and relieve facial pain. [8]
---
Also called Genioplasty. When performed with double jaw surgery, it is known as Triple Jaw Surgery.
The procedure is performed on a receding chin to improve facial symmetry. [9]
It's widely considered a cosmetic procedure.
---
Orthognathic Surgery Process
Surgery-First Method
The surgery-first method reduces the exhaustive conventional orthognathic surgery.
The procedure duration can be significantly shortened [10]  from the regular 3 – 4 years. [11] Further advantages include: [12]
Rapidly addressing your facial deformities
No additional complications than the conventional method
Will Orthognathic Surgery Improve My Speech?
Yes, orthognathic surgery will improve your speech. [13]
Misaligned teeth and jaws impact speech quality (a lisp, for example) [14] since certain sounds require proper positioning of the teeth and jaws to be produced.
Source: Evaluation of Patients' Satisfaction after Class III Orthognathic Surgery. J Clin Diagn Res. 2015 Oct; 9(10)
When Can I Return to My Routine?
It's advised to take 2 – 3 weeks of rest before going back to school or work. However, initial jaw healing starts six weeks post-surgery. [15]
The Procedure of Jaw Correction Surgery
---
Our Oral and Maxillofacial Surgeon suggests sending the following for evaluation:
Anterior or posterior x-rays
Lateral x-rays
Panoramic x-rays
---
Teeth are aligned using braces.
The time of treatment varies from 15 – 24 months. [16]
Cavities are removed (if any).
Complete physical examination is undertaken, and medical history is reviewed.
Braces
---
Orthognathic surgery is performed under general anesthesia.
Titanium screws are used to secure the jaw to its correct position.
Blood samples are taken to ensure everything is fine.
---
Braces are put on for 7 – 12 months. [17]
Retainers are used to stabilize the bite after braces removal.
Teeth alignment takes place with a new jaw position.
---
Our experts are just a click away if you need any help post-surgery. You can get in touch with them via email or phone.
Post-Surgery Care
Your oral structure is sensitive post-surgery and requires special care. Here's a list of things to do to ensure a smooth recovery: [18]
Antibiotics will be prescribed to manage pain.
It is normal to feel some discomfort for the first 2 weeks.
Swelling will diminish after 3 weeks
Keep yourself hydrated
Make sure you get plenty of sleep
Post-surgery Self-Care for Orthognathic surgery
Watch on YouTube: "Precuation after Orthognathic Surgery "
Video Courtesy: ID Hospital Korea
It takes about 6 – 8 weeks for the bones to heal fully.
Hence, regular follow-ups with your surgeon are recommended for reviewing your healing process.
Precaution after Orthognathic Surgery
---
Jaw correction surgery limits your diet as the ability to open the mouth becomes restricted.
Initially, you may have difficulty opening your mouth, and simple functions such as chewing and smiling may be hard.
A liquid and pureed diet are needed during this period.
Once you can chew and drink, you may progress to a soft diet (foods that are easy to digest and don't require much chewing).
Our expert oral and maxillofacial surgeon suggests having liquids and staying hydrated during the recovery phase of the surgery.
| | | |
| --- | --- | --- |
| Week 1-3 | Week 4-6 | Week 6 Onwards |
| Liquid Diet | Non-Chew Diet | Soft-Chew Diet |
| Fruit milkshakes | Mashed banana | Mashed potato in milk |
| Thin soups | Pureed fruits, veggies | Well-cooked veggies |
| Yogurt diluted with milk | Porridge or cereals | Cheese |
| Water | Rice pudding | Risotto |
| Broth | Custard | Soft fish in gravy |
---
You may lose some weight because of your limited food intake.
Don't forget to include essential nutrients for the proper functioning of the body.
Boost your protein intake and add a variety of the following to your diet:
| | | |
| --- | --- | --- |
| Protein & Fats | Carbohydrates | Vitamins & Minerals |
| Chicken | Whole Grains | Fruits |
| Fish | Pasta | Veggies |
| Milk | Whole wheat Bread | Legumes |
| Cheese | Potatoes | Seeds (in a blender) |
| Yogurt | Green peas | Avocado |
| Soy Products (Tofu) | Chickpeas | Olives |
| Eggs | Lentils | Supplements |
---
Orthognathic Surgery Risks
Jaw surgery is usually safe. [19] Yet, there may be unfortunate complications like any other medical procedure.
Your risk of complications increases if you undergo surgery for aesthetic reasons instead of functional ones. [20]
Your dentist will inform you about them, but here's a list for your knowledge:
Source: Complications associated with orthognathic surgery. J Korean Assoc Oral Maxillofac Surg.2017 Feb; 43(1): 3–15.
To minimize these risks, it's of paramount importance that you choose a reputable clinic and a highly qualified doctor, such as the ones we recommend.
How Can I Reach Tijuana, Mexico?
While Tijuana is about 20 minutes from the San Diego airport (SAN), our dental office is 45 minutes. You can get there by:
Flying
Tijuana is easily accessible via San Diego International Airport (IATA: SAN).
Upon arrival at the airport, you can reach the San Ysidro Port of Entry from there.
San Ysidro Port of Entry is open 24*7.
Phone: (619) 690-8800
Driving
If you prefer driving into Mexico:
It is mandatory to obtain Mexican Insurance.
You can purchase it before crossing the border or online.
Travel Tips
If you're a US/Canadian citizen, check if your phone plan has free data roaming in Mexico. If not, get a Telcel sim card from the airport.
To avoid scams, use Uber instead of taxis. Better yet, take the bus.
Decline invitations to house parties and ignore locals asking for your help.
Lastly, practice common sense.
Conclusion
Trusting your doctor and applying his recommendations will yield the best, quickest, and safest results for orthognathic surgery,
If you get it done in Tijuana, you benefit from massive savings, quality dental care, and a vacation to top it all off.
FAQs
Jaw surgery in Mexico costs between $10,300 and $13,300. It's a bargain when compared to the US and Canadian prices.
The cost will depend on the type of surgery you're getting: single, double, or triple jaw surgery.
Yes and no. Corrective jaw surgery is worth it for individuals with functional jaw issues, such as chewing food properly.
It is not recommended if you're thinking about having the procedure done for aesthetic purposes.
Often, orthognathic surgery is a permanent fix, but it's not a counter-strategy to aging. [21]
However, complications may arise.
Those need to be addressed immediately to minimize the damage & correct the procedure — likely with another surgery.
Be careful to apply your doctor's instructions to the letter.
Orthognathic surgery in Tijuana, Mexico, costs around $10,300.
In comparison, the jaw surgery cost without insurance is between $20,000-$50,000 in the US and $18,000-$36,000 in Canada.
Bear in mind the final price is case-dependent; the more severe your situation, the higher the cost.
Yes, Tijuana dental clinic provides monthly payment options to orthognathic surgery patients.
Option 1: 1st payment $1790, 2nd payment $630, then monthly $165
Option 2: First 3 payments $807, then monthly $165
Regarding jaw surgery overseas, there are plenty of options.
A few factors make an impact when choosing your destination, the most important ones being: quality and affordability.
Based on those primary factors, the best countries for OMF surgery are Mexico, India, Turkey, Costa Rica, and Thailand.
Your dental insurance plan may partially cover the cost of your jaw surgery under the following condition:
"The procedure is deemed necessary to correct functional oral issues."
In other words, your insurance will not cover the surgery if it's done for aesthetic purposes because it'll be considered a cosmetic procedure. [22]
Jaw surgery costs without insurance can be astronomical if you plan to get it in the US or Canada.
We can arrange sleep dentistry for those who fear dental procedures.