Croatia Travel Guide: Tips You Need For a Great Trip
Croatia is one of the fastest-rising travel destinations. There are multiple reasons for that, including the beautiful coast, the national parks, and the majestic historical architecture.
Our Croatia travel guide will provide you with all the necessary information for a trip to this gorgeous country.
Croatia
This Mediterranean jewel has plenty to offer. We will make sure that you are well prepared and don't miss anything.
Read on to discover all about this seaside paradise.
Why Travel to Croatia?
Croatia is becoming an increasingly popular destination for many tourists. Yet, there are still those that wonder what it has to offer.
The country has a specific appeal, and it is a unique part of Central Europe. It is often compared to the French Riviera. [1]
More than a thousand islands and many coasts to explore awaits in Croatia.
The unique cuisine and historical monuments are also something you won't want to miss.
You can start the day by enjoying the beaches. After lunch, you can explore the cities. Finally, you can hit up some restaurants or clubs in the evening.
The country is rich in history as well. Many other countries ruled it throughout the past. You can expect to find Roman, Venetian, Byzantine, Habsburg, and communist influences.
Of course, the coast is the main reason why most travel here. Usually, they go to Dalmatia, but you can also visit Istria, Plitvice Lakes, the Kvarner Gulf, and many more locations.
Why Travel To Croatia
Popular Tourist Attractions in Croatia
As you already may have guessed, this country is filled to the brim with gorgeous sights and fun activities.
We will start our Croatia travel guide with some of the most iconic things to do and see.
First off, let's take a look at some of the attractions you wouldn't want to miss:
Diocletian's Palace in Split
Split is the second-largest city in Croatia. It is located on the coastline in Dalmatia, and this palace was built by the Roman emperor Diocletian in AD 305.
Roman Churches in Zadar
Zadar is another coastline city. In its center, you will find the Old Town, filled with ancient Romanesque churches, including the Church of St. Donatus and St. Mary.
Trogir
This small town is located between Zadar and Split, and it has a rich history dating back to 380 BC. Some notable architecture includes Cipiko Palace, Trogir Cathedral, and St. Peter Church.
The Old Town Walls in Dubrovnik
A UNESCO World Heritage site and the place where Game of Thrones was filmed, these medieval walls have fortresses, towers, and cannons you can see while walking.
Plitvice Lakes National Park
One of the most famous attractions in Croatia, this National Park encompasses 16 gorgeous lakes connected by waterfalls. You may even see some wild animals.
Those are our leading picks, but we recommend plenty of other places in our travel guide.
Some of them include visiting Zagreb, the capital of Croatia, Hvar town, sailing around the National Park Kornati, visiting the Zlatni Rat Beach, the Mljet National Park, or the city of Korčula.
When is the Best Time To Visit Croatia?
There are three main periods throughout the year when you can visit a country. [2]
These periods are often referred to as the low, shoulder, and high seasons. The three periods to think about are:
November through April
It is considered the low season when there are few tourists, and the weather is colder. Still, if you travel there in March or April, you can enjoy most of the things the country has to offer.
May to Mid-June
Mid-September through October is considered the shoulder season, and it is perhaps the best time to visit this country. Everything is open, everyone is receiving guests, and the weather is perfect.
Mid-June to Mid-September
It is the high season and when most tourists come storming into the country. This period can be significant for younger folks that love festivals and parties.
So, in conclusion, we'd have to say that the best times to visit Croatia are June and September, during the shoulder season.
You will experience everything you would during the peak tourist months, but without any hassle of the summer.
Looking for a Place To Stay?
Every one of the coastline cities will offer plenty of places to stay. We can recommend several that we believe provide an excellent service.
These are located in cities right near the coastline, making it easy for you to take a trip towards the north or south.
Hotels in Croatia
Tips for Those on a Budget
For those on a budget and looking through our Croatia travel guide, the best choice would be to find an apartment. You can always check on Booking.com, VRBO, or Airbnb.
Apartment rentals are generally cheaper than hotels, so they can be a great affordable option.
What Are the Best Ways of Getting Around Croatia?
Your best option when traveling around Croatia is to rent a car. With a car, you will be able to get anywhere in a matter of hours, sometimes even minutes.
You can travel through the entire country by car, and it can become quite an adventure.
Don't worry about the driver's license. If you have a valid one from your home country, it will do just fine in Croatia. You will only need an international driver's license if your national driver's license is not in Latin letters. [3]
People in Croatia drive on the right-hand side, and all the standard road rules that apply to the rest of the world apply here.
If you decide to rent a car, you will probably be wondering about the parking as well. Here is a table with parking prices in some of the most popular destinations:
| | | | | | |
| --- | --- | --- | --- | --- | --- |
| City | Parking zone 1 | Parking zone 2 | Parking zone 3 | Parking zone 4 | Parking zone 0 |
| Split | 0.80 € | 0.67 € | 0.67 € | 0.40 € | n/a |
| Zadar | 1.60 € | 1.33 € | 0.40 € | 0.27 € | n/a |
| Dubrovnik | 1.33 € | 6.67 € | 1.33 € | n/a | 10 € |
*Prices are per hour
Remember that these are the summer parking prices, which usually apply from May until October. For the rest of the year, the prices are a bit cheaper.
Bus- You can use the bus. Croatia is well connected by buses, and you can buy tickets online.
Ferry- Those that plan to visit the islands should look into ferries. The main ports are Zadar, Split, and Rijeka.
Train- Traveling around Croatia by train is quite limited. You can cross that way between certain cities like Zagreb and Split.
Taxi- If you aren't renting a car, another option is a taxi. But they can get expensive. Uber is available, but the rates are high.
Tips for Senior Tourists
Rent a car for the best experience, since the buses can get crowded.
If you can't rent a car, going by bus will be the best and cheapest option (you can get a senior rate).
Take the ferry to visit the islands if possible; there are some great tourist spots that are not too crowded.
What About the Cuisine of Croatia?
We already mentioned a large number of attractions you should see that are all related to the culture of Croatia.
However, food is quite important in this country, and wherever you go, you will be able to find local, fresh meals.
People living in continental Croatia eat a lot of meat, while those living near the coast base their diet on fish and veggies.
It is a Mediterranean country so expect to find many Italian-inspired restaurants. Pizza is everywhere and easy to find, as are fish dishes and pasta.
High-quality meat is in abundance, and every restaurant offers a plethora of meat dishes.
Spicy food is not that popular in Croatia, especially in traditional cuisine.
To provide you with the best Croatia travel guide, here are some must-try dishes:
Black Risotto
Cevapi
Sarma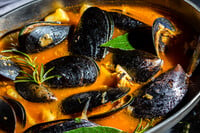 Buzara
Truffles
Soparnik
Brudet
Pasticada with gnocchi
Gregada
Don't Forget About the Nightlife and Entertainment!
During the summer, you can expect every bar to be open and full until late at night.
Most of the big cities on the coast have clubs you can go to for parties and depending on the time of your visit you might even manage to attend a festival.
The legal drinking age in Croatia is 18, [4] and some of the most popular alcoholic drinks are beer, wine, and whiskey.
Cafe bars serve all types of drinks, from coffee and tea during the day to alcohol.
Things to Do for Seniors
For seniors, the country is filled with restaurants open until 11 PM.
While enjoying your dinner, you can usually enjoy music played by a live band and stay for some extra drinks.
You can also visit a museum or simply walk around town since all of them are pretty lively during the summer.
Croatia Travel Advice
---
Although you can buy things to remember your trip, Croatia is not exactly a shopping destination.
Make sure to buy some souvenirs while you're there, at least one for each city.
Olive oils made in Croatia rank among the best in the world, [5] so be sure to buy a bottle or two.
There are a lot of open markets that sell fresh produce. You can try many local products simply by visiting one of the supermarkets.
The most popular ones are Konzum and Plodine. [6] Of course, there are others like Lidl and Kaufland.
---
When it comes to Croatia travel money tips, you need to remember that Croatia is not exactly a cheap country.
The accommodation cost can be pretty high, especially during peak season, and things like clothes are usually priced the same as in other countries.
However, food is generally cheaper, especially in restaurants.
Some good money-saving tips include:
Book your hotel as early as February.
Pay with local currency when using a credit card.
Find accommodation with free parking space nearby.
Don't visit during peak tourist season, since prices are higher then.
Try staying in one place longer to get a discount, and then visit other cities.
Don't take your car on the ferry when going on the islands; visit them on foot.
---
Where to Find the Best Restaurants
Each city along the coastline offers excellent food on basically every corner, so it is hard to pick the best ones.
However, we had to go and find our favorite choices for this travel guide, so here they are!
Restaurants in Croatia
Tips for Those on a Budget
Those on a budget might want to look into 'Marenda.' This is a complete meal served by many restaurants between 11 AM and 2 PM, and it consists of a full meal, albeit cheap and hearty.
It is made with fresh produce, and while it might not be exactly fine dining, it will satisfy your hunger in a tasty way.
When you want to save money, other places you can try are bakeries and pizzerias.
Bakeries make fresh, delicious pastry and bread every day, and almost all pizzerias offer tasty pizzas for a low price.
Other Important Travel Tips
Currency
Croatian currency is the kuna, and 1 euro equals around 7.5 kunas.
You can exchange currency in Croatia at a bank or an exchange bureau.
If you travel to Croatia from the UK, convert some money before leaving.
Travel
The easiest way to get to Croatia is by plane, as the country has five international airports in Zagreb, Pula, Zadar, Split, and Dubrovnik.
Do I need a visa to travel to Croatia?
For visitors from the EU countries, the UK, the USA, Australia, Canada, and New Zealand, a visa is not required if they remain in Croatia for up to 90 days inside of a 180-day period. [7]
Citizens of EU countries can even enter Croatia by using their ID cards. [8] People from other countries will need to use a valid passport.
If you hold a valid Schengen visa or a visa for Cyprus, Romania, and Bulgaria, you can use those to travel to Croatia. [9]
If you need to apply for a visa for Croatia, you can do so at this link.
To apply for a visa, you will need a passport issued in the last 10 years and whose expiry date is at least three months after the start of your trip.
Can I travel to Croatia from the UK?
Yes, of course, you can travel directly to Croatia from the UK; you will just need a passport with at least three months of validity from the planned return date.
Croatia has airports in several cities, including Zadar, Split, and Zagreb.
Flying Time from London International Airport (LHR) To Croatian Airports
| | | |
| --- | --- | --- |
| City | Duration | Stops |
| Zagreb (ZAG) | 2h 15min | No Stops |
| Zadar (ZAD) | 2h 20min | No Stops |
| Dubrovnik (DBV) | 2h 50min | No Stops |
| Split (SPU) | 4h 5min | Zagreb (1h 50min) |
| Pula (PUY) | 5h 45min | Zagreb (1h 45min) Zadar (25 min) |
Safety
Croatia is relatively safe, and European standards have a low crime rate, [10] so you don't have to worry too much about staying safe. Just use common sense.
Language
Croatian is the official language, but most people know English.
Adaptors
UK travelers should buy a continental adaptor for the wall sockets.
Temperature
Remember to wear sunscreen. It can get quite hot.
Conclusion
That's it; you've reached the end of our Croatia travel guide.
Hopefully, you've managed to find helpful information that will make your trip an absolute blast.
Croatia is a country of immense beauty. It would take thousands of paragraphs to name everything, so your exploration shouldn't stop here.
Still, we have provided a comprehensive guide to ensure that you experience all the relevant sights and activities.
We hope you will have fun exploring Croatia as we did writing this guide. Scratch that; we hope you will have even more fun. Enjoy!
FAQ's
There is no such requirement by the Croatia Interior Ministry, so it is up to you.
EU citizens should have no issues because their European Medical Insurance Card covers all their basic medical needs. [11]
People outside the EU should check with their embassies to see what level of medical care they are covered for.
While there is no official requirement yet, it is recommended that you are fully vaccinated against COVID-19 before taking the trip to Croatia.
Other vaccinations you should receive are hepatitis A, hepatitis B, and rabies.
Croatia is considered a high-risk country for rabies because there are a lot of animals you can run into, even in cities (stray dogs and cats, for example).
Yes, statistically speaking, Croatia is one of the safest countries to travel to. According to the crime and safety indexes, it is the 17th safest country in the world. [12]
Your only concerns should be petty thefts, but those can be easily avoided if you're careful.
You should spend at least seven to ten days visiting this country. It will allow you to visit most of the important places.
Go there for two weeks for a more relaxed trip that would allow you to enjoy each spot fully.
Croatia is more expensive than its neighboring countries, primarily because of the seaside and its tourist country.
Still, a lot of things are cheaper there, including the food at restaurants.
You will need a continental travel adapter, either Type C or Type F.
You can rent a car, travel by bus, or take a ferry to the islands.
Time to pack your bags and explore Croatia
Let's go!