With a boost in dental tourism in Thailand, it has become an attraction to a larger flock of people worldwide. Friendly natives along with a booming dental industry aptly justify its name-The Land of Smiles.
Dental Holiday in Thailand
According to the latest statistics gathered from Trading Economics," Tourist Arrivals in Thailand averaged nearly 1.5 million from 1997 until 2019", which makes it one of the top holiday destinations.
Why Choose Thailand for Your Dental Treatment?
Dental treatments in Thailand are around 60% cheaper than those in the West.
The quality of treatment is high with care and safety being the primary concern.
Dental clinics offer a wide variety of dental procedures with high tech equipment.
Internationally trained dentists.
The flora, fauna, climate with fine architecture makes it a place for a perfect holiday destination.
What Dental Treatments Do Thai Dentists Offer?
Thailand offers high-quality dental services and modern technology.
You can get dental treatments ranging from simple procedures like tooth fillings, tooth extraction, a root canal to more complicated procedures including dental implants, dental veneers, crowns, bridges and alignment of teeth.
Currently, the most popular treatment for dental tourists is procedures in cosmetic dentistry.
These include procedures like laser teeth whitening and porcelain veneers.
What Is the Cost of Dental Work in Thailand?
Dental work is about a third of the price in Thailand compared to Australia.
A full denture (upper or lower jaw) with a metal base in Australia will cost you $1,900. Whereas in Thailand, it will only cost $560.
The average cost of dental implants including the implant, abutment, and crown is $2,400 in Thailand.
The same procedure in Australia can cost you a whopping $6,000.
The most popular procedures like dental crowns and veneers cost $500 and $350 per tooth in Thailand.
Dental Treatment Prices Thailand (USD)*
| | | |
| --- | --- | --- |
| Dental Procedure | Thailand | Australia |
| All on 4 Dental implants | $9,400-10,000 | $13,650-25,000 |
| Dental Crown | $250-500 | $990-1300 |
| Dental Implants | $1,200 – 1,600 | $2,100-7,000 |
| Dental Veneer | $200-500 | $700 |
| Dental Fillings | $27 | $140-225 |
| Full Mouth Acrylic Dentures | $550-700 | $1,350-2,100 |
| Root Canal Treatment | $250-400 | $280-780 |
| Teeth Whitening | $150-250 | $570 |
| Tooth Extraction | $30-70 | $90-120 |
| Metal Braces |  $1,670- 1,940 | $ 1,400-6,400 |
*Prices are subject to change
Top Dentists in Thailand
The dentists in the country are highly qualified and well versed in their field.
Thailand has internationally trained dentists. Many of them have received training in the US, the UK or Australia.
A large number of them are known to have affiliation with international dental organizations.
Some of the dental healthcare professionals can speak and understand English. This eradicates any communication barrier.
---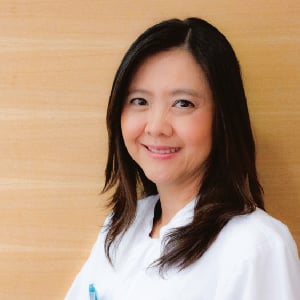 Dr. Sunisa Ratanaworabhan
23 Years of Experience
DDS
Expertise
Implants, All on 4/6/8
Education
Mahidol University
Certificate in Implant Dentistry, NYU, CE program
Diplomate, the International Congress of Oral Implantologists (ICOI)
Master's Course in Esthetic Implant Dentistry, CE program, School of Dental Medicine Bern
Dr. Wanwimol Kerdphon
41 Years of Experience
DDS Hons.
Expertise
Dentures, Crowns & Bridges, Implants, All on 4/6/8
Education
Chulalongkorn University
Highly skilled in prosthodontics
Graduated with a diploma in Clinical Sciences
Member of Dental Association of Thailand
Dr. Saranya Ranusawad
Years of Experience
DDS, MSc
Expertise
Dental Implants
Education
Mahidol University Bangkok
Highly skilled in prosthodontics
Master of Science in Dentistry, Major of Prosthodontics (International Program)
Member of Dental Association of Thailand
Dr. Chanchai
10 Years of Experience
DDS, MD
Expertise
Veneers
Education
Srinakharinwirot University, Bangkok
Resident training in Oral and Maxillofacial Surgery, University Hospital Freiburg, Freiburg, Germany
Doctorate to Doctor of Medicine (Dr.med), Albert-Ludwigs University, Freiburg, Germany
Member of Thai Board of Oral and Maxillofacial Surgery
Dr. Boonyanat Guensri
Years of Experience
DDS
Expertise
Dental Implants
Education
Chulalongkorn University
Specialized in oral and maxillofacial surgery and dentistry
Certified in implant dentistry
Associated with International Committee of Implant Dentistry
Member of Thai Board of Oral & Maxillofacial Surgery
Dr. Neeranart Thirasupa
5 Years of Experience
DDS (First Class Honors), M.Sc.
Expertise
Invisalign
Education
Prince of Songkla University
Highly skilled in orthodontics
Expert in Invisalign, Align technology Inc
Member of Thai Board of Orthodontics, The Royal College of Dental Surgeons of Thailand
Dr. Pattra Sumonsiri
Years of Experience
PhD
Expertise
Aligners, Braces
Education
Prince of Songkla University
Highly skilled in braces and aligners
National Association includes Chiang Mai University, Prince of Songkla University
Member of Dental Association of Thailand
Dr. Amphai
5 Years of Experience
DDS & MSc
Expertise
Operative Dentistry
Education
Chulalongkorn University, Bangkok
Highly skilled in periodontics and operative dentistry
Certificate in Operative Dentistry
Member of Dental Association of Thailand
Dr. Thamrong
10 Years of Experience
DDS
Expertise
Laser Dentistry
Education
Mahidol University, Thailand
Experienced in laser dentistry
Certificate in Laser Dentistry, World Federation for Laser Dentistry (WFLD)
Member of Dental Association of Thailand
Dr. Pavitra Waikasetkorn
Years of Experience
MSc
Expertise
Aligners, Braces
Education
Bangkokthonburi University
Experienced in restorative dentistry, orthodontics
Certification from University of Michigan, Ann Arbor, USA
Member of Dental Association of Thailand
Best Dental Clinics in Thailand
Thai dental clinics provide good quality high technology facilities. Digital panoramic x-ray, CT scanning equipment, 3D CAD/CAM and in-house laboratories are few of them.
Thailand was one of the first Asian countries to get JCI accreditation. It is a US-based healthcare initiative and is internationally recognized.
JCI accredited Dental clinics in Thailand include:
Bangkok International Dental Center
Sea Smile Dental Clinic
ISO certified dental clinics:
Bangkok International Dental Center
Sea Smile Dental Clinic
Cities like Chiang Mai, Phuket, Bangkok offers world-class dental care at a comparatively low cost.
What Are the Risks?
Australian Dental Association, ADA believes there are certain risks associated with Dental Tourism.
It takes the initiative to spread awareness.
Dentists abroad have to work according to dental tourists' limited timeframe. Therefore, it is necessary to ensure proper diagnosis and treatment plan.
You need to check that hospitals and clinic abide by the infection control standards.
Find out if the doctor in practice has the required qualification and is proficient in his/her field.
Sometimes aftercare services are neglected which can lead to complications.
We assure you with the best services keeping in mind the safety protocol.
Our doctors will provide you with proper and timely follow up once you are done with the treatment.
Usually, the standard health care plans don't cover for the care received out of your native country.
However, you can buy dental travel insurance for your treatment in Thai dental clinic.
How to Reach Thailand?
Suvarnabhumi Airport is the main airport located in Bangkok. It connects numerous countries with multiple flights daily.
The cheapest month to fly to Thailand is in November.
Transportation from airport to city center is easily accessible via taxis, tuk-tuks, and the "Sky Train".
Some clinics and hospitals provide with their shuttle services.
Online booking of flights is available.
Tourist Visa
Thai embassy states passport holders of 55 different countries do not require a visa to visit Thailand.
New Zealand, Australia, the US, the UK are amongst a few of them.
Depending on the duration of your dental work you can schedule your stay.
In case it requires more than 30 days, you can reschedule your appointment for a later date.
You will have to apply at the Thai Immigration Bureau for an extension of stay as well.
Flight From Australia to Thailand
Non-stop flight time from Bangkok to Sydney is around 9 hours 30 minutes.
The fastest one-stop flight between Bangkok and Sydney takes close to 12 hours.
What Is the Best Time for Dental Tourism Thailand?
Thailand offers a year-round tropical climate.
November to February are the colder months with the rainy season falling from July to October.
December is the coldest month with the average highest temperature of 26°C or 79°F.
April is the hottest month with the average temperature being 35°C or 95°F.
During the rainy season, you can notice a short afternoon downpour.
Depending on the region, the weather varies from cooler in the hills to hotter in the cities like Bangkok.
The beaches are sunny during the day and pleasant by night.
Where To Stay?
The options for accommodation are diverse. It ranges from affordably priced hotels to high-end luxurious hotels.
The hotels and restaurants in the tourist areas have friendly and hospitable staff.
Check for the security and safety in the hotel room. It is advised to keep your valuables like Passport, wallet in a lock.
Organize dental holidays in Thailand after full-fledged research on public holidays and national festivals. It becomes hard to look for accommodation and transportation during holidays like Songkran (Thai New Year).
Make bookings well in advance to avoid any hassle for your stay during your dental trip to Thailand.
What To Eat in Thailand?
Thai cuisine offers a variety of food to relish. The following are amongst the best foods to try in Thailand: –
Khao Soi (Thai curry noodles)
Green curry
Khao Phat (Thai fried rice)
Tom Yam (Thai soup)
Pad Thai (Thai noodle stir fry)
Restaurants and hotels in Thailand serve western cuisines from American club sandwiches and burgers to Indian food.
You can even spot the international fast food chains including McDonald's, KFC.
There are some restaurants that serve Australian family cuisine. They include:-
Bondi Aussie Bar & Grill in Phuket
The Australian Bar & BBQ
Drink from a sealed water bottle. Take precaution while eating street food.
Avoid areas prone to flies and mosquitoes to prevent food and water contamination.
Vaccinations
Centers for Disease Control and Prevention recommends travelers to get vaccinated against certain diseases before visiting Thailand.
Vaccination checklist for Thailand Tourism
Tropical Medical Bureau (TMB) states that the usual recommended vaccinations:
For most standard tourists include cover against: –
childhood diseases (Tetanus and Diphtheria, Measles, Mumps, and Rubella)
foodborne diseases of Typhoid and Hepatitis A.
For trekkers or the ones staying for more extended periods include cover against Hepatitis B and Rabies.
Mobile and Internet Access
Purchasing a Thailand tourist sim to stay connected with your friends and family is relatively easy.
You need to have a passport as identification when buying a sim card. There are three major suppliers in Thailand, that provide 3G coverage, namely:
Some 7Elevens also sell sim cards with a brand limitation.
Sim cards are available at Bangkok airport as well. However, they are pricey compared to the ones you can buy in the city.
Almost all shopping malls in Bangkok, Phuket, Chiang Mai, Krabi, and Koh Samui have mobile internet shops.
You can get data plans activated on the spot, at affordable prices. For example,
AIS Traveller SIM 599 THB (excl VAT) gives access to unlimited internet for 15 days, 6GB at MAX speed with 100 THB call credit. (Prices may vary).
Depending on your usage, you can choose between several connections in Thailand. You can opt for: –
Dial-up connection
Broadband ADSL connection
Wireless internet connection
You need to provide your passport, visa and a copy of work permit (if applicable) to a broadband provider.
Most Thai hotels and restaurants provide you with a Wi-Fi facility.
Internet cafés are famous in major cities in Thailand, generally charging approximately 0.5 to 3 Baht per minute.
Is It Safe To Travel to Thailand?
Thailand is safe whether you're strolling around the city or shopping in the market streets.
Violent incidents are usually a rare sight, although taking precautions is always a must. In case of an emergency, contact the Thai tourist police.
Precautions for Thailand Tourists
Nightlife
Though parties at a nightclub are too prevalent, you need to beware of party drugs.
Watch your drink and never leave it unattended.
Royal Thai Police is in power to conduct enforcement raids on bars and clubs where party drugs are suspected. Possession of any kind is illegal and punishable.
Don't let touts mislead you.
Register yourself with your Country's Foreign Affairs Departments for your overseas trip.
It is a free and voluntary service offered by your country to aid at the time of emergency.
Share your travel plans, to enable identification in case of any mishap.
Have a travel insurance policy to cover for any theft, loss and medical problems.
Places of Tourist Attraction
According to The U.S. News' 2017 Best Countries report, Thailand is ranked at 4th globally for adventure value and 7th for cultural heritage.
It has various places for recreation including beaches, parks, museums, waterfalls, malls, etc.
There are many sites that you can visit during your dental trip.
The iconic Thai architecture is worth paying a view.
The Grand Palace in the Old City in Bangkok is one such example.
The sandy beaches like Hau Hin are the best place to relax and rejuvenate.
Night markets and clubs make the nightlife more happening. They are significant points of tourist attraction.
Koh Kut, also known as Hideout Haven of the East is a nature lover's retreat.
Many leisure activities offered in the country make your stay enjoyable. Indulge in the world-famous Thai massage.
Choose Thailand for a refreshing experience coupled with better quality healthcare facilities.
What Payment Methods Are Accepted?
You can make payment and money transaction in Thailand via various modes including:
Cash in Thai baht which is easily exchangeable nearly everywhere
Visa
Mastercard
Credit/Debit cards
Conclusion
Ensure a delightful holiday paired with a cost-effective dental trip.
Book Thailand dental packages with DentaVacation to invest in better dental healthcare.
FAQ's
Standard Time of Thailand is 7 hours ahead of Greenwich Mean Time (GMT+7), which makes it 3 hours ahead of Australia.
The official language is Central Thai (Siamese). Very few people can speak and understand English.
You can rent rooms and dormitories for the desired duration of time. High standards of accommodation assure a comfortable stay.
Thai silk
Spa and aroma products
Coconut oil
Coconut palm sugar
Handmade bags
Home decor
No, instead of Uber you can book a ride using an app called Grab.
Communicate easily with the natives by learning their language. Know "Khop Khun" means thank you and " Sawaddee" is for hello in Thai.
Make traveling around in the city easy and affordable with Grab.
Stay connected with your friends and family using Line. You can send and receive messages, calls, photos, videos, documents, and Voice Messages.
It is a currency converter app. You can easily calculate and keep track of your expenses.
Use this app to navigate around the city without any hassle.