If you are looking for dental implants and you want to combine them with a luxurious vacation then getting dental implants in Dubai can be the perfect match!
However, if you're wondering about the quality of service, the type of implant to get, or which clinic to trust, keep reading.
We promise to answer all of your questions.
Watch on YouTube: "Aman Reviews his Dental Journey in Dubai"
In 2018, 337,011 medical tourists visited Dubai, [1] making up about 46% of the UAE's total medical tourists. [2]
Dental tourists come looking for a brand-new smile and show it off in their selfies while visiting the Burj Khalifa.
One of the most popular restorative procedures performed in Dubai is dental implants.
So, let's talk about getting dental implants in Dubai. Is it a good destination for you?
Why Choose Dental Implants in Dubai?
Here's why:
✅Experienced & Internationally Certified Implantologists
✅Luxurious Treatment
✅State-of-the-art Technology
✅Same day Implants Available
✅3D Guided Implant Surgery
✅Multilingual Staff
✅Deluxe Vacation Destination
How Much Do Dental Implants Cost in Dubai?
The dental implants price in Dubai is $2,315/€1,955 (including abutment), while it ranges between €2,800 – €4,250 in the UK.
Full-mouth dental implants in Dubai costs $12,250/€10,350 for on arch the same costs $25,000/€22,000 in the UK.
Check the following table for a cost comparison between dental implant cost in the US, the UK, Canada, and Dubai:
Average Cost of Dental Implants in Dubai
| | | | | |
| --- | --- | --- | --- | --- |
| Procedure | USA (USD) | Canada (USD) | UK (Euro) | Dubai (USD/Euro) |
| Single titanium dental implant (with abutment) | $5,000 | $4,600 | €2,800 | $2,315/€1,955 |
| All-on-4 dental implants (per arch) | $20,000 | $20,000 | €17,000 | $12,250/€10,350 |
| All-on-6 dental implants (per arch) | $24,000 | $20,000 | €17,000 | $16,340/€13,800 |
| Mini dental implants | $500 | $900 | €468 | $435 /€365 |
| Bone grafts | $200 | $300 | €235 | $460/€390 |
*Prices may change with the complexity of a case.
Top Clinics in Dubai
With the UAE government's endeavors to promote medical tourism, the quality of dental services has improved.
Most dental clinics are equipped with state-of-the-art technology and employ experienced dentists from all over the world.
The clinics we recommend are Dr. Michael's Dental Clinic & Shams Dental Clinic for several reasons:
Villa - 1016 Al Wasl Rd - Umm Suqeim 1 - Dubai - United Arab Emirates
Mon - Sun 8 AM to 8 PM, Sat - 8 AM to 6 PM
The clinic has been in business since 1997.
It has expanded thirty times over the past years, a testament to its efficacy and reliability.
Clinic Highlights
Multilingual staff
Free transportation for each appointment
An in-house laboratory equipped with the latest technology
One year warranty on most procedures (that is case dependent)
The clinic offers single trip implants (same-day implants)
Flexible payment methods: Cash, credit/debit cards, and bank transfers.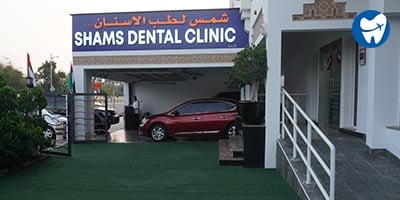 Villa VDN 17, Opposite old Dubai Zoo, Jumeirah 1, 5297
Mon - Sat 9 AM to 9 PM, Sun - 10 AM to 4 PM
Clinic highlights
A premium dental clinic in Dubai
Multiple branches - Jumeirah,  Marina, Al Warqa
Over 40 years of experience in treating local & international patients
World-class technology & professional services
Offer single-trip implants (same-day implants)
Offer free video consultations
Multilingual staff
Provide translation services
Follows the sterilization protocol set by the Dubai Health Authority (DHA)
Multiple payment options: cash, credit & debit cards & bank transfers.
Best Implant Dentists in Dubai
According to the Dubai Department of Health, dentists can only apply for a license to practice if they check the following requirements: [3]
Successfully achieved a one-year internship post-graduation
Valid and acclaimed dental specialty certificates that are part of the Dubai PQR (Professional Qualification Requirement).
To summarize, to become a general dentist in Dubai, an individual has to take one year of foundation studies, followed by five years of dentistry courses, topped with one year of clinical practice.
Specialization can add three years minimum of education to the dentist's experience and expertise.
Therefore, given the rigorous and well-structured dentistry education, dentists in Dubai are highly qualified to do their job.
Here are the dentists we recommend and why:
---
Dr. Obada Barry
14 Years of Experience
DDS, DMD
Expertise
Implants, All on 4/6/8, Oral Surgery
German Board-certified Oral Surgeon
Dual sub-specialty certifications in implantology and bone grafting
Member of International Team for Implantology
Member of Dental Association of Hesse, Germany
Dr. Anjum Inamdar
7 Years of Experience
BDS
Expertise
Dental implants, oral surgery, sinus life
Certified Dental Implantologist
Certified in Atraumatic Extractions
Specialised for Ortho extractions using Physics Forceps
Dr. Mauricio Gomes Taborda
18 Years of Experience
DDS
Expertise
Implants, All on 4/6/8, Gum Surgery
Education
UNIPLAC-DF in Brasília
Specialty degree in Periodontics program in implantology in ABO-DF in Brazil.
Member of International Team for Implantology
Member of Brazilian Dental Association
Member of Brazilian Periodontics Association
Dr. Nagender Chauhan
15 Years of Experience
MDS
Expertise
Implants, All on 4/6/8, Crowns & Bridges, Dentures, Veneers
Education
Himachal Pradesh University, India
Fellowship in Advanced Aesthetic Dentistry, Germany
Certified in Digital Smile Design & Facial Aesthetics
Certified in Porcelain Laminate Veneers
Certified in Advanced Laser Dentistry
Dr. Aristeidis Troulis
10 Years of Experience
DDS, M.Sc
Expertise
Implants, All on 4/6/8, Veneers
Education
University of Athens, School of Dentistry
Member of European Prosthodontic Association
Member of Saudi Commission of Health Specialties
Member of the Greek Society of Prosthodontics and the Dubai Healthcare City Authority
Expertise in minimally-invasive cosmetic restorative dental prostheses
Dr. Nida Sumra
7 Years of Experience
MDS
Expertise
Gum Surgery, Cleaning
Education
Rajiv Gandi University of Health sciences, Karnataka, India
What Are Dental Implants?
A dental implant is a long-term solution for missing teeth. It is a titanium/zirconium screw integrated into the jaw bone.
Structure of Dental Implant
After osseointegration (bonding of the bone to the implant), a crown is screwed or cemented on the implant.
Dental implants are the best option to replace missing teeth because they have the most natural feel and least diet limitations.
Moreover, they prevent bone loss, unlike bridges and dentures.
When Are Implants Needed?
Dental implants are the best solution to retain jawbone integrity and health.
To understand when they're needed, it is necessary to understand the repercussions of jawbone loss.
Those consequences include:
Facial collapse [4]
Loose teeth
Inability to consume certain foods
Dentist Consultation
That being said, here is when you know you need dental implants if:
You have missing teeth
Post-infection extraction
You want a stable replacement
You have difficulties chewing certain foods
Types of Implants
Single Dental Implant
One implant and a crown can replace a single missing tooth
Four implants can replace all teeth in one jaw.
All on 6 Dental Implants
Six implants can restore the entire upper or lower arch of teeth
All on 8 Dental Implants
A fixed bridge supported by 8 implants restore all teeth
Procedure
The traditional dental implant procedure takes time. It can be as quick as three months and as long as nine months.
However, same-day implants have become popular. Yet, they're a luxury not everyone is a candidate for or can afford.
Dental Implant Surgery in Dubai
The procedure from start to finish takes several steps as follows:
---
Appointment 1:
Consultation, including clinical exams, x-rays, & CT scans.
Discussion of the treatment plan and additional procedures.
Appointment 2:
Healing period: 3 – 6 months (At home)
---
Appointment 1
Abutment and crown placement over the healed implant site.
---
To know more about the procedure you can follow the link.
Success Rate of Dental Implants
The success rate for dental implants varies according to multiple factors. These factors include:
Smoking [5]
Patient's age (60 and above has the lowest survival rate)
Bone quality over the years (not just before having the procedure)
Length and diameter of the implant [6]
That being said, the survival rate of dental implants was measured to be 98.6% after five years [7] and 94.6% after 13 years. [8]
Pros and Cons of Dental Implants
| | |
| --- | --- |
| Pros | Cons |
| A long-term solution for missing teeth [9] | Have to meet set requirements [13] |
| Natural and comfortable feel | Lengthy procedure |
| Jawbone-loss prevention [10] | May need to replace restorations [14] |
| Regains the ability to chew foods [11] | Risk of implant failure [15] |
| Cost-effective [12] & last a lifetime with proper care and maintenance | Insurance will most likely not cover dental implants [16] |
Additional Procedures
The dental implant procedure is straightforward in theory.
However, certain complications/conditions may require additional procedures to tick all the qualification boxes.
The two common additional procedures are sinus lifts and bone grafts.
Sinus Lifts
This surgery is conducted on the upper jaw to increase the bone by a few millimeters, necessary for endosteal dental implants.
During a sinus lift, a dentist lifts your sinus membrane to make room for the bone.
Sinus lift
Bone Grafts
This is a surgery where the bone is integrated into either jaw to:
promote bone growth and
prepare the patient for dental implant surgery.
Placing a bone graft for a dental implant allows the formation of new bone supporting it.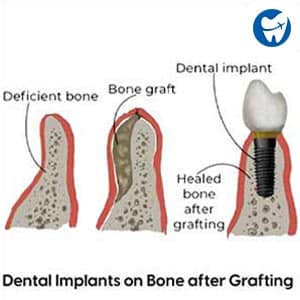 Bone graft
Aftercare
To increase the lifespan of your dental implants, their maintenance should become second nature.
Dental implants aftercare is straightforward. It can be split into two categories: Short-term care & long-term care.
*Journal of Clinical Periodontology; Long-term impact of powered toothbrush on oral health: 11-year cohort study.22 May 2019
Combining brushing teeth and flossing is important to minimize/eliminate any accumulation of bacteria next to the implants' site.
Otherwise, inflammation will occur. Said inflammation can be a driving factor in bone loss. Bone loss over time can cause implants to fail.
Travel Tips
Here are some tips to help you have a better trip to Dubai to get your dental implants.
For additional handy travel tips, check out our article on dental tourism in Dubai.
Dental Implants Dubai – Before & After
Conclusion
If you're looking for the most affordable options available to enjoy a vacation and get dental implants, Dubai might not be the destination for you as much as Turkey, Thailand, or Mexico would be.
However, if Dubai is on your bucket list and you have more financial flexibility, it is the city for you.
In the end, you should think carefully about what type of dental implants you'll be getting because it will determine how much you can save.
FAQs
At our recommended clinic, a single-tooth dental implant in Dubai costs $2,315/€1,955 (including abutment).
The prices vary between clinics according to the following factors:
Clinic's location
Dentist's experience
Materials/devices/equipment used
The cost of same-day tooth implants in Dubai is $2,315/€1,955 per implant (including abutment).
The cost of 4 teeth implants in Dubai is $9,260/€7,823 from our recommended clinic, depending on multiple factors.
Some clinics may offer a discount.
However, if all of the teeth to be replaced are on the same jaw, it would be a good idea to consider getting an all-on-4 implant.