Dental Work in South Korea
No dental Insurance? Don't worry! Dental work in South Korea provides high quality at decent prices. With DentaVacation, you can save ~ 70%.
Dental tourism in South Korea is booming for its hilly countryside, Buddhist temples, palaces, and affordable dentistry. [1]
Most travelers come from countries like Australia, the US, and Canada, where dental care is costly.
World-class care, high-tech clinics, and low cost are reasons for a spurt in dental tourism in South Korea.
Dive in to know more about dental work in South Korea and side trips to scenic marvels!
Video Courtesy: Best Places
Cost of Dental Work in South Korea
The dental work in Seoul saves up to 70% of your dental expenses. Likewise, dental implant prices in South Korea are affordable.
For example, single tooth implants in South Korea are worth $1,160, while the same might demand an expense of $4,800 in the US/Canada.
Moreover, you can get dental crowns in South Korea on the same day for $690 only.
Similarly, you can save on root canal treatment that costs nearly $199 in Korea.
Dental Work in South Korea: Cost Comparison (in USD)
| Procedure | South Korea | US/Canada | Australia |
| --- | --- | --- | --- |
| Dental Implant (Single Tooth) | $1,160 | $4,800 | $2,100 |
| Dental Crown (Same Day) | $690 | $1,300 | $1,300 |
| Root Canal Treatment | $199 | $2,000 | $780 |
| Porcelain Veneer Per Unit | $649 | $2,000 | $700 |
| Laser Teeth Whitening | $499 | $650 | $600 |
| Bone Graft | $450 | $2,000 | $5,514 |
| Sinus Lift | $449 | $1,500 | $713 |
| Clear Aligner (Per Jaw) | $449 | $2,500 | $6,500 |
| Extractions (Simple) | $99 | $300 | $300 |
*Prices are subject to change and may vary as per the individual treatment plan.
You will notice a huge difference in the prices of Korean dental treatments compared to Western countries.

Why Choose South Korea for Dental Work?
Millions of tourists visit the country each year for leisure. [2] Indeed, dental work in South Korea is equally popular.
The cost of dental work in South Korea is less than half of what it costs in the US and UK.
There obviously are genuine reasons that most tourists prefer traveling to Korea.
They amalgamate vacay and dental care altogether for real-time benefits.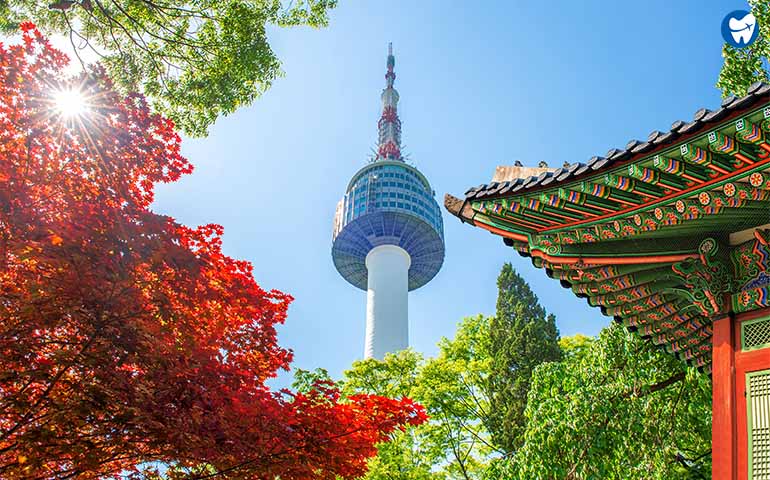 Seoul Tower
Reasons to Choose South Korea for Dental Work
Top-quality dental care
Low cost of dental surgery
Good consular services to ease travel/visa
Cutting-edge equipment/advanced technology
Picturesque landscape for a short vacation
Good Quality Dental Work
Is South Korea Safe for Dental Tourism?
There is no doubt that South Korea is a safe place to travel.
Despite this, you can always be on your toes to avoid exposure to minor risks during the visit. [3]
The clinic offers a conscious sedation program. It makes your dental treatment 
free of pain and anxiety
.
Dental work in South Korea is safe because of the following reasons:
Clinics follow strict infection control and sterilization process
Surgeons are members of international professional organizations
Most dental surgeons are educated/trained at the best universities in the US and UK
Dentists actively take part in conferences/seminars to keep themselves abreast with the latest technology
Night Skyline, Seoul
What Should I Check Before Choosing a Clinic/Dentist?
It is important for people to check the training and licensing of the surgeon prior to seeking any treatment.
You should keep the following points in mind while planning a dental trip abroad:
Ask for the method of sterilization the clinic uses [4]
Check if the clinic offers a guarantee program for the treatments
Check the credentials of the dental surgeon – education and expertise
Check if the surgeon is a member of a national/international organization [5]
A good dental clinic must have a team of specialists to carry out different dental procedures
See if he/ she holds a Master's Degree in Dentistry with a specialization in their area of interest
Look for the surgeon's work if it has been published in recognized journals and verify if the clinic promotes dental tourism in South Korea.
Top Dental Clinic in South Korea
Our partner clinic in Korea, Good Life Dental Clinic, is acclaimed for treating international patients by Seoul City and the Bureau of National Health and Welfare.
South Korea, Seoul, Gangnam-gu, Gangnam-daero, 476 Urban Hive Building 4F
10:00 AM - 06:30 PM
Services provided
General Dentistry
Smile Designing
Teeth Bleaching
Root canal treatment
Crowns and bridges
Braces and smile makeover
Implants and gum treatment

The hospital caters to all guests willing to opt for dental tourism in South Korea.
Qualified surgeons provide excellent quality and pain-free treatment to their patients.
The clinic has an in-house lab. In addition, they have all the equipment necessary to perform dental procedures.
Sterilization in Good Life Dental, South Korea
Our chosen partner clinic in South Korea follows a triple disinfection system to prevent cross-contamination.
Three-Step Disinfection System
Step 1: Ultrasonic washing
A chamber with ultrasonic waves cleans the dental instruments.
Step 2: Autoclave disinfection
Autoclave (steam under pressure) ensures 100% sterilization of the packed instruments.
Step 3: EO gas sterilization
Ethylene oxide (EO) sterilization is an additional step in the process.
Autoclave for Sterilization
Advantages of Korean Dental Clinics
Use of high-end technology: Oral cameras, dental microscope, and FDA-approved CBCT [6]
Cost savings: Tourists may save as much as 50 to 60 percent on all major dental work.
Prior information: Estimation is given before you travel for proper budget planning.
Variety of implants: Uses Straumann and Zimmer, Osstem and Dio & luna.
Cone Beam Computed Tomography
Guarantee: Partner clinic offers a lifetime implant guarantee.
Best Dentists in Korea
---
Dr. Lee Sangmin Michael
8 Years of Experience
DDS, MSD
Expertise
Dental Implants
Education
Yonsie University College of Dentistry
Korean Academy of Prosthodontics
Korean Academy of Oral and Maxillofacial Implantology
Diagnosis and treatment planning course in Seattle
Visiting student program, prosthodontic course, evidence-based implant course Boston, USA
Dr. Chang Min Lee
5+ Years of Experience
DDS, MSD
Expertise
Dental Crowns
Education
Yonsie University College of Dentistry
Academy of osseointegration
American Academy of Periodontology
American Academy of implant dentistry
Master's degree from Loma Linda University of Dentistry
Dental Tourism in South Korea
---
Korean bus
The capital of South Korea, Seoul, has two international airports – ICN and GMP.
The Incheon International Airport in Seoul is the largest and busiest airport. [7]
It has international flights from a majority of countries. Other than Seoul, South Korea has international airports in 5 other districts as well.
Non-stop flight duration from Los Angeles, New York, San Francisco, Seattle, and Atlanta to Seoul is around 12-16 hours.
Direct flight duration from Sydney, Melbourne, and Gold Coast in Australia is around 10-12 hours.
Once you reach Seoul, you can hire a standard or deluxe taxi for the local commute.
The city is well-connected by a large bus and subway network as well. [8]
---
All travelers to South Korea are required to have a valid passport and a visa. The visa is issued by the South Korean Embassy. [9]
General passport holders from certain countries get a visa-free entry for 30 days or 90 days. These include a few Asian, American, European, and Middle Eastern countries.
Official and Diplomatic passport holders do not require a visa to enter South Korea.
Visa Requirements
People from countries that do not fit the above criteria need a visa.
They can apply for it at the Embassy of the Republic of South Korea in their home country.
---
Things To Do in South Korea
South Korea has many tourist attractions such as islands, century-old temples, museums, and palaces.
Additionally, it has a lot of must-visit cafes, restaurants, and bakeries.
Korean Barbecue
Korean Pancake
Gyeongbokgung
It is a premier palace in Seoul. Gyeongbokgung is a perfect place to visit for the grand architectural marvel.
Changdeokgung
Changdeokgung is a World Heritage-listed Palace in Seoul. [10] The palace is known for its ancient architecture and open corridors.
Gwangjang
The Market is known for its fabric. The visitors can purchase high-quality silk, linen, and satin directly from the wholesalers in this market.
Seongsan
It is a majestic volcano on Jeju Island in South Korea. Seongsan Ilchul-bong is a UNESCO World Heritage site. [11]
Saryangdo
Saryangdo is an island in Tongyeong. It is known for its 400m-high peaks, jagged ridges, and magnificent views.
Tips to Remember
Check the weather before you travel. If you're planning to travel around December, make sure to pack some warm clothing.
Get all your routine vaccines before you travel. You can check the Website of the CDC to check the requirement. [12]
South Korea has one of the lowest crime rates in the world. [13] However, you should stay vigilant. Keep a low profile to not attract thieves in metropolitan areas.
Local transportation is easy, convenient, and cheap. However, make sure to stay alert while using it.
South Korea is technologically-advanced, but it follows ancient values and customs. Therefore, respect the culture during your stay there.
Do not indulge in an argument with a Korean, especially at a bar. While the country respects all international guests, the law is likely to favor the Koreans.
Tipping is not a part of the culture in South Korea. However, if you want to tip a waiter, cab driver, or hairdresser, the amount is up to you.
If you do not like spicy food, pay attention while ordering as the Korean dishes are too spicy. [14]
Check the prices of the meals while ordering street food. Some vendors service overly-priced meals that are not even authentic!
Common Words in Korean
Here are a few words in South Korean which will help you during the trip: [15]
Ye: Yes
A-nim-ni-da: No
Ahn-nyung ha-seh-yo: Hello
Ahn-nyung-hee ga-seh-yo: Goodbye
Gam-sah ham-nee-da: Thank you
Ban-gap sup-nee-da: Nice to meet you
Hotel-lo gap-see-da: Take me to the hotel
Is Dental Care Cheap in Korea?
Dentistry in Korea offers excellent services at modest prices.
The low-cost Korean medical care is attributable to the rapid development of health technology and the Hallyu effect. [16]
For a better idea of dental pricing, you can refer to the cost table of dental work in South Korea.
And you will be able to identify the evident cost differences in South Korea vs. US/ Canada.
For instance, porcelain veneer per unit rates $649 for its intrinsic worth.
While prices for the same dental work may fly by night in most home countries like Australia and the US.
Additionally, overseas residents might address their dental problems at a significantly lower cost if covered by National Health Insurance for basic procedures. [17]
Conclusion
The booming dental tourism in South Korea ascribes to quality-assured treatment blended with a myriad of its culture.
As a result, it fosters a competitive advantage over many other destinations.
So, if you want to minimize the cost of dental work, then couple it with a vacation outside your home country.
If you have got more queries, please do not hesitate to talk to us.
FAQs: Dental Work in South Korea
Yes, South Korea is safe as the crime rate here is low. [18]
However, large public protests are common with petty thefts. Typhoons, flooding, and tsunamis may happen.
So, you must follow the guidelines of local officials. You have to be more watchful in major cities like Seoul and Busan.
6 tips to enjoy a safe trip in Seoul
Avoid mass gatherings
Keep an eye on your belongings
Be careful while walking alone in dark
Do not accept untoward help from strangers
Refrain from taking drinks or cigarettes from an unknown person
Download the emergency ready app by the South Korean government
Unarguably, the dental work standards in Korea meet the patient's expectations.
As per 2020 statistics, the South Korean dental implant market was estimated at over $230 million. [19]
Moreover, the clinics employ efficient methods such as EO gas, plasma, and oxygen radicals for sterilization.
Besides, they provide a 2-5 years guarantee period on most dental procedures.
Cosmetic dentistry in South Korea costs next to nothing.
For example, porcelain and zirconia veneers in Korea are available at $649 per unit, which is quite reasonably priced.
On the contrary, the bills for the same may escalate up to $2000 in the US and Canada.
A beautiful smile & a wonderful vacation are calling!
Connect now