By following quality check parameters in dentistry, we evaluate & partner with the top clinics worldwide. Read on to know the assurance measures we use.
Dentavacation follows a series of steps to ensure prime dentistry is at your disposal!
8 Important Quality Measures in Dental Practice
Check out the top 8 performance and quality measures in dental practices that we check before onboarding any clinic:
For Clinics
Dentavacation has set the following quality check parameters for partner clinics:
---
The process begins with checking the dental clinic's online presence.
Next, our team checks the online reviews on Google, Yelp, and other websites to check what their patients think of them.
We also ask them to let us speak to their ex-patients to understand their experience.
Thorough research is done to check the online presence of clinics
---
The next step entails checking the clinic's credentials.
For instance, a lot of our clinics are accredited with JCI and other international organizations.
Before onboarding, the Dentavacation team verifies these credentials.
JCI accreditation of a clinic verified from the official website of JCI
---
In the next step, Dentavacation ensures that the clinics have the basic equipment for dentistry. This includes a dental chair, microscope, rotary endo motor, x-ray machine, etc.
Moreover, clinics with high-end technology are always welcomed.
Further, we also check the brands used by them.
---
A dental practice's sterilization and hygiene protocol is one of the most important indicators of good dentistry.
Most clinics use autoclaving (steam under pressure), dry heating, or eat/chemical vapor for sterilization.
At Dentavaction, our team focuses on accessing the sterilization process adopted by the potential partner clinics.
Watch on YouTube: "Sanitation at Dental Clinic in Colombia "
Watch how our partner clinic in Colombia maintains sterilization protocols
---
With effectiveness, our team also ensures the efficiency of a dental clinic. This is done by analyzing the waiting time for a patient to get an appointment.
While there is a long waiting list in the US and the UK, you can almost immediately get an appointment at Dentavacation.
Additionally, our team enquires if there are multiple dentists at the facility so patients can get their undivided attention.
Further, we also ensure that the dental facility has a comfortable waiting area for your convenience.
---
To assess the quality of dental work at a potential partner clinic, Dentavacation focuses on a lot of parameters.
For example, we take into account the technology used. Many of our partner clinics come decked with state-of-the-art equipment, including:
CAD CAM system
CEREC technology
Waterlace
Global G-6 dental microscope
Portable X-ray
Radiology labs
And many more...
Besides we also check if the clinic uses renowned brands and materials. For instance, many of our partner clinics use brands like Straumann, Neodent, etc.
Further, our partner clinics use international sterilization standards.  
For Dentists
In addition to quality check parameters for clinics, we follow the following protocol for dentists:
---
First, Dentavacation checks the degree of the dentists working at potential partner clinics.
In most countries, dentists must complete a DDS (Doctor of Dental Surgery).
Further, they need to train for a specified period.
Our team cross-checks their degrees to verify their claims.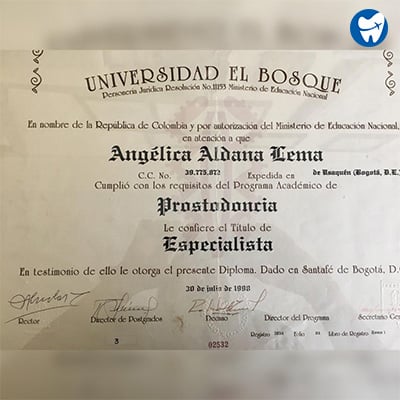 Dentavacation verifies the dentists' degrees as a part of quality check measures
---
The next step entails assessing the experience of dentists working at the potential partner clinic.
For instance, our team checks how long the dentist has been practicing.
Further, they also check if the dentist has experience treating international patients.
Team Dentavacation checks the experience of dentists
---
Many dentists are associated with national and international boards. Examples include:
ADA

AACD

IAA

And many more.
Dentavacation verifies the credentials of the dentist from official websites of associations
Before onboarding any dental clinic, we verify the accreditations of the dentists by checking the official website of the national/ international association.
---
Many of the dentists at our partner clinic are fluent in English. 
If not, the clinics have translators on board to facilitate a seamless experience for you!
Ethical Parametres For Dental Clinics
Dentavacation also pays attention to ethical measures besides the qualitative quality check parameters.
Efficient
Potential partner clinics avoid waste, including waste of equipment, supplies, and energy.
Equitable
Potential partner clinics provide care without prejudice against gender, ethnicity, geographic location, and socioeconomic status.
Patient Centred
Potential partner clinic provides respectful and responsive care to individual patient's preferences and needs.
Yes, Dentavacation clinics provide maximum value for your money!
Dentavacation provides you with the best procedural prices.
Top-rated clinics and nationally and internationally accredited dentists make it a one-stop shop for your dental needs.