Paying for jaw surgery out of pocket can be expensive if you lack insurance or coverage. Fortunately, corrective jaw surgery, aka orthognathic surgery in Los Algodones, Mexico, is 70% cheaper than the US prices.
Also, you can look forward to top-notch care at the hands of experienced oral surgeons. Read on to know more.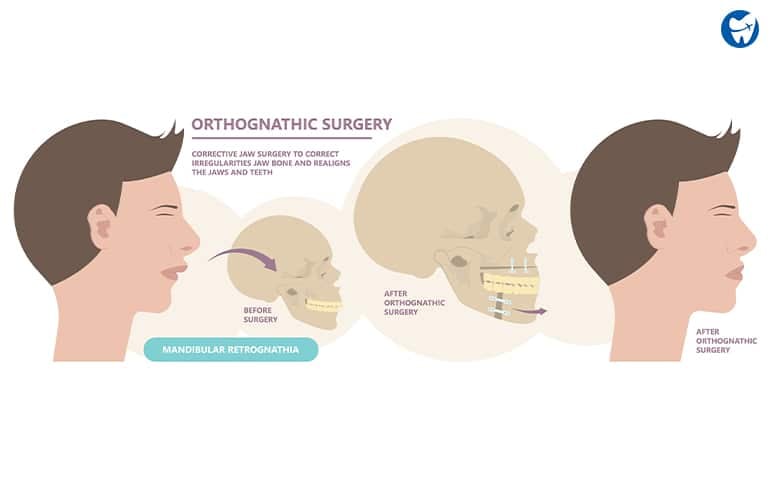 Orthognathic Surgery Illustration
How Much Does a Jaw Surgery Cost in Los Algodones?
The cost of orthognathic surgery in Los Algodones ranges from $10,150 to $12,550.
The cost depends on the type of surgery you're getting – single, double, or triple jaw surgery.
But, the US clinics charge as high as $50,000 for jaw surgery to correct TMJ.
Also, in Canada, these cost an average of $18,000 to $36,000 without insurance.
In general, corrective jaw surgery in Los Algodones is almost 70% cheaper than in the US and Canada.
Jaw Surgery Cost Comparison (USD) – Los Algodones, Mexico vs. US vs. Canada
| Orthognathic Surgery | Los Algodones | US | Canada |
| --- | --- | --- | --- |
| Single Jaw | $10,150 | $20,000 – $40,000 | $18,000 – $36,000 |
| Double Jaw | $11,250 | $53,000 | $47,700 |
| Triple Jaw | $12,550 | $56,000 | $50,000 |
*Prices are case-dependent.
Our Limited Period Dental Special – Avail dental work of $1,500 or more and get a free stay for up to 3 nights at Hotel Hacienda in Algodones.
Does Insurance Cover Jaw Surgery?
Your dental insurance may cover the cost of your jaw surgery if the procedure is considered medically necessary to correct skeletal irregularities causing oral issues.
Your insurance will not cover the surgery if it is performed for cosmetic reasons. [1]
What is Orthognathic Surgery?
Other names: Jaw Surgery, Corrective Jaw Surgery, Jaw Correction Surgery, Jaw Straightening Surgery.
Orthognathic surgery corrects the jaws to treat conditions such as sleep apnea, temporomandibular joint (TMJ), and other orthodontic problems which can't be resolved using braces. [2]
It involves several surgical procedures on the upper jaw, lower jaw, and chin to improve appearance and function.
Dislocated jaw
Treatment timeline: The jaw surgery is performed under general anesthesia and usually takes 2 to 5 hours. [3]
Fully correcting your misaligned jaw can take up to three years from start to finish. [4]
However, the exact duration depends on the specific procedure.
Who Are Good Candidates for Corrective Jaw Surgery?
You might be a candidate for corrective jaw surgery in Los Algodones if you experience any of these conditions:
Difficulty in chewing or swallowing food
Chronic joint ache or TMJ
Worn out teeth
Open bite (Misalignment of teeth when the jaws are closed)
Underbite or protruding jaw
Jutting out jaws and receding chins (weak chin)
Habit of breathing through the mouth
Sleep apnea and other bedtime breathing problems
Source: Colgate [5]
Normal Occlusion
Open Bite
What Is the Right Age for Corrective Jaw Surgery in Los Algodones?
The optimal time for orthognathic surgery is after the jaw stops growing – typically ages 4-16 years for females and 17- 21 years for males. [6]
Different Types of Jaw Surgery in Los Algodones, Mexico
Maxillary Osteotomy – Corrects severely receded upper jaw, cross bite, overbite, open bite.
Mandibular Osteotomy – Corrects severely receded or protruded lower jaw.
Bimaxillary Osteotomy – Also called double jaw surgery, it corrects jaw size & position, treats sleep apnea & relieves facial pain.
Genioplasty – Also called chin surgery, it is a popular cosmetic procedure performed to improve facial symmetry.
Now that you have a better idea of the cost and procedures, let's now dive deep into top oral surgery clinics in Mexico near Yuma, Arizona.
Algodones Dental Clinics for Jaw Surgery
Your orthognathic surgery will be done in our leading dental clinics in Los Algodones.
C. Tercera 160, Vicente Guerrero, 21970 Vicente Guerrero, BC
Mon - Fri 9 AM to 4 PM, Sat 9 AM - 2 PM
Some of the salient features of the best Maxillofacial Surgery clinics in Los Algodones are:
Membership of the American Dental Association (ADA)
Dentists have training from prestigious institutes such as the Harvard School of Dental Medicine in Boston and the International Center of Laser Education, Indianapolis.
Well-equipped in-house lab that cuts down treatment timeLatest equipment & panoramic x-rays for better diagnosis
Facilities such as room sterilization system, and water filtration
English-speaking dentists
Now that we know the top clinics for jaw surgery let's look at some of the best maxillofacial surgeons in Molar City.
Who Are the Best Oral Surgeons in Los Algodones?
---
Dr. Alejandro Barragan
10 Years of Experience
DDS
Expertise
Implants, All on 4/6/8, Oral Surgery
Education
Autonomous University of Baja California
Dr. Xochipilli Bojorquez
8 Years of Experience
DDS
Expertise
Implants, All on 4/6/8, Full Mouth Rehab
Education
Autonomous University of Baja California
Reviews of Maxillofacial Surgery Clinics in Los Algodones, Mexico
The dentist was very helpful, and professional. She was very reassuring and very detailed, Wonderful experience.
Samantha Earlene
California
My dentist is great. painless, fast, skilled, friendly, and all staff speaks good American English. Algodones is clean & safe.
This is the most extensive work yet, and the pain level has been near zero. I've been amazed and will never go anywhere else.
Jennifer Broome
United States
Facilities are new with clean modern equipment. Staff are all professional, well-spoken and kindly explained all procedures.
Why Algodones for Corrective Jaw Surgery?
You should note that for patients seeking affordable jaw surgery in Mexico, Los Algodones offers several advantages. Some key benefits include:
Enjoy Big Savings
Pay only a quarter of the US prices. The cost of orthognathic surgery in Los Algodones is low due to the lower living cost. [7]
Quality Care
For a fraction of the cost, you get quality care at the hands of top dental surgeons in Mexico.
Prompt Attention
Patient turnover in Mexico is quick. The on-site lab in the clinic where your jaw surgery will be done helps in this regard too.
Additionally, you get your surgery without waiting.
Less Travel Hassles
The proximity of Los Algodones to Yuma adds to its allure as a value-for-money dental tourism destination.
The closest American airport (YUM), is just 7 miles from Molar City.
English-speaking Dental Professionals
Chances of communication problems get reduced as the clinic we work with has bilingual staff.
Comfortable Stay
Your stay will be arranged for tariffs as low as $30 a night. There are several dental specials offering free hotel stays.
How to Reach Algodones Dental Clinics?
Jaw surgery clinics in Los Algodones are just 7 miles from Yuma, Arizona. They are located just a couple of blocks from the border crossing.
You can actually walk down to the clinic from the American side of the border.
If the thought of walking sounds a little intimidating, then you will be glad to know that the clinics provide free pick-up and drop.
To enter Los Algodones, you must cross the Andrade Port of Entry in California. Border Crossing Timings: 6:00 am to 10:00 pm.
Conclusion
To summarize, Los Algodones is a credible place to get your jaw surgery.
The costs are 70% cheaper, and Molar City offers some of the best oral surgeons in Mexico.
So, what are you waiting for?
Fix all your jaw problems with orthognathic surgery in Los Algodones, Mexico. Contact us for a hassle-free dental trip to Mexico.