Photographs [1] and X-rays [2] of your teeth are essential tools for diagnosis and treatment planning. Here we will share an easy way to take photos on your own and send them abroad to your dentist.
Watch on YouTube: "Dental Photography at Home "
Sharing Dental X-Rays and Photographs
How Will Pictures Help?
These help in the assessment of the problem being faced.
Photos serve as a guide toward the patient's expectations.
The dentist may be able to send you a personalized treatment plan.
These help the dentist to arrive at a provisional diagnosis before your arrival.
Pictures can be emailed to the dentist at your desired location as they help in the evaluation.
You can discuss your symptoms with the consultant or advisor over the phone or by e-mail, complemented by the photos.
Examples of Photos To Be Clicked
Image 1
Take a picture with your lips closed to display your smile line.
Closed mouth photograph
Image 2
Close the teeth in a natural position, biting on the back teeth.
Natural Bite Position
Image 3
Reflect the upper lip to show the gums.
Reflected Upper Lip
Image 4
Reflect the lower lip to show the gums.
Reflected Lower Lip
Image 5
Open the mouth wide to show all the upper back teeth.
Upper Posterior Teeth
Image 6
Open the mouth wide to show all lower back teeth.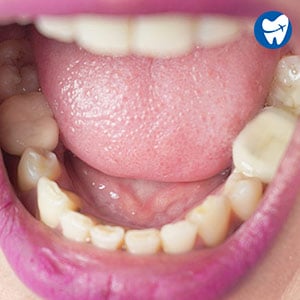 Lower Posterior Teeth
Source: Decisions in Dentistry [3]
Guidelines for Taking Good Teeth Photographs
Brush and floss to clean your teeth before you take your photos.
Please do not take a front camera selfie, as it reverses the sides.
Make sure your pictures match the samples provided in the document.
Take photographs in a brightly lit room. Do not stand directly in front of the light source.
If you are biting for a photograph, bite on the back teeth. This is your actual bite that a dentist needs to see.
If you use a flash, and it is making your teeth shine, turn it off. A light behind your head also makes it difficult to see the teeth.
Click all your teeth, notably the back ones; molars. Make sure you are not covering up any of your teeth with your fingers or lips.
Ask someone to take a picture for you. It's difficult to take close, focused photos that capture all of your teeth when you take them on your own.
Your smile should take up almost the full frame when taking your picture. As a standard practice, take photos at one palm's distance from the mouth.
Limitation of Selfies
Self-pictures cannot be used in the case of dental implants. There is a side reversal in these photographs; thus, it is advisable to take the help of someone in clicking these pictures.
Dental X-Rays
There are three main kinds of dental X-rays:
Intra Oral Periapical Radiograph (IOPAR)
Panoramic X-ray (OPG)
Cone Beam Computed Tomography/ Computed Tomography (CBCT/CT Scan)
IOPAR
These are single-tooth X-rays. They help find out focussed problems of the bone structure, the jaws, cavities and root canals. These can be available in digital/hard format.
Panoramic X-Rays
Known as OPG (Orthopantomogram, these are full mouth X-rays. They are useful to find oral health status & other pathologic findings.
CBCT/CT Scan
CT is a gold standard in xrays. It is mandatory for dental implant evaluation. They show bone height, width, density, and tracing of mandibular nerves.
Source: Foundation of Oral Rehabilitation [4] [5] [6]
Limitations of IOPAR and Panoramic X-Ray
IOPAR and Panoramic x-rays will show most of the dental problems, however, these are not the most advanced radiographic methodology for dental implant diagnosis.
Limitations of CBCT Scan
It is challenging to send as it is a large file.
You can obtain a 3D scan for free (under dental insurance) or at a nominal cost (self-pay).
How To Share the Hard Copy Photographs and X-Rays?
Click a photograph of the X-rays or scan them with the scanner's top open in a well-lit room.
For all the images that have been captured, make sure to please save a copy on your computer.
E-mail these scanned copies to the email address provided by your case manager as an attachment.
Sharing Digital Dental X-Rays
How To Share Digital Copy Photographs and X-Rays?
Photographs, IOPAR, and even Panoramic X rays can be easily emailed as an attachment.
CT scans cannot be sent via e-mail and will have to either be uploaded to our Dropbox address (provided by your case manager) or printed and mailed to the dental clinic of your desired destination.
Sharing Digital Dental Photographs
Conclusion
Still wondering how to share dental xrays and photographs?
Use this article as a guide to share your dental xrays and photographs with our team of skilled and certified doctors across the globe.