Dental work in Poland can make you smile brighter. Not only with high-quality dental procedures but also while saving up to 75% as compared to the UK!
Sounds interesting? Read on to find out about costs, dentists, clinics, and dental procedures in Poland.
Video Courtesy: TheLucaseWee
Why Choose Poland for Dental Work?
Every year, around 4,00,000 people visit Poland for their medical treatments. Due to which, medical tourism rate is increasing by 12-15% every year. [1]  
Let's now understand what are some of the benefits of choosing Poland for dental work.
 Cost-Saving
In Poland, the cost of living is 58% lesser than the UK. [2] That is why you can save up to 75% on costs.
 Best Dentists
Our dentists are highly qualified and trained at reputed institutes. Also, they are bilingual i.e. they can speak Polish and English.
They go to the root cause of the issue so that you can get a safe dental treatment.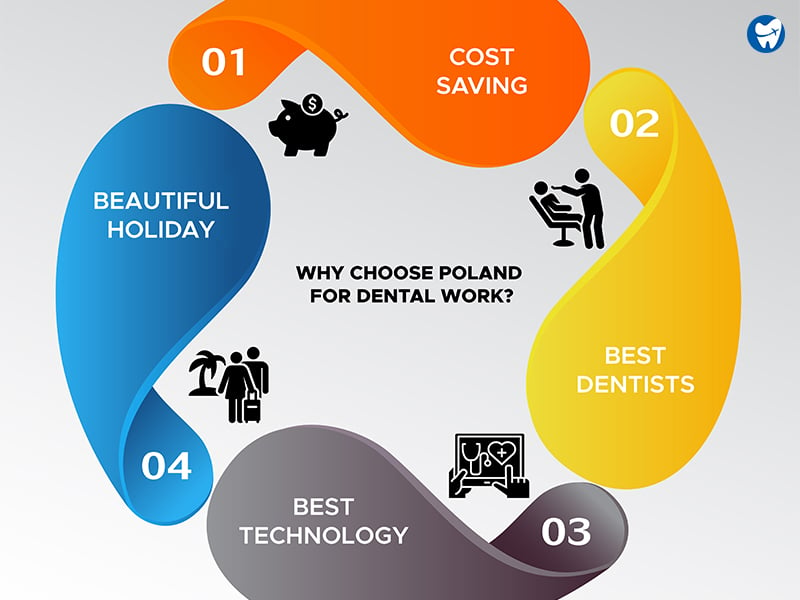 Why Choose Poland for Dental Work?
 State of the Art Technology
Our partner clinic has cutting-edge technology to give you the best quality dental treatment in Poland. In addition, they use strict sterilization procedures.
 A Beautiful Holiday
Dental holiday packages in Poland help you to make your procedure less stressful and more relaxing.
A scenic view adds more beautiful moments to your dental trip.
So you can enjoy a vacation along with your dental work.
Poland is well known for its fascinating places like Wawel cathedral castle in Krakow, Morskie Oko Lake, and many more that you can add to your itinerary.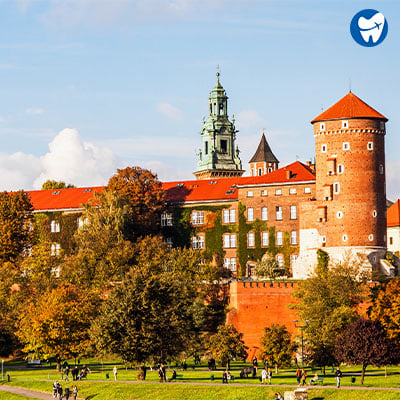 Wawel Cathedral Castle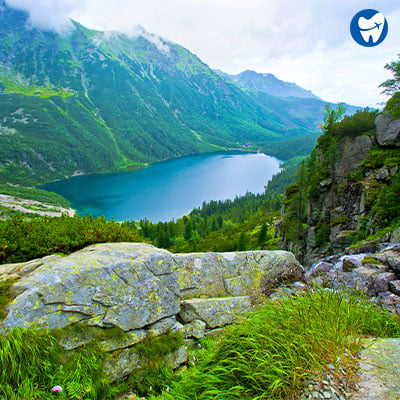 Morskie Oko Lake
Furthermore, you can relax here after the treatment to heal your mind and body.
Dental holiday packages in Poland help you to make your procedure less stressful and more relaxing.
How Much Does Dental Work Cost in Poland?
Poland dentist prices are lower as compared to the UK.
For instance, all-on-4 dental implants cost €4,576 in Poland. Whereas the same costs €15,000 in the UK.
Additionally, all-on-6 implants cost €5,104 in Poland, and the same procedure costs €16,800 in the UK.
Which means getting the above procedures done in Poland entails a saving of 69%.
Also, teeth cleaning cost in Poland is €198, whereas the same procedure costs €820 in the UK, which is 75% more than in Poland.
Cost comparison between Poland and UK
 

| Procedure | Poland | UK | Savings |
| --- | --- | --- | --- |
| All-on-4 Dental implants | €4,576 | €15,000 | 69% |
| All-on-6 Dental Implants | €5,104 | €16,800 | 69% |
| Titanium Implant (including abutment & crown) | €880 | €3,000 | 70% |
| Porcelain Fused to Metal Crown | €198 | €795 | 75% |
| Ceramic Crown | €290 | €930 | 68% |
| Zirconium Crown | €264 | €1,406 | 81% |
| Teeth Whitening (in office) | €198 | €820 | 75% |
| Teeth whitening (home kit) | €150 | €234 | 35% |
| Bone grafting | €238 | €2,930 | 91% |
| Sinus lifting | €484 | $3,500 | 86% |
| Porcelain Veneers (per unit) | €334 | €1210 | 72% |
| Composite veneer (per unit) | €88 | €175 | 49% |
| Root Canal (pre-molar) | €132 | €740 | 82% |
| Root Canal (molar) | €176 | €850 | 79% |
| Composite Filling | €35 | €290 | 87% |
| Extraction (simple) | €35 | €260 | 86% |
| Extraction (surgical or impacted) | €97 | €2,730 | 96% |
Prices are case-dependent.
Top Clinics in Poland
Jesionowa Dental Clinic
The clinic is situated in Warsaw city of Poland. It is well-equipped and uses latest technology such as 3 Shape scanner.
Also, our dentists possess a high level of knowledge and experience.
Jesionowa 20B, 05-816 Michałowice-Osiedle, Poland
Mon - Fri 08:00 AM to 09:00 PM
The clinic also uses state-of-the-art technology, including:
Equipment
UV lamps
Carbon filters
Air purifier with ionizer
Additional disinfectant
Automatic thermometers
Electronic air quality measurement
Digital Dentistry
3 Shape scanner
Dental microscope
Digital smile design
Implantological system
Ultrasonic technologies
Digital center for radiological diagnostics
Best Dentists in Poland
When it comes to dental treatment, it is important to have a basic knowledge about the dentists to ensure the safety of the patients.
Our dentists in Poland ensure that your dental work is reliable and safe.
---
Dr. Artur Buchwitz
10 Years of Experience
MDS
Expertise
Full Mouth Rehab, Implants, All on 4/6/8, Crowns & Bridges, Dentures
Education
Medical Academy in Lodz, Poland
Ph.D. in implantology from Medical University of Lodz
PTS- Polskie Towarzystwo Stomatologiczne (Poland)
OSIS- European Association of Dental Implantology
Dr Adam Buchwitz
10 Years of Experience
BDS
Expertise
Oral Surgery, Extractions, Veneers, Crowns & Bridges
Education
University of Lodz
Move one step closer to your dream smile
Book now
Dental Travel in Poland Reviews
Now you must be wondering what other people have to say about dental tourism in Poland.
These reviews might help you to know what past patients have experienced.
I highly recommend the clinic, and despite the many places in the center, I will continue my visits to JESIONOWA Clinic.
From arranging the appointment to the day itself it was all excellent – new machines. Much recommended in every regard.
Dental Tourism in Poland
Along with getting a dental procedure done, you can also enjoy a splendid vacation in Poland.
The country has wonderful museums, castles, historic cities, national parks, and many other attractive destinations that you can't take your eyes off.
So, in case you are planning to get your dental work done in Poland, you should check out its natural beauty.
---
You can add unique experiences to your trip by enjoying the music festival and historical shows.
Moreover, you will be amazed by the beauty of Morskie Oko Lake, Tatra National Park, Lazienki Park, Warsaw, and other heritage places too.
Places to Explore
Lazienki Park
Lazienki Park is one of the largest urban parks in Poland. [3]
It has beautiful gardens and serves as a museum now.
Tatra mountains
Enjoy hiking in the beautiful valley of the Tatra mountains.
Polish Cuisine
Poland offers food that gives pleasure to your taste buds. You must try the dishes like Pierogi, Makowiec, and Bigos.
---
Weather
Poland has a balanced climate with summer, rainy, and winter seasons.
The summer season starts from June to August, which is the best time to visit Poland.
The average temperature in summer is 72°F. Winter begins in December and lasts through February. [4]
Language
Polish is the official language of Poland. [5] However, our partner clinic's staff is fluent in English too.
Currency
The official currency of Poland is Złoty.  [6]
Click here for the latest exchange rates.
Time Zone
The time zone in Poland is Central European Summer Time (GMT+2). [7]
---
To enter Poland, you must possess:
Passport
A passport with six months validity.
It must have at least two blank pages. [8]
Visa
As Poland is part of the Schengen agreement, two types of visas are required to stay for a long period of time.
It includes:
Schengen visa: It is a short-term visa which is valid for 90 days.
National D visa: This long-term visa allows you to stay more than 90 days and upto 365 days.
Source: Y Axis [9]
Vaccination Required
Measles
Covid-19
Hepatitis A
Hepatitis B
Routine vaccines
Source: CDC [10]
---
You can reach Poland by all ways of transportation like bus, train, airplane, and ships.
It is because Poland is directly connected to Europe and other countries.
You should note that Warsaw airport gets most of the international flights. There are a number of flights that are non-stop, so air travel is also hassle-free.
Flights from UK to Poland
 

| Departure  | Duration  | Stops  |
| --- | --- | --- |
| London | 1 hr 45 min | Non-stop |
| Birmingham | 2 hr 5 min | Non-stop |
---
Is Dental Work in Poland Safe?
---
Poland is a safe place for visitors, due to which it is receiving more tourists each year. [11]
You will be safe if you:
Are alert of scammers.
Avoid going to risky places.
Don't get involved in any political activity.
Always follow government guidelines for safety.
Don't comment on any religious or cultural things.
If you practice common sense and follow all the safety measures, then you will be as safe as in your home country.
---
Dental work in Poland is safe, as it gives you high-quality treatment.
In addition, our certified clinic aims at making your dental journey safer.
Our dentists are trained and highly qualified. Also, the clinic uses high-tech equipment and focuses on sterilization.
---
Conclusion
By now, you would have gotten a good idea about how much savings dental work in Poland can provide you.
So if you lack dental insurance and want to save up to 75% on cost, contact us today.
Our team will guide and help you plan a hassle-free trip to Poland.
FAQs
Dental procedures in Poland like titanium implants, all-on-4 implants, dental crowns, veneers, and all cost 75% less than the UK.
For instance, a titanium dental implant in Poland costs €880. While the same procedure costs €3,000 in the UK.
All-on-4 implants cost €4,576 in Poland, whereas it costs €15000 in the UK.
Therefore, choosing Poland can save more than 69%.
Poland is a popular place in Europe, especially for dental tourism. [12]
Three major reasons to choose this destination are lower prices for all dental treatments, high-quality treatment, and modern technology.
So choose wisely.
Our dentists are highly skilled and experienced. Furthermore, they provide assistance to the patients in their procedures.
Dentists make sure the treatment is safe and effective. Also, they provide post-operative care.
They can speak both languages: Polish as well as English.