Dental Tourism in Indonesia
You have heard of the vibrant tourism in Indonesia. But have you heard of the booming dental tourism in Indonesia? That's right! This country comes in as a savior for uninsured Australians as it offers affordable, safe & high-quality dental care.
Sounds exciting? This article is a guide to everything you need to know about dental work in Indonesia. Continue reading to know more.
Video Courtesy: Travel Vlog
Why Choose Dental Tourism in Indonesia?
Indonesia offers quality health services, and the standards have risen over the past decade. [1]
Let's look at a few reasons for choosing dental tourism in Indonesia.
Cost
Dental work in Indonesia can help you save up to 70% of the cost in Australia.
Such as, the cost of all on 4 dental implants in Indonesia is 11,000 AUD. On the other hand, they cost 27,000 AUD in Australia.
Quality
The country offers a proper infrastructure for healthcare. [2] Also, dental clinics have experienced staff [3] and work with the latest equipment and technology. [4]
Language
You don't have to worry about language problems in the country. Dentists in Indonesia can speak English fluently.
Tourism
Indonesia is a great tourist spot. You can explore the glorious beaches and temples and enjoy the country's raw beauty.
Around 1.56 million international tourists visited Indonesia in 2021. [5]
A vacation coupled with dental solutions for you! It sounds like a great two-in-one deal, right?
A Relaxing Dental Vacation in Indonesia
Cost of Dental Work in Indonesia
The cost of dental work in Indonesia enables you to save 60-70% compared to the US and Australia.
Dental implants in Indonesia cost 2,115 AUD (with abutment), whereas the same cost 6,500 AUD in Australia.
For people looking at teeth alignment, Invisalign is a great option. The cost of Invisalign in Indonesia starts at 8,810 AUD per jaw.
There's a monthly adjustment fee of 65 AUD.
Dental Work in Indonesia Cost Comparison
Treatment
Indonesia (AUD/USD)
Australia (AUD)
USA (USD)
Titanium Implant (including abutment)
$2,115 / $1,500
$6,500
$5000
All-on-4 Dental Implants*
$9,165 / $6,500
$30,000
$24,000
All-on-6 Dental Implants*
$13,820 / $9,800
$33,900
$31,000
Bone graft*
$680 / $480
$2,000
$3,500
Metal Braces
$2,440 / $1,730
$8,520
$7,500
Removable Acrylic Full Denture*
$1,100 / $780
$2,800
1,800
Crown (PFM)*
$520 / $370
$1,730
$1,400
Root Canal Treatment (anterior)
$490 /$350
1,040
$900
Porcelain Veneer*
$735 / $520
$930
$2,100
Teeth Whitening
$255 / $180
$760
$650
Simple Tooth Extraction
$80 /$55
$160
$200
Composite Filling
$80 / $55
$300
$200
*per jaw / per unit / per arch / per quadrant
**Prices are case dependent
Above all, healthcare workers in Indonesia are highly skilled. [6]  In addition, being a South Asian country, they are excellent hosts.
That's one of the reasons patients have been flocking to get dental work in Indonesia over the years.
The low prices are due to the low cost of living [7] and not due to inferior quality.
Moreover, our partner clinics use world-renowned brands such as Chaorum & Dentium.
Popular Dental Procedures in Indonesia
Indonesia offers all the latest dental procedures at affordable costs. You can get the following dental procedures done in Indonesia: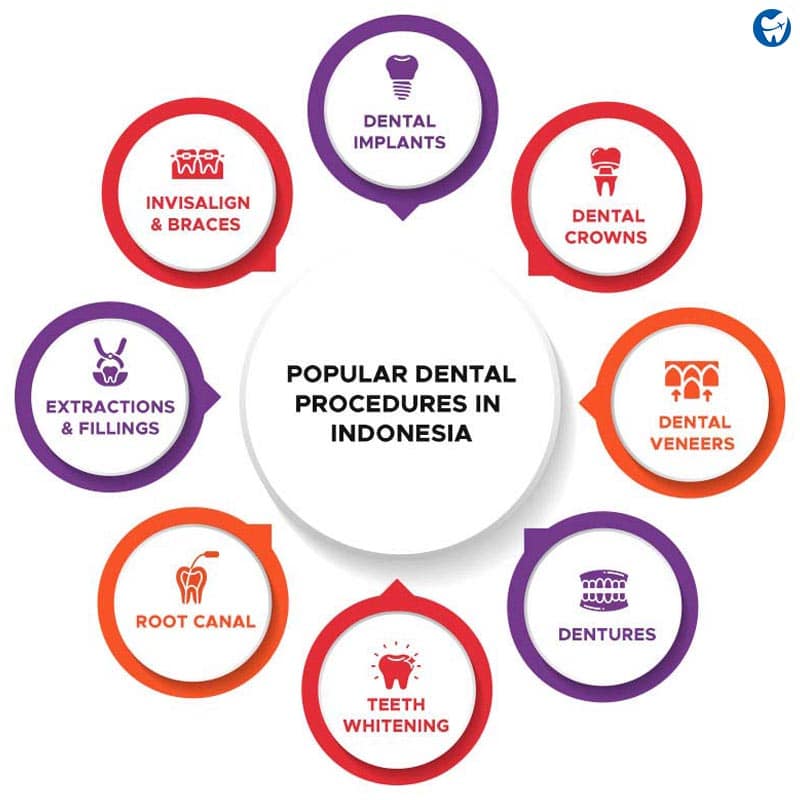 Popular Dental Procedures in Indonesia
Dental Implant Cost in Indonesia
In Indonesia, the dental implant cost for a single titanium Implant (including abutment) is approximately 2,115 AUD.
In comparison, a dental implant in Australia costs 6,500 AUD. The same is priced at 6,000 AUD in the US, almost double.
Cost of Dental Veneers in Indonesia
Dental veneers in Indonesia can cost you 730 AUD per unit compared to 1,300 AUD in Australia and 2,100 USD in the US.
Our partner clinic offers porcelain as well as zirconium ceramic crowns.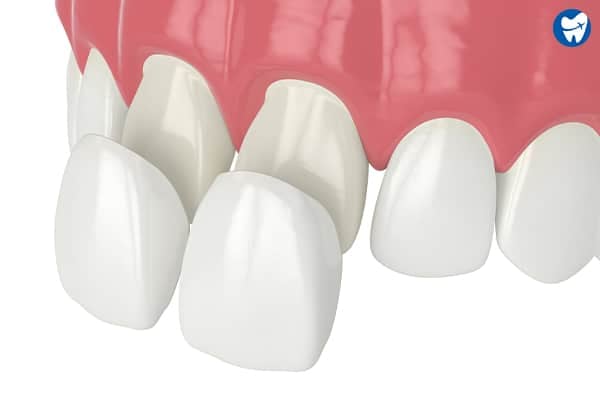 Cost of Dental Crowns in Indonesia
The price of dental crowns in Indonesia is much lower compared to Australia and the US.
Here, dental crowns (Porcelain fused to metal) will cost you 520 AUD.
This is just a fraction of the cost in Australia, 2,000 AUD.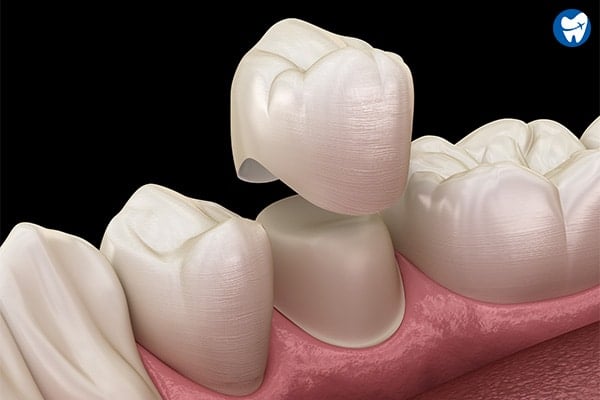 Best Dental Clinic in Indonesia
Being a rising medical tourism hotspot, [8] dental work in Indonesia is of top quality at low prices.
Also, you can be assured that dentists adhere to the highest patient care and satisfaction norms. [9]
We have picked out the best dental clinic in Jakarta, Indonesia to cater to your problems.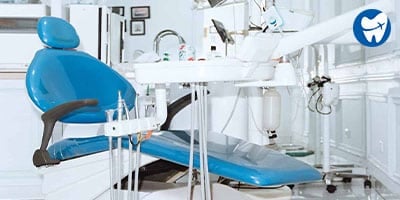 16, Jl. Senopati No.16, RT.1/RW.2, Selong, Kec. Kby. Baru, Kota Jakarta Selatan, Jakarta 12110, Indonesia.
Mon-Fri 10:00 AM - 09:00 PM, Sat 6:00 PM, Sun 11:00 AM-5:00 PM
Clinic Highlights
Offers prime dental treatment and personalized care
Follows health codes set by the WHO and the IDA
Four branches to cater to their patients
Latest state-of-the-art technology includes panoramic radiograph units, individual operatories, dental microscopes, ultrasonics and lasers, high-end rotary instruments
Best Dentists in Indonesia
Our partner clinic has a reliable team of highly skilled dentists. They are committed to top-notch dental care.
Also, the dentists can speak English. Communication problems should be the least of your concerns here.
If you're looking for the best dentist in Jakarta, you can consider the following:
---
Dr. Benindra Nehemiah
10 Years of Experience
DDS
Expertise
Routine Dental Care
Education
University of Indonesia
Expert in General dentistry, prosthetic dentistry, aesthetic dentistry, dental braces
Undertook Masters Program in Basic Dentistry, Faculty of Dentistry, University of Indonesia
Member of Indonesian Dental Association
Dr. Achana Descania
12 Years of Experience
DDS
Expertise
Dental Implants
Education
Trisakti University
Highly skilled in implantology
Expertise includes routine dental care, dental filling, dental aesthetic treatment, making dentures, dental implant & odontectomy
Member of Indonesian Dental Association
Dr. David Maxwell
10 Years of Experience
DDS
Expertise
Full Mouth Reconstruction and Dentures
Education
University of Indonesia
Highly experienced and skilled in prosthodontics
Expertise includes dental implants and dentures
Undertook Prosthodontics Specialist Program, University of Indonesia, Faculty of Dentistry 2010
Member of Indonesian Dental Association
Dental Work in Indonesia: Reviews and Testimonials
Comfortable place, strategic location in Senopati, and super friendly staff and doctors! Thanks!
Yasmine K
Australia
Satisfied with the treatment, the doctor is highly recommended. Veneer treatment with Dr. Achana and very satisfied.
Ayudhityadewi
Australia
First time to the dentist, and first time scaling here, the location is easy to find, and the place is very comfortable.
Rosa Indah
New Zealand
Restoration With Composite Veneers in Indonesia: Before and After
Teeth Whitening in Indonesia: Before and After
Tourism in Indonesia
Although most Indonesian people are Muslim, [10] over 200 different ethnic groups live here. [11] Each has its customs and cultural practices worth exploring.
The local food and culture reflect the country's rich ethnic and religious influence. Here's a quick list of things to do in Indonesia:
Historic Places of Worship
There are many revered Hindu and Buddhist temples spread all over Indonesia. The Istiqlal Mosque in Jakarta is also a famous place to explore. [12]
Take in the Vitamin Sea
There is no dearth of water activities in Indonesia's 17,000 small islands. [13] You can lounge on the white beaches or explore adrenaline-pumping sports. [14]
Famous Volcanic Sites
A hike through West Bali National Park or up the volcanic sites is a thrilling experience. You can trek on pre-defined safe hiking trails there. [15]
Natural Terrain & Tropical Rainforests
Trekking through the lush green rainforests in Jakarta is breathtaking indeed. [16] Bike through Ubud town and surrounding areas to enjoy the natural terrain.
Does Indonesia seem like a perfect dental tourism destination? Then contact us to plan ahead.
How To Reach Indonesia?
Airplane
All major Australian cities connect to Jakarta by air. Jakarta has two main airports.
Soekarno-Hatta International Airport
Halim Perdanakusuma International Airport
Flights from Australia to Indonesia
| From | To | Flight duration |
| --- | --- | --- |
| Sydney | Jakarta | 7h 55m (Non stop) |
| Melbourne | Jakarta | 11h 55m (1 stop) |
| Brisbane | Jakarta | 7h 55 m (Non stop) |
| Darwin | Jakarta | 11h 25m (1 stop) |
| Sydney | Bali | 6h 25m (Non stop) |
| Melbourne | Bali | 6h 05m (Non stop) |
Sea
Indonesia is linked by sea to neighboring Singapore, Malaysia, and the Philippines. You can opt for a flight to these countries and take a ferry to Indonesia.
Travel Within the City
You can travel easily to any place in Indonesia. The country offers many transport options to its tourists.
---
The railways are reliable in Indonesia to travel within the country.
You can travel long and short distances via buses in the country. [17]
And, it's better to book your tickets in advance.
---
Public buses run in the city and between major Islands at affordable prices.
You can even ride for free on the Jakarta City Tour Bus services.
They include themed routes like the historical, culinary, and shopping tours. [18]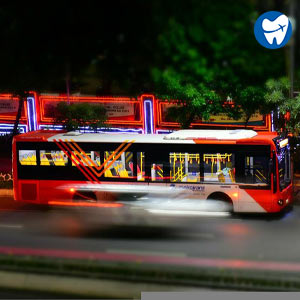 ---
Many ports exist in Indonesia for domestic travel between islands.
The PELNI and ASDP offer regular ferry services. [19]
PELNI stops at several ports between their origin and destination, whereas ASDP is only for a round trip.
---
Travel Tips for Dental Tourism in Indonesia
---
Passport
You must carry a valid passport and a visa to enter Indonesia.
Your passport should be valid for at least 6 months after your exit date. [19]
Visa
Australians can apply for a visa when they reach the airport in Indonesia.
For others, it is advisable to apply for a visa in advance. [20]
COVID Health Documents
You need to show proof of 2 doses of COVID-19 vaccination to enter Indonesia.
You must complete your last COVID-19 vaccination dose 2 weeks before arrival.
A negative PCR test taken within 48 hours of departure is also needed.
Please check the travel updates regularly to avoid any hassle.
Source: Smart Traveller [21]
---
When To Visit
The ideal time to visit Indonesia is in April and October. [22]  The weather is warm and sunny and perfect for visiting its beautiful beaches.
---
Bahasa is the national language of Indonesia. Locals also speak a fair amount of English in major cities and tourist places. [23]
You can learn the basic Indonesian phrases listed below.
Basic Indonesian Phrases
| English | Indonesian | English | Indonesian |
| --- | --- | --- | --- |
| Hello | Halo | Yes | Ya |
| Goodbye | Selamat Tinggal | No | Tidak |
| Thank You | Terima Kasih | Help! | Tolong! |
| Excuse me | Permisi | How much/many | Berapa |
---
International roaming can be costly for tourists.
Hence, it is advised to buy local sim cards to save money.
Telkomsel offers great network strength, and the prices are low as well. [25]
---
Our partner clinic suggests the following places for a comfy stay.
Ritz Carlton Pacific Place
Mulia, Fairmont
The Gunawarman
---
Is It Safe To Visit Indonesia for Dental Care?
Indonesia ranks 76th on the list of safest countries in the world. It has been a safe spot for tourists, although basic safety measures are advised. [25]
The government of Australia warns against traveling to Poso Regency and Papua Province due to the high risk of safety in these areas.
Source: Smart Traveller [26]
As a dental tourist, you need to research the clinic you'd be visiting. Some points to keep in mind are:
Qualifications of the dentists
Sterilization protocols followed
Quality of brands used
Technology and equipment
Good reviews
Do's and Don'ts
In addition to the safety tips mentioned above, here's a list of some do's and don'ts that you need to keep in mind.
Some Do's and Don'ts To Follow
| Do's  | Don'ts  |
| --- | --- |
| Dress appropriately | Don't wander around solo at night |
| Follow basic COVID safety norms | Don't smoke in public |
| Bargain when you shop | Don't accept anything from strangers |
| Stay connected with family | Never leave belongings unattended |
| Follow local news for updates | Don't smoke in public |
Source: Holidify [27]
Conclusion
Now you know that Indonesia is a melting pot of varied cultures with a backdrop of rich biodiversity.
In addition to that, dental tourism in Indonesia has been on the rise.
Indeed, if you're looking for high-quality but low-cost dentistry, Indonesia is the right place! Feel free to contact us to plan further.
FAQs
The cost of dental implants in Indonesia is much less than in Australia, the UK, or the US.
The price of a dental implant in Indonesia (with abutment) is around 2,115 AUD, which is more affordable than the price in Australia of around 6,500 AUD.
So you can benefit from a cost saving of 65%!
The cost of veneers in Indonesia is much lower than in Australia.
Porcelain veneers in Indonesia cost 730 AUD per unit, while they cost a whopping 1,300 AUD in Australia.
Therefore, you can save more than 40% of the cost by getting your veneers in Indonesia.
Yes, you can travel to Indonesia for dental work. You need to have a valid passport, tourist visa and COVID health documents to enter the country.
However, you're advised to check rules and regulations regularly for travel updates.
Ready to plan your memorable dental trip?
Let's go!