Dental Implant in Vietnam offers an affordable tooth replacement option to those who lack insurance or are short on cash. With the rising dental costs, millions of Americans seek treatment abroad. [1]
Did you know traveling to Vietnam can save up to 80% on teeth implants while receiving high-quality services?
Continue reading to find out the cost, best implant clinics, dentists, and more.
Watch on YouTube: "Patient Testimonial "
Patient Testimonial – Dental Implants in Vietnam
Having missing teeth in the mouth can have a negative impact on your physical and mental health.
While replacing these can dramatically improve your smile, it will also enhance the shape of your face.
You can also utilize the treatment period for an enjoyable vacation in South-East Asia's most sought-after tourist destination.
Why Choose Vietnam for Dental Implants?
Vietnam is a fast-growing nation. It is known to be a preferred hub for healthcare and wellness services.
It receives over 80,000 foreigners every year for medical diagnoses and treatments.
Political stability makes Vietnam a safe destination for foreign tourists for dental tourism.
The country provides excellent quality care at affordable costs. [2]
Along with affordability, some of the substantial reasons for getting dental implants here are:
 Convenient Location – Easily reachable from Southeast Asian countries
 Best Services – Better dental experience with state-of-the-art clinics
 Best Dentists – Our partner dentists have over 20 years of experience
 Fast Treatments – Onsite dental labs ensure minimum treatment time
 Vacation Destination – Beautiful city with many sightseeing opportunities
What Is the Cost of Dental Implants in Vietnam?
Vietnam's dental care is not only inexpensive but also top-notch. It is much less pricey than Western countries and other Southeast Asian countries. [3]
In general, the dental implant cost in Vietnam is around 80% cheaper than in the US and Australia.
The cost of a titanium dental implant in Vietnam is only around $700 to 1650. The same procedure will cost nearly four times in the US or Australia.
If you are looking for a full mouth restoration in Vietnam, procedures like all on 4 implants cost approximately $5,800 in Vietnam, only a fragment of $24,000 compared to the US.
The following table compares Vietnam dentist prices for dental implants to that of the US/Australia.
Dental Implant in Vietnam (USD) Vs. US Vs. Australia
Procedure
Vietnam
US
Australia
Titanium dental implant
$700
$5,000
$5,500
Zirconium implant
$1,995
$6,000
$6,500
All on 4*
$5,800
$24,000
$27,000
All on 6*
$7,500
$28,000
$30,000
All on 8*
$10,000
$35,000
$32,000
Mini dental  implant
$440
$1,500
$2,800
Bone Graft (per unit)
$100
$2,000
$2,500
Sinus lift
$100
$5,000
$4,500
*Per jaw
Prices are subject to change.
These prices mean you are spending only a fraction of the amount in Vietnam that you spend in the US or Australia.
So, you can be sure to save enough to enjoy a family vacation while undergoing quality dental implant treatment.
Top Implant Brands in Vietnam
Dental clinics in Vietnam offer implants from International Brands that ensure quality dental work here.
Cost of Best Dental Implant Brands in Vietnam (USD)
| | | |
| --- | --- | --- |
| Procedure | Dentium, Neodent, Nobel Biocare | Straumann, BioHorizons, EuroTeknika, Megagen |
| Single implant | $950 – $1,650 | $700 – $1,400 |
| All on 4 | $5,800 – $7,600 | $7,000 – $10,000 |
| All on 6 | $7,500 – $9,500 | $8,500 – $12,000 |
| All on 8 | – | $10,000 – $14,000 |
The final treatment cost depends on several factors, such as:
Number of implants
Dental implant material (Titanium/Zirconia)

Implant brand
Additional procedures (e.g., grafting), if required
Edentulous jaw – one or both
Dental crown material
Top Clinics for Dental Implants in Vietnam
When it comes to fixing teeth, where to get the best teeth implants in Vietnam is one of the most searched questions.
We have picked out the best implant clinics in the country to cater to your problems.
Số 3 Nguyễn Du, P, Hai Bà Trưng, Hà Nội, Vietnam
Mon - Fri 8:30 AM to 7 PM
Established in 2006, it is the first local dental clinic for expatriates and foreign tourists in Hanoi.
The clinic has eight dentists and primarily caters to international patients in Implantology and Cosmetic Dentistry.
Certifications
ISO 9001:2008
ICOI (International Congress of Oral Implantologists)
166 Đồng Văn Cống, Phường Thạnh Mỹ Lợi, Quận 2, Thành phố, 713813
Mon - Fri 8 AM to 7:30 PM
Formerly known as Rose Dental Clinic, it is one of the high-rated dental clinics in Ho Chi Minh City.
The clinic specializes in "Same Day" dental implants, and the team is trained in all types of dental treatments.
Modern Technology
PaX-i3D SMART CBCT Scanner
Piezotom Ultrasonic Surgery Machine
Kavo Surgery Machine
Zoom While Speed Machine
3D CT Scan Cone Beam X-Ray
Top Dentists in Vietnam for Dental Implants
Dentists working at our partner clinics have several years of experience.
Some of them are trained from prestigious universities such as Harvard University, USA, and Bern University, Germany.
Here are some of the best dentists in Vietnam:
---
Dr. Nguyen Thi
20 Years of Experience
DDS
Expertise
Dental Implants
Education
Harvard(US), Australia & Korean Universities
Harvard University-trained Implantologist
Trained from many famous dental universities over the World such as Harvard University (US), Australia, Korea
Worked in Odonto Stomatology & Facial National Hospital and East Rose Dental Clinic for more than 20 years
Dr. Pham Duy Quang
25 Years of Experience
DDS
Expertise
Dental implants
Education
University of Medicine and Pharmacy, Ho Chi Minh City
Certificate of training in Implant Dentistry of Ha Noi Medical University
Expert in the areas of Implant Surgery (Bone grafting) Soft tissue grafting surgery, and Cosmetic restoration
Member of International Congress of Oral Implantologist
Dental Implants in Vietnam – Reviews
M/M McCarthy came to Vietnam for dental implants.
After 2 Hanoi trips in 3 months, Mr. Gary got 2 new front upper teeth that were missing some years ago.
"I was recommended to ADC by an Aussie mate of mine and I must say "I'm smiling."
From the get go, corresponding with Nam and two surgical visits with Dr.Cong, their professionalism, service, and pricing, is second to none.
Highly recommended ! "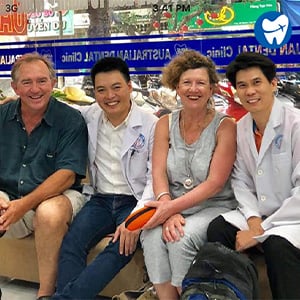 Vietnam Dentist Reviews for Dental Implants
Very professional staff. I spoke with patients from Australia and USA while visiting. They had only excellent things to say.
They actually set the benchmark for others. The prices are extremely competitive.
Great team, super friendly. I had a sinus lift, bone graft and implant. he Hanoi clinic was incredibly helpful.
What are Dental Implants?
Dental implants are prostheses that are closest to your real, natural teeth. They are artificial tooth roots that bond with your jawbone.
Implants provide a strong and sturdy base for supporting one or more artificial teeth that we call "Crowns."
An implant is connected with:
An "abutment"
A tooth-colored crown customized to fit the jawbone.
Dental Implant Material
Internationally available implants are made from a special metal called titanium.
It is chosen because of its strength [4] and non-corrosive nature. [5]
Sometimes, tooth-colored zirconium implants are used. Zirconium is a metal-free crystal material and is compatible with oral tissues.
Titanium Implants Vs. Zirconium Implants
Both titanium and zirconium do not inhibit implants from osseointegration. [6]
However, two major differences set them apart:
---
Titanium is the "gold standard" for a dental implant but has poor esthetics because of its greyish color. [7]
Since zirconium implants are tooth-colored implants, they are better for the anterior region.
---
Titanium implants are more affordable; however, zirconium implants are high cost.
---
Techniques in Dental Implants
Dental implants need a strong bone structure. However, the available jawbone cannot support dental implants in some cases.
Therefore, in such cases, the dentists use different techniques. These include bone augmentation or grafting, sinus lift, and alveolar ridge expansion.
These techniques help rebuild the jawbone, restore the natural jawline, and provide a strong foundation for supporting implants. [8]
All-on-4 Dental Implants
Professor Paulo Malo invented the All-on-4® concept, which Nobel Biocare later patented. [9]
It involves two implants inserted at 45 degrees, while the other two implants are inserted erect.
Advantages of All-on-4
Less invasive procedure
Allow for immediate function
High success rates
Cost-effective due to fewer implants
Source: Surgery & Case Studies [10]
All-on-6 and All-on-8 Dental Implants
"All-on-6/8" are full-mouth restoration techniques carried out in completely edentulous patients.
It involves inserting straight 6 or 8 implants in the jawbone for a stable denture.
Advantages of All-on-6/8 Implants
Immediate function & esthetics
Less discomfort & cost-effective
Rarely need bone grafts
Zygomatic Dental Implants
These implants are meant for those patients who have a receded upper jawbone.
Zygomatic implants are placed in the zygomatic bone, i.e., the cheekbone.
Advantages of Zygomatic Implants
Avoids surgeries, such as bone augmentation and sinus lift
Shorter duration of surgery
Comfortable surgery
High survival rate of 96% after 12 years
Source: FOR [11]
Immediate Implants
This type of implant is also known as "same day implants" or "Teeth in a Day®."
For patients who have enough natural jawbone, this is a good option.
The advantage of immediate implants is immediate functioning and esthetics.
These implants are indicated when there is:
Traumatically avulsed tooth or teeth
Over-retained primary teeth
Fractured teeth
Failed root canal-treated teeth
Non-restorable teeth
Source: JDAS [12]
Mini Dental Implants
Another type of implant called mini dental implant is small or narrow in diameter.
They are of the size of a toothpick and narrower than the commonly used implants.
They are primarily used in the anterior region of the lower jaw.
Advantages of Mini Dental Implants
Less-invasive technique
Less expensive
Comfortable to place
Source: AAID [13]
Dental Implants vs. Dentures: What's Right for You?
The below table lists the pros and cons of each treatment:
| Properties | Implants | Dentures |
| --- | --- | --- |
| Esthetics | Look like natural teeth | Does not look natural |
| Procedure | Invasive | Non-invasive |
| Treatment time | Few months | Days to weeks |
| Cost | Expensive | Cheaper [14] |
| Speech | Better speaking ability | May slip or move around |
| Chewing function | Enhanced chewing ability | May slip while eating |
| Effect on jawbone | Preserves jawbone | Doesn't preserve jawbone |
| Pain | Can be a painful process | Painless |
| Longevity | Last lifetime | Replaced every 3-4 years |
Source: Hiossen [15]
Planning Your Dental Vacation in Vietnam
Best Time to Visit Vietnam
It is best to visit Vietnam during the spring or autumn season, which is from February to May and August to November, respectively.
At this time, the weather is pleasant in Vietnam.
However, it is also the busiest tourism time; therefore, you must book your travel and accommodation well in advance.
If summer is not a problem for you, you can fix your dental appointment during the summer months, from May to August. [16]
During this time, not many tourists visit Vietnam.
You will get cheaper flights and discounted accommodation at this time.
Stay and Vacation
Hanoi is the country's capital, and its appeal lies in its charming presentation, beautiful surroundings, and great street food.
Hanoi is the major Northern city, while Ho Chi Minh City in Southern Vietnam is an ideal gateway to discovering Vietnam.
This city is easy to navigate, and there are tons of events and things to do.
Popular Tourist Destinations
Ha Long Bay
It is about 160km from Hanoi and hosts thousands of amazing limestone isles that protrude out of the water.
Phong Nha-Ke Park
It is situated 500km from Hanoi. It has some pretty cool caves, historic sites, rock formations, and unspoiled jungles.
Travel Tips to Vietnam
 You must have a tourist visa in Vietnam which can be obtained on arrival.
 For implant treatment, choose only an Implantologist who has undergone intensive implant training.
 Buy dental tourism insurance to reduce or prevent any extra cost in case of treatment-associated complications.
 Shorts, shirts, and flip-flops are absolutely fine. However, when visiting temples and other religious sites, dress appropriately as a sign of respect.
Watch on YouTube: "10 Things You Should Know Before Traveling to Vietnam"
Video Courtesy: What The Pho
 You can buy a local SIM card in Vietnam at low prices for high-speed internet.
 Avoid tap water. Carry a bottle of water wherever you go.
 Pickpockets can act in some touristy and crowded areas, so take care of your belongings.
 Lastly, learning some basic words makes a big difference. Some must-know words are:
"Xin Chao": Hello
"Cam on": Thank you
"Xin Loi": Excuse me
Conclusion
With a dental implant in Vietnam, you can get a cost-effective tooth replacement and a perfect vacation in the beautiful country.
On top of that, the quality is top-notch with experienced dentists and state-of-the-art clinics!
So, why wait?
Contact DentaVacation now to take advantage of our all-inclusive Vietnam Dental Packages.
FAQs About Vietnam Dental Implants
A titanium dental implant in Vietnam is around 80% less than in Australia, with prices ranging from $700 – $1,650.
Yes, major Vietnam cities have plenty of international dental clinics where dentists speak English fluently. [17]