Merida, Yucatan in Mexico may be the answer! If you're looking for dependable dental implant work at a nominal cost, then why not consider visiting the wonderful city of Merida, Yucatan (in Mexico). In this article, you can find the cost & quality of dental implants in Merida, Mexico.
Parts of Dental Implant
You may ask, so what's the price? Well, fees in Merida are around a third of the US.
It typically starts from around $1,650 (for a full single tooth implant)and varies depending on the complexity of work required.
How Much Does a Dental Implant Cost in Merida, Mexico?
Wondering about the prices you can expect in Merida and how they compare to those of the US?
In Merida, a single titanium implant costs around $900.
The entire procedure including the implant, abutment, and crown may range from 1,650 to 1,800 USD.
These prices are up to 70% less than those in the US.
Even all-on-4 procedures (including implants and a fixed hybrid acrylic bridge) are a fraction of the cost in the US, starting at $8,500 per jaw.
The comparison table below explores the prices of other implant procedures in Merida and the USA:
Cost of Dental Implant in Merida, Mexico vs USA/Canada
| Prosthetic | Merida | U.S/Canada | Duration |
| --- | --- | --- | --- |
| Titanium Implant (including crown and abutment) | $1,650 | $5,000 | 2 – 3 weeks |
| All-on-4 Implants | $11,000 | $24,000 | 1 week (longer with more work) |
| All-on-6 Implants | $12,000 | $28,000 | 1 week (longer with more work) |
| Bone Graft (per unit/quadrant) | $260 | $3,000 | 2 – 4 weeks |
*Prices may vary with each case requirement.
One can save anywhere between 50% to almost 70% on their dental bills with treatment in Merida.
It is especially useful for those who don't have dental insurance. Spending more doesn't always equate to better quality service.
So why not spend wisely and consider Merida's dental tourism?
Moreover, the quality of work performed at our recommended clinic is comparable (if not better) than in the States or Northern America
In Merida, you can save money by opting for an implant at reduced cost with the same quality you would typically receive at more expensive locations in the US. [1]
What Does the Procedure Include?
Consultation & examination
X-rays/CT scans and imaging
Extraction of any damaged teeth (if any)
Jawbone preparation/bone grafting (if needed)
Dental implant placement within the jawbone
Adequate time for bone regeneration and healing
Abutment installation and crown fitting to simulate a natural tooth.
Firstly, for either a single implant or full restoration, an implant is embedded into the jawbone. Then, an abutment is screwed into the implant post.
This process may be undertaken in the same sitting or separately depending on the situation.
After the implant has had a chance to heal and integrate into the bone (usually 3 – 6 months, but is case-dependent) a crown can be fabricated and fitted.
The all-on-four concept essentially allows either the entire upper or lower jaw to be restored with only 4 implants as support.
The procedure maximizes bone support and facilitates a full arch prosthesis.
The All-on-4 concept is less invasive, the framework ensures uniformity, bone grafting is not required, and has more longevity.
Easier maintenance and reduced jaw bone loss are other associated benefits.
Watch the video to learn if you are a candidate for all on 4 dental implants in Merida.
Watch on YouTube: "All-on-4 Dental Implants in Merida: Who"
All on 4 Dental Implants in Merida, Mexico
You can save money by getting implants in Merida. The quality is equal to what you would receive at more expensive locations in the US, but at a lower cost.
Lower living and operating costs in Mexico allow for lower pricing.
Implant Service Guarantee
Just like with any procedure, the patient is responsible for a lot of the aftercare.
The clinic will provide explicit post-operative instructions that need to be followed for the success of the implant.
Most dental practices will be willing to replace any failed implant within a reasonable timeframe.
Failure usually happens within the first few months, as it can take up to six months for osseointegration (the implant becoming integrated within the jaw bone).
Success rates are up to 95% at the clinic. Patients must practice good oral hygiene to prevent an inflammatory reaction referred to as peri-implantitis.
Factors that can cause peri-implantitis or implant failure include :
Smoking/tobacco
Mechanical flaws
Uncontrolled diabetes
Jaw misalignment is an example of a mechanical flaw because it can cause bruxism (teeth grinding) which can put undue stress on the implant.
Implant crowns can be fabricated from different materials.
Zirconium/ceramic crowns may be more prone to fracture if continually stressed over time.
Rest assured, our experts have the skills to ensure the proper installation and fitting of your implant to minimize most of these risks.
Dental Implant Success Rate
Relatively recent advances in technology have allowed more cost-effective and minimally invasive procedures.
This progress has improved treatment prognosis and recovery, increasing success rates to around 98%. [2]
Using hypoallergenic titanium-based material to improve oral function has never been more comfortable with customized designs to meet individual needs.
Even at our recommended clinic, there is a success rate of 95%.
Dental implants can last a lifetime with proper care and if reputable brands are used.
Top Dental Clinic in Merida, Mexico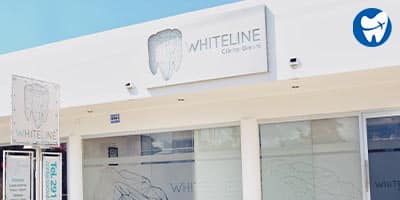 Local B y C, Calle 17 69, México, 97125 Mérida, Yuc., Mexico
Mon - Fri 9.30 AM to 8.30 PM
Key Highlights
Provides treatments to local and international patients for over 10 years
Consists of specialists in different fields of dentistry
Equipped with the latest technology
Patient Satisfaction and Reviews
Patients are often delighted with their treatment as well as the overall hospitable experience.
Still, there are many options available, of which one is the Merida Whiteline dental practice.
It offers these services at competitive rates for all your dental needs.
Hence, affordability, building confidence in your smile, safety, and connectivity aspects are all covered.
All major US airports mostly offer direct flights to Mexican cities for seamless travel, with a typical duration of about two to four hours.
Here's a patient testimonial from one of the clinics in Merida.
Watch on YouTube: "Patient Review on Dental Implants in Mexico"
Patient Testimonial on Dental Work In Merida
Finding Dentists in Merida, Yucatan
When searching for a dentist in Mexico or elsewhere (internationally), you need to look for the answers to the following questions:
Is the clinic located in a safe region?
Can you contact the clinic beforehand?
Are the follow-ups after treatment easy?
Is the dentist accredited by an official body?
Do the dentist and clinic staff speak English?
What sterilization protocol does the clinic follow?
Does the clinic/practice have good patient reviews?
Does the clinic accept a variety of payment methods?
Are they well equipped for treating international patients?
Is the international dentist as qualified as compared to the US?
Whiteline clinic in Merida satisfies all of the above.
Safety Standards in Merida
All work at our recommended clinic is undertaken according to international hygiene standards, and you can always check the accreditation of the dental practice.
How to Reach Merida?
Flight and Accommodation Costs
Flights from various US locations to Merida international airport range from around $150 – $600.
It is dependent on where/the origin you're traveling from – source Google flight search information.
The table below shows direct flights for a round trip (return ticket) in economy class, with the airlines mentioned in parentheses in the final column.
Flights to Merida
| Origin | Destination | Approx Duration | Estimated Price |
| --- | --- | --- | --- |
| Houston, Texas | Merida | 2h | $600 (Delta) |
| Miami | Merida | 2.5h | $425 (American) |
Hotel accommodation starts from $50 to almost $200 per night (as per booking.com).
It is hosted by internationally renowned brands including Hyatt (to name but a few).
Recreational Scope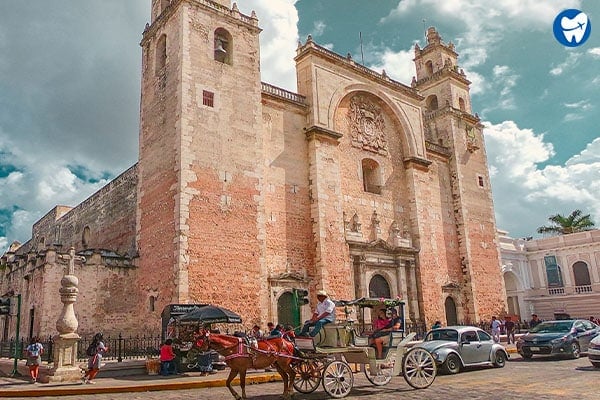 Merida Extremadura Hispania Roma
There's much to do in Merida - the coastal areas or beaches and the ancient palaces, and temples.
Moreover, you can visit natural heritage sites across the city.
Other must-visit places include the Plaza Grande historical cathedral or the archaeological wonder of Mayapan.
You'll be relentlessly amazed at Mexico's diversity and its associated culture.
Final Outlook
So there you have it. Merida offers affordable dental implants administered under clean, safe, and dependable conditions.
This is worth considering for clinical treatment, given the major cost savings.
Mexico has the added benefit of luxury hospitality in terms of accommodation, resorts, and sightseeing, which enhances the overall experience.
So what are you waiting for? Contact us today at dentavacation.com for more information.