All on 4 Implants in Phuket, Thailand
What can one do when dentures are too uncomfortable and implants too expensive? We suggest getting all on 4 implants in Phuket, Thailand.
This article will help you find out the cost, best dentists, implant clinics, and more
Video Courtesy: Nobel Biocare
Why Choose Phuket for All on Four Dental Implants?
Here we give you six benefits of getting all on 4 implants in Patong, Phuket.
Massive Cost Savings
 $9,700 for Dr. Paulo Malo All-on-4™ | 55 – 60% savings
High Dental Standards
JCI accredited | ISO 9001 certified in-house lab | Part of Dr. Paulo Malo Global Dental Network
Quality You Can Trust
Nobel Biocare | All-On-4™ Implants with Malo Technique
Experienced Implantologists
Our Phuket All on 4 and All on 6 specialists are trained, tested & supervised by Dr. Paulo Malo
No Communication Gap
Phuket dentists have studied Internationally and usually speak excellent English. [1]
Amazing Holiday
Phuket is Thailand's largest Island. With over 30 beaches, it is a perfect place for relaxation and adventure. [2]
What Is the Cost of All on 4 Implants in Phuket?
In general, Phuket dental implants cost is 40 – 70% cheaper.
If you need a full mouth restoration, the average price of all on 4 implants in Phuket is around USD 9,700.
This price is for each arch with Malo all on 4 system and international implant brands, including Zimmer, Straumann, and Nobel Biocare.
If we compare the prices in the US and Australia, the same procedure would cost above USD 24,000. This entails a savings of about 60%.
All-on-4 Implants Cost Comparison – Phuket Vs. US Vs. Australia
| Phuket (USD/AUD) | US (USD) | Australia (AUD) |
| --- | --- | --- |
| $9,700 / A$13,700 | $24,000 | A$32,000 |
*The price may vary at different hospitals.
⭐Savings for Australians – 57% 
⭐Savings for Americans – 60%
How Long Does it Take to Get All-on-4 Dental Implants in Patong, Phuket?
| | |
| --- | --- |
| Number of Days | 7-10 Days |
| Visits to Clinic | 3-4 times |
All-on-4® Treatment Concept
All-on-4 is the only fixed, full-arch teeth replacement treatment with 18 years of documented clinical success. [3]
Prof Paulo Malo invented the All-on-4® treatment concept for denture wearers and completely edentulous patients.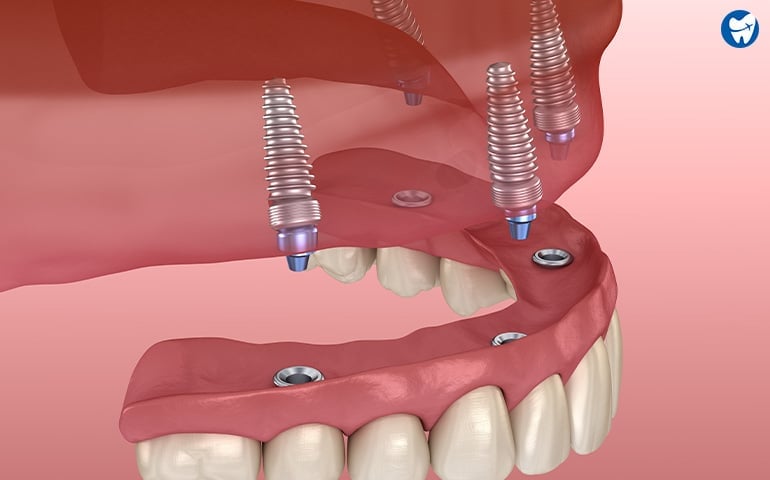 All on 4 Dental Implants
This innovative dental treatment provides you with a fixed full arch prosthesis on the day of surgery. [4]
In this technique, the upper or lower set of teeth is anchored to 4 dental implants. It feels natural and as strong as natural teeth.
Over 250,000 patients have successfully received all on four with Nobel Biocare implants.
The implants have shown a 98% 7.5 years survival rate and a patient satisfaction rate of 95%. [5]
All-on-4 Dental Implants Benefits
Less invasive surgery and short treatment duration
Do not require bone-jaw grafting surgery
Restore function and aesthetics immediately
Short recovery time compared to traditional
Well-spaced implants provide stability to dentures
Cost-effective solution since less number of implants
Source: ResearchGate [6]
Your Brand New Teeth in a Day
All-on-4 implants allow you to have a brand new set of teeth in a day. Unlike traditional implants, which may take months, all-on-4 implant procedure gets completed on the same day.
Top Clinic for All on 4 in Phuket Province
189/18 Rathutit 200 Year, Patong Beach, 83150
Mon-Fri 10:00 AM- 08:00 PM, Sat-Sun 10:00 AM-06:00 PM
About the clinic
Partnership with Dr. Paulo Malo Global Dental Network
Accredited by the Joint Commission International (JCI)
ISO 9001 certified in-house dental lab
Make use of the latest equipment imported from the US, Germany, and Japan
A strong team of 40 staff members
 All-on-4 Phuket implant dentists have undergone rigorous training in the USA, Europe, Japan, and Australia.
Additional facilities like free phone calls, Wi-Fi, and parking
Best Dentists in Phuket for Implants
All-on-4 Phuket implant dentists are known for their qualifications, skills, and experience. We've picked two of the best dentists for you.
---
Dr. Paruhat Prommontri
20 Years of Experience
DDS
Expertise
Dental implants, crowns
Education
Khon Kaen University
Thailand Dental Association
Clinic Residency in ALL-ON-4 Rehabilitation Protocol for Edentulous patients
Dr. Boonyanat Guensri
Years of Experience
DDS
Expertise
Dental Implants
Education
Chulalongkorn University
Thai Board of Oral & Maxillofacial Surgery
Residency Program in Oral & Maxillofacial Surgery
All on 4 Dental Implants in Patong, Phuket – Video Testimonial
An Australian Reviews All on 6 implants in Patong, Phuket – Thailand
Phuket Implant Dentists Reviews
I had implants all on 6 and all on four. Everything was streamlined the staff were excellent and very professional!
I had fantastic treatment at Sea Smile, professional service with highly trained and competent staff, and highly recommended!
Got my implant work done for just a fourth of what the dentist in Australia quoted me. They treat you well. Thank you!
Conclusion
You can get rid of those ever-slipping, uncomfortable dentures by opting low cost all on 4 dental implants in Phuket, Thailand.
You will save not only your hard-earned money but also get quality treatment and a memorable vacation.